An ancient Tuscan town hemmed in by 16th-century ramparts and laced with narrow cobblestone streets; romantic Lucca is an ideal place to explore. It's impossible not to fall in love with the old center, where the medieval lanes are studded with gleaming church spires and broken up by spacious sunlit plazas. Although only 45 miles west of Florence, Lucca feels a world away. The center is refreshingly peaceful, with almost no traffic compared to many other places in Italy, since cars are banned in most of the medieval quarter.
The best way to get around Lucca is by bike; locals aged 6 to 76 hop on bicycles to get to work, go to school, run errands, and buy at the market. Biking is easy here since Lucca's knot of a town center is spread along a flat plain beside the Serchio River. In the distance, green, rolling hills stretch toward the majestic Apuane Alps. Still, Lucca itself is welcomingly flat in comparison to the steep streets of the iconic hilltop towns elsewhere in the Tuscany region.
History
The tentacles of Lucca's history reach far, far back. Research has shown that this area was inhabited as many as 50,000 years ago, although there is precious little evidence about life before the Romans, who settled the city in 180BC. In 56 BC, Lucca was the site of the First Triumvirate between Julius Caesar, Pompey, and Crassus. Another red-letter date in history was 47 AD when Christianity arrived in Tuscany and Lucca became the first city to convert, paving the way for it to become an essential stop for pilgrims in later centuries. Lucca's long history can still be glimpsed in bits and pieces today; the Piazza San Michele sits atop the site that once held the Roman Forum, the Piazza dell Anfiteatro fills the elliptical spot left by the Roman amphitheater, and many of the old streets follow those laid out by Roman settlers.
Giacomo Puccini
While other Italian cities were busy churning out painters and sculptors, Lucca's significant cultural contribution has been in music. The birthplace of famed operatic composer Giacomo Puccini (1858-1924), the mastermind behind La Bohème and Madame Butterfly, among other works, Lucca is a hotspot for opera lovers even today; the summer Puccini Festival offers a top-notch lineup of Puccini's best works. Another well-known composer born in Lucca is Luigi Boccherini (1743-1805), who shook up the chamber music world with works like his beloved Minuet no. 13.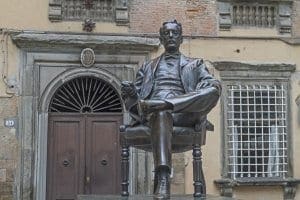 Gastronomy & Wine
Lucca is one of the best Olive Oil producing areas in all of Italy. Excellent producers of extra virgin olive oil include Colle Verde Estate, Fattoria Maionchi, and Tenuta Valgiano. Tenuta Valgiano also makes some of the best wines in the region, the flagship wine being the "Tenuta di Valgiano" a small production "Riserva" made with Sangiovese, Syrah, and Merlot.
Lucca is known for its delectable Tuscan cuisine – pasta topped with spicy, garlicky meat sauces; stuffed pasta smothered with meaty ragu; mushroom risotto; tender steaks; and tasty pizzas form the basis of many favorite local restaurants. The area surrounding Lucca is famous for its truffles, another familiar sight on local menus.
One of the most typical dishes here is the hearty Farro Soup, served at generations-old eateries like Ristorante Buca di Sant Antonio. Buca di Sant Antonio is perhaps Lucca's most famous restaurant, known for serving old-style Tuscan recipes like horsemeat tartare and boiled chickpeas.
Another local specialty is cantuccini, almond biscotti-like cookies sold at local cafés and coffee shops.
Highlights
Start your visit with a trek up the 230 steps of this 15th-century defense tower, built as part of the home of Lucca's most influential family, the Guinigi. Instead of eyeing the horizon for invaders, you can soak up the view of Lucca's impossibly narrow cobblestone streets, its tile-roofed houses, and piercing church spires. Also impressive are the oak trees that grow from the top of the tower.

Medieval Walls

For unbeatable views (and to work off all that delicious Tuscan food and wine) walk or cycle atop Lucca's 16th-century defense walls. The 3-mile loop is paved and lined with trees, offering an ideal way to see the city. Interestingly, this loop was once used as a racetrack.

Opera lovers will not want to miss a visit to the birthplace – now a museum – of famed operatic composer Giacomo Puccini (1858-1924), the mastermind behind La Bohème and Madame Butterfly, among other works. The annual Puccini Festival brings the composer's most celebrated works to town every July and August.

An imposing temple built between the 11th and 15th centuries, Lucca's cathedral features an impressive assortment of architectural styles, fearlessly combining Romanesque, Gothic, and Renaissance. The church's claim to fame is the Volto Santo (Holy Face), a wooden depiction of Christ storied to have been carved by Nicodemus.

The magically ornate façade on the Piazza San Michele (and the most photographed site in town) conceals this lovely church. Curiously, the angel perched at the top of the church has retractable wings so that it can stand up to the fierce winds that, at times blow here.

Tour the nearby wine regions visiting top producers, privately chauffeured, dining in the best local restaurants, and staying in charming countryside hotels.