Negroamaro Grape Varietal
Collectors love Italian wine, but they do tend to quibble about one thing. "It is so difficult to understand Italy's wine culture, with its multitude of regions, grapes, and vineyards," they often complain. Indeed, there are over 350 DOC appellations and more than 100 IGTs (Indicazione Geografica Tipica) in this glorious country. There are more than 100 grape varieties in regular use and hundreds more in limited use, occasionally added to blends to enhance the structure, acidity, or alcohol. Mastering the subject of Italian viticulture is a long-term pursuit. Some never do.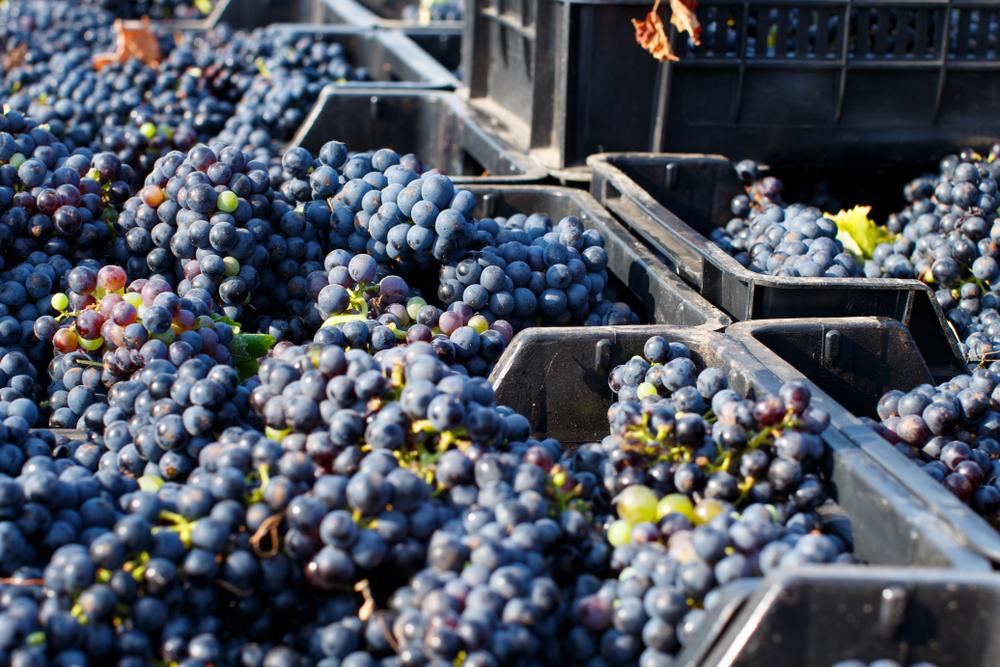 You can explore the Puglia's Wine Regions with Cellar Tours on a private Luxury Food and Wine Vacation, dine in the best local restaurants, and enjoy VIP tastings in the top wineries.
But there is an upside to this almost impenetrable web of complexity, which is the chance to explore esoteric wine styles before anyone else. Some wines and regions have been tediously over-exposed, and there are grape varieties that deserve to be much better known. Negroamaro is in the latter category. Dark-skinned and incredibly robust, Negroamaro is one of Europe's most obscure viticultural treasures.
It is an Italian red grape varietal, however, with a long history of cultivation in southern Italy. Local winegrowers believe the Greeks introduced it during their conquest of the region in the 8th century BC. This is a standard line of argument, as the maritime Greeks sprinkled viticulture across the Mediterranean before the Romans became the dominant force in Europe. Winemaking thrived in Italy during the glory days of the Western Roman Empire, although it declined after the Visigoths and other tribes ousted the Romans from power. Grapes like Negroamaro were kept alive by the religious establishment, grown and consumed by Benedictine monks. Nevertheless, the grape's exact origins remain a mystery. DNA sequencing indicates that Negroamaro is closely related to the white grape Verdicchio and Tuscany's Sangiovese.
Today, Negroamaro (meaning 'black and bitter' in Italian) is predominately cultivated in Puglia, situated in the country's far southeast. As Puglia is affectionately known, the heel of the Italian boot has largely followed the trajectory of Sicily's wine industry. Like Sicily, Puglia focused its efforts on ripening large quantities of grapes in the 20th century, mainly used for distillation and bulk wine. Quality did not come into the equation.
However, just as the Sicilians realized that they needed to dramatically up their game, Puglia also embarked upon a program of industry restructuring over the past 15 years. Aided by EU grants and local investment, winegrowers have been encouraged to pull up some of the region's over-productive clones and switch their allegiances to quality. As critics frequently observe, the market for cheap Italian wine is shrinking every year due to fierce competition from the New World. If Puglia is to have a sustainable future, then its wine industry must remain focused on producing premium wines for export. This means that Puglia's growers must ignore their lackluster grape varieties and seek out the region's superior terroirs.
Ideally suited to the Puglian climate
Fortunately, Negroamaro is ideally suited to such a task. The grape thrives in Puglia's hot Mediterranean climate, producing wines that manage to balance relatively high levels of alcohol with freshness and poise. Winegrowers in Puglia have long adored Negroamaro's ability to ripen its berries successfully, even in vintages where rainfall has been extremely scarce. Unless the growing season has been unusually cool, it typically ripens in late September and is not generally prone to vine maladies and diseases. However, Negroamaro is minded to produce high yields and therefore must be pruned judiciously throughout the season. If not, then dilute, and soapy wine will be your curse. It thrives on calcareous terroir, as these cold soils offer the right balance of porosity and permeability. They are a vital part of the quality equation.
Negroamaro's ability to tolerate Puglia's torrid summers and prolonged periods of drought is awe-inspiring. Unlike Sicily, Puglia does not offer its winegrowers the moderating effects of altitude; its vineyards cover a flat peninsula with no significant variations in elevation.
So how do vines survive here? Well, it is the proximity of both the Adriatic and Ionian seas that enable high-quality viticulture to take place in this part of Italy. In addition, the cooling afternoon breezes make the difference between life and death for Puglia's vines – even robust varieties like Negroamaro.
But despite its laudable qualities, relatively few producers make a standalone varietal wine from the grape. It is a vital component in many of Puglia's blended styles, finding an entry in a broad range of DOC (Denominazione di Origine Controllata) appellations and IGT designations. There are now six Indicazione Geografica Tipicas in Puglia, in addition to over 30 DOCs. One of the most respected of these is Salice Salentino DOC.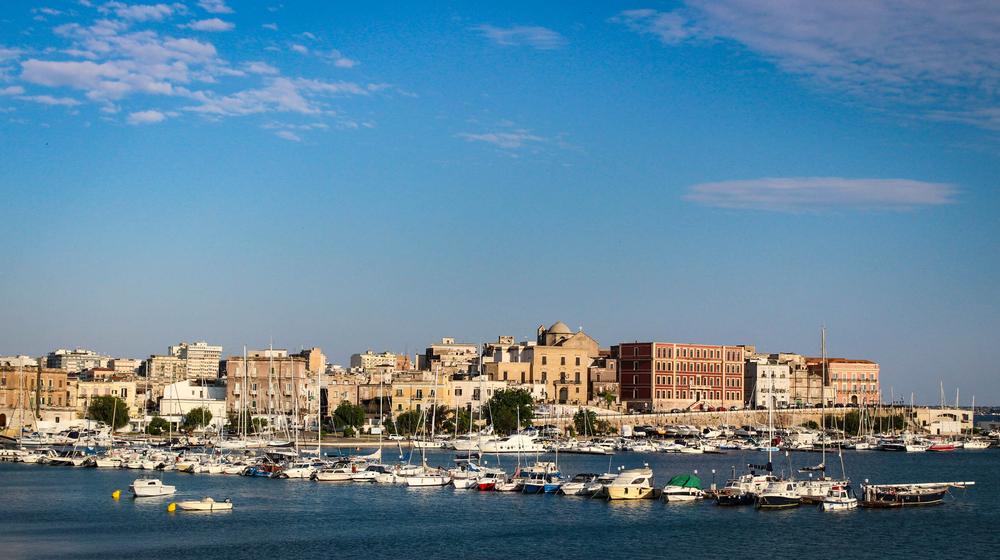 Taranto on the Gulf of Taranto
Salice Salentino DOC
The appellation was created in 1976 – it allows both single-varietal Negroamaro wines and blended versions. The significant swathe of vineyards are found approximately 12 miles northwest of the city of Lecce, in a landlocked and barren province. The consensus is that the best vineyard sites are located to the north and west of Salice, benefiting from cooling breezes from the Gulf of Taranto. In addition, the iron-rich clay terroir is perfect for Negroamaro, as it doesn't absorb heat, unlike metamorphic soils such as quartz.
Although single-varietal Negroamaro wines are by no means commonplace, your options are steadily increasing. At their best, these wines are pungently seductive, a heady mix of richness, perfume, and alcohol. They are typically medium-bodied, with ripe (and substantial) tannins and just enough acidity to stop things from becoming 'soupy'. Aromas of red berries, cinnamon, and cloves will often be detected – as the wine ages, expect more spicy notes and a hint of tapenade. If it is blended, then Primitivo and Malvasia Nera are Negroamaro's most frequent partners in Salento. Top vintages can age for 15 years or more.
Incidentally, attitudes to oak vary wildly in the zone. Certain winemakers prefer to let the fruit speak for itself; others value the added weight and structure from the French barrique. However, the growing emphasis on sophisticated site selection and nuanced winemaking that is promulgating throughout the region is far more important.
Nardo region
Of course, there are other sources of excellent Negroamaro wines in Puglia. In addition to the numerous IGT designations, growers in the Nardo region continue to cherish the grape. The appellation covers both red and rosé wines produced from vineyards that flank the small town of Nardo, which is found near the Gulf of Taranto. Like Salice Salento, cooling sea breezes are the secret to viticultural success here. The region was historically derided for lazily churning out large quantities of plonk; however, standards have been rising considerably of late. Blended styles are the mainstay of the region, typically a potent mix of Negroamaro and Malvasia Nera. The latter is used to soften Negroamaro's tannins and enhance the mouthfeel. In recent times, growers have been picking in early September to try and avoid the unwieldy levels of alcohol that can be an inevitable consequence of such a hot, dry climate. As elsewhere, the best winemakers judiciously balance power with freshness.
Recommended Food Pairings
This style of wine belongs at the dinner table. There is rarely a dish that can faze Negroamaro (blended or not), particularly if the key ingredients involve red meat or tomato-based pasta sauces. Puglian cuisine has long been defined by 'cucina povera,' that is, hearty and robust dishes that lack pretension. Lamb and goat are abundant in Puglia, slow-cooked in wood-fired ovens to create the most tender meat dishes imaginable. Puglia's cured hams and cheeses like Buratta have become justly famous within Italy. There is also a strong sheep-herding tradition in southern Italy – Canestrato Pugliese and Cacioricotta are among the finest sheep' cheeses being made in the nation today.
Yet until (relatively) recently, both Puglian gastronomy and its wines were largely ignored by the international community. Then globalization happened, and the industry was forced to break into export markets by offering quality to discerning palates abroad. One of the net benefits is that previously 'hidden' wine styles like Negroamaro are now finding their way to restaurants in New York and wine boutiques in London. Ask a local wine merchant – or a trusted sommelier – to steer you through the myriad of Italian wine styles, and you'll hopefully end up in Puglia. The rewards can be great, but the price is rarely extortionate.
Top Negroamaro producers: