Italy used to have zero cachet in the white wine market. The small volume exported in the mid-1900s seldom elicited a positive response from critics or consumers: it wasn't so much a hit-and-miss as avoid at all costs! The cause? A potent – and pernicious – combination of laziness, poor viticulture, outmoded methods, and archaic equipment.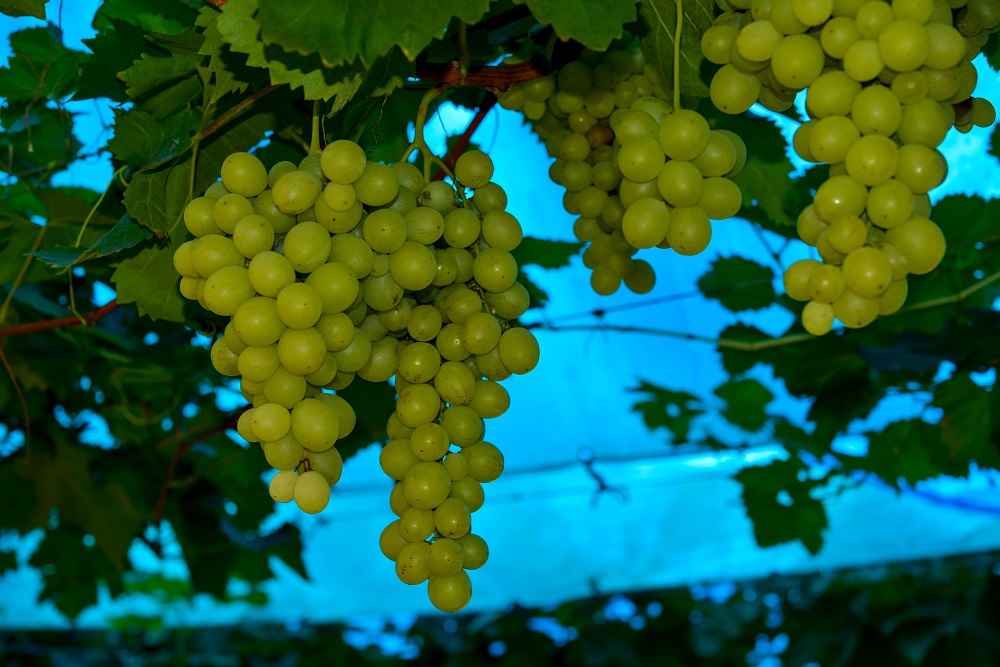 However, everything started to change in the 1970s. The introduction of stainless steel and temperature control revolutionized Italy's wine industry at a time when international demand for aromatic dry whites was skyrocketing. As a result, Verdicchio, the star grape of Marche, is one of the country's biggest success stories. Crisp, thirst-quenching, and aromatically expressive is Italy's answer to Sauvignon Blanc. If any variety can dislodge one of the world's most popular styles from a wine list, it is this one.
History and viticulture
Discerning visitors always find their way to the spectacular landscape of the Marche region. Fewer tourists, pristine beaches, superlative food, and wine – there is nothing to dislike about this slice of heaven on the Adriatic. Once inhabited by a nomadic tribe called the Picens, Italy was united under the Roman banner in the 2nd century BC after a series of bloody conflicts. Yet the rich cultural legacy of the ancient Greeks (who arrived far earlier in the 8th century BC) endured. One of their most important contributions to daily life was, of course, wine growing. The Romans adopted this Mediterranean passion with relish, planting vines in Gaul (France), Spain, and across their colonies in North Africa. Roman winemaking, meanwhile, was not for the faint-hearted. Imagine you're in a rustic tavern in 300 AD, slap bang in the middle of ancient Rome. You peruse the wine list and order an earthenware mug of sweet-smelling nectar. The host draws the darkly colored liquid from amphorae kept on the counter, and you take your first gulp; today's consumers would probably spit it out and run a mile! Much celebrated for their longevity, Roman wines were adulterated with herbs, sweetened, and often maderized in the heat of a roaring fire. Such treatment was essential to ensure they survived the journey from vineyard to cellar. Yet there was little here for the modern oenophile to enjoy.
Over a century later, the Western Roman Empire was in ruins. Its collapse in 476 AD was watched with great interest by rival European powers, several of which attempted to subjugate Marche in the 6th and 7th centuries. However, by this point in history, the Catholic church had become very influential – a persuasive force in European political affairs. First, the medieval Papacy demanded that the Franks drive out the Lombards from Marche, which they successfully did! Then, in 800 AD, the Papacy crowned Charlemagne King of the Holy Roman Empire. Stability and prosperity, it appeared, would reign in central Italy.
Yet the church had other ideas. For five centuries, popes and emperors fought for hegemony over western Europe's cultural, political, and social life. But, in a major victory for the Papacy, the incumbent Holy Roman Emperor granted control of Marche, Umbria, Romagna, and Lazio. This tidy arrangement continued until the late 19th century – the Catholic establishment ran Italy's wine industry during the Middle Ages. Verdicchio was first mentioned in written documents in the 1300s, although there is some disagreement about the grape's origins. Certain viticulturists believe Verdicchio is indigenous to the Veneto region and cultivated under the local synonym Trebbiano di Soave. Some historical evidence supports this theory: many Venetian families and merchants fled to Marche in the Middle Ages following an outbreak of the plague. As a result, they likely introduced agricultural products and species of plants, including indigenous vines, to the area. Of course, for many growers in the Marche region, Verdicchio is a source of great local pride, regardless of where it originated.
Nevertheless, until the late 19th century, the wines of Marche were almost never enjoyed by anyone outside of the region. That all changed after the momentous Italian unification which occurred in the 1860s. In the decades that followed, the nation moved, bit by bit, toward creating a national wine market. The introduction of mechanized farming in the 20th century was both a help and a hindrance – consumers benefited from the abundance that mechanization brought; however, many producers sacrificed quality at the altar of an easy buck. Fortunately, attitudes have changed dramatically over the past 20 years as growers were forced to compete in an increasingly discerning marketplace. In today's world, there is less and less room for indifferent wine – at least in the premium sphere. Instead, savvy wine drinkers crave authenticity, quality, and a break from the tedium of overexposed grape varieties.
Verdicchio is well placed to meet these demands: the grape yields small berries packed with ripe acidity and aromatic complexity. However, it does present one or two challenges in the vineyard, not least the grape's susceptibility to powdery/downy mildew and rot. Overall, though, the advantages of growing Verdicchio far outweigh the drawbacks.
Winemaking
Winegrowers crave acidity: flabby white wines are the bane of viticulturists and oenologists everywhere. In simple terms, a lack of acidity equals a lack of structure and, most importantly, a lack of freshness. This is one of the reasons why cultivating Verdicchio has become so popular in the vineyards of Marche and Veneto. The grape maintains good levels of acidity and verve, even if it is picked at full phenolic ripeness. As a result, producers are generally loathed to interfere with the variety's fruity exuberance – maturation in new barrique is rare. There are always exceptions, of course, but the critical mass adopts an approach that prioritizes aromatic finesse, overweight, and richness.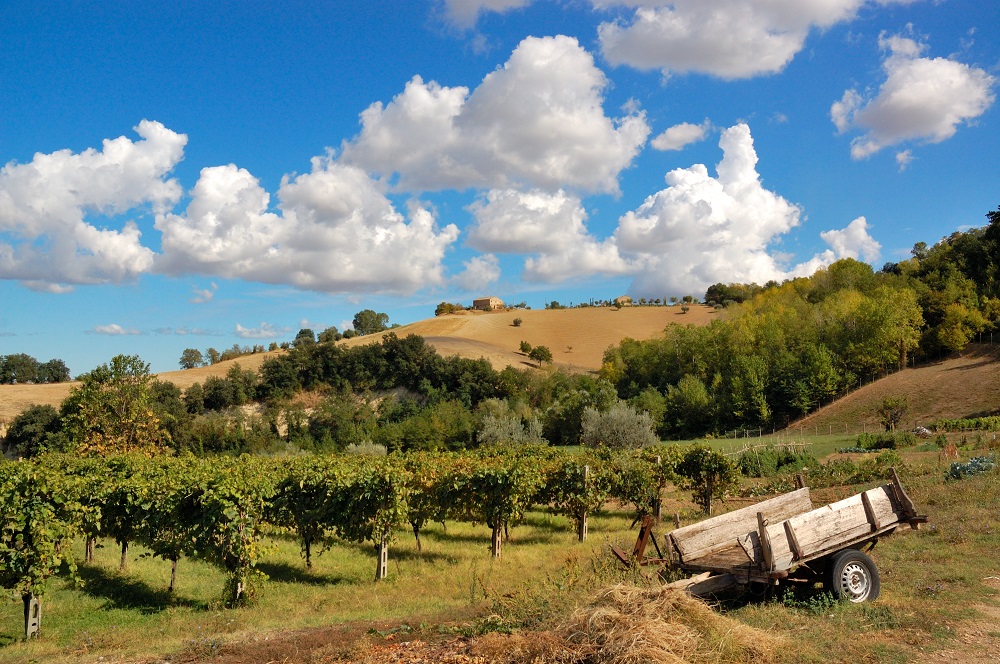 The bucolic countryside and vineyards of Marche
Therefore, you'll encounter relatively few surprises in the wineries and cellars of central Italy. Premium wines are mostly based on hand-harvested grapes picked at optimum ripeness levels. These will be handled with extreme care: a cold soak before fermentation has become de rigueur, in addition to protecting the must from oxidation at all times. This is achieved via gently pressing the berries, after which the juice will be drained into a holding tank and chilled. This allows solid material to collect at the bottom of the tank; sulfur is often added at this stage – as a powerful preservative. The wine is then invariably fermented in stainless steel tank, although concrete eggs and even amphorae have become trendy among hipster winemakers. Lees stirring is also now widely practiced to enhance the wine's texture and mouthfeel. What emerges in bottle is fruit-forward, impeccably fresh, and bursting with zesty acidity—the personification of summer drinking.
However, we recognize that some of our readers may want a more funky alternative. So let us introduce you to Evelyn Verdicchio Macerato, made by the supremely talented oenologist Angel Accadia. Based on fruit grown on clay-limestone soils in Marche, the juice is left in contact with the skins to extract lots of flavorsome phenolic complexity. Yet Accadia never allows the fruit to become completely subservient to the tannins and 'funkiness.' A magnificent orange wine, Evelyn Verdicchio Macerato comes alive when served with Vincisgrassi.
A New World
In the 20th century, Italy stood at the edge of a precipice. While nations such as New Zealand and Chile offered the global market a deluge of aromatic and saline dry whites, the Italians could barely muster mediocrity in a bottle. Critics with some experience will remember the rank dross personified by overcropped Trebbiano, produced en mass in the 1970s. Moreover, the timing could not have been worse: consumers were starting to demand greater volumes of white and sparkling wine, while sales of red have stagnated in Europe over the past 15 years. Something clearly, had to be done.
Fortunately, the Italians saw the error of their ways before it was too late. From Campania to Friuli-Venezia, almost every region now produces a delectable range of white wines, often based on indigenous varieties. Indeed, this (relatively) newfound preference for local styles over bland imports has been highly beneficial to the country's international standing; authenticity is the watchword of 2023. As a result, retailers, buyers, and above all, sommeliers now take Italian grapes like Verdicchio very seriously. This can be seen in the wine lists of leading Michelin restaurants worldwide; Greco di Tufo and Verdicchio dei Castelli di Jesi have joined Chianti and Barolo.
The latter has become one of the most important appellations in Marche today. Verdicchio dei Castelli di Jesi – doesn't it sound wonderfully Italian! – is renowned for its fragrant dry whites and a small amount of passito dessert wines and spumante. The area is a bucolic paradise, with its gentle green hills spread over the vast Marche landscape. Due to the combination of calcareous terroir and maritime climate, the Verdicchio grape takes on a distinctly mineral quality – the best wines offer refreshment and longevity. And, as a bonus, they are very attractively priced. The smaller Verdicchio di Matelica appellation, meanwhile, is on higher terrain. In this day and age, growers pull out all the stops for their top bottlings, which combine notes of citrus and stone fruit with the heady scent of marzipan. Verdicchio, incidentally, translates as "little green one" in English. Yet this scarcely does this magnificent grape justice. With significant investment and renewed vigor, it has become the undisputed bargain of Italian white wine.
Top producers of Vedicchio wines: