Situated southwest of Florence and set amidst idyllic scenery, Volterra is an extraordinary town. Since Etruscan times the people of Volterra have been famous for producing unique and beautiful carvings from the plentiful alabaster that flows from nearby quarries. This grand tradition is still in evidence today – take a stroll through Volterra's well-preserved medieval ramparts and enjoy the many boutiques proudly displaying the artisan's best works. A wander through Volterra's winding cobbled streets yields many treasures – most of them unexpected.
History
Volterra and the Etruscan civilization share a fascinating and complex history. Rising to power in the 9th century BC, the Etruscans controlled central Italy for over five centuries. Volterra was founded as a settlement known as Velathri – historians aren't exactly sure when – an important trading center and senior partner of the Dodecapolis group of Etruscan cities. Historians believe that as many as 25,000 people lived in Velathri during its heyday.
Unfortunately, the prosperity of the Etruscans had not escaped their rivals in Rome, who started a series of campaigns to conquer Etruscan territory in the 3rd century BC. Etruria fell to Rome in 265 BC, yet Velathri managed to hold out for a further five years. This is partly because of the surrounding inhospitable terrain – the Romans could not conquer the settlement until 260BC. After being absorbed into the Roman confederation, it was renamed Volaterrae.
Of course, the newly subjugated citizens had no intention of letting the Romans have their way. Many Etruscans conspired with the Carthaginian ruler Hannibal against Rome during the Punic Wars. It was not until 88BC that things began to settle down when Rome granted the province of Tuscia autonomy. After that the citizens of Volaterrae enjoyed a peaceful and stable existence until the fall of the Western Roman Empire in 476.
The following centuries were a period of constant political upheaval. After the Romans lost control of Tuscany, first came to the German emperor Theodoric, then Byzantine emperor Justinian, then the Lombards, and finally Charlemagne in 800. He was the first recognized emperor to rule from Western Europe since the fall of the Western Roman Empire, managing to unite most of western and central Europe.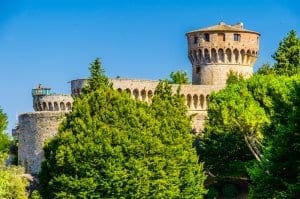 Middle Ages
Yet in Medieval Tuscany, political power regularly changed hands between rival factions. Nevertheless, two influential women wielded power expertly against a shifting backdrop of kings and popes. Mazoria, the daughter of a Roman senator and Countess Matilda of Tuscany, managed to command considerable authority, an amazing feat considering the volatility of the period.
By the 13th century, Tuscany was in an uproar – central authority simply did not exist. However, Volterra had prospered from the 12th century as a fiercely independent free comune (city-state). However, that freedom came at a high price. The Medici family, who rose to prominence in the 14th century, had no intention of ignoring a prize as valuable as Volterra. After the plague ravished Tuscany in the 14th century, political control was left to those who survived. The strongest contenders for power were the Medicis – Cosimo the Elder was a great patron of the arts and simultaneously a power-hungry tyrant. From his base in Florence, he fought many battles across the region. Volterra first entered Florence's orbit in 1361, but the people of Volterra fought hard against Medici rule, managing to keep their independence for over a century.
In the 15th century, the Medici tyrant Lorenzo il Magnifico – such a modest title! – rose to power. Hungry for more lands, he waged a brutal campaign against Volterra, sending his soldiers to sack the town. However, Volterra's citizens staged another rebellion in 1530 – again brutally crushed by the Florentines. Sadly, Volterra would never still achieve self-determination, moving from Florentine rule to that of the Grand Duchy of Tuscany in the 18th century. While local Italian nobles and successful capitalists vied among themselves for influence, as usual, the Austrian Holy Roman Empress Maria Theresa took charge of the situation in 1737, and set up her husband, Francis, as the grand duke of Tuscany. However, she remained the brains of the operation, reforming Tuscany's laws and society from behind the scenes.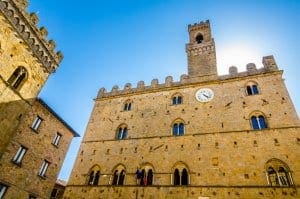 Modern Times
The 19th century would see Napoleon Bonaparte declare himself king of Italy in 1805. So appreciative was he of the area's cultural heritage that he decided to take as much as possible home with him. Following his fall from grace in 1814, the Habsburg Ferdinando III took over the title of the grand duke of Tuscany. Unfortunately, Napoleon's sister Elisa Bonaparte and various other relations refused to budge from the luxe Lucceshi villas they had usurped, so concessions were made to accommodate them all. In 1865, Florence was made capital of the newly unified Italian state. But in less than ten years, the capital was moved to Rome, after the forces of the kingdom of Italy defeated the Papal States to take power in Rome.
The 20th century would offer no respite for the citizens of Volterra. Italy suffered greatly during WWI – heating-oil shortages and food rationing made for a hard-won victory in 1918. In 1921, Benito Mussolini formed his Fascist Party that would take control of Italy in 1924. Under his direction, Italy fought alongside the Nazis during the Second World War, surrendering in 1943 due to heavy losses and falling morale. Yet Mussolini refused to comply, and civil warfare continued until 1945. After the end of the war, Tuscany found itself devastated, with cities such as Pisa and Florence badly damaged by the fighting and Allied bombing campaigns. The monarch Umberto II was exiled after a referendum to make Italy a republic was successful; 71.6% of Tuscans voted for democracy. The region today has a very left-leaning local government – in 2015, the left emerged more influential than ever in regional elections.
Of course, visitors to Volterra today will scarcely be concerned with local political machinations. They marvel at the timeless quality inherent to this Tuscan gem, its cafes, restaurants and wine bars offer the perfect respite from a day's sightseeing. And what sights – Volterra's urban fabric has hardly changed since the Renaissance, its narrow streets invoke a thousand tales, while its food and wine are so incredible that we're lost for words. But we can vouch for this fact – apathy is impossible in Volterra. Return time and again, and you still won't feel you've seen it all.
Gastronomy & Wine
Italy's leading lady is a born-and-bred gourmet. Be it slow food, coffee, pasta, a slice of panforte, fine dining, panino in a gorgeous piazza, or pizza at a street cart, Tuscany satisfies every gastronomic desire with style and panache. Born out of a desire to protect Tuscany's formidable gastronomic heritage from globalization, Slow Food preserves local food traditions. It gives a real insight into how much Tuscans prioritize and value their cuisine. Created by wine writer Carlo Petrini, it works today in over 130 countries. The ethos is simple – rely on local resources rather than mass-produced food and culture; work to reduce pollution; and increasingly rely on sustainable development, such as organic farming—all hallmarks of great food, which is available in generous abundance in Volterra.
But where to start? We'd advise joining locals in the glorious tradition of the aperitivi (pre-dinner drinks), a sacrosanct ritual big and buzzing in Volterra. Perhaps a glass of Franciacorta, Italy's superb, traditional method sparkling produced in northern Italy? Then, depending on the time of year, your meal might involve zuppe di cavolo (cabbage soup) or fresh porcini, chestnuts and farm-grown spelt. Pecorino cheese and ravaggiolo cannot be missed, nor can bistecca alla Fiorentina made from the world-famous Chianina beef, perhaps after a course of pici (a type of local hand-rolled pasta). When it comes to the quality-guaranteed game, wild boar, and chicken, Tuscany is a byword.
Then the wine list duly arrives, and you marvel at the depth and breadth of Tuscany's viticultural heritage. The heart of Tuscan wine resides in Chianti Classico, it's most historic and still its most important wine zone. Little matches the glorious indulgence of a leisurely drive along cypress alleys and vineyard-clad lanes in the ancient wine region of Chianti. Not only is the scenery intoxicating, but the area is also peppered with outstanding restaurants and historic wine estates. Indeed, while there are over 20 appellations across the Tuscan region, Chianti has long been the region's most renowned 'brand,' a name instantly recognizable to connoisseurs worldwide.
Its signature variety is Sangiovese, first cultivated in this enclave of central-western Italy by the Etruscans in the 8th century BC. Although historically, Sangiovese was never exclusive to Tuscany, it became the region's most important variety in the 1930s, after the Chianti Appellation's original establishment in 1932. Demand for Chianti rocketed in the late 1940s and 50s, and plantings increased dramatically to satisfy this demand for what was rapidly becoming a household name across Europe.
Today, it is widely agreed that Chianti Classico offers the best quality in the region. Velvety, structured, and tannic – Chianti is for serious foodies. These are cheery, dry, medium, and full-bodied red wines that demand good food. Further south, Montalcino is famed for red Brunello, the consistently good Rosso di Montalcino and prized extra-virgin olive oils. Montepulciano, home of Vino Nobile red and its excellent value Rosso di Montepulciano also produces the Terre di Siena DOP extra-virgin olive oil. There is no end to the food and wine delights of Tuscany, so brace yourself!