The best of Valpolicella shines in the wines of Allegrini, a family-run estate that has been working the land here in this beautiful corner of Northern Italy since the 16th century. Renowned in Italy and beyond as one of the country's most elite and reliably excellent Amarone producers, Allegrini has been influential in giving this part of the Veneto region a reputation for quality, in part by encouraging new winemaking methods and, in part by example; the showcase wines Palazzo della Torre, La Grola and La Poja leave no doubt as to the intense yet elegant wines that can be made in this lush, hilly area in the foothills of the Monti Lessini.
Although the family has been involved in winemaking for many generations, it was brought into the modern wine world with the work of Giovanni Allegrini, whose innovations and enterprising campaigns for change both within his own winery and in others in the region led to the creation of legendary wines in the 1960s and 70s. He was one of the first producers to seriously pursue quality in the area and insist on strict grape selection and new planting and vinification techniques. Today his grown children, Franco (a winemaker) and Marilisa (the marketing director), run the company and have taken it from success to even greater success. And they are delights to receive guests on a Veneto Wine Tour organized by Cellar Tours.
An essential part of Allegrini's winemaking philosophy is the importance of crus, vineyards whose production is destined to a single wine. The company's seven crus — Valpolicella, Palazzo della Torre, La Grola, La Poja, Amarone, Recioto, and Villa Giona — are the birthplaces of the wines of the same names. Another Allegrini trademark is its emphasis on local varieties. While they grow some international varieties like Cabernet Sauvignon, Merlot, and Syrah in the Villa Giona cru, most vineyards feature local varieties, like Corvina Veronese, Rondinella, and Molinara. The terroir is mixed, with some volcanic soils, some calcareous soils, and some clay soils.
Wines produced
Valpolicella

Corvina Veronese 60%, Rondinella 35%, Molinara 5%; No Oak; Alcohol 12.9% vol.

Palazzo della Torre

Corvina Veronese 70%, Rondinella 25%, Sangiovese 5%; Alcohol 13.7% vol.

La Grola

Corvina Veronese 70%, Rondinella 15%, 10% Syrah, Sangiovese 5%; Alcohol 13.6% vol.

La Poja

Corvina Veronese 100%; Alcohol 14.3% vol.

Villa Giona

Cabernet Sauvignon 50%, Merlot 40%, Syrah 10%; Alcohol 13.9% vol.

Amarone

Corvina Veronese 80%, Rondinella 15%, Oseleta 5%%; Alcohol 15.4% vol.

Recioto Giovanni Allegrini

Corvina Veronese 80%, Rondinella 15%, Oseleta 5%; Alcohol 14% vol.
Winery details
Via Giare 9/11
37022 Fumane di Valpolicella, Verona
Italy
Tel +39 045 6832060 / +39 045 6832011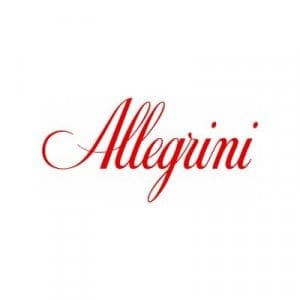 Appellation

DOC Valpolicella Classico, Amarone della Valpolicella, Recioto della Valpolicella

Founded

1854, although the family was making wine as early as 1557.

Area under vine

90 hectares

Oak barrel origin

French oak from Boutes medium toasted selection.
Winemaker

Franco Allegrini

Owner

Allegrini family

Grape varietals

Corvina Veronese, Rondinella, Molinara, Syrah and Sangiovese