What kind of wine is Vin Santo?
There is an abundance of diverse wines waiting to be discovered in Italy. Over 350 grape varieties are authorized for commercial wine production; this includes a vast selection of exquisite dessert wines, each with its unique regional significance. Recognized for its mysterious ancient origins and exceptional production methods, Vin Santo is one of the most world-renowned Italian dessert wines and is featured on our Private Tuscan Winery Tour.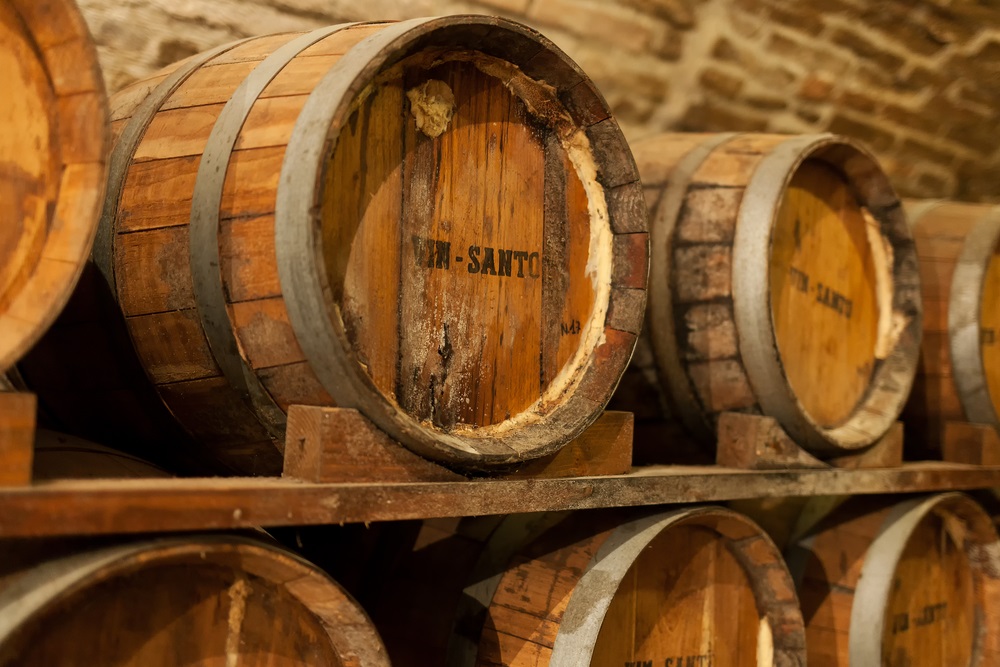 The History of Vin Santo
Though produced throughout Italy, Tuscany is considered the traditional home of Vin Santo. Long acclaimed as a vino da meditazione (meditation wine), Vin Santo is a wine to contemplate with complex aromas and varying levels of sweetness. Production of this sweet wine dates back to the Middle Ages with a Tuscan history that began in the 14th century or earlier. Yet, for a wine with such lengthy history, its ancient origins are somewhat shrouded in mystery.
The Myths
One prominent myth describes a Franciscan priest who helped cure infectious diseases in 1348 using a mystical wine typically drunk during mass. Subsequently, this wine became associated with miracles, garnering the name Vin Santo, or holy wine.
An additional tale depicts a scene from the 1439 Council of Florence. Upon sipping this wine, Greek Cardinal Bishop Bessarione exclaimed, "This is a Xantos wine!" It's thought he was referencing the Greek wines of Santorini. Though the people surrounding him mistakenly thought he said Santos, meaning saint or holy, believing he'd uncovered a wine with saintly influence.
The True Story
The truth of how Vin Santo was named isn't nearly as entertaining. Traditionally, the wine was vinified during the Holy Week of the Catholic denomination or the days surrounding the week of Easter. It was often served at mass and became known as the Holy Wine or Vin Santo. These facts were enumerated in the Dictionary of Venetian Dialect published by Giuseppe Cecchini in Venice in 1867.
Grape Varieties
Several grape varieties are permitted in the production of Tuscany's most treasured sweet wine. Trebbiano Toscano and Malvasia Bianca Lunga are the two most prominent varieties of Vin Santo. Known as Ugni Blanc in France, where it's used in Cognac production, Trebbiano Toscano contributes brisk acidity, helping to focus complex Vin Santo wines. While aromatic, fruity Malvasia provides more breadth and depth. Other common varieties in Tuscan Vin Santo production include Chardonnay, Pinot Blanc, Pinot Grigio, Canaiolo, Grechetto, and Colombardo.
For an exceptionally rare style of this wine, seek out Vin Santo Occhio di Pernice. The name translates to "eye of the partridge" and refers to Vin Santo made predominantly with Sangiovese grapes.
Top Regions for Vin Santo
In Tuscany, Vin Santo obtained its first official designations of origin as recently as the 1990s. Today, there are a dozen Tuscan Vin Santo designations. Here are the three most essential designations: a fantastic place to start exploring these Tuscan gems.
Vin Santo del Chianti D.O.C.
The Vin Santo del Chianti D.O.C. was established in 1997 and now encompasses 113 hectares of vineyards. This designation requires Vin Santo to be made from a minimum of 70% Malvasia Bianco Lunga and/or Trebbiano Toscano. A minimum of 50% Sangiovese is required in the production of Vin Santo Occhio di Pernice. Both must age for a minimum of three years, while the Riserva designation calls for a four-year barrel-aging minimum.
Vin Santo del Chianti Classico D.O.C.
Founded two years earlier in 1995, Vin Santo del Chianti Classico D.O.C. covers just 38 hectares of vineyards. Vin Santo, under this designation, calls for a 60% minimum of Malvasia Bianca Lunga and/or Trebbiano Toscano. In comparison, Vin Santo Occhio di Pernice requires an 80% minimum of Sangiovese. Each designation calls for a minimum aging period of three years, 24 months of which must be in traditional caratelli.
Vin Santo di Montepulciano D.O.C.
Created in 1996, the Vin Santo di Montepulciano D.O.C. consists of 3.3 hectares of vineyards. These wines must consist of a 70% minimum of Grechetto (locally called Pucinculo), Malvasia Bianca Lunga, and/or Trebbiano Toscano. Vin Santo Occhio di Pernice requires 50% of Sangiovese, known locally as Prugnolo Gentile.
Barrel aging requirements include:
A three-year minimum for Vin Santo.
A five-year minimum for Vin Santo Riserva.
A six-year minimum for Vin Santo Occhio di Pernice.
Vin Santo di Montepulciano D.O.C. grapes cannot be pressed before December 1st, while Riserva and Occhio di Pernice grapes cannot be pressed until January 1st.
Production Process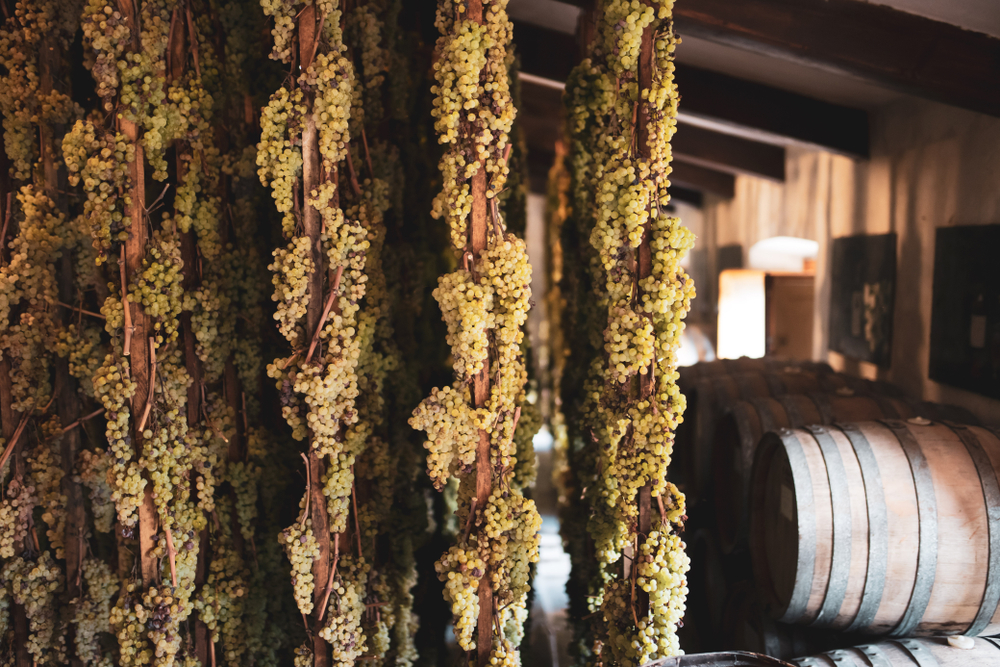 Vin Santo production has gone unchanged for centuries and begins with a careful selection of the best grapes at harvest. Then, the grapes are dried through the Italian passito or appassimento process, which helps to concentrate sugars. The grape clusters are brought to an attic-like room with plenty of open windows, known as an appassitoio. Next, they are either laid out on bamboo shelves, in plastic crates, or hung from chains for a period of three to six months to dry.
Determining when to press the grapes to reach the maximum sugar concentration is perhaps the winemaker's most significant decision throughout the production process. After the grapes are pressed, fermentation begins. Due to the high sugar levels, fermentation lasts anywhere from one to three months.
Traditionally, fermentation takes place in old 50-liter barrels called caratelli. These barrels are typically made from chestnut, but oak, acacia, cherry, and juniper are also used. The caratelli are only filled four-fifths of the way, leaving extra headspace for oxygen. This technique allows for oxidative aging, which gives Vin Santo its trademark amber color. For fermentation and aging, the caratelli are set in a room called a vinsantaie that's often located one floor below the appassitoio.
One of the most distinctive aspects of Vin Santo production is the use of the mother culture known as the madre to kickstart fermentation. This thick, sludge-like mixture is what's left in the caratelli after racking the wine. The residue is a complex blend of lees and older vintages of Vin Santo that's saved and repurposed year after year.
The wine is aged in the caratelli for several years, depending on the designation requirements. Many producers will age these wines even longer than regulations require to concentrate flavors further.
Food Pairings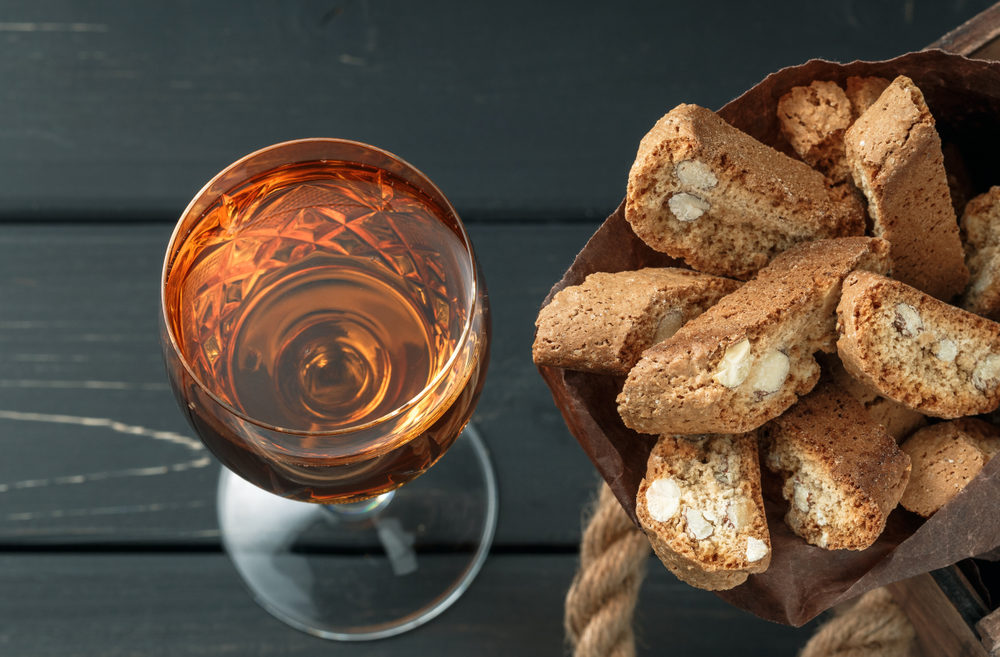 Vin Santo ranges from a gold to deep amber color with dry to lusciously sweet styles. These wines have a velvety texture and offer oxidative characteristics with aromas and flavors of toasted nuts, honey, hay, dried or candied fruits, and spices.
In Tuscany, Vin Santo is typically offered to welcome guests alongside Tuscan almond biscotti called cantucci. Sweet Vin Santo wines make an exceptional pairing for desserts and cheeses. Nut-based sweets like walnut tarts or pecan pie are fantastic Vin Santo pairings. These treats have both savory, nutty flavors and sweetness to match the flavor profile of Vin Santo.
Additionally, Gorgonzola cheese is an irresistible match with Vin Santo. This cheese is creamy enough to stand up to the wine's luscious sweetness. While the spicy, sharp flavors of Gorgonzola are an enticing contrast to the fruity, nutty, and honeyed flavors of Vin Santo.
Dry styles of Vin Santo develop oxidized, salty, Sherry-like flavors and are exceptional pairings for particular vegetable or fish-based dishes. Look to savory flavors to match the oxidative notes of these wines. Try a dish like spaghetti with sage, pancetta, brown butter, and roasted chestnuts.
How Does Vin Santo Compare to Other Dessert Wines?
Vin Santo can be compared to other sweet wines made using the passito method, which has been practiced since 800 B.C. This method is widespread in sweet wine production throughout Italy. The extremely rare Passito di Pantelleria wines from their namesake Sicilian island are also made by first drying grapes on straw mats. The more aromatic Zibbibo variety is used, resulting in honeyed and intensely sweet wines with dried figs and apricot notes.
Greek vinsanto varies from the Italian version in that the wines are made from the Assyrtiko variety. Rather than a slow drying process, the grapes dry much more rapidly as they are left on the vine.
Since Vin Santo is an oxidative wine, it can be compared to certain styles of Sherry. Though Vin Santo is not aged under a veil of flor. Therefore, it's best compared to Oloroso, Pedro Ximénez, or Muscat Sherries, which are oxidatively aged without flor.
Top Producers
Antinori
The legendary Antinori family has been leading the Tuscan wine industry since 1358. Their family's ancient history of winemaking reaches across 26 generations. Ever the forerunner of innovation, Antinori manages 12 estates throughout Italy. Yet even a modernized, large-scale brand like this keeps the process traditional when it comes to Vin Santo. Antinori's Vin Santo is recognized for its intense flavors, refreshing acidity, and velvety palate.
website: www.antinori.it
Selvapiana
Nestled amongst the vineyards of Rufina, Fattoria Selvapiana was once a watchtower in Medieval times, protecting the city of Florence. Today, the Selvapiana estate claims 240 hectares of vineyards. Managed for decades by Rufina pioneer Francesco Giuntini, the estate is currently run by his adopted sons, Federico and Silvio. Selvapiana's Vin Santo is made from 100% Trebbiano Toscano and is renowned for its clean acidity, finesse, and refined body.
website: www.selvapiana.it
Avignonesi
Named for the family who originally owned the estate, Avignonesi was acquired by Virginie Saverys in 2009. The winery is a trailblazer in Italian biodynamics. Their 175 hectares are sustainably, organically, and biodynamically farmed, leading to vibrant wines buzzing with life. Avignonesi is just one of fourteen estates producing the rare Vin Santo Occhio di Pernice. This Vin Santo spends ten years aging in caratelli. The wine exudes enticing aromas of dates, gingerbread, tobacco, and smoked hazelnuts, offering an enthralling experience with every sip.
website: www.avignonesi.it
About Nicole Dickerson
WSET certified international wine writer with a passion for rare varieties and cellar hand experience in both hemispheres. Join me in the vineyards and cellars of the wine world at palmandvine.com.
Related Blog Posts: