The Italian wine scene is a rich melting pot of world-class grape varieties, esoteric gems, and generally maligned styles. Until very recently, Bombino was in the last category. A victim of Italy's mid-20th century obsession with making an easy buck, gallons of lackluster Bombino were produced in the regions of Lazio and Puglia, often used as a distillate or for bulk wine shipping. As a result, no self-respecting sommelier or wine buyer would touch the grape. Its fate appeared to be sealed.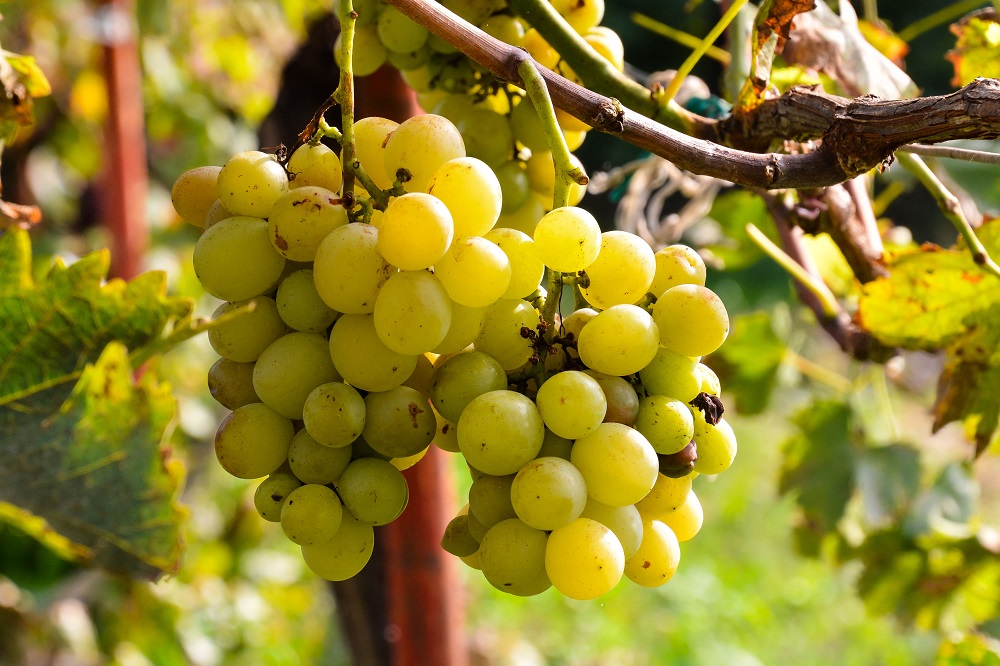 Yet the Italians possess a remarkable talent for revitalizing reputations and turning things around. Today, a younger generation of 'disruptive winemakers' are determined to correct the mistakes of the past. To that end, many growers in Puglia and Abruzzo are fashioning excellent whites from the grape, made in a style that suits the contemporary drinker. In 2022, purchasing a bottle of premium Bombino is no longer a hit-and-miss affair. It's a wise choice.
History and viticulture
Judging by Bombino's collection of nicknames, Italian viticulturists have long regarded this ancient grape variety with a certain amount of contempt. Across central Italy, growers refer to it as 'Pagadebit' (the debt payer), while its popular southern moniker is Straccia Cambiale (tear-up debts). To add insult to injury, 'Caricalasino' (load up the donkey) and 'Buttapalmento' (fill up the tank) are commonly-heard slanders among the more quality-conscious of Italy's wine producers. Almost no one had a good word to say about the grape.
As for Bombino's origins, they are shrouded in mystery. Some wine historians believe that the 'small bomb' may have started life in Spain, exported to Italy by the pre-Roman Mediterranean powers. However, this theory is strongly contested by many Italian viticulturists. Instead, they argue that Bombino is indigenous to the Italian Peninsula, traveling from the vineyards of Puglia into central and northeastern Italy. DNA analysis undertaken in the 20th century adds weight to their claim; genetic profiling has determined that Bombino Bianco is a close relative of Bombino Nero, a grape indigenous to southern Italy. Yet red Bombino is not simply a color mutation of its namesake white cousin – these are two distinct grape varieties.
Nonetheless, much confusion has surrounded Bombino in Italy, not least because Trebbiano Toscano (Ugni Blanc) shares a multitude of synonyms with the grape. But although both varieties are associated with bulk wine, there are not genetically related. Not even third cousins twice removed!
However, their respective roles in Italian viticulture share many obvious parallels. The unification of Italy in the late 19th century dramatically impacted the nation's wine industry; formerly isolated regions were suddenly competing with vineyards across the country. Several decades later, rapid economic growth in the 1960s encouraged producers to create a global market for Italian wine. Sadly, in a rush to modernize and mechanize its vineyards and cellars, Italy fell prey to the philosophy of high-volume and low-quality production. During this period, a great deal of Bombino was exported to Germany to make its signature Sekt bubbly. But a premium table wine made from Bambino was a rare sight indeed.
Today, there is no paucity of mass-market labels that, at best, offer a fault-free and character-free drinking experience. Yet if you dig a little deeper, you'll discover a quiet revolution in the production of Bombino wines. In this case, individual talent and passion may count for a lot more than terroir or region – there are now premium examples being made across southern and central Italy. Nevertheless, crafting a top-quality Bombino white requires great effort, patience, and skill.
Indeed, the challenges are many. The late-ripening Bombino Bianco, if left unchecked, will deliver big bunches packed full of large berries. The resulting wine has little flavor, low acidity, and a relatively high pH. Unfortunately, even vines planted on very poor soils tend to produce these inflated crops, which makes tempering the yield a real headache. The only solution is fastidious pruning and canopy management – growers must be extremely punctilious when cultivating Bombino. Bunch rot can also be an issue in wet harvests, albeit such occurrences are rare in the vineyards of southern Italy.
Winemaking
Like many Italian grape varieties, approaches and attitudes to handling Bombino can vary significantly. Industrial-grade wines are made as quickly – and unceremoniously – as possible. Machine-harvested grapes are crushed, dosed with sulfur, pressed, and fermented in gargantuan stainless steel tanks. They are then filtered and bottled, produced in wineries that resemble massive factories. Quality is most definitely not a priority.
Of course, it's a different ball game in boutique cellars and family-run businesses. Premium labels will involve hand-harvested fruit being gently pressed; better-quality juice results when pressing is gentle, as the winemaker avoids excess phenolics. But if the pressing is too aggressive, the pips and stems break, releasing bitter, astringent flavors into the wine. The must is drained from the press and then cold-settled, allowing solid matter to sink to the bottom of the tank. The chilled juice is then typically fermented in stainless steel: prolonged vinification at cool temperatures protects primary fruit aromas and creates a fresher style of white. After fermentation, certain winemakers like to age the wine on its fine lees (dead yeast cells) for several months, which adds texture and flavor.
In cooler climates, malolactic fermentation will then occur. This process converts harsher malic acid to softer lactic acid – an essential step in cool climates, where the acid line may be fierce. Yet it is seldom practiced in southern Italy, as acidity levels can be relatively low to start. Thus, the oenologist will always prevent this secondary fermentation by removing the yeasts needed to initiate it. Next, clarification via filtration, centrifuging, or fining is commonly employed to remove any residual solid particles from the wine. Lastly, the wine is chilled to around -4 degrees to remove tartrate crystals. It is then sterile bottled to avoid any bacterial contamination.
If the yield is strictly controlled, the resulting white wine should be aromatically expressive, fruit-driven, and fresh. Bombino is often blended with other grape varieties in Italy, particularly Trebbiano Toscano, Malvasia, Passerina, and occasionally Sauvignon Blanc. However, this standardized paradigm of cool fermentation in stainless steel only appeals to some winemakers. Citra, for example, vinify their wines in new oak to craft a very powerful and structured expression called Laus Vitae. Exotically scented and bursting with ripe fruit, only low-yielding vines are used to provide the raw materials. Such interpretations of Bombino are (relatively) few and far between. If you come across a bottle, snap it up.
Bombino's regional diversity
Despite the ongoing revolution in quality-led viticulture and winemaking, you can find traditional Bombino whites in Italy today. A great deal of Bombino is produced in Abruzzo, Emilia-Romagna, Lazio, and Puglia; over 50% of the national output still needs to improve. Nevertheless, there are real gems to be discovered if you have some insider secrets!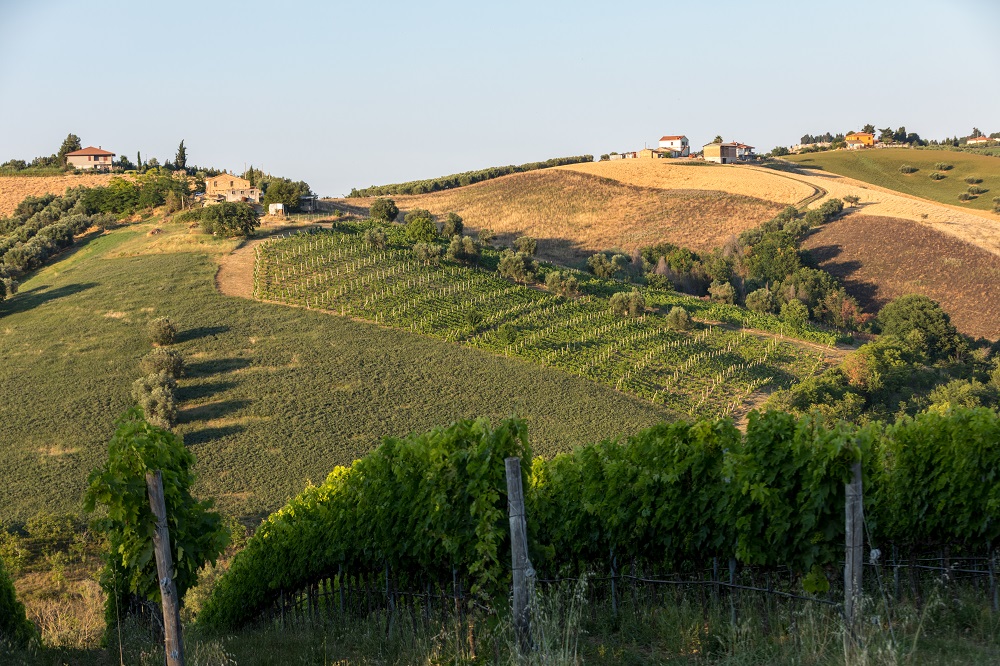 Panoramic view of the vineyards on the rolling hills of Abruzzo
Many critics believe the finest examples are being made in Abruzzo, a region east of Lazio, bordering the Adriatic Sea. There has long been some confusion over the relationship between Bombino Bianco and Trebbiano d'Abruzzo (not the same as Trebbiano Toscano) – many growers assume they are identical. Thus, from their perspective, the term Bombino is a mere synonym for Trebbiano d'Abruzzo. However, genetic analysis has not confirmed this fact, although the critical mass does not differentiate between them. The leading terroir for white wines is in the wild Abruzzi hills surrounding the town of Teramo – growers fashion some excellent Trebbiano d'Abruzzo marketed as a DOC. Founded in 1972, the appellation framework states that Trebbiano d'Abruzzo must account for at least 85% of the final blend. Tiberio and Emidio Pepe are the names most commonly associated with full-bodied Bombino whites, renowned for their longevity, depth, and flavors of pine nuts, citrus, and honeysuckle.
There is always healthy competition in Italy, however. On the west coast, the Roman region Lazio has long produced a great deal of white wine, some distinctly ordinary. But a growing firmament of younger winemakers is starting to turn things around: delicious Bombino wines are now being made under several DOCs. Biano Capena DOC comes in sweet and dry styles, often blended with Malvasia, Trebbiano, and Giallo. Under the auspices of the Cesanese di Olevano Romano DOC, some excellent sparkling wines are now being made. These off-dry frizzante wines perfectly accompany Antipasti, Pecorino Romano, or a bowl of fresh olives!
Our journey ends in Puglia, one of Italy's hottest and driest southern regions. And yet, passionate winemakers are crafting superlative Bombino whites in the Italian 'heel', particularly under the rules of the San Severo DOC. In the Capitanata subzone of Puglia, Bombino is combined with Trebbiano, Malvasia, and Verdeca to spectacular effect. The top sites benefit from cooling winds that blow off the Adriatic and Ionian seas, providing much-needed relief during the summer. It seems counter-intuitive that such a hot Mediterranean region could yield saline whites, able to compete with Albarino, Picpoul, and other great styles on the global stage. But thanks to modern equipment, improved viticultural methods, and a liberal dose of youthful exuberance, Bombino is back on the quality wine map.
Top producers of Bomino wines: