The small Marche winery of Sartarelli hit the world scene in 1994 when it launched the late-harvest Verdicchio wine of Contrada Balciana. Much to the surprise of many wine connoisseurs, this small, low-tech winery produced a flavorful and balanced wine of surprising depth and complexity. A true reflection of its terroir, the now-iconic wine was made with artisanal methods like very low yields and long hang times, allowing the fruit to achieve extraordinary flavor. The unique style of Balciana is now Sartarelli's trademark and has inspired a legion of would-be imitators.
Sartarelli, located in the village of Poggio San Marcello in the gorgeous March region, was founded in 1972 but did not actively pursue high-quality winemaking until years later. The firm's main objective is to extract the best of the native Verdicchio grape. To that aim, Sartarelli has been perfecting the variety, using clones from its own vineyards to achieve a truly unique taste. The company has grown considerably since the mid-1990s. It now has three excellent Verdicchio wines: the original Contrada Balciana, Verdicchio Tralivio (made in a similar but lighter style than Balciana), and Verdicchio Classico (a direct and usually flawless presentation of Verdicchio's character). Enjoy these exquisite Verdicchio wines on an Umbria & Marche Winery Tour organized by Cellar Tours
The vineyards are planted on steep terraces at an altitude of 300 to 350 meters above sea level. Care of the vineyards is of foremost importance at Sartarelli, and each step of the growing and harvesting processes are carefully monitored. The grass is left to grow between rows of vines to keep soil nutrients intact, and vine yields are kept very low to ensure high-quality grapes.
Wines produced
Contrada Balciana

100% Verdicchio, sweet late harvest wine, 15.5% alc. annual production of approx. 10- 20,000 bottles.

Verdicchio Tralivio

100% Verdicchio, 13.5% alc. annual production of approx. 100,000 bottles.

Verdicchio Classico

100% Verdicchio, 13.5% alc. annual production of approx. 200,000 bottles.
Winery details
Via Coste del Molino, 24
Poggio S. Marcello- 60030 (AN)
Italy
Tel +39 0731 89732
Fax +39 0731 889902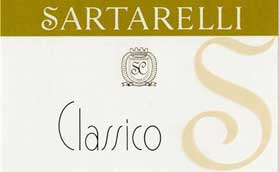 Appellation

Verdicchio dei Castelli di Jesi

Founded

1972

Area under vine

66 hectares

Age of vines

10-15 years old

Oak barrel origin

French and Slovenian Oak
Winemaker

Alberto Mazzoni

Owner

Donatella Sartarelli and Patrizio Chiacchiarini

Grape varietals

Verdicchio