The unsung diversity of Italian sparkling wine
A leading winemaker once proclaimed to Cellar Tours, "Italy is one of the great unsung heroes of the sparkling wine world." Such a statement deserves intense scrutiny, yet there is undoubtedly some truth to the idea that Italy deserves to be better known for its often under-appreciated sparkling wine styles. There is no 'cut and paste' Champagne designation to be found in this gorgeous country, but several appellations come remarkably close.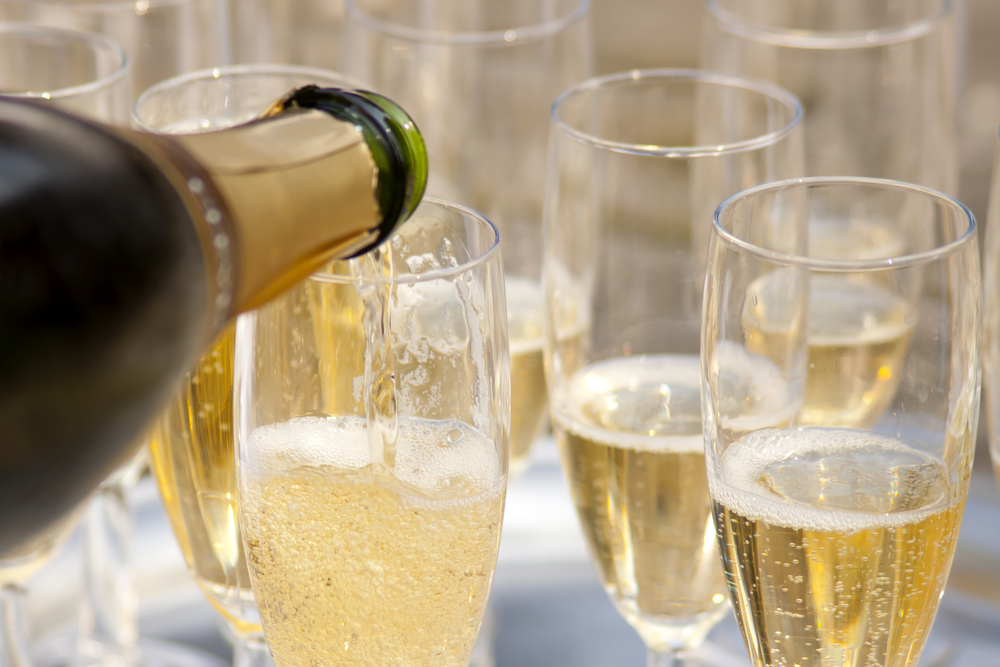 Today, over 90 DOCs (Denominazione di Origine Controllata – Italy's equivalent of the French AOC system) are theoretically entitled to make sparkling wine. Yet only one designation has, thus far, really stolen a march with consumers. Prosecco, a tank-fermented sparkling wine style from northern Italy, can be found on every continent. From Tokyo to New York, London to Lima, consumers worldwide have heard of this incredibly popular fizz. Many drinkers adore Prosecco's floral and pear drop flavors, soft texture, and moreish quality. Moreover, it is affordable and readily available – what is not to like? Of course, its detractors are always queuing up to deride Prosecco; it is undeniably true that even the best examples cannot touch Champagne for ageability, complexity, and depth of flavor.
However, describing Prosecco as a monolithic sparkling wine category is equally unfair. The wine is always based on the Glera grape, but the geographical differences encourage a diversity of styles – from easy-drinking, off-dry fizz to more structured and savory examples. Moreover, the wine can be made in a vast geographical area, covering Veneto, Friuli-Venezia Giulia, Treviso – which has a separate appellation – and the vastly superior Conegliano Valdobbiadene Prosecco Superiore DOCG. At the top of the quality tree lies Superiore di Cartizze, a renowned terroir in Italy, famous for its creamy and subtle interpretations of the Glera grape. The beautiful and striking Cartizze hill is a marvel, fully deserving of its status as the ideal place to grow Glera. It proves that Prosecco is not simply 'forgettable fizz,' ideal for summer quaffing if little else.
Franciacorta Sparkling Wines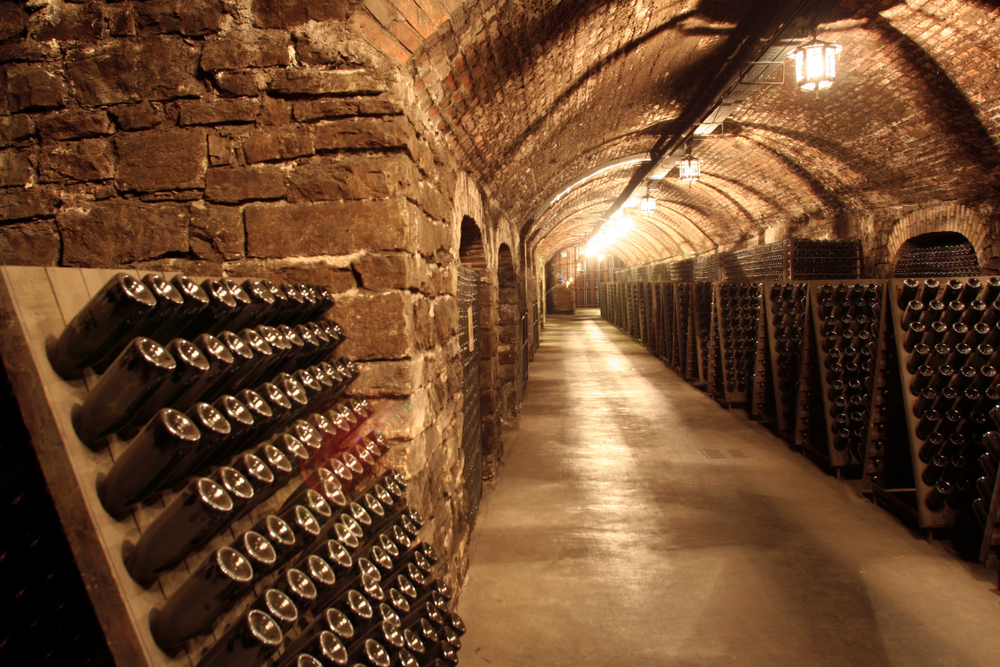 Sparkling Wine from Franciacorta aging on Pupitres
But just for one moment, let's focus on lesser-known examples of Italian fizz. Have you discovered Franciacorta? We promise you'll love it; the region is far, far smaller than Champagne, producing less than 14 million bottles per annum. But in quality terms, Franciacorta has few peers. At blind tastings, the quality of the best wines always shines, with critics repeatedly asking for assurances that they're not drinking Champagne. The blend is often close to the Champagne model, mixing Pinot Noir, Chardonnay, and a smaller percentage of Pinot Blanc. But, of course, stylistic differences tell them apart: Franciacorta is often more vinous and rich, with an exotic ripeness that Champagne traditionally lacks. Yet there is refinement, structure, and ample acidity in the best years and from the best producers.
The vineyards of Franciacorta are found in northern Italy, grown on hilly slopes near Lake Iseo in the Brescia province of Lombardy. The soils are extremely varied, but all vines benefit from the chain of hills, which protects the valley from southern winds. The warm and dry summers typically produce base wines with more body and weight than Champagne, although due to winemaking differences, there is a varied palette of styles to choose from. By law, Franciacorta has to be produced using the traditional method – secondary fermentation in bottle – and must be aged for a minimum of 18 months before disgorgement. Our favorite style is Saten: produced from 100% white grapes, Saten is made with less pressure than is typical in Franciacorta. The results are silky smooth, racy, and impeccably balanced—a match for any top Blanc de Blancs prestige cuvee.
But to whom do we owe thanks for this splendid and, unfortunately, still under-appreciated sparkling wine? Franciacorta was awarded DOCG status as recently as 1995; however, the first fizz in the region was made by Franco Ziliani in 1961. Working for winemaker Guido Berlucchi, Ziliani inspired wealthy entrepreneurs Maurizio Zanella and Vittorio Moretti to take the Franciacorta brand to new heights. Their prestige labels remain the pinnacle of superlative Franciacorta – cuvee Anna-Maria Clementi has been compared to Cristal. It is the luxury offering from Ca' del Bosco and every bit the equal of Louis Roederer's legendary brand.
TrentoDoc in Trentino
Nevertheless, competition for the title of northern Italy's finest fizz is growing. The area of Oltrepo Pavese in Lombardy received a designation for sparkling wine in 2007, while TrentoDoc in Trentino has gone from strength to strength. Today, over 30 wineries are making TrentoDoc, offering over 70 different labels. The blends often mirror those of Champagne, with higher acidity and degree of freshness than is typically found in Franciacorta. Meanwhile, in Piedmont, more than a dozen brands joined together to found Alta Langa in 2007. The vineyards are located on high-altitude sites – the wines must be made using the traditional method. It was promoted to DOGC status in 2008, and although the volumes made remain tiny, its reputation is growing in Italy and abroad. There is always a trend-conscious sommelier desperately seeking out the niche and new.
San Leonardo, a historic property based in Treviso, has also entered the sparkling wine business. In 2019, the producer released its first traditional method sparkling wine, a Blanc de Blancs, with three years of maturation on the lees. This foray is a testament to how popular traditional method wines are becoming across Italy, as patriotism lures in wealthy consumers and encourages them to swap Champagne for domestic brands. Indeed, a growing number of farmers in Trentino are replacing local red grapes with varieties suitable for producing sparkling wine. Most examples are Charmat styles – tank-fermented sparkling wine that does not undergo bottle aging. However, the San Leonardo Blanc de Blancs is a truly excellent, 'Champagne style' wine. It will undoubtedly inspire others to follow their lead. And while the volumes of traditional method bubbly pale in comparison with Prosecco, the dual messages of quality and diversity are slowly disseminating across the world's restaurants and merchants. It used to be almost impossible to find Franciacorta outside of Italy, but the tide is turning.
Piedmont – Asti and Moscato d'Asti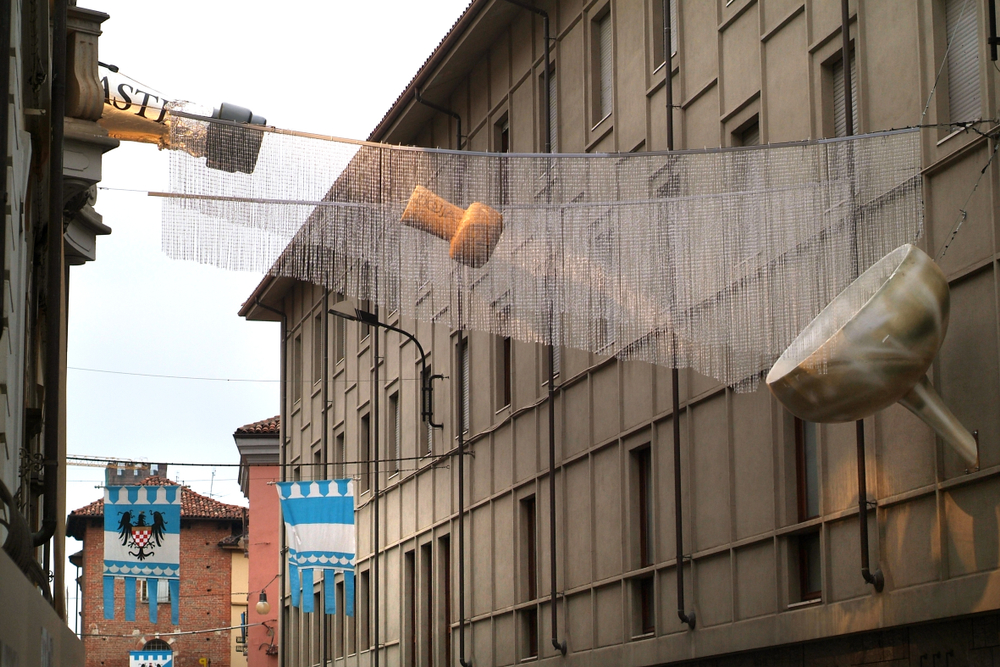 The annual wine fair "Douja D'Or", Asti, Piedmont
At the opposite end of the sparkling spectrum is Asti and Moscato d'Asti. Two delightful styles that Italy has made its own. There are similarities and massive differences: the grape (Moscato) and regional boundaries in Piedmont are the same. However, Asti is a sweet, fully sparkling style, whereas Moscato d'Asti has a lower alcohol content, less pressure, and more sugar. The volumes are also a world apart – Asti is undeniably a bulk product, made in industrial conditions with millions upon millions of bottles released to an eager audience. At its best, Asti is light and racy, the perfect aperitif for those who abhor dry styles. At its worst, imagine an utterly forgettable and amorphous glass of fizz.
Asti is made from 100% Moscato, grown in 53 sub-areas throughout Piedmont – home of Barolo and Barbaresco, likewise Moscato d'Asti. But although Asti and its counterpart can be made from the same grapes, the latter version tends to have more pungent aromas due to the lower CO2 and alcohol. Moreover, the high sugar level means that Moscato d'Asti is wasted as an aperitif – it cloys on the palate and spoils the anticipation of a savory meal.
The niche for these feather-light, floral, and spectacularly fragrant wines is after the main event. Sauternes are often touted as the ultimate dessert wine, yet too often, the delicate flavors are overwhelmed. Instead, try pairing a rich pudding with Moscato. The high amount of sugar ensures that it will form a harmonious marriage with the Tarte au Chocolat on your plate, rather than one party subjugating the other.
But above all, serve Moscato d'Asti in its youth. It is a wine style that rarely, if ever, benefits from bottle age. Maintaining those lovely fragrant, fresh aromas is key – age withers and destroys all that is wonderful about Italy's unsung hero of sparkling dessert wine. And so, again, Italy proves that it has covered all the bases. Both new faces and established growers are confounding expectations, producing a mosaic of styles that outrank France in terms of flavor diversity. It's time to get the message out – Prosecco is merely the tip of a very large iceberg of quality-led Italian sparkling wine.
Related Blog Posts: