Profile of Tenuta San Leonardo
Creator of one of Italy's best Bordeaux-style blends, the southern Trentino winery Tenuta San Leonardo has won more awards than it can keep track of. But few are as significant as the recognition it received in early fall of 2007 when Italy's most respected wine guides revealed their selections for the country's top wines. One of only five Italian wines to receive the highest scores in all publications was the San Leonardo 2003, the flagship wine of Tenuta San Leonardo. Still, the achievement is merely another feather in the cap of this prestigious and highly regarded winery. This Italian wine region close to the city of Trento is off the beaten track and is a really unique and fascinating area to enjoy a wine tour while in Northern Italy.
Founded in 1770, Tenuta San Leonardo sits on a sprawling and gorgeous estate near Avio. Grapes may have been grown here as early as 900 AD when monks from a monastery on the site made wine for mass. Part of the ancient monastery survives today and has been incorporated into the winery; its old hospice is now used as a cellar. The aristocratic Guerrieri Gonzaga family inherited the property in the 18th century and has been running it ever since.
These days, the winery is focused on a small production of red wines: the Cabernet Sauvignon-Cabernet Franc-Merlot blend San Leonardo; its younger brother, the Merlot-Carmenere blend of Villa Gresti; and a 100 percent Merlot wine. Wines that strive to be a complex reflection of their terroir, these are truly pampered creations that year after year beat the odds of the unpredictable Trentino climate to become balanced, expressive wines. The winery is one of our favorite on a Trentino Winery Tour, and all guests are treated as VIPs – truly an amazing visit.
The 300-hectare estate lies in the heart of Vallagarina, between the villages of Masi and Borghetto on the banks of the Adige River. The fairly dry and loose gravelly soils of the 20 hectares of vineyards here are ideal for producing grapes with concentrated aromas and flavors. Particularly notable is the Cabernet Franc, which, due to the area's unique terroir, is much less green than usual, giving the San Leonardo blend its tell-tale elegance and longevity.
Wines produced
San Leonardo

60% Cabernet Sauvignon, 30% Cabernet Franc, 10% Merlot; alcohol 13%

Villa Gresti

90% Merlot, 10% Carmenere; alcohol 13%

Merlot

100% Merlot, alcohol 12.5%
Winery details
Località San Leonardo
Borghetto A/Adige
Avio (TN)
Tel +39-0464-689004
Fax +39-0464-682200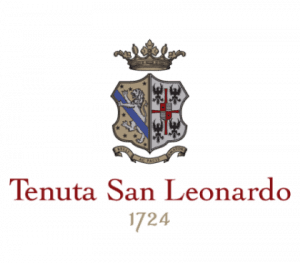 Appellation

IGT Vigneti Delle Dolomiti and IGT Vallagarina (previously DOC Trentino)

Founded

1770

Area under vine

20 hectares

Oak barrel origin

600 French oak barrique, plus a small quantity of Russian and American oak barriques
Winemaker

Carlo Ferrini

Owner

Marchesi Carlo and Anselmo Guerrieri Gonzaga

Grape varietals

Merlot, Cabernet Sauvignon, Cabernet Franc, Carmenere