Grappa is a traditional Italian spirit made from the pressed seeds and skins of grapes (pomace) or "vinaccia" as it's called in Italian after the must (grape juice) is used in winemaking. Grappa is made all over Italy, from Tuscany to Naples, to the Veneto region. The process is relatively simple: the leftover pomace is fermented without added sugar or alcohol, as the grape skins present are naturally high in residual sugars. After fermentation, the Grappa is distilled, and it becomes a dry, intense, and complex liquor. Grappa can be very strong, usually between 40 – 45% ABV (80 and 90 proof), but some reach as high as 60% ABV (120 proof). It is usually served as a digestive or "Digestivo" at the end of the meal.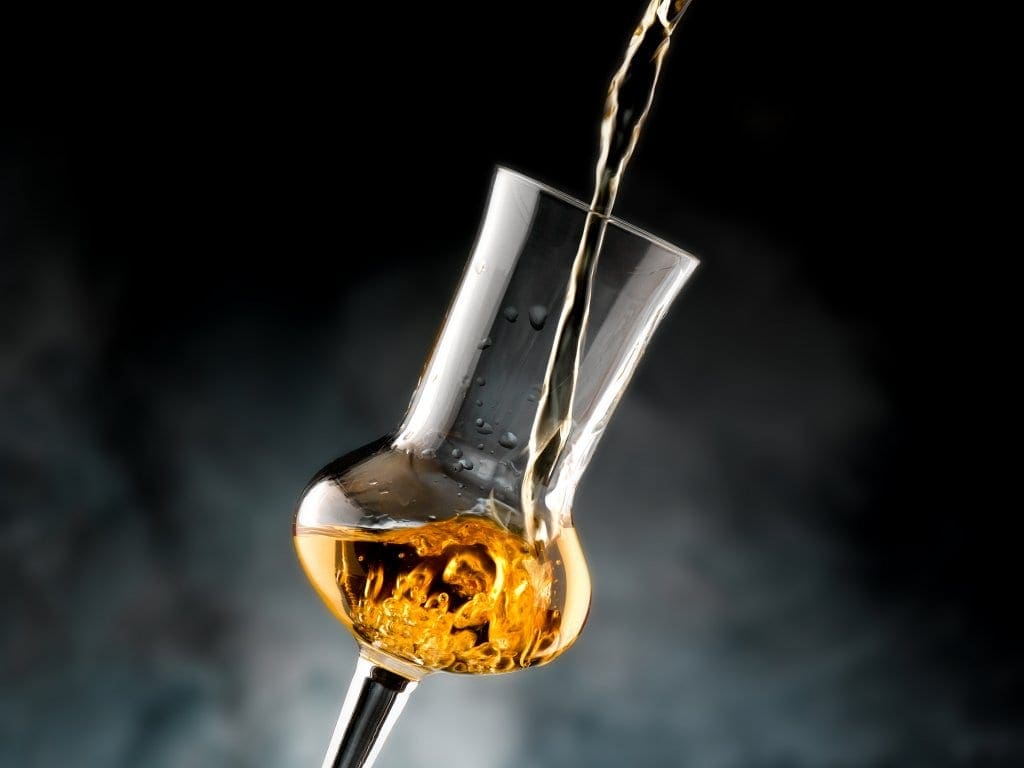 Grappa was branded the poor man's drink, is produced from the leftovers of wine production, historically being used to help fend off the cold temperatures and as an "escape" from hard work. However, over time its therapeutic properties, particularly its digestive effect, became apparent. It is an integral part of an Italian meal, usually being sipped or mixed with coffee at the end of the meal.
Join Cellar Tours on a Luxury Italian Gourmet Grand Tour, an experience Grappa Italian style
In recent years there has been a significant effort to improve grappa's image and quality. The Grappa National Institute was founded in 1996 in Pavia, and there are 5 officially recognized regions; the Veneto, Piedmont, Lombardy, Trentino, and Valle d'Aosta. The Veneto produces the largest volume, representing 40% of the production. Thanks to the Grappa National Institute and modern-day techniques, the quality of the production is greatly improved. Private companies that are not situated within one of the recognized regions can still be members, and now over 70% of distilled grappa is represented by the Institute.

According to Italian liquor laws, grape pomace fermentation can be done directly with water vapor or by adding water to the mixture. The laws also allow a certain percentage of lees (dead yeasts) to be used. Techniques are now being used to leave a higher moisture content, which keeps some of the particular grape flavors resembling brandy or a fruit-based liquor and creates higher quality grappa.
Besides geographical classification, grappa can be defined by style or age, ranging from Grappa Giovane, young grappa Grappa aromatic, which is also a young grappa, but from an aromatic varietal such as Moscato or Gewürztraminer, Grappa Affinata in Legno can be applied to grappas aged in wood, but for less time than required by law to be classified a Vecchia (more than 12 months) or Riserva (more than 18 months). Some are aged for many more years and vary in the type of wood; ash, plum wood, or oak. But probably the most significant movement in recent years has been the focus on Grappa monovitigno single-variety grappas and with some truly remarkable results; Moscato Grappa, for example, is one of the most aromatic, with an incredible floral, fruity aroma and flavor. Thanks to international bartenders, grappa consumption is looking to increase as it appears more and more on cocktail menus. Don't be surprised if you find yourself ordering a "Moschito" instead of a Mojito.
Grappa also comes in flavored varieties, Grappa Aromatizzata, which are made by adding natural herbal extracts and fruits that create a surprising array of flavors, such as aniseed, licorice, chamomile, and pear. Grappa's recent trend has also led to an infinite range of bottle designs, some quite sought-after collector's items.

Some Top Grappa Producers:
Related Posts: