Merlot, the resplendent red grape variety of Bordeaux, achieved massive notoriety in 2004. The impetus was the Oscar-winning film Sideways. During a brilliant scene, the lead character Miles delivers an expletive-filled rant about his passionate disdain for the grape. Thanks to the power of celluloid, US consumers were suddenly talking about this much-loved variety in droves, wondering whether it had become a touch passé?
Read more about French Red Wine
You can explore the Bordeaux Wine Region with Cellar Tours on a private Luxury Food and Wine Vacation, dine in the best local restaurants, and enjoy VIP tastings in the top Chateaux.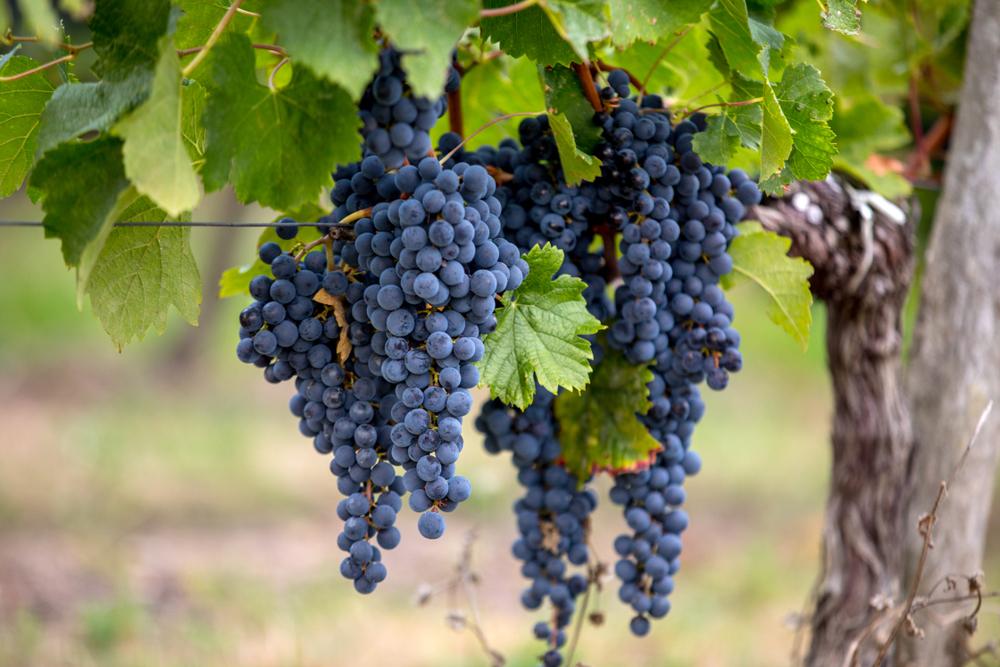 Since that moment, the quality and character of Merlot have been dissected by bloggers and writers ad infinitum. Some would argue that it is an anodyne and forgettable varietal; it is loved by the masses but is derided by wine aficionados. Yet despite the naysayers, the fact remains that Merlot is as popular as ever. It is one of the most widely planted varieties in the world, cultivated in every corner of the earth. It is simultaneously responsible for cheap-and-cheerful weekend wine and Saint-Emilion and Pomerol's magnificent and lavishly expensive labels. Indeed, Le Pin and Petrus, two of the most costly wines in the world, are 100% Merlot cuvées. However, single-varietal Bordeaux wines are the exception, not the rule.
This is the great irony of Merlot; many of its fiercest detractors would happily imbibe top Right Bank Bordeaux (the varietal is seldom mentioned on labels), blissfully unaware that Merlot typically constitutes 60-70 percent of the blend. Merlot is the ultimate chameleon, running the whole gamut from simple fruit-driven tipples to structured, complex, and profound wines. Make no mistake – Merlot is definitely in vogue and as relevant as ever.
Just taste a top-quality example from Bordeaux – you'll see why so many people fall head over heels in love with Merlot. Traditionally blended with Cabernet Sauvignon and Cabernet Franc, Merlot is the most widely planted grape in the region. It's (relatively) large berries and thinner skins results in a delicious and opulent wine style that can be enjoyed at a young age. It reaches its apogee in Saint-Emilion and Pomerol regions, where Merlot ripens to voluptuous, structured perfection. Its generally accessible tannins and ripe fruit profile add up to an extremely sensual and hedonistic wine-drinking experience.
History and viticulture
Merlot has been grown in France for several centuries. One-half of its parentage was discovered in the late 20th century by a team of scientists at the University of California, Davis. The grape is a genetic descendant of Cabernet Franc and a close relative to Malbec, Cabernet Sauvignon, and Carmenere. A decade later and the final piece of the puzzle was solved. A little-known variety cultivated in a forgotten vineyard in Brittany, now called Madeleine Noire de Charentes, was discovered by accident. It was later observed that Madeleine vines adorned houses in villages like Tanzac and Maixe in the Poitou-Charentes region, spiking the interest of viticulturists. Genetic testing proved conclusively that this esoteric gem was the mother of Merlot. Indeed, they share much in common; both varieties ripen fairly early in the growing season, producing attractive and plump wine.
However, Merlot was not mentioned in written materials in the Bordeaux region until the late 18th century. Known as 'Merlau' in the 1700s, it was referenced by an official documenting wine-growing in the Libournais zone of the Right Bank. After the phylloxera louse destroyed Bordeaux's vineyards in the 19th century, the land was replanted with a far smaller number of varieties. In 1794, over 34 red grape varieties were recorded as being cultivated in the Bordeaux region. Yet when the vineyards were replanted, it was inevitable that growers would select grapes that could thrive in the terroir and reliably ripen in the Bordeaux climate year after year. Merlot was such a grape.
Growing Merlot
Long established in the Bordeaux vineyards situated east of the Dordogne, the variety has gained ground in the Medoc in recent years. Although Cabernet Sauvignon has always been the king of the Bordeaux Left Bank, winegrowers became frustrated with its inability to reach satisfactory levels of ripeness in appellations like Saint-Estephe. In such cases, it makes sense to replace Cabernet with Merlot, particularly on the cooler clay soils (Merlot loves clay terroir) that often typify vineyards north and west of Pauillac. By 1988, half of Bordeaux's vineyards were planted with Merlot, which was scarcely the case at the turn of the 20th century. But it is now exceedingly popular in Bordeaux's less exalted appellations, such as Cotes de Bordeaux, Cotes de Bourg, and the Saint-Emilion satellites. This is due to the simple fact that Merlot, overall, is not a difficult variety to cultivate.
Visit any Right Bank chateau in September, and you'll marvel at the rows of Merlot vines, heavy with large bunches of dark blue grapes. All being well, Merlot tends to ripen about two weeks earlier than Cabernet Sauvignon, which is a significant advantage in a maritime climate susceptible to autumn downpours. Indeed, Merlot has a long history of 'saving' inclement vintages in Bordeaux, such as 1992 and 1993, when the Cabernet failed to ripen successfully. Merlot offers ripe and silky tannins, a soft texture, rich fruit, and plenty of alcohol/body in standout vintages. What's to dislike?
Moreover, it will usually offer growers a generous yield, although Merlot's tendency to overproduce can be a disadvantage. If the chateau aims for supreme quality, then the vines will need to be judiciously pruned throughout the season. Cabernet Sauvignon gives good wine even at relatively high yields, which is not the case for its blending partner.
In addition, Merlot does present one or two challenges, especially in difficult years. Early ripening varieties can be a blessing and a hindrance, as they tend to bud earlier, increasing the risk of spring frost attacks devastating the potential yield. This occurred as recently as April 2021, affecting several regions in Bordeaux and beyond. Merlot also shows some fragility during flowering; if the weather is too cold during flowering, the infant flowers or berries will fall off or fail to set normally, a process known as coulure. Downy mildew and botrytis attacks (fungus) are other constant headaches in wetter vintages. Mildew affects the leaves of Merlot vines, which become discolored, eventually dropping off, which drastically reduces the plant's ability to make energy via photosynthesis, slowing down the maturation rate. Fortunately, there is a treatment available involving copper sulphate.
The heartland of exceptional Merlot wines
Full disclosure time: winemakers in locations as diverse as Napa, Mendoza, France's Languedoc, and Hawkes Bay (New Zealand) are crafting world-class Merlot. But there is a complexity, elegance, and nuance to Bordeaux-grown Merlot that cannot be replicated. The variety is found throughout the wider region, planted on both the Left and Right Banks. Yet the finest expressions are undoubtedly made in the vineyards of Pomerol and Saint-Emilion, albeit Merlot seldom appears as a standalone varietal.
Saint-Emilion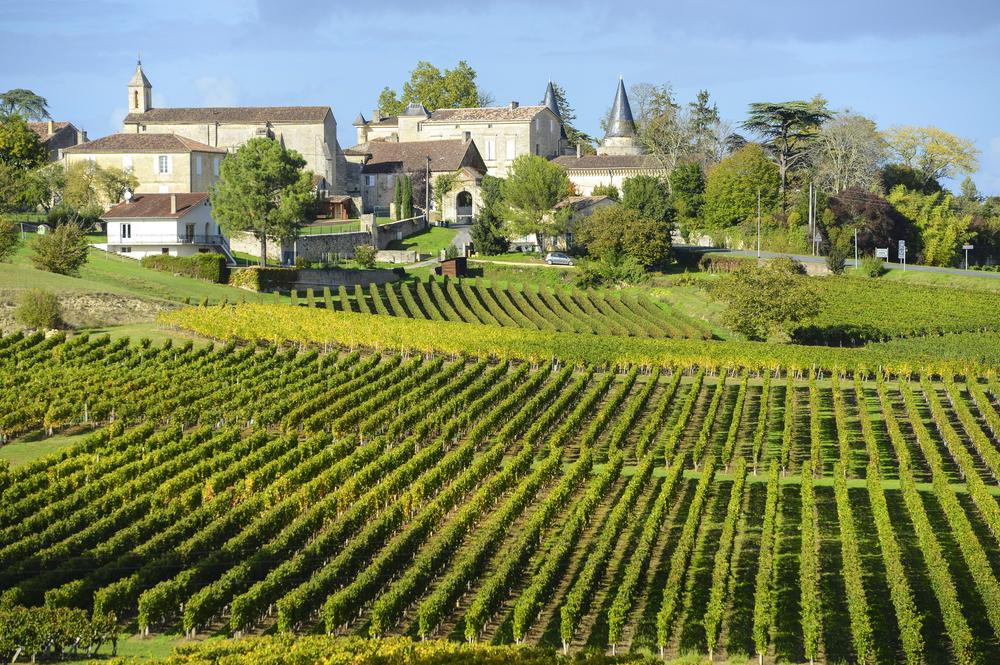 The grape has achieved a remarkable synergy with the clay-limestone terroir of Saint-Emilion. Merlot has long been the dominant variety here, accounting for over 68 percent of plantings. The plateau's cool and deep calcareous soils offer many advantages; they are water-retentive in warmer years, rich in minerals and nutrients. The generally warm summers ripen Merlot to perfection, creating structured and generous wines that can age for decades. When blended with Cabernet Franc and potentially a dash of Cabernet Sauvignon, Merlot produces exquisite red wine in Saint Emilion. In their youth, aromas of black cherry, plum, and raspberry fill the glass, often complemented by vanilla, cedar, and vibrant black fruits. As Merlot-dominant wines age, they take on the most beautiful tertiary characteristics, marked by bitter chocolate, tobacco, cut grass, woodsmoke, and licorice. Above all else, great Saint-Emilion should be defined by freshness, perfume, good acidity, and exceptional length. The palate will be concentrated (but not overblown), and the fruit clearly and precisely defined. It represents Merlot as its very best.
Pomerol
Close competition (metaphorically and literally) is never far away in Bordeaux. West of the Saint-Emilion boundary is Pomerol, another hotbed of excellent Merlot wines. Like their neighbors further east, growers tend to add a dash of Cabernet Franc to the wines to add structure and perfume, although Cabernet Sauvignon is seldom encountered. What emerges is perhaps Merlot at its most voluptuous and exotically complex. As ever, the secret to Pomerol's success is the terroir.
The most highly regarded estates cultivate vineyards on a celebrated buttonhole of blue clay, rich in crasse de fer (iron). It is said that the famous 'boutonniere' contributes to the truffle and violet aromas that typify the best Pomerol wines. Almost always composed of at least 75% Merlot, Pomerol is a profoundly sensual style, with a structure that rarely obscures the concentrated and opulent fruit. Unlike Saint-Emilion, there is no official classification of Pomerol's wine estates, as the region has decided to let collectors be the final arbiter. The rising prices at auction suggest that they have been vindicated.
Tasting a landmark vintage of Pomerol like 2005 is a true privilege. The wines are often very attractive in the relative stages of their youth, with a nose of black cherries, damson, and red berries. However, an exquisite and voluptuous wine will emerge with age, defined by flavors of black truffle, licorice, mint, cigar box, and vanilla, with spice and complexity on the finish. Pomerol represents the pinnacle of achievement for the Merlot grape in every sense of the word: rich and seamless, powerful yet refined and balanced. Expect to pay.
Left Bank Merlot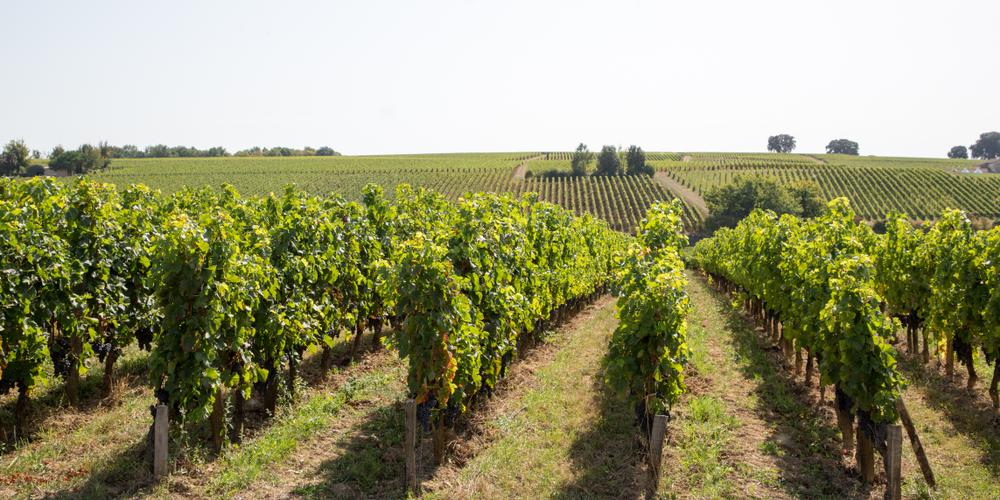 Although Cabernet Sauvignon is the undisputed king of the Medoc and Graves regions, Merlot has long played a vital supporting role in the Left Bank. Planted on clay-limestone soils found throughout the zone (despite popular misconception), Merlot produces delicious and fragrant wine. The best examples may lack the exotic lushness of top-end Pomerol, but they are always defined by racy acidity, good structure, and an inimitable freshness. In every appellation in the Left Bank, growers use Merlot to soften the inherently robust structure of Cabernet Sauvignon and contribute suppleness and mouthfeel. Of course, the percentage of Merlot employed will vary depending on the estate in question, vintage, and appellation. Yet it is exceedingly rare to encounter 100% Cabernet Sauvignon wines, even in the heartlands of Pauillac and Margaux.
Merlot's future in Bordeaux
Merlot is an integral part of Bordeaux's wine-growing culture. This is because it has contributed so much to the wines of this venerable region as the dominant force of a blend crafted in Saint-Emilion or the secret ingredient in a Cabernet-dominant vintage of Latour. Yet certain growers are starting to question whether Merlot can thrive in the longer term in Bordeaux due to rising temperatures and hotter growing seasons.
The 2015, 2018, 2019, and 2020 vintages in Bordeaux were defined by torrid summers and a constant battle to keep the grapes from becoming flabby and overripe. Merlot is predisposed to give very high alcohol in such conditions, to the extent that chateau owners are starting to view this as an undesirable characteristic. Planning for the future, some winemakers are replacing their Merlot with either the later-ripening Cabernet Sauvignon and/or Cabernet Franc.
As Saskia Rothschild observed in 2020: "We've had a run of excellent vintages in Bordeaux, but this doesn't mean we are not extraordinarily wary. This is especially the case on the Right Bank for L'Evangile, where Merlot is the main varietal and has a great sensitivity to heat. This means we are planning to plant more Cabernet Franc and even Cabernet Sauvignon to make sure we build a balanced blend for our future vintages."
Twelve months later, Stephanie Barousse, deputy CEO of Chateau de la Dauphine in Fronsac, was thinking along similar lines. "Over the past few vintages, we've been seeing wines with 15 percent alcohol," said Barousse.
"Merlot is a wonderful variety, but its tendency to ripen early can be a problem in hotter years. I don't want my alcohol levels to become unbalanced, so we're going to use more Cabernet Franc in upcoming vintages, as it ripens later."
However, there are other solutions. Some chateau owners advocate seeking out cooler terroirs for the grape, while others practice constant vigilance and earlier picking times to avoid unwieldy alcohol and low acidity. Global warming is testing the ingenuity and flexibility of the Bordeaux establishment like never before. If their track record is anything to go by, then they're bound to succeed in keeping Merlot firmly established in the vineyards of tomorrow.
Top Bordeaux Merlot-dominant wines: