The Roman town of Evora is about 150 km south of Lisbon, on top of a steep hill, and dominated by a large cathedral. It is the chief city of the capital of the Alto Alentejo Province. The province is a large, undulating plain south of the Rio Tejo (Tagus River). The region is full of cork and olive trees and whitewashed villages. Evora, the jewel of the Alentejo region, is completely enclosed by an ancient wall and is extremely well preserved. It is listed as one of UNESCO's World Heritage sites. It has over 2000 years of history, with various occupations including the Romans, Visigoths, and Moors.
In the Roman era, this city was known as 'Liberalitas Julia' when it was first walled in on its perimeter. In 715, the city was taken by the Moors. In 1166, Geraldo the Fearless took over the city and transformed it into one of the most flourishing cities in Portugal of the middle ages. The ruins of the second-century temple are still visible today, with various Roman baths ruins under the present day town hall and the Porta de Dona Isabel, the gated entrance within the perimeter wall. In the 15th and 16th centuries, the Portuguese kings made Evora the city of their courts, and there are graceful, aristocratic manors and mansions that testify to this regal past. The different architectural styles (romantic, gothic, Manueline, mannerist, and baroque) that line the palaces, squares, and streets make this city a delight to visit.
Gastronomy & Wine
The gastronomy in the Alentejo region is highly dependent on bread and meats. This inland area of Portugal is known for its use of pork and fish, its coriander bread soup, kid and lamb stews, egg and almond sweets, and its cheeses, including Serpa, Nisa, and Evora. "Migas" (fried breadcrumbs flavored with sausage) and "Açorda" are traditional dishes based on the use of bread. "Ensopado de Borrego" is an intriguing lamb stew. All types of soups are popular, including tomato, bean, and shark. "Sarapatel" is a traditional peasant's dish using the extra pork parts. Almond Pudding ("Encharcado"), "Bolo Rançosa" puddings, "Queijadas" (a cake made with cheese), and "Sericá" (a very creamy sweet dish) are all excellent dessert specialties.
The wine made around the town of Evora comes from the famed Alentejo region of Portugal. Among some of the top names is Herdade do Esporao and J. Portugal Ramos. This region is famous for its high-quality red wines. The Alentejo winemaking is done with principally indigenous grape varietals, although some "international" varieties such as cabernet sauvignon have recently been experimented with. There are six main Alentejo wine grapes, including Roupiera, a white with a well-balanced nose and lemony bouquet, Rabo de Ovelha, a light-colored white wine, and Antao Vaz, a white with a very distinctive nose. There are also three main red types, including Periquita, with a very fruity, smooth taste; Trincadeira, which has a fresh taste with high alcohol content. And Aragonez, which makes dark, full-bodied red wines.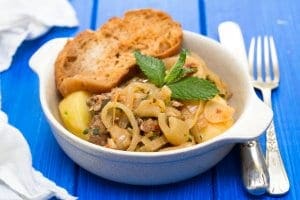 Highlights
The largest Cathedral in Portugal dominates the town. It is a 12th-century gothic church with two asymmetrical towers, housing a Sacred Art Museum. Inside the cathedral, there is a rare dome, a high baroque alter, and the oldest organ still in use in Portugal.

Visit the Roman town of Evora, "the jewel of the Alentejo" on our Alentejo Wine Tour and explore this unspoiled region of Portugal. Rolling vine-covered hills are interspersed with beautiful cork forests, Moorish castles, and pretty hamlets. The Alentejo is home to some of Portugal's most famous wines.

The city's most famous and photographed landmark is the 1st-century Roman temple. Surrounded by the Pousada dos Loios and the Convento de Sao João, this large edifice still stands with few missing columns. It is called the Templo de Diana and is lined with Corinthian columns. In summer, the temple and open square are used for outdoor concerts, beautiful against the backdrop of the columns.

Palacio de Duques de Cadaval

The Palacio de Duques de Cadaval was built over an old castle that burnt down in the early 1380s. It is dominated by its architecturally Moorish elements and the tower called the Five shield.

A square surrounded by a city forum and an arcade. It is lined with cafes and a beautiful 16th-century marble fountain topped with a bronze crown. In this square also lies the Convento das Mercês, which is now The Évora Decorative Arts Museum, with interesting collections of church robes and furniture. The old Jewish quarter is also located nearby between Rua Serpa Pinto and Rua dos Mercadores.

This is literally the street of the painted houses. Behind the closed doors off this street is a cool courtyard, home to a small gallery of exhibits including mermaids, trees, and animals from India. These were made by Vasco de Gama when he lived in Evora and where he was appointed by D. Manuel I to serve as Commander of the Indian Fleet.

Igreja de Nossa Senhora da Graça

This gorgeous church was built in the style of the Italian Renaissance. It has an impressive façade with a heavy doorway ending in a double triangular pediment with angels along the top. On each side, there are four kneeling statues supporting spheres and burning torches.