There is no paucity of esoteric and obscure red grapes in Portugal. On the contrary, it is a fundamental part of the country's massive appeal; you come to the Iberian Peninsula to taste wines you won't find anywhere else. Portugal is a land of original flavors and difficult-to-pronounce grape varieties. There are few destinations quite like it.
Read more about Portuguese Red Wine
You can explore the Portuguese Wine Regions with Cellar Tours on a private Luxury Food and Wine Vacation, dine in the best local restaurants, and enjoy VIP tastings in the top wineries.
Sousão, the jewel of Vinho Verde, is becoming an important part of this evolving story. The style of wine it produces is definitely on-trend: Sousão brings intensity of flavor and vibrant acidity to the table, without the corollary high levels of extract and alcohol. The grape is a conundrum, imbued with a delicacy and forceful personality – tart and lively Sousão cannot fail to leave a lasting impression on the palate! It continues to fox winegrowers, although considering that the acreage is growing yearly, their fascination with the grape shows no sign of abating. If you love going off-piste in your vinous choices, you will adore Sousão.

History and viticulture
To understand Sousão, you must get acquainted with a particular region. Of all Portugal's diverse wine-growing designations, the most distinctive is 'Vinho Verde,' a style made across the Minho region. Situated in northern Portugal, vines grow on both sides of the Minho river, a landmark that defines the frontier between Galicia and its close neighbor. Meaning 'green' in Portuguese, Verde is an apt word for the Atlantic-influenced region, with often cool summers and very wet autumns. Only certain grape varieties could hope to thrive in these challenging and inclement conditions. Vinhão (the local synonym) is one such grape variety.
So viticulturists are in no doubt that Sousão is indigenous to the Minho region. Although its genetic parentage has not been determined, the grape was first mentioned in the late 18th century by Rebello da Fonseca, an ancestor of the famous port shippers of Vila Nova de Gaia. According to wine experts, Sousão was first exported to the Douro Valley around 1790, enthusiastically adopted by the port lodges. The shippers saw great potential in the grape, which was used to add color and freshness to their port wines.
This practice is still widely employed today. The medium-sized berries are rich in anthocyanins (coloring pigments), resulting in inky black, red wines. But that is not the grape's only virtue; Sousão is relatively straightforward to grow, as it boasts strong resistance to maladies like oidium. It is also not very susceptible to coulure and millerandage; the vines are known for giving a reliable (but not inflated) crop yield year in and year out.
Of course, no grape is a pushover in the vineyard. Sousão is a mid-to-late budding and ripening variety, with thick skins and compact bunches. It requires good ventilation and a dry growing season – not always a given in Minho. Yet Sousão is also prone to drought stress and will shut its metabolism down entirely if the vines are denied an adequate supply of moisture. On the plus side, it can adapt to any training system and various soil types, including schist and sandy terroir. Nevertheless, getting the balance between acidity and ripeness is not always easy with Sousão.
The grower will harvest moderately ripe grapes in September/October if everything falls into place. But unfortunately, wet growing seasons can result in berries with aggressive acidity and dilution. If that scenario occurs, it's time for the winemaker to step in.
Winemaking
There is an enduring myth that Sousão is a teinturier variety – this refers to grapes that have pigmented flesh in addition to the skins. As it happens, the noble red grape of Alentejo, Alicante Bouschet, falls into this category. But this is not the case with Sousão; only the skins are jam-packed with anthocyanins. Nothing else.
Oenologists will tell you that this is the grape's most desirable quality: an ability to produce deeply-colored red wines that are low in alcohol yet high in acidity and bright red fruit. For this reason, the grape is increasingly used to bolster port blends in the Douro region. In addition, several houses are making good table wines from Sousão.
Meanwhile, the vast majority of red Vinho Verde is made to accentuate these delicate qualities and is not designed for long aging. Instead, winemakers seek to create precise, fruit-driven wines for immediate consumption. As a result, there is often a noticeable spritz (bubbles) in Vinho Verde, either due to a small addition of carbon dioxide or because some residual sugar has spontaneously re-fermented after bottling; this is perfectly harmless and only adds to the fruitiness of the wine.
Above all, Sousão proves that light-bodied wines can still be packed full of flavor. This wine offers (relatively) moderate alcohol, rich color, low tannins, crisp acidity, and good aromatics. Consequently, many table wines are made classically, without ultra-modern techniques or a hint of new oak. In Minho, you'll frequently observe destemmed grapes in large concrete baths called Lagares. Teams of workers patiently step up and down in a time-honored practice called foot-stomping. After a short time, the wine will typically be transferred to either concrete or stainless steel tanks, where fermentation will occur at controlled temperatures.
The key to producing fresh and fragrant Sousão is a brief post-fermentation maceration. Growers accept – and will readily admit – that an abundance of extract and tannin in the wine is not desirable. Likewise, you cannot attempt to make a 'Touriga Nacional' out of Sousão; certain varieties are inherently unsuitable for producing weighty and structured expressions.
After the maceration is complete, the wine will usually be aged in tanks or concrete for a few months before bottling. Again, the prevailing orthodoxy frowns upon using any new oak in the winemaking – the consensus is that it spoils the wine, subverting the exuberance of the red fruit. However, there are outliers and iconoclasts in Portugal, as elsewhere. A few pioneers have been experimenting with aging the grapes in French barrique before release – the critical jury is still out on these wines. Personally, though, we love our red Vinho Verde in its traditional and unpretentious form – the ideal summer drink.
The glory of red Vinho Verde
If you visit the stunningly beautiful Minho region, you must spend several hours in one of the numerous tascas (wine bars) that are housed in every town and village. This is the most authentic Portuguese experience imaginable; being sat on a stool at lunchtime, sipping red Vinho Verde with delicious bar snacks. Many tascas in the district serve the wine straight from the cask, entertainingly poured into small ceramic bowls – a quirk of the area. It is also made into a little culinary delicacy called 'sopa de cavalo cansado.' The wine is mixed with sugar and bread and then heated on a fire stove—a perfect winter warmer.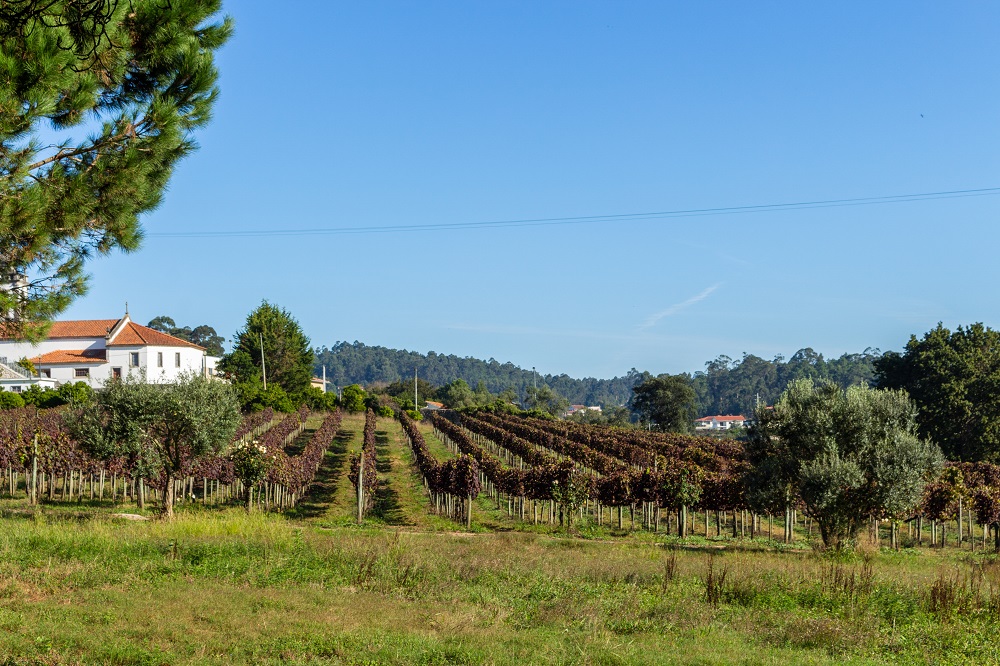 Vinhão Vineyard in Minho 
Today, Minho is perhaps the country's biggest secret. Receiving only a fraction of the tourists that head into the Douro every year, it nonetheless accounts for a seventh of the annual volume of wine made in Portugal. The green and lush scenery are the inevitable (but welcome) concomitant of such a wet climate – it receives over 1600 mm of rainfall yearly, concentrated in the winter and spring months. The vineyards are generally cultivated on low-lying slopes and grown on sandy soils with patches of metamorphic rock. The finest terroirs are said to reside in the Monção and Melgaço sub-zones; vines are sheltered from the frequent Atlantic rains by a range of hills, ensuring that this is the warmest and driest part of Minho.
The Vinhão grape, as it is referred to locally, dominates the production of red Vinho Verde – fruit-driven delights that are never expensive. The deep color belies the wine's zesty and racy texture, with aromas of raspberry, forest floor, and sour cherry. Vibrant acidity supports flavors of crushed wild berries and garrigue on the palate – sensations designed to stimulate the appetite. Good Vinho Verde is never heavy or built to impress. Instead, it is a memory of bygone age when wine was expressly made to be enjoyed with food. It is the antidote to alcoholic and jammy wines served the world over.
Yet so little red Vinho Verde is exported today. This is partly because the regional hospitality sector maintains a steady demand for the category and partly due to a lack of consumer awareness in global markets. Indeed, we cannot pretend that the grape or style are widely known outside of Portugal. Some would even argue that there is nothing remotely glorious about Sousão; it is seldom capable of producing deeply structured or 'profound' red wine. But with oenophiles increasingly keen on lighter beverages with tangy acidity, the grape has real potential to succeed abroad. All it needs is a push in the right direction, supported by enough passionate and ambitious winegrowers. Enjoying red Vinho Verde with fresh tapas is an experience few gastronomes will forget. Bringing this pleasure to the world should be the overriding Portuguese focus of 2022.
Top producers of Sousão wines: