First, let's deal with the drawbacks: Tinta Amarela is not famous, iconic, or world-renowned. Indeed, few wine lovers outside of Portugal have even heard of this native red grape. To put it mildly, growing is also extremely difficult, requiring constant care and attention throughout the season. Viticulturally, it is far more temperamental than Touriga Nacional, tending to give weak crops one year and overripe berries the next. As a result, producers can find themselves caught between the unsatisfactory dichotomy of astringent tannin or jammy dross. Achieving balance with this mercurial variety is a colossal headache.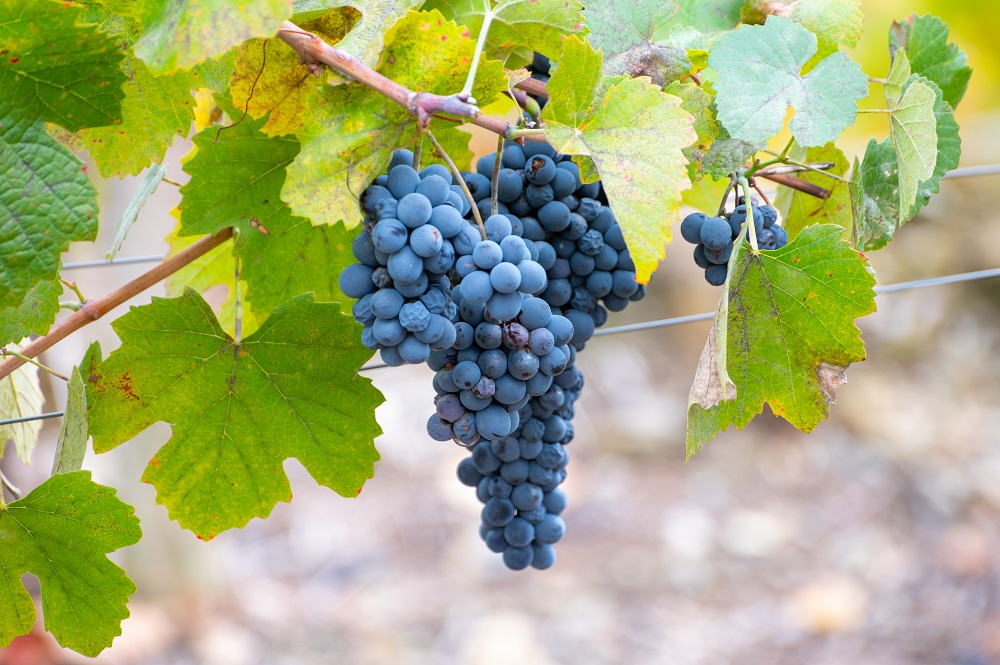 Read more about Portuguese Red Wine
You can explore the Portuguese Wine Regions with Cellar Tours on a private Luxury Food and Wine Vacation, dine in the best local restaurants, and enjoy VIP tastings in the top wineries.
But this does not matter to winemakers across Portugal. They continue to champion the variety as an important element in port blends and dry red styles; in the right hands, Tinta Amarela can produce a very fragrant and complex wine with deep color and magnificent grip. Frustrating, beguiling, and often misunderstood, it rewards patience like no other Portuguese grape.
History and viticulture
This complex red grape is known as Trincadeira in Alentejo and is indigenous to the Iberian Peninsula. The variety was first mentioned in documents dating back to the 18th century, described as "an old variety which stretched from the Douro Valley to Ribatejo and Alentejo." This suggests that Tinta Amarela has been cultivated for many centuries, perhaps even before the time of the Romans.
We know one thing for certain: Tinta Amarela has been used to make fortified wines in the Douro Valley since the 1700s. The grape contributed color and strength to various port blend styles in a tradition laid down in 1775. For hundreds of years, the grape spirit has been added to wine before the fermentation is completed. However, the first port wines eschewed this paradigm. Shippers in the mid-18th century were very critical of behavior we now accept as the right approach, claiming that the wine would continue to ferment, turning it "ropey and acid." Instead, they preferred to add brandy to wines that had been fermented completely dry.
Today there are about 16,200 hectares of Tinta Amarela in Portugal, although the acreage has declined in recent years. Winemakers are generally in favor of using the grape – winegrowers less so. The latter will insist that Tinta Amarela is too capricious for its own good and that Tinta Roriz (Tempranillo) can produce equally memorable wine. That may be true, but Tinta Amarela has many virtues. Its depth and aromatic complexity cannot fail to impress when made into a dry style.
Unfortunately, there is a long and hard journey before we reach that point. In the vineyards of the Douro, you'll spot Tinta Amarela in a heartbeat; the vines have green and very shiny foliage. However, to achieve full physiological ripeness, growing the variety in a warm-to-hot climate on well-drained soils, unripe Tinta Amarela is nasty stuff, with fierce tannins and a particularly unpleasant vegetal characteristic. Therefore, the yield must be strictly controlled, while an adequate moisture supply is essential. However, rainfall during the autumn can potentially lead to a nightmare scenario, as the variety is extremely prone to developing rot, partly due to the thin skins that are a trademark of these medium-sized dark berries. On the plus side, the variety can adapt to any training system and is not susceptible to coulure or millerandage.
Nevertheless, early autumn is a nerve-racking period for the quality-conscious grower. Timing is crucial; after slowly accumulating flavor compounds and carbohydrate stores during the long growing season, Tinta Amarela vines can lurch into metabolism overdrive in late September. As a result, the optimum picking window is very small, and mistakes are easy to make. In the past, there was a tendency to pick too late, producing wines with a high pH and blowzy alcohol. But, of course, too early is equally problematic – you can end up with harsh acidity and green tannins. Achieving that perfect balance is difficult yet possible if the grower has enough experience. Phenolically ripe Tinta Amarela grapes are a dream – they bring exceptional raw materials to the table. It is almost a crime to waste them.
Winemaking
Harvest time is a joy to behold in the Douro Valley – at least if you're a spectator! Despite the onward march of new ideas and technological advancement, several port lodges still use the traditional Lagares (concrete baths) to crush the Tinta Amarela grapes before fermentation and fortification. The berries and must that fill these giant vessels reach the top of the knees, where teams of workers stomp up and down for hours each day, extracting color and tannin from the skins. The most entertaining spectacle is the 'cabaret' that occasionally accompanies this process – even today, wineries employ bands (including drummers, accordion maestros, and tambourine players) to entertain workers during this admittedly monotonous task. After all the phenolic compounds have been extracted, the fermentation will be halted with the addition of grape spirit. After that, the destiny of each wine (port comes in a variety of guises, from tawny to vintage) will be decided before blending and maturation.
However, grapes destined for table wine production will often be treated very differently. The current fashion is to use a certain percentage of whole bunches in the vessel to produce a more fruit-driven and elegant style of wine. In addition, temperature-controlled fermentation in stainless steel is frequently employed, allowing winemakers to protect the aromatic compounds that make styles like Tinta Amarela so delightful to drink. Post-fermentation macerations are also becoming shorter, as the current trend is for lighter, fresher red wines.
In many cases, malolactic fermentation will be carried out in oak barrels. Tinta Amarela has a very strong affinity with new French barrique, absorbing a surprising degree of the oaky flavors without losing its fruit and precision, a case of the whole being greater than the sum of its parts! Many winemakers will age their cuvées for at least 18 months in wood – occasionally longer. The level of oak integration in the top labels is impressive. Yet modern examples of Tinta Amarela table wines from the Douro Valley have an almost 'Burgundian' quality. They are unrecognizable from the heavier base wines used to make port.
Regional interpretations
Tinta Amarela has three Portuguese strongholds: Douro Valley, Dão and Alentejo. Each region produces a distinct interpretation of the grape due to variations in terroir, climate, viticultural practice, and winemaking style. Exploring these differences can give fascinating insights into the state of Portugal's wine industry today.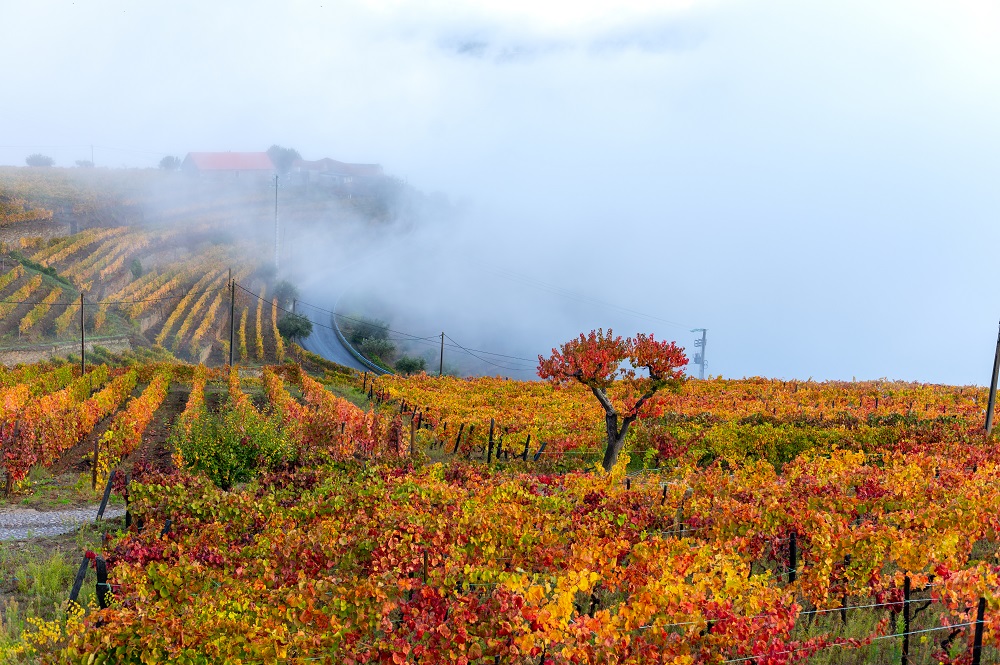 Autumn vineyards in the Douro Valley
The spectacular Douro Valley is one of Europe's most diverse and complex wine regions. On steep slopes on either side of the Douro river, Tinta Amarela thrives in the schist and slate terroir; rock fragments reflect heat into the vine canopy, which aids the ripening process encouraging flavor and sugar development. However, recently, winegrowers have been focusing table wine production on the cooler Baixa Corgo sub-region and the Douro's numerous tributaries. This prevailing fashion, combined with the tendency to prioritize acidity over alcohol, is responsible for a regional paradigm shift. As a result, contemporary labels fashioned from Tinta Amarela are typically lighter and fresher than wines made in the early 2000s. They offer aromas of red berries and violets, with a ubiquitous herbaceous quality that divides opinion – some people love it, others find it unattractive, especially if it is too pronounced.
Meanwhile, the palate will be medium-bodied, with crisp fruit, good acidity, and savory tannins. These are elegant wines custom-built to shine at the dinner table. They're also designed to win-over picky sommeliers in foreign markets.
Conversely, table wines made in the Dão and Alentejo regions usually display more weight, concentration, and power, albeit they're still very fine. Certainly, in the case of Alentejo, it is very difficult to fashion softly structured and ethereal wines in such a hot climate. Marketed under the regional synonym Trincadeira, the local style is bold and meaty, with ripeness, deep color, and ample tannins. Of course, there are exceptions and caveats to every rule; growers are increasingly exploiting the cooler, wetter climate of the Portalegre sub-zone to make lighter wines. Some vineyards are as high as 750 meters above sea level, planted on well-drained metamorphic soils. So harvest in the northern part of Alentejo can be up to two weeks later than vineyards further south. The cooler conditions of Portalegre imbue the Trincadeira wines with a savory edge, not unlike the red styles of Baixa Corgo. The trademark Alentejo offering is, nonetheless, very ripe and fleshy, with deep color and rich summer fruits on the palate. These are bottles to drink with steaks cooked on the churrasco – a perfect evening if ever there was one.
Ultimately, the best word to associate with this wonderful grape is diversity. Indeed, Tinta Amarela has become a poster child for the modern face of Portuguese viticulture; multi-faceted, varied, and original. There are enough styles and indigenous varieties made across this beautiful landscape to satisfy even the fussiest of critics – Tinta Amarela is a vital part of this unfolding story. Portugal, once derided as a backwater vineyard, is in the ascendant. Yet, it is anything but static.
Top producers of Tinta Amarela wines: