From one perspective, Clairette Blanche is lucky to be alive. Difficult to grow and produce, there is no sound commercial justification for keeping this obscure white grape around. Moreover, due to the vagaries of Gallic appellation law, it is not widely recognized and is seldom mentioned on French wine labels. And yet, growers in the South of France have stubbornly refused to give Clairette Blanche the boot.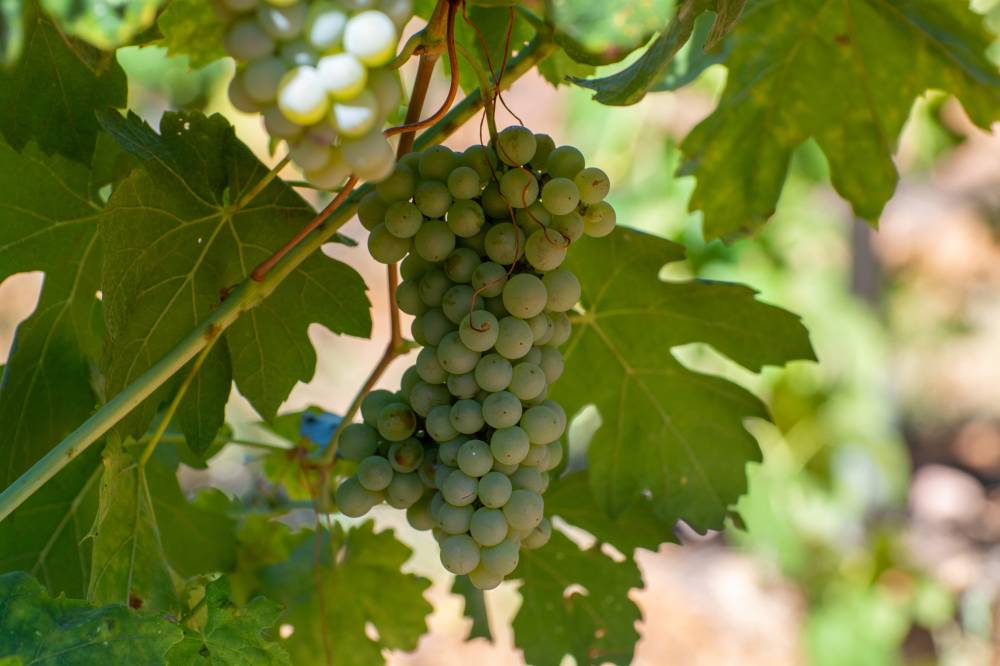 The obvious question is: why? "Because wine growing is not simply about making a profit from a handful of renowned varieties," they reply. Clairette Blanche represents all that is admirable about the wine industry: a refusal to be solely guided by the balance sheet. For sure, certain winemakers have ripped out Clairette Blanche in favor of more popular grapes, but others refuse to play ball. Instead, they continue to make premium quality wine – still and sparkling – from this mercurial variety. And that, Madames et Monsieurs, is why oenophiles find France so utterly charming.
Read more about French White Wine
History and viticulture
Clairette Blanche is not a newcomer to the diverse and spectacular landscape of the South of France. Quite the opposite: this ancient grape was probably being cultivated during the time of the Romans, at the peak of their Western Empire. Widely believed to be indigenous to the southern Mediterranean, the grape was used to produce light and acidic whites, in addition to a local curiosity known as Clairette de Die: sparkling wine made in the eastern Rhône for centuries. Indeed, the first written reference to this unusual style was made by Roman poet Pliny, the Elder. According to local legend, a shepherd in the region decided to chill a bottle of wine in  La Drôme River, abandoning it due to forgetfulness. Yet when the shepherd returned in the spring, he discovered that the wine had become fizzy or pétillant. Spreading his knowledge of this miraculous event, neighboring tribes started to emulate the shepherd's accident and produce wines with a gentle effervescence in bottle. It is known as the méthode ancestrale in the Languedoc-Roussillon.
However, the production of Clairette Blanche as a still wine was not recorded in written documentation until the 16th century. It became famous as a vital component in Picardin Blanc – a white style once exported in large volumes from the Languedoc. By the 1700s, Picardin (a blend of Clairette and Picpoul Blanc) was the height of fashion. Its role in the vineyards of the South of France seemed assured until Phylloxera arrived and spoilt the party. This disease, spread by a grapevine parasite, devastated vineyards across Europe in the late 1800s. Fortunately, a solution was discovered in the early 20th century: European grapevines were grafted onto American rootstock, which had developed an in-built resistance to Phylloxera. As a result, many indigenous varieties, including Clairette, were sidelined in favor of easier-to-grow grapes that would offer a consistently high yield. At this time of major crisis, few had the patience to nurture difficult creatures like Clairette Blanche.
That said, the grape did not completely disappear from Mediterranean viticulture; even in the 1960s, at least 30,000 acres were planted in the South of France. But financial pressures, combined with the easy marketability of ubiquitous styles, reduced the area under vine in the late 20th century. Moreover, growers understood that global consumers, overall, were buying into particular grape varieties rather than appellations. The lure of cookie-cutter Sauvignon Blanc was too much to resist for many.
Yet Clairette Blanche has enjoyed a modest revival over the past five years; it remains the second-most-planted white variety after Grenache Blanc in Châteauneuf-du-Pape. Moreover, growers in several subregions across the Languedoc and southern Rhône are using the grape to add freshness and verve to their cuvées in light of hotter summers. Meanwhile, the sparkling wines of Cremant de die and Clairette de Die are largely for local consumption. But they are worth seeking out if you enjoy light and fruity fizz.
Nevertheless, we cannot pretend that Clairette Blanche is an easy-going variety. For example, it tends to bud early, increasing the risk of spring frost attacks. It needs warm, dry conditions and calcareous soils to yield high-quality berries, albeit Clairette is also highly susceptible to drought and leaf burn. It ripens relatively late in the season, usually after the Marsanne and Viognier have been picked in the Rhône. Rain at harvest time can also be a massive issue, as Clairette Blanche is very sensitive to downy mildew and bacterial blight.
But the central problem with Clairette is its tendency to crop at high yields. In this case, we're dealing with a vigorous and potentially over-productive grape variety unless its canopy is strictly pruned throughout the growing season. Only then can the oenologist hope to create a high-quality wine.
Winemaking
Conventional wisdom dictates that Clairette Blanche should be used to make bright and fruity white wines for early consumption. Yet if the berries are harvested late in the season, they will typically produce textured wines with high alcohol and moderate acidity – not exactly the height of fashion. For this reason, many wineries are now pursuing earlier harvests to accentuate the grape's citrus profile and lovely minerality. However, varietal expressions remain the exception to the rule – most producers in the South of France use Clariette as blending material.
It is often said that the variety is notoriously prone to oxidation. Therefore, many producers favor protective handling in the cellar. This will involve adding sulfur to the press, minimum skin contact, cold-settling, and fermentation in stainless steel tanks. If all goes to plan, the resulting young wine should be fruity, aromatic, and fresh as a daisy. The blending process can begin before the wine is subject to fining, filtration and bottling.
Of course, not everyone subscribes to this approach. Certain winemakers in the Rhône and Languedoc prefer to use neutral oak to make Clairette Blanche, arguing that it benefits from the gentle, controlled oxidation and enhanced mouthfeel. If this is done with care, there is no doubt that a richer and more complete wine will emerge. Maturation on the fine lees (dead yeast cells) is occasionally practiced to add more weight and depth.
But if you want to observe a point of difference, head to the beautiful town of Valence. Here, generations of families have adopted the 'méthode ancestrale' to produce their sparkling wines – an ancient technique that bares little resemblance to the méthode champenoise. It involves bottling partially-fermented wines with a level of residual sugar and typically about 4.5% alcohol; the wine achieves its sparkle through a continuation of the first fermentation. No liqueur de tirage is added, and the final product must contain at least 35 grams of sugar. The result is a sweet, fluffy style of fizz with aromas of stone fruit and citrus. Very much the antithesis of Champagne, and all the better for it!
The art of diversity
Clairette Blanche is quite a conundrum. On the one hand, we're talking about a grape rarely produced as a mono-varietal style, in stark contrast to Viognier, for example. But, on the other hand, in the vast majority of cases, it constitutes less than 30% of the final blend, adding freshness and citrus fruit to the varied white wines of southern France. Such a role might almost be described as ignominious if we wanted to be uncharitable.
Yet from another point of view, Clairette is a grape of extreme importance in the South of France. It is used in several key appellations throughout the wider zone, including Vaucluse, Clairette du Languedoc, Châteauneuf-du-Pape, Bandol Blanc, and Côtes du Rhône. Loyal growers (those who have not traded the grape for Sauvignon Blanc) appreciate its complex bouquet, good freshness, and silky texture. They would not grub up their Clairette vines for anything or anyone. To them, it is as integral to the landscape as the soil and garrigue that carpet this part of the world.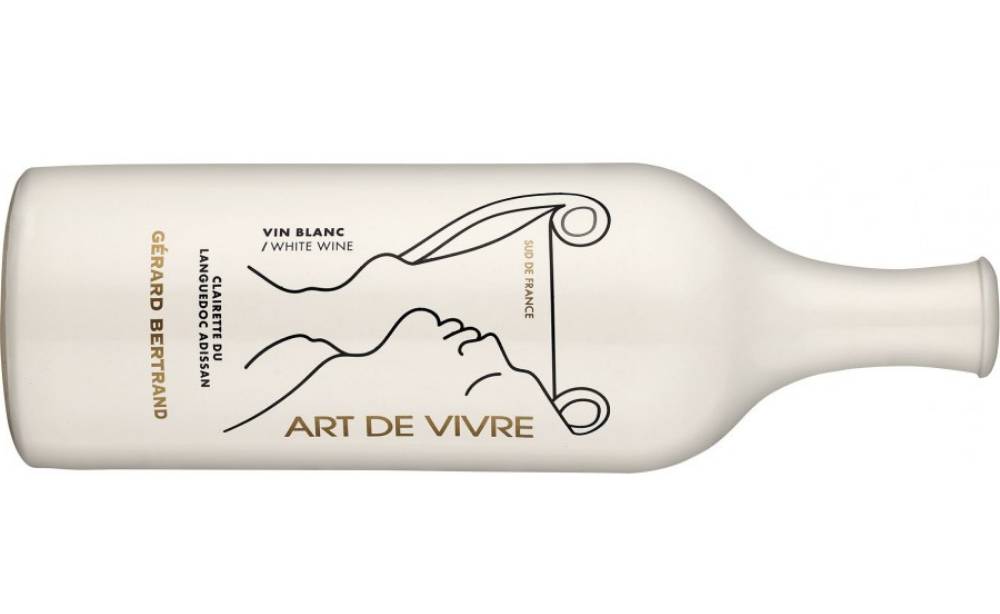 Art de Vivre from pioneering winemaker Gerard Bertrand
However, it is not impossible to find premium wines that solely rely on Clairette Blanche. In the vineyards north of Pezenas in the eastern Languedoc, you'll discover the Clairette du Languedoc appellation. Ex-rugby player and winemaking pioneer Gerard Bertrand has dramatically augmented the grape's reputation with his beautiful (and inexpensive) label "Art de Vivre". It has become a poster child for what the region is capable of.
In a nutshell, Clairette du Languedoc offers wine lovers an opportunity to explore the road less traveled. There are approximately 100 hectares under vine in the zone; vineyards are cultivated across 11 villages, including Adissan, Cabrières, Ceyras, Le Bosc, Lieuran-Cabrières, and Nizas. The leading climats (vineyard sites) are found to the west of Montpellier, planted at the base of the eastern slopes of the Montagne Noire. These hillside plots offer the benefits of diurnal temperature variation, which is invaluable in keeping acidity levels sufficiently high. Indeed, this was one of the factors that encouraged Bertrand to invest in the appellation.
And while Clairette du Languedoc is not a one-person show, we cannot underestimate Art de Vivre's importance in providing a quality benchmark. Housed in a unique and eye-catching ceramic bottle, the wine is glorious. Soft and approachable, the bouquet is alive with lime, apricot, and fennel scents. This herbaceous "twang" is also evident on the palate – a tutored tasting in 2021 revealed flavors of garrigue, peach melba, and star anise on the finish. As we drank glass after glass of this delicious white, the subject of gastronomy inevitably entered the discussion. A roast chicken seemed like an obvious pairing. "Carbonara, grilled turbot, and oysters can also be wonderful," our host proclaimed. But then again, so was the naked sip!
Top producers of Clariette Blanche wines: