No city in France has undergone such a dramatic image change as Marseille. Marseillais can now hold their own in conversations about Provence's greatest city, formerly derided as a louche, uninteresting destination. A rash of investment – including the Panier quarter with its chic boutiques and gorgeous, Haussmannian-inspired architecture – new infrastructure projects and a revamped port area led to Marseille being selected as European Capital of Culture in 2013. As you'll discover, it's an accolade that was justly deserved.
History
Provence has been inhabited by man since the Middle Palaeolithic period – early Homo Sapiens lived as hunter-gatherers for centuries. After the agricultural revolution and the establishment of the first European civilizations, the Celtic Gauls became the dominant force throughout France between 1500 and 500 BC, forging the primary trading links with the Mediterranean. Marseille played a pivotal role in this fledgling trading empire – in around 600 BC, Greek mariners founded a settlement called Massilia. Starting life as a humble trading port, it flourished as one of France's most crucial trading outposts, becoming what is now Marseille's Vieux Port (Old Port).
However, by the 1st century BC, the Romans were wrestling control of France away from the Gauls. Massilia joined forces with Pompey the Great – a rival of Julius Caesar – yet Caesar's forces triumphed and captured the settlement in 49 BC. Its importance declined as the Romans directed trade elsewhere, although the settlement did prosper overall, particularly as a center of Christianity in the Western Roman Empire.
Yet by the 5th century AD, Roman's control over Western Europe was weakening. Tribes from Northern Europe poured into Italy, France, and Spain; Marseille was taken by the Visigoths in the 5th century, although it retained a significant degree of autonomy. It remained a free port and became a major commercial center in the 6th century. Unfortunately, Frankish ruler Charles Martel attacked Marseille in 739 as punishment for rejecting the authority of a local leader he appointed. Repeated attacks by Greeks and Saracens further weakened the city's position. The last Mediterranean center of Greek learning was falling into ruin.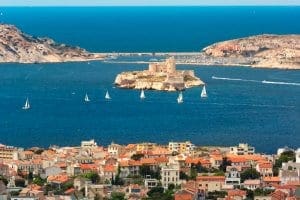 Middle Ages
Marseille's revival occurred in the 10th century when the Counts of Provence decided to resuscitate its position as a leading trading port in the Mediterranean. Initially enjoying almost full autonomy, the Catalan king Raymond Berengar IV decided to assume direct control over Marseille in the 13th century. The citizens of Marseille were less than pleased but eventually acquiesced to his authority. However, Berengar's successors gradually eroded regional autonomy – numerous rebellions broke out until the revolt was quashed in 1263. After that, social unrest died down, and prosperity returned to Marseille.
Sadly, an outbreak of the bubonic plague in the 14th century spoiled the party. Marseille's citizens suffered greatly – over 14,000 people died due to the diseases. In 1423 the city was subsequently attacked by Spanish forces from Aragon.
Prosperity returned in the mid 15th century. Rene of Anjou took a shine to Marseille and embarked upon a massive rebuilding and fortification program, turning the city into one of France's most fortified settlements. Anjou used Marseille as a base to launch his campaign to recover lost territories in Sicily and across the Mediterranean. The city became part of France in the 1480s, yet it never lost its rebellious streak.
The 16th century was a period of great social and religious upheaval. After the Reformation swept through France, the Wars of Religion broke out between the Huguenots (French Protestants), the Catholic League, and the Catholic monarchy. Meanwhile, there were numerous uprisings and cases of civil unrest in the 1700s – the ongoing problem led King Louis XIV to bring his army to the city to quash the rebellion. As a reminder of his power, the monarch built two forts overlooking the harbor, with a permanent military presence established lest the Marseille citizens once again try to usurp his rule.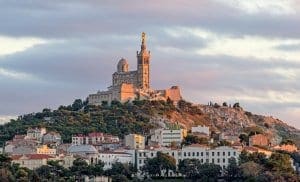 Modern Times
The 18th century would be no less turbulent. Marseille grew in yet more importance as a military port; its impressive defenses were a significant deterrent to foreign powers with an eye on Mediterranean conquest. Unfortunately, the plague would return to Marseille in 1720 – the Black Death killed over 90,000 people in the city and surrounding area. Politically volatile, France was braced for massive change and unrest. Patriotism and Nationalism mixed with revolutionary fever, culminating in the outbreak of the French Revolution and the dissolution of the monarchy – Louis XVI and his vilified wife Marie Antoinette were both guillotined. Marseille's citizens fully embraced the revolution; 500 volunteers marched to Paris to defend the city in 1792. Heading north on the long march, they sang a rousing piece, ever after dubbed 'La Marseillaise' – now the national anthem.
The 19th century was a more prosperous era for Marseille and its citizens. Trade with North Africa escalated after France occupied Algeria in 1830 and the 1869 opening of the Suez Canal. The outbreak of the 1st World War did not significantly affect Marseille; however, the Second World War would have far-reaching consequences. The Germans and Italians bombed Marseille in 1940 and the Allies between 1943-44. Allied forces eventually recaptured Marseille in 1944, but the damage was already done.
Nevertheless, the postwar years brought a steady flow of investment and immigration from North Africa, not to mention Marseille's periphery's rapid expansion. Contemporary Marseille is an important Mediterranean port and a thriving tourist destination, not to say that it's completely squeaky clean. Locals will tell you that the city's rough-and-tumble edginess is all part of the charm and that it would be a mistake to sanitize this fascinating city totally. They're right: Marseille grows on you with its impressive history, the fusion of culinary cultures, souklike markets, ancient port – now completely rejuvenated – and friendly citizens. Rocky inlets, coves, sun-baked beaches, food markets are all beautiful attractions, only enhanced by the Mediterranean flair, warmth, honesty, and charm of the Marseillais themselves.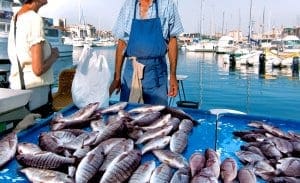 Gastronomy & Wine
You can find the dish all over France, but only Marseille does it true justice. Provence cuisine's most famous contribution to French gastronomy is the legendary bouillabaisse, an excellent chowder made with at least three kinds of fresh saltwater fish, cooked for about 10 minutes in a broth containing onions, tomatoes, saffron, and various herbs and eaten as a main course with toasted bread and rouille, a spicy mayonnaise of olive oil, garlic, and chili pepper. This sumptuous dish is delicious, filling, and very moreish; this dish is nevertheless the tip of a gastronomic iceberg.
The Romans started the ball rolling, leaving behind their legacy of olives, wheat, wine, and olive oil, the la cuisine Provencal's cornerstones. Many classic dishes are prepared with olive oil and garlic, vital accompaniments to Provence's astounding array of fresh produce. Simplicity is its secret – Provencal cooking invokes all the classic flavors of the Mediterranean: colorful fresh peppers, tomatoes, eggplants, courgettes, and asparagus, all things to tantalize the taste buds. Lamb is the region's signature meat; the best comes from the Camargue, where lambs graze on the herbs and salt-marsh grass. Then, there's the delicious seafood (oysters and mussels are a particular highlight), freshly caught fish and crab, lobster, langoustine, and prawns.
Yet, in a sense, Marseille is a very nontraditional center of gastronomy in France. Decades of immigration and a vibrant multicultural society have endowed the city with one of France's most exciting 'non-French' culinary scenes, particularly if you seek North African dishes. Couscous is a regional staple in Marseille; one of the most delicious and easy-to-find North African dishes, couscous, is steamed semolina garnished with vegetables and a spicy meat-based sauce just before it is served. Utterly delicious, it is typically enjoyed with lamb shish kebab, merguez (small, spicy sausages), mechoui (barbecued lamb on the bone), chicken, or other meat. Tajine is reliably excellent, a slow-cooked stew of beef, preserved lemons, and apricots. Locals joke that the quality is higher than in its homeland of Morocco.
And so to our favorite topic – wine. Delicious rose remains the mainstay of Provencal wine production; the best examples are wonderfully fruit-forward, refreshing, and quite moreish. Cotes de Provence is the most commonly seen appellation, home of sun-kissed rose that perfectly suits the region's climate. However, producers increasingly experiment with barrique to craft more structured and 'serious' examples – perfect with food. Indeed, plenty of exciting reds and some superb whites have also emerged over the last 20 years or so, and it is simply not correct to say anymore that the Provence region is a one-trick pony. Bandol is the region's most celebrated red wine offering; good examples are concentrated, spicy, aromatic, and long-lived. Bellet is another exciting sub-region, offering some well-structured reds, lightly floral nutty whites, and gorgeous rose.