For decades, white varieties from the Iberian Peninsula were an almost non-existent part of Europe's restaurant scene. Wine lovers raved about silky reds from Rioja – they cheered the arrival of new vintages from Bodegas La Rioja Alta and Viña Tondonia. But fresh and fruit-driven white wines? They were noticeable by their absence.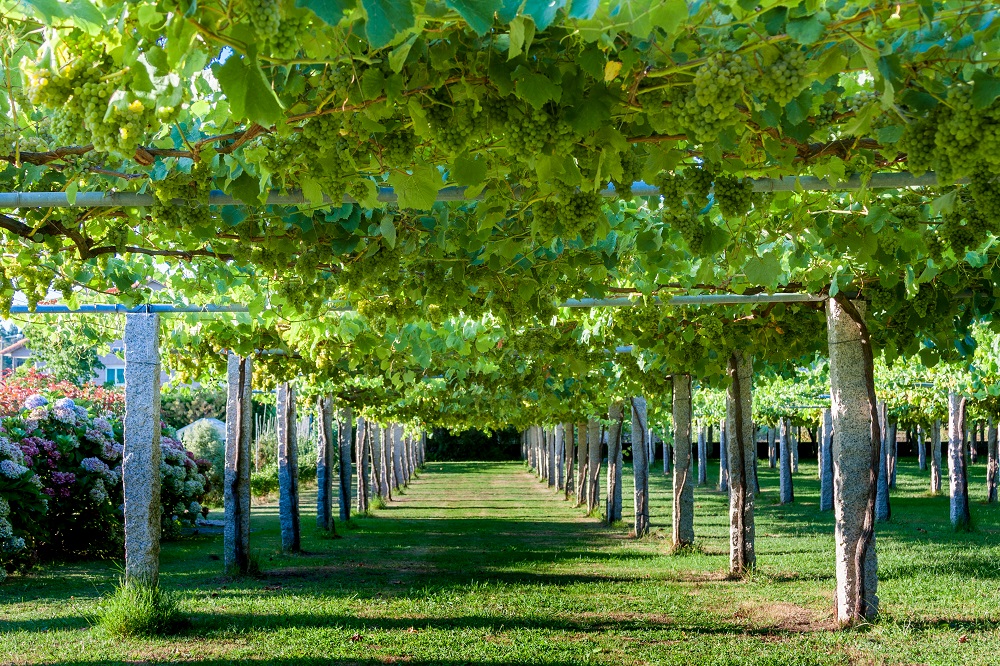 Thankfully, this sad state of affairs is long gone. Spain has proven that it can produce a diverse range of white styles by judiciously exploiting a combination of exceptional terroir and modern winemaking. These range from saline beauties to oak-aged cuvées of unrivaled depth and finesse. Albariño has been at the forefront of this revolution – the grape's international fan club is growing at an impressive rate. Indeed, this once obscure and unknown variety is now playing a central role in propelling Spain to stardom. With exports rising, it looks like a new generation of global consumers will fall in love with Spain's answer to the Marlborough Sauvignon Blanc craze. Whisper it: some would even claim that Albariño slays SB in the quality and diversity stakes. But that is very much a matter of opinion.
Read more about Spanish White Wine
History and viticulture
The Portuguese and Spanish claim 'ownership' of this wonderful grape variety; it has been cultivated for centuries in the lush verdant landscape of Minho in northern Portugal (known locally as Alvarinho), in addition to Galicia, which is just over the border. It is extremely difficult, therefore, to pinpoint the grape's exact origins, although DNA analysis has shown a strong genetic link to the Portuguese variety Malvasia Fina. Many believe that Albariño is the genetic offspring of two Portuguese varieties, which mutated at some point in the past; one of the Iberian Peninsula's first wine experts, Lacerda Lobo, referred to the grape as being indigenous to the Minho region in the late 18th century. So this theory is entirely plausible.
The nomenclature translates as "small white one from the Rhine," which has led some Spanish viticulturists to embrace a popular tale involving the church, religious pilgrimage, and a Galician city. The story involves German monks, who, between the 11th and 13th centuries, are said to have undertaken the pilgrimage to Santiago de Compostella, bringing some Albariño cuttings into northern Spain. The romance of this story is undeniable, but the Portuguese explanation is probably more likely. Interestingly, the first vines sent to England in the Middle Ages were from Rias Baixas, the grape's key stronghold. With temperatures continuing to rise, there is even talk of a British Albariño revival, although we're some way off it becoming a UK specialty.
Due to the grape's widespread popularity in 2022, we tend to forget that Albariño was trapped in Spanish parochialism until the late 1990s, quietly consumed in the taverns and tapas bars of Galicia. Moreover, Albariño and another local gem, Godello, were ripped out in the mid-20th century to make way for Palomino – sherry's key variety. Winegrowers believed their commercial future was secure in producing fortified wines in the sherry mold, although the climate proved unsuitable. It is the same story in Rueda, where Verdejo has only (relatively) recently gained prominence as a major Spanish white style. Fifty years ago, Palomino was in danger of becoming ubiquitous.
Yet, in the latter half of the 20th century, an emerging generation of Galician winemakers decided to shake things up a little. They wanted to make a more international style of white wine, merging the original flavors of Spain with modern winemaking techniques to create a lucrative export. It worked: global sales of fresh and saline Albariño have soared in recent years. The sommelier community has embraced the grape with a passion rarely seen in wine circles. There is scarcely a wine list in northern Europe and the US East/West coast that does not offer at least one brand.
Like Verdejo, Albariño is not particularly difficult to grow. It buds and ripens quite early in the season – late March and mid-August, respectively – and responds well to the maritime climate of western Galicia. However, unlike some varieties we could mention, Albariño is not prone to cropping at high yields; it produces small bunches laden with berries packed full of acidity and flavor. For this reason, growers in locations as diverse as South Africa, California, and Marlborough are having a stab at replicating Spain's unprecedented success with the grape.
There are some points of concern, however. First, there is the omnipresent threat of fungal diseases in wetter vintages – Albariño is quite susceptible to maladies like oidium, peronospora, and esca. Conversely, the grape does not cope well with prolonged periods of drought; this causes hydric stress, leaf burn, and stifles berry development. Irrigation may be necessary in hot years to save the potential crop.
Winemaking
In a zeitgeist increasingly defined by rising temperatures and alcohol levels, growers are deeply concerned about maintaining acidity and freshness in their wines. So step forward, if you please, Albariño. The grape's biggest virtue is its ability to retain good acidity even in ripe vintages. It's probably one of the reasons why drinking Albariño is the height of fashion, despite ever-growing competition. So it is the winemaker's job, above all else, to ensure that these qualities come shining through in your glass. Albariño without a textbook acid line is no Albariño at all.
However, there are also variances in how producers handle the grape after harvesting, in addition to points of consensus; the grapes are pressed immediately after crushing (some growers favor whole bunches in the vat) to protect Albariño's aromatic compounds. On the other hand, the most aromatic whites are often made from free-run juice, the first to leave the grapes after applying pressure. This 'must' will usually be clarified before fermentation via cold-settling or filtration.
If the Albariño is being designed to be drunk young. In this case, the winemaker will employ cultured yeasts and undertake the fermentation in stainless steel tanks, using low temperatures to maintain fruit flavors in the must. The wine may then be filtered and subject to a cold stabilization – this involves chilling the wine to just above freezing point to prevent tartrate crystals from forming after bottling. Some commercial brands are bottled about ten months after the harvest date. But this is not to their detriment; young Albariño is a wonderfully refreshing drink.
Of course, so much depends on the priorities of the winemaker and the brand in question. Lees-aging is currently in vogue, leaving the wine in contact with the dead yeast cells. This was originally a French technique but is now widely used across Europe. It can add creamy complexity to the final product; however, wines can lose some freshness and fruit. Nevertheless, some producers regard this as a worthy trade-off. Portuguese winemaker Luis Seabra is one such advocate of this approach – his top cuvées are matured on their fine lees for one year, with regular battonage (lees stirring).
Skin contact is also used to enhance complexity, often exploited in conjunction with fermentation and maturation in wood to beef up the complexity and mouthfeel. The use of new barrels must be approached with extreme caution: far too many aromatic whites have been spoiled by an over-enthusiastic love affair with brand new oak. Older barrels tend to yield the best results; maturation in wood following fermentation in wood is the best recipe for achieving harmonious integration and balanced flavors. What emerges can best be described as a hybrid. It contains some of the natural zest and fruity exuberance of textbook young Albariño, kicked up a few levels in the structure and texture department. The top wines can age for a decade or more.
Call of the Atlantic
Galicia is a memorizing part of the Spanish landscape. Defined by its proximity to the Atlantic, the region (north-west Spain) is the antithesis of the siesta and endless sunshine cliché that stubbornly persists in the minds of tourists. Instead, this is green Spain – think verdant scenery, a great deal of rainfall, and delectable wines. Today, there are several important wine zones located throughout the province, although few can rival the reputation – and financial clout – of Rias Baixas.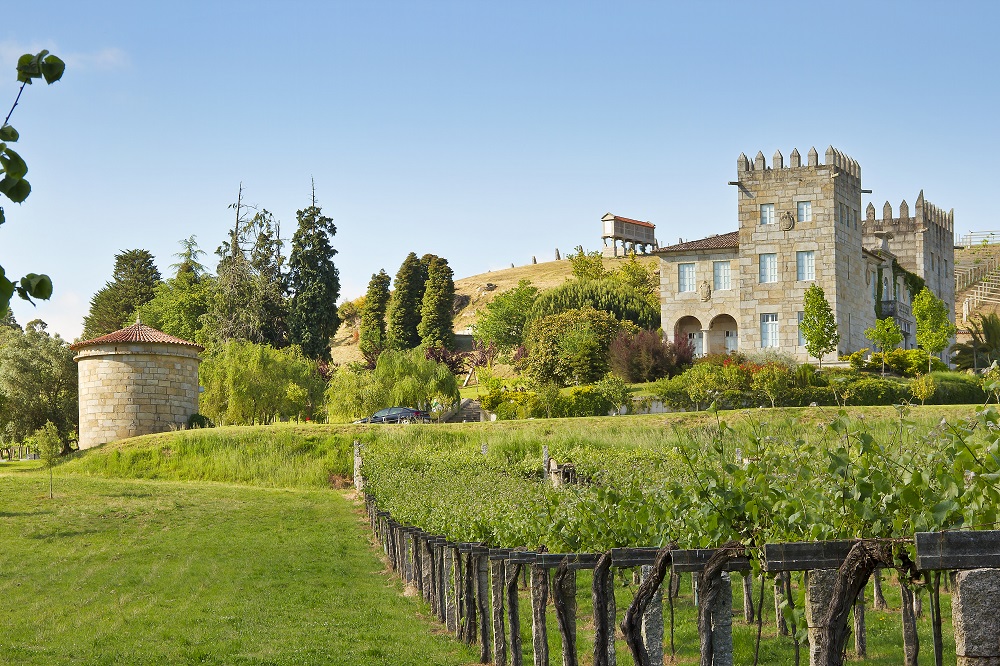 Bodega Pazo Baión, Rías Baixas
The thick-skinned Albariño reaches an undeniable apogee in these vineyards. Of all the grapes planted in Rias Baixas, Albariño is the one that consistently produces the finest white wines. It has developed a very special bond with the land in Galicia; vineyards are planted on the steep banks of rias (rivers), which meander through Galicia into the Atlantic ocean. Many vines are still trained using the traditional pergola system (horizontal trellises) called parras. The sight of widely spaced vine trunks climbing up granite posts is utterly evocative of Galician viticulture; this is the land of small-production farms and modest land holdings. Of the region's approximately 200 bodegas, only Martin Codax and a few others export sizable volumes.
This is one of the key reasons why Albariño has never become a mass-market commodity. There are not enough globalized companies involved in winegrowing in Galicia; most farmers cultivate only five to six hectares of vines. This has helped maintain the region's premium image and prevent any possible decline into discount store mediocrity.
Mirroring the situation throughout Spain, growers are increasingly keen to talk up terroir and the value of single-vineyard expressions. There are three key sub-regions: Val do Salnes, Condado do Tea, and O Rosal. Condado de Tea is the highest and coolest sub-zone, producing wines with powerful acidity and a lovely perfume; Val do Salnes is also very damp. However, O Rosal is known for its south-facing vineyards planted at lower elevations, yielding grapes with less acid and more alcohol. Some of the ripest and most textured expressions are made here, although blending (both varieties and across different terroirs) is still common in Rias Baixas. Finally, albariño is undoubtedly brilliant as a standalone varietal, albeit it does blend well with Loureira and Treixadura.
Some excellent wines are also being made in the regions of Ribeiro, Ribeira Sacra, Monterrei, and Valdeorras. But there is no doubt that Galicia produces the flagship style: lively, saline, and aromatic whites that shine at the seafood table. Indeed, at its best, Albariño from Rias Baixas is the most satisfying summer and shellfish wine you'll ever come across. Again, it's the generous citrus fruit, mineral notes, freshness, and poise that consumers cannot get enough of.
Yet certain growers have started to voice concerns that producers in the US and New Zealand will try to 'steal' market share by increasing production of their own Albariño wines, but there is no need to worry. A little bit of competition is healthy, and in any case, Galicia's unique climate and terroir cannot be replicated easily. You can now find premium Albariño labels in the vineyards of Napa, Marlborough, and Victoria – that much is true. But only Spain offers that inimitable combination of vibrant ripe acidity and mouth-watering citrus fruit. The New World has paid Europe a sincere and groundbreaking compliment; Spain is now setting a benchmark that others seek to emulate. In the 20th century, that was definitely not the case.
Top producers of Albariño wines: