This year, more than ever, consumers will seek relative value and excitement when choosing wine. Trend-conscious understand what we're talking about; comfort zones and 'old favorites' are out, and esoteric styles and unexplored regions are in vogue. The demand for New Zealand Sauvignon Blanc and Prosecco is as buoyant as ever in global terms. But the ranks of oenophiles willing to explore beyond established classics is growing all the time.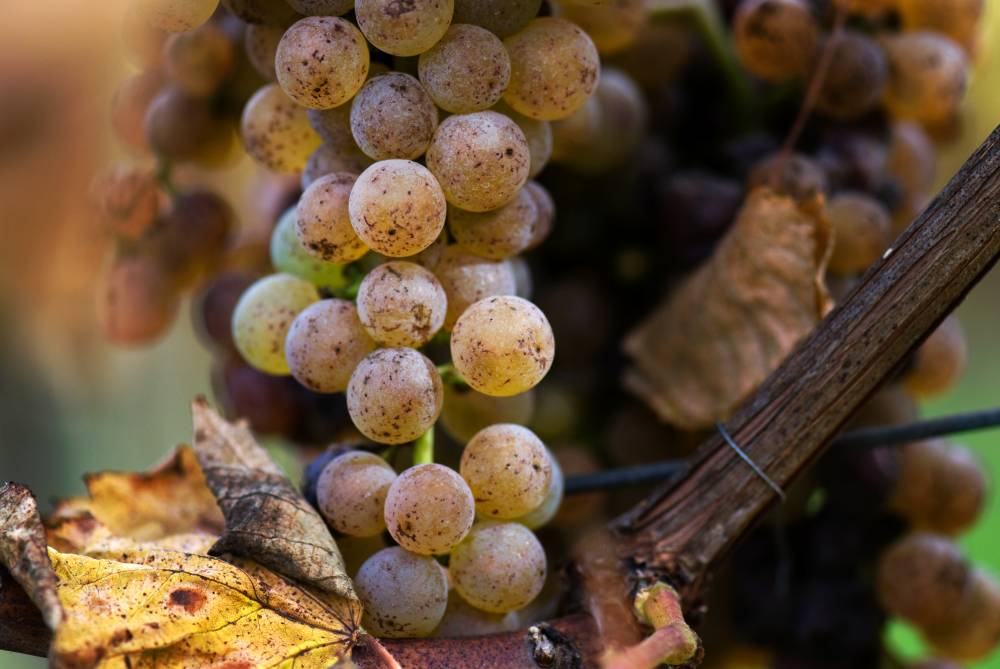 In which case, allow us to present Petit Manseng. This beautiful white grape ticks all the boxes: Petit Manseng is not widely recognized; it is far from ubiquitous; it produces exceptional dry and sweet wine. Moreover, the variety makes its home in one of the most unspoiled parts of southern France: Jurançon. Every year brings good news for lovers of Jurançon wines – sustainability is a hot topic in the region, as is conversion to organic and/or biodynamic viticulture. Indeed, the balance between respect for tradition and innovation is expertly managed in this special corner of Europe.
Read more about French White Wine
History and viticulture
Gros Manseng's closest relative has been grown in the vineyards of Jurançon for centuries. Historians believe viticulture started to become important in the 1300s after rapid population growth encouraged newcomers to plant more crops, including vines. The region's small capital, Pau, was ideally placed in the Pyrenees to welcome migrants from France and Spain. Such is the renown of local wine production that a Spanish king, Henry II of Navarre, purchased land in Jurançon in 1550 to make wine. By the 17th century, the sweet wines of Jurançon had come justly revered in the wealthy households of Paris, albeit they largely remained within French borders.
However, this started to change in the 1700s. The catalyst was the emergence of the Basque port city Bayonne as a rival to Bordeaux; the city prospered in the 1400s under the protection of the Plantagenet dynasty, who ruled Aquitaine. By the 1700s, Basque merchants had developed lucrative trading routes with Europe and the New World. Sensing an opportunity, winegrowers in Jurançon started to export their dessert wines to northern Europe, particularly the UK and Holland. They competed directly with Sauternes for the title of France's greatest sweet wine.
Unfortunately, phylloxera devastated Jurançon's thriving export trade during the second half of the 19th century. Accidentally imported from the US, phylloxera was a louse that killed vines in their thousands due to the pest's deadly bite. Eventually, a solution was found: European vine species had to be regrafted onto American rootstock, the only known effective defense against phylloxera. Yet growers had to prioritize varieties that could offer a substantive crop in the face of such devastating losses. As a result, the low-yielding Petit Manseng was marginalized during the replanting program; Jurançon's area under vine declined from over 6000 hectares in the late 1800s to about 600 hectares by the 1950s. Even today, the region is far smaller than its historical counterpart.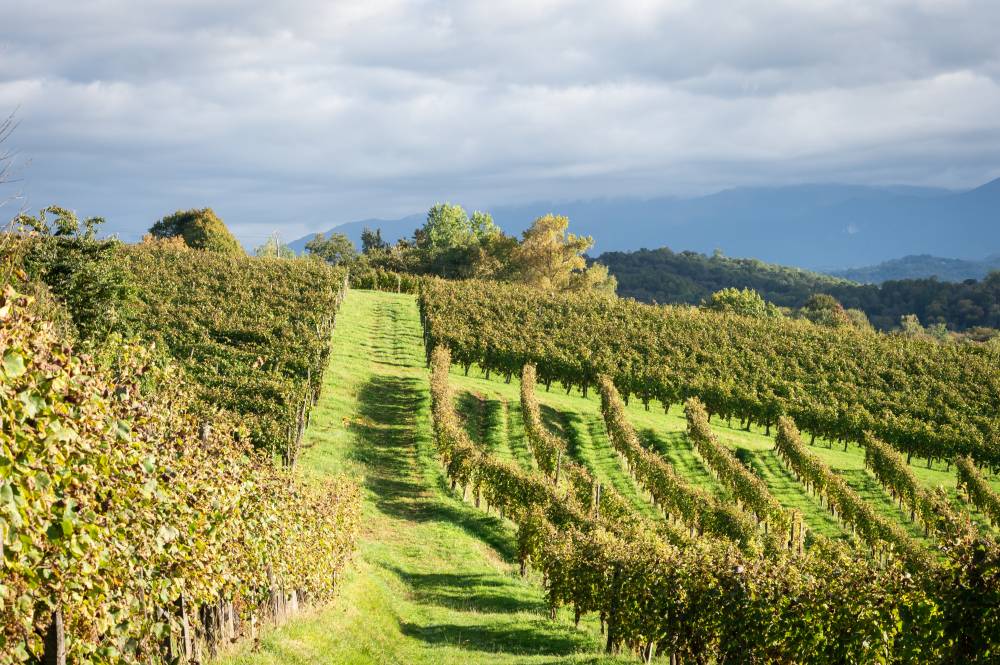 Jurançon vineyards in foothills of the Pyrenees
Nevertheless, approximately 550 hectares of Petit Manseng are now cultivated across France, primarily in Jurançon, Pacherenc, and Irouléguy (situated to the west of Pau). From one perspective, the grape could be viewed as a more challenging version of its namesake relative; the early-budding Petit Manseng is prone to frost attacks, which makes site selection all the more important when growing this variety. In addition, Petit Manseng needs a south-facing aspect and ideally stony terroir: gravelly soils are free-draining and warm due to the rock's ability to reflect sunlight into the vine canopy. Yet even the most favored sites – and the best vintages – will not result in a high yield. Unlike Gros Manseng, Petit Manseng tends to deliver average crop sizes – in bad years, the final yield will be paltry and, dare we say it, very uneconomical.
But there is an upside: Petit Manseng's thick skins are packed full of flavor and aroma compounds, despite the generally small size of the berries. Moreover, the vine's metabolism can produce grapes with high sugar levels and abundant acidity – a major advantage when making sweet wines. This is why the acreage has been slowly growing over the past five years, as producers increasingly prioritize quality over quantity.
Winemaking
Petit Manseng's gift to the world is glorious spicy and floral white wines. Whether your preference is for the exquisite late harvest wines of Jurançon, or the increasingly popular dry interpretations, you'll be bound to find something to love in this grape. However, sweet wine production has a far longer history in Jurançon than the contemporary trend to ferment every last ounce of sugar. The chosen method in Jurançon, berry desiccation or 'passerillage,' was being used in Europe long before the secret of botrytis became known. It is simple: grapes are left on the vine until late autumn, raisining the berries as water evaporates from the flesh, creating highly concentrated sugar levels. Multiple passes through the vineyard are undertaken during the harvest to ensure that only the finest desiccated berries are picked; laborious and repeated trips to the site are essential if the winemaker is intent on crafting a fine expression of Petit Manseng. Of course, much depends on the degree of perfectionism sought.
After that, the grapes will be quickly crushed and pressed, typically in a pneumatic cylindrical machine that offers both gentle pressing and technical precision. At this point, sulfur dioxide may be added to prevent oxidation and spoilage. The juice will then be clarified by chilling, allowing solid matter to fall to the bottom of the holding tank. Fermentation, meanwhile, often takes place in oak barrels, used to add structure and spicy complexity to the wine. Kickstarting the yeast activity can take some time; the sweeter the must, the slower and more reluctant the fermentation activity will be. But the most important quality factor is how and when to stop the primary fermentation, depending on the level of residual sugar desired.
There has yet to be a consensus on this issue. Fermentation can stop naturally after the yeast is 'exhausted' by the sugar concentration in the must – this is how the first sweet wines were made. Yet a more bespoke approach involves adding sulfur at the optimum moment or chilling the must until the yeast activity is suspended. As with Sauternes, malolactic fermentation does not occur, as this can encourage high levels of volatile acidity in wines with high sugar levels. The wine will then be racked, filtered, and bottled.
Of course, grapes destined for dry production will be harvested earlier in the season. Otherwise, the same principles apply: adding sulfur, cold settling, and a cool fermentation are considered de rigueur. However, stainless steel is the normal vessel of choice. Low-temperature fermentation in stainless steel yields wines with generous levels of aromatic compounds and fruity esters, which is exactly what modern consumers desire.
A sweet conversion
Do you know that the exquisite balance between acidity, freshness, and stone fruit defines Cru Classé Sauternes? If you purchase any premium bottle of Jurançon, you'll have it in spades. Likewise, the Moelleux wines of Côtes de Gascogne offer that wonderful juxtaposition between richness and raciness that exemplifies all good dessert wine. In addition, Gascony and the vineyards of Jurançon produce expressions of Petit Manseng – sometimes blended with Gros Manseng and/or Courbu Blanc – that is utterly compelling. And more importantly, they're among the biggest bargains in the world of fine wine. This matters because the emerging generation of wine lovers need a real incentive to trade across, if only occasionally, from dry to sweet. Unfortunately, a perfect storm of changes in fashion, the rise of healthy lifestyles, and the relentless demonizing of sugar have damaged this once-lucrative business.
In one sense, the whole thing is ridiculous. Consumers who happily drink cappuccinos laced with sugar syrup will paradoxically turn their noses up at a glass of Jurançon. Yet late harvest styles from the region, though containing a certain level of residual sugar, tend to taste less sweet because of their acidity. That word repeatedly appears in any discussion concerning sweet wines, and with good reason. Petit Manseng's naturally high malic acid makes all the difference: it's the dividing line between heaven in a glass and a cloying nightmare.
Of course, the magnificent terroir of Jurançon plays its part as well. Twenty-five villages located to the southwest of Pau are in the wine business, with the leading climats (vineyard sites) generally found on the lower slopes of the Pyrenean foothills. Soils, meanwhile, are a mix of limestone, sandstone, gravel, and clay. This superior terroir, combined with the region's long and moderately warm growing season, encourages a slow and even pace of ripening. The net result is perfumed and wonderfully fresh fruit that deserves 5-star treatment in the winery.
The other side of the quality equation is a surfeit of dynamism. This small and perfectly formed wine region is full of quality-focused growers – there are no corporate monopolies in Jurançon! Moreover, the green lobby is strong: biodynamic, orange, and natural wines are all the rage here, in addition to a decent volume of fresher, lighter, and more conventional styles. To be blunt, what emerges in bottle can be absolutely thrilling: a heady concoction of spicy and floral aromas supported by a palate of tropical fruit, dried figs, and honey. There is a zip and zing to the best of Jurançon that positions these wines above some stiff competition. Granted, the battle to tempt lovers of bone-dry Chablis into the world of sweet wine is a tough one. But that doesn't mean that we should stop trying.
Top producers of Petit Manseng wines (sweet and dry):
Clos Joliette
Clos Lapeyre
Louis-Benjamin
Domaine de Souch