Hipster sommeliers don't go to heaven; they go to Jurançon. Flanked by the spectacular backdrop of the Pyrenees, this bucolic paradise has long been associated with esoteric styles and obscure grape varieties. Imagine a region where corporate ownership and accountant-led winemaking are virtually non-existent. Imagine a region where growers fiercely defend their most cherished traditions. That place is Jurançon. Its terroir is legendary among the world's fine wine obsessives and, dare we say it, geeks.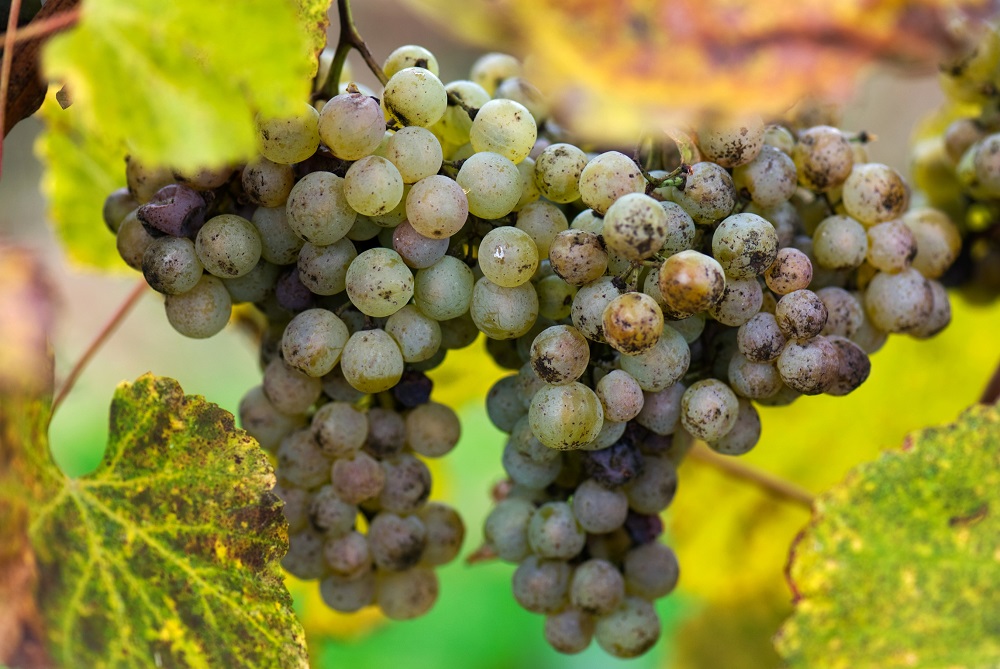 Of course, every wine region also needs its signature grape varieties. Jurançon has several, but one of the most important is undoubtedly Gros Manseng. Gros Manseng is probably France's most underrated grape, capable of producing mouthwateringly fresh and racy white wine. But this only adds to the excitement: ubiquitous varieties can become a tad boring after a while. So if you leap headfirst into the wines of Jurançon, we promise you won't be disappointed.
Read more about French White Wine
History and viticulture
Gros Manseng is one of Europe's true originals. Indigenous to the undulating landscape of southwest France, most viticulturists believe that Gros Manseng is the offspring of Petit Manseng and an unknown variety; it is also said to be a close relative of Albarino, albeit there is no substantive proof. Nevertheless, its birthplace is widely accepted as Pau, a beautiful small city at the heart of the Jurançon. The word timeless, although somewhat overused, truly captures the spirit of this part of France. Many wine estates are managed by the descendants of families who first planted vines in the 17th century. Very few 'brands,' so to speak, are made from these vineyards.
Historically, Gros Manseng was at the heart of a sweet wine industry. Before the trend for dry styles exploded in the early 1900s, the vast majority of iconic wines – including Champagne – contained residual sugar. Consequently, few winegrowers in the 19th century would have considered making dry Gros Manseng – there was scant desire for it.
Yet both phylloxera and evolving consumer tastes largely obliterated the demand for sweet wines at the end of the 1800s. Moreover, phylloxera was an agricultural pest 'imported' from the US; this grave error destroyed entire winegrowing regions across Europe, as the louse killed scores of vines with its poisonous bite. The only remedy available involved regrafting European vines into American rootstock. Sadly, Gros Manseng did not take kindly to this process, and, as a result, many vineyards were not replanted in the early 20th century.
By the 1950s, there was talk of permanent extinction. Barely 100 acres of Gros Manseng had been saved from being grubbed up – the pressure to replace the grape with other varieties was intense. However, a small pocket of winegrowers refused to capitulate. Instead, they helped to reinvent Gros Manseng as a sec (dry) style, a moniker that still appears on many labels today.
But from one perspective, removing Gros Manseng from the vineyards of southwest France was counter-intuitive. The grape offers many advantages to winegrowers, not least its ability to retain good acidity at high levels of phenolic ripeness. Moreover, in a successful vintage, Gros Manseng will deliver thick-skinned berries packed full of aromatic compounds, one of the few varieties producing good wine at relatively high yields.
The grape is well suited to the climate and terroir of Jurançon – calcareous soil is abundant in the zone and can supply sufficient moisture during the summer. Gros Manseng buds early but ripens quite late in the season, necessitating a long period of dry and warm weather.
Still, problems can present themselves in difficult years. For example, Gros Manseng is susceptible to oidium, a fungal disease that rears its ugly head during wet weather. Therefore, spraying the vines with the famous Bordeaux mixture (copper sulfate) may be necessary to avoid yield loss. Nevertheless, Gros Manseng is generally well-behaved compared to many grape varieties.
Winemaking
Gros Manseng is as flexible in the winery as in the vineyard. It lends itself to dry and sweet wine production: dry styles run the whole gamut from aromatic, relatively light whites to richly textured Burgundy imitations. Indeed, one bottle of Gros Manseng will be fat and opulent, and the other will be dainty and understated. But, like Chardonnay, it cannot be pigeonholed as representing one style of wine.
However, there is an overall consensus that skin contact, even limited, is not beneficial when making dry whites from Gros Manseng. Its thick skins are rich in polyphenols that can imbue the wine with a bitter astringency if care is not taken. Therefore, after the harvest, the grapes are often pressed almost immediately – a hydraulic press will usually be used to release the juice from the berries gently. The must will then be pumped out of the press and cold settled; this process involves chilling the juice to protect it from oxidation and to allow solid matter (pulp) to fall to the bottom. Sulfur dioxide may be added at this point or during the pressing stage.
As ever, the choice of fermentation vessel is very much a matter of personal preference. A critical mass of winemakers still favor stainless steel; undertaking a slow fermentation at low temperatures protects primary fruit aromas and maintains freshness. In addition, malolactic fermentation (the conversion of malic to lactic acid) is generally not practiced with Gros Manseng, as producers regard its vibrant acidity as the chief USP. After fermentation is complete, the wine will be filtered and bottled relatively soon after the harvest.
However, there is a 'disruptive' element in the Jurançon that completely rejects this paradigm. To quote one winemaker: "the problem with using stainless steel is that your wines, even across a range of varieties, can end up tasting very similar. It is a potential route to blandness and mediocrity." With that in mind, younger winemakers – particularly the biodynamic crowd – have embraced fermentation in either concrete eggs, barrels, or amphorae. Aging on the fine lees (dead yeast cells) is also in vogue, adding richness and texture to the final product. This interpretation of Gros Manseng bears little resemblance to the mineral-edged, saline white wines favored by some. Luckily for us, there is now a wide choice of styles to please everybody.
Getting acquainted with Jurançon
The Pyrenean foothills of southwest France hide a precious secret. Historically referred to as the "High Country" by the merchants of Bordeaux, this corner of France was excluded from the commercial markets of northern Europe for centuries. The reason for this bullying was simple: Bordeaux's establishment had no desire to open up its lucrative trading routes to outside competition. So instead, winegrowers in Jurançon and Gascony sold their esoteric wines via the smaller port of Bayonne. The wine initially blindsided consumers in northern Europe with spicy reds and exotically-scented whites. But after a while, tentative appreciation evolved into passionate devotion.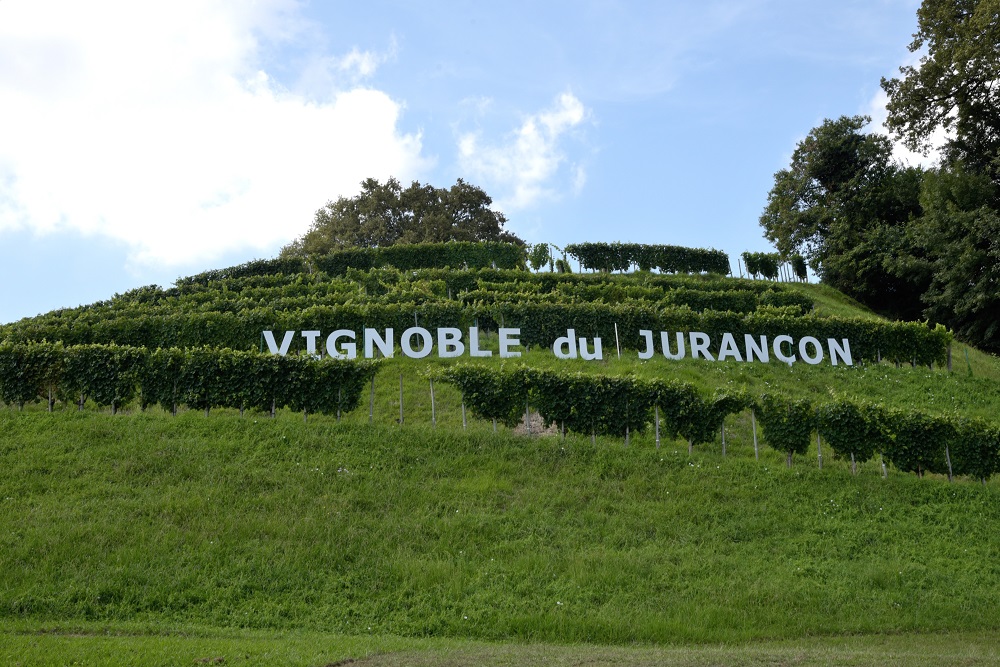 Jurançon Vineyards, in Southwest France
Nevertheless, the wines of Jurançon have always had a niche following – there is not enough volume for the region to become a global force. But that only enhances the allure: Jurançon produces one of France's most distinctive and authentic white styles. Twenty-five communes are in this noble enterprise today, located southwest of Pau. Their vineyards flank the left side of the Ousse River, which runs its course toward the Atlantic – most parcels are found on the foothills at varying elevations. The landscape is an Instagram paradise of lush green pastures, snow-capped peaks, and pretty villages. Even tee-teetotalers are known to appreciate the charms of Jurançon!
Yet while the term 'chocolate box' is often used to describe the vineyards of Pau, winegrowing does not solely exist to amuse tourists. It is a major part of the local economy and an endeavor that producers take very seriously. The local terroir is wonderfully varied: clay-limestone is commonly found in the northeastern section of the zone, while sandstone, clay, and sand are prevalent in southern Jurançon. In general terms, the wines of the north tend to be more structured but take longer to reveal their charms. Gros Manseng, occasionally enlivened with a bit of Petit Courbu, is responsible for Jurançon sec. At the same time, Petit Manseng berries are left to wither on the vine until November to produce the exceptional Vendage Tardive sweet wine. Top labels can rival First Growth Sauternes in elegance and complexity.
But mindful of contemporary trends, Jurançon now sells itself (primarily) as a source of exemplary dry styles. If you'll forgive the cliché, Jurançon Sec is unique: a refined, green-tinged essence made in a remote and timeless part of Europe. Good examples are open and expressive on the nose, with citrus, stone fruit, and pineapple aromas. Depending on the maturation regime, the palate will either be mineral-edged or positively voluptuous; Gros Manseng can support a high degree of barrel aging, although 100% new wood can spoil things. Yet harmonious integration is glorious: it yields flavors of honey, tropical fruit, and vanilla on the mid-palate, with a typically long finish.
The secret to Gros Manseng's recent success is ultimately acidity. Very few grapes can maintain such vibrant freshness at high ripeness levels, but Gros Manseng is a notable exception. This gives it a decisive advantage when bargaining for listings in the fiercely competitive hospitality sector. 21st-century sommeliers are spoilt for choice; hand-made, authentic, and terroir-driven wines are what they desire. In this case, we guarantee Gros Manseng is right up their street.
Top producers of Gros Manseng: