Wine critics are notoriously averse to consensus. Yet almost everyone agrees that Muscat Blanc – or Muscat Blanc à Petits Grains – is the finest grape among this proud family of white varieties. Its small berries are responsible for the exotically-scented dessert wines of the Languedoc-Roussillon; fortified Vin Doux Naturel is the anthesis of Sauternes, and all the better for it! Widely grown and easily recognized, Muscat has a singular perfume of orange blossom and lychee. This quality continues to be harnessed by producers worldwide: it is at the heart of styles such as Asti Spumante in Italy, in addition to cropping up as a dry style in Alsace, Austria, and parts of Germany.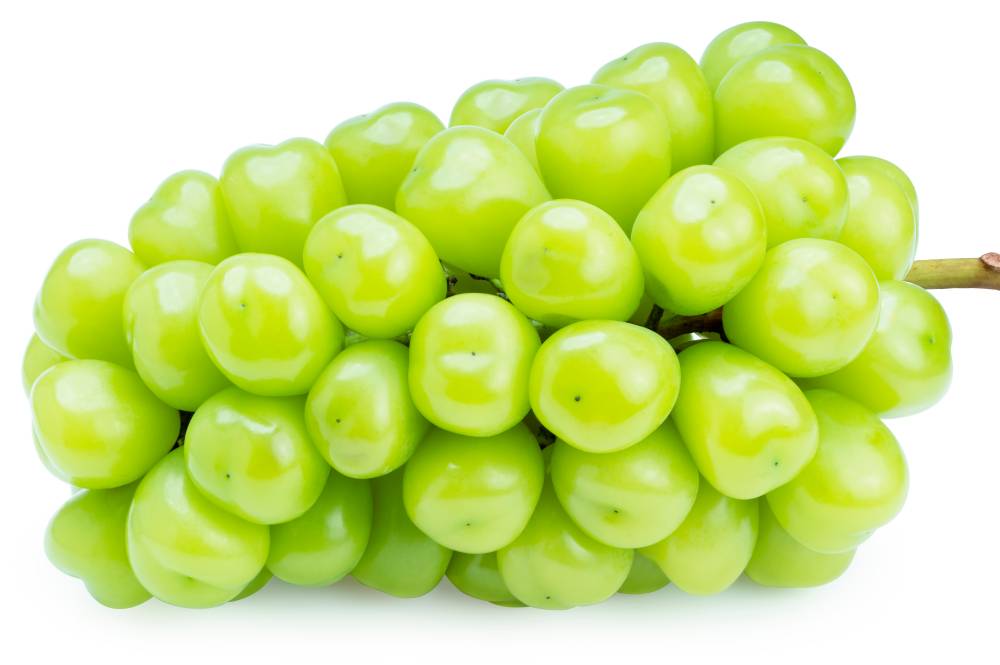 Yet, in tandem with Sauternes and the noble dessert wines of Beerenauslese in Germany, sweet Muscat has recently fallen out of fashion. Moreover, the market for dessert wines is a pale shadow of its former self; younger consumers have shown a real disinterest in a style that once dominated sales of still and sparkling wines. This unfortunate reality may encourage more growers in France to realign their traditions and focus on dry wine production; some may even rip up their Muscat Blanc and replace it with more globally-recognized varieties. Ultimately, it all comes down to a battle between commercial pragmatism and a love of tradition. But which will triumph?
Read more about French White Wine
History and viticulture
It is very appropriate that one of the world's oldest white grape varieties is known by a multitude of aliases. Indeed, Muscat's synonyms include Moscato Bianco, Moscatel, Muskateller, Gelber Muskateller, and Rumeni Muskat! Historians believe it may have been one of the first varieties of Vitis Vinifera cultivated to make table wine – it is said to originate in one of the Greek islands. But, of course, the wines of classical Greece bore little resemblance to what we commonly enjoy today. Believe it or not, sugar was considered highly beneficial to human health; wines were made as sweet and concentrated as possible. Moreover, the Greeks drank their wine hot or cold (depending on the season) and flavored it with herbs and spices.
Viticulturists, however, are not entirely certain when Muscat Blanc arrived in the western Mediterranean. They assume that Greek traders introduced the grape to Provence via the port of Marseille – Muscat Blanc proliferated across southern France after the Roman conquest of Gaul in 52 BC. It has long been associated with the small city of Narbonne in the Languedoc-Roussillon. By the 12th century, Muscat Blanc was one of the region's most lucrative exports, containing levels of sugar that would horrify health-conscious Millennials. But it gets worse: the Romans used to concentrate Muscat by boiling it before fermentation. They also frequently 'smoked' their wines by placing the amphoras (clay jars) over a furnace. The reason for these bizarre practices – by modern standards at least – was the pursuit of stabilization. Once a wine is oxidized, it can be kept for a very long period of time, unlike dry table wines. Stabilization was used to prevent spoilage during long journeys – a frequent hazard in the Middle Ages. Over the centuries, Muscat Blanc spread to different corners of Europe, including Alsace, Germany, northern Italy, and Hungary. It was also exported to the Western Cape in the 1700s and used to make the legendary dessert wine Vin de Constance.
By the early 19th century, Muscat Blanc had established itself as a key variety in the vineyards of Alsace, the Languedoc-Rousillon, and Beaumes-de-Venise in the southern Rhone. Sweet wines were in great demand during this era, passionately consumed by the aristocratic households of northern Europe. Unlike Sauternes, local tradition encouraged grapes to be harvested at the maximum sugar level without the aid of botrytis. Instead, grape spirit was (and still is) added to the fermenting must, stabilizing the wine and raising the alcohol level to about 15%. These unique Muscat wines were both robust and delicious, hence their widespread appeal and ubiquity in the wine cellars of London and Paris.
There was just one problem. In the early 1860s, winegrowers in the southern Rhône were deeply concerned about a (then) unexplained phenomenon. Their vines, hitherto healthy and thriving, were dying in great numbers. Moreover, they could find no plausible explanation; phylloxera was eventually revealed as the culprit, a poisonous louse indigenous to North America. At the beginning of the 20th century, vignerons across France were required to regraft all their vineyards onto American rootstock, which had thankfully developed resistance to phylloxera.
Certain varieties almost disappeared from the South of France during this period, largely because cash-strapped winegrowers were (understandably) fixated on grapes that could offer a generous yield. So it is remarkable that Muscat Blanc did not die out in the early 1900s. On the contrary, it remains a very popular grape in southern France, despite the challenges inherent to growing white Muscat. These include susceptibility to powdery and downy mildew, grey rot, and attacks from the grape berry moth. Moreover, it buds early, running the risk of frost attacks in March and early April. Yet it can ripen late in the season, sometimes in October in regions such as Alsace. However, this is less of an issue in the warm climate of southern France, particularly in light of a series of hot vintages – the word torrid springs to mind!
Winemaking
Long before the age of stainless steel and temperature control, the only method of producing high-quality dessert wine was to ensure that the high degree of sugar in the must would halt yeast activity (yeast becomes 'exhausted' and does not convert all the sugar into alcohol). In ancient Greece, this was achieved by leaving piles of grapes to shrivel in the midday sun (still practiced in some countries), desiccating the berries, and concentrating sugars at the expense of water content. Many centuries later, winemakers in Hungary realized that one type of mold, Botrytis cinerea, was beneficial to sweet wine production. The spores' activity removed water from the berries, increasing the sugar level in the juice. This method became the benchmark for producing Europe's finest sweet wines, such as Chateau d'Yquem and Climens. However, mass-market brands are not subject to any such painstaking process; the quickest way to make dessert wine is to add sulfur to the fermenting must, thereby halting the yeast activity. Quick and efficient, perhaps, but somewhat soulless.
Yet none of the above applies to the great Muscat wines of Beaumes-de-Venise and Muscat de Rivesaltes. Known as Vin Doux Naturel in France, these wines share certain similarities with port – fermentation is arrested via the addition of grape spirit, thereby increasing the alcohol content without sacrificing residual sugar. As a result, it produces deeply perfumed and powerful sweet wines, able to age for many decades. The extensive back catalog of prized vintages of Beaumes-de-Venise is a testament to that fact.
But in other ways, the winemaking process is fairly standardized. All the best estates in the South of France hand-harvest their grapes, often chilling them before they reach the press to maintain freshness. Mirroring the culture of dry wine production, many winemakers dispense with a crusher, preferring to press the grapes immediately and drain the juice into a settling vat. As the solid matter falls to the bottom of the tank, the must is usually chilled to a very low temperature before fermentation begins. Stainless steel – quelle surprise! – is the most common sight in wine cellars, as it allows precise temperature control and the production of very fine, aromatic styles. However, certain growers also use concrete and/or oak vats called foudres.
The next stage is crucial. Fortification requires very careful timing – according to the appellation rules for Beaumes-de-Venise, for example, wines must contain a minimum of 100 grams of sugar per liter and 15% ABV. Thus, a precise amount of grape spirit must be added at the correct time. For this reason, winemakers get little sleep during the autumn as they watch the tanks like a hawk. Then, the grape spirit will be added when the moment is right. Finally, many of the top cuvées are aged for a further period before bottling, either on the fine lees or in barrel – usually old wood. They are then fined, filtered, and bottled, ready to be sold.
A guide to dry Muscat Blanc
Muscat Blanc has been used to make exquisite Vin Doux Naturel for a long time. Indeed, although Beaumes-de-Venise is increasingly renowned for its potent Grenache reds, the area was awarded a sweet wine appellation in 1945. This strong, sweet, and aromatic interpretation of Muscat Blanc à Petits Grains is one of the southern Rhone's true originals. Likewise, the fortified dessert wines of Rivesaltes and Frontignan in the Languedoc-Roussillon offer a distinct experience from the soft elegance of Sauternes – concentration rather than finesse is the aim here. But as global demand for sweet wines remains relatively small, producers are embracing pragmatism and marketing a growing number of excellent dry labels under the liberal Pays d'Oc framework. Curiously, they take their inspiration from a wine region situated on the German border, with a climate and terroir that bears little resemblance to the Jurassic clay of Châteauneuf-du-Pape and its environs.
We are talking, of course, about Alsace. The wines of this beautiful region have long reflected its proximity to Germany; Riesling is the star white grape of Alsace, in addition to Gewurztraminer, Pinot Blanc, and Muscat. The vineyards chart a course of over 60 miles, traveling from just south of Strasbourg to well beyond Colmar. Due to the Vosges mountains' protective influence, rainfall is very low in Alsace, while terroir is something of an obsession in this corner of France, not least because there is an astonishing diversity of soil types to choose from: limestone, marl, clay, sandstone, and metamorphic rock. The latter helps warm the vine canopy, ensuring that underripe wines are rare in the southeast-facing slopes of Alsace's spectacular hillside vineyards.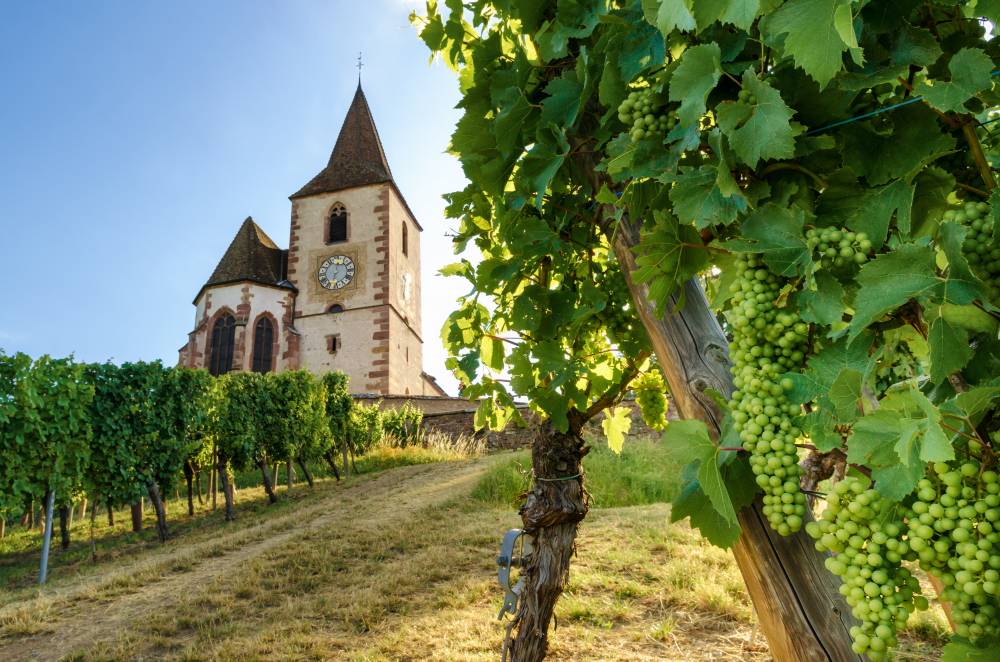 Scenic vineyards near Colmar in Alsace
Today, a small volume of Vendage Tardive and botrytized wines are made from Muscat Blanc à Petits Grains in Alsace. But, due to the realities of selling to an audience that generally wants dry whites, a far greater percentage of exports are based on dry Muscat, with every gram of sugar fermented dry. Alsatian wines, rather like those produced across the border, prioritize fruit over oak – Pinot Noir is a notable exception. Nevertheless, white styles are rarely matured in new barrique; if wood is used at all, it is generally in the form of weathered foudres that impart no oaky flavor at all. In Alsace, winegrowers want you to experience a pure and crystalline fruit expression from Muscat Blanc. These qualities reach an apogee in the region's legendary Grand Cru vineyards. Based on a classification unveiled in 1983, Alsace is the only part of France where Muscat is permitted on Grand Cru terroir – it is joined by Riesling, Pinot Gris, and Gewurztraminer. Alsace's Grand Cru climats represent a synergy between grape variety, soil, situation, and mesoclimate. According to insiders, the holy grail of Muscat Blanc is found on Vorbourg, a vineyard situated between the cute villages of Soultzmatt and Westhalten. Here, calcareous soils join forces with a favorable south-facing aspect to yield what is possibly the finest dry Muscat in Europe. Wine lovers can be a stubborn bunch, reticent to branch out from their established favorites. Yet be prepared to witness a Damascene conversion as they relish Muscat's rich bouquet, mouthwatering acidity, and flavors of grapefruit, citrus, and lychee on the mid-palate. Muscat Blanc may lack the global renown of Chardonnay, but it can still turn heads!
Top producers of Muscat Blanc (sweet and dry):