To say that Colombard is not highly regarded in French wine circles is the understatement of the year. If you dare to mention its name, winegrowers in regions like Chablis and Pessac-Leognan let out a terse snort before deriding the grape as "utterly forgettable." They may have a point: Colombard is noticeably absent from many of France's leading fine wine appellations. It has no global renown.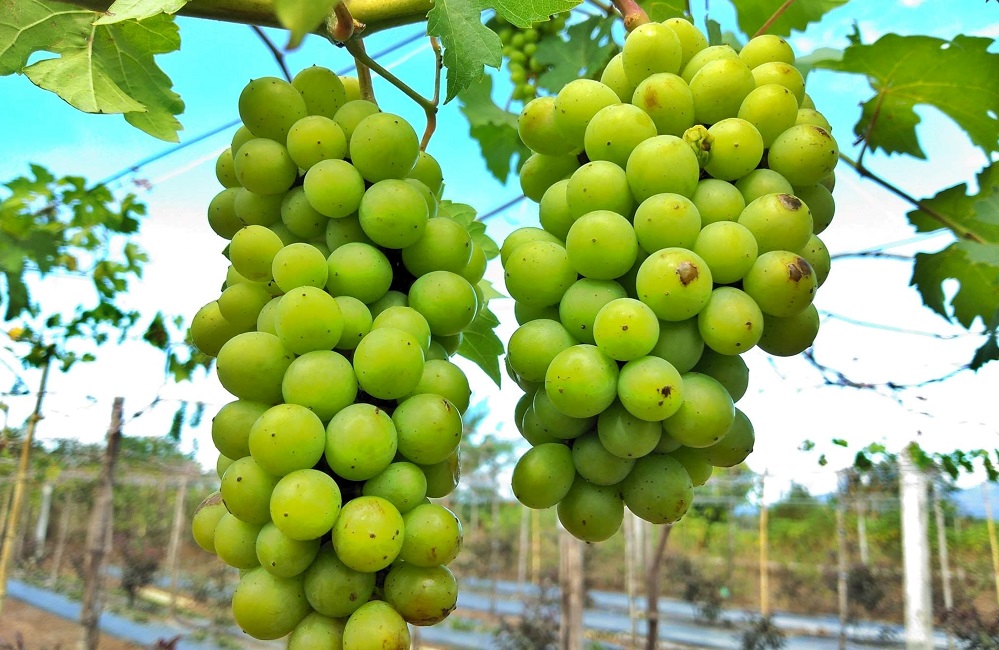 Yet Colombard is an essential part of the Gallic landscape – whether producers want to admit it or not! Despite its lack of cachet, Colombard is one of France's most prolific white varieties, particularly in the Cognac region and the vineyards of Gascony. It is used in the production of both Cognac and Armagnac; few critics would deny that the finest grape-based spirits are made in these ancient wine zones. But most importantly, a new generation of winemakers in Gascony and Bordeaux have proven that the variety can answer a higher calling. Inspired by the trendsetters of California, vineyards in the Côtes de Gascogne are now synonymous with fresh and saline whites that owe their brilliance to Colombard. With an enviable price-to-quality ratio and ready supply, they're poised to conquer the world.
Read more about French White Wine
History and viticulture
Colombard has been cultivated in the vineyards of southwestern France for many centuries. And yet, its role as a table grape has been relatively minor. No, Colombard's key purpose in life was to provide eau-de-vie (water of life) for producing long-aged brandies. On the banks of the River Charente, situated immediately north of Bordeaux, Colombard continues to produce neutral and acidic white wine for distillation. The destination is stunning: Cognac town is surrounded by unspoiled and verdant countryside, while the old town is full of half-timbered houses dating back to the 1400s. Further south in the vineyards of Gascony, Colombard is similarly used to make a fiery spirit called Armagnac. It is an integral part of these two beautiful regions' traditions and economic life.
But why use Colombard in distillation, you may ask? Six grapes are permitted under the Cognac appellation rules, including Ugni Blanc, Semillon, Montils, Folignan, and Colombard. Winegrowers selected Colombard as it satisfies two important criteria: it yields low alcohol wine and retains high acidity. This is vital as base wines with a low ABV can be distilled for longer before they reach 72 percent by volume. In addition, acidity is used to prevent spoilage in the production of grape brandies; sulfur cannot be used in distillation, as it creates vegetal aromas and flavors. Therefore, the grower must rely on nature to avoid unpleasant accidents. Thus, the acidic Colombard was considered ideally suited to the task of distillation.
However, there is a historical tradition of using Colombard to make table wines in the heartland of the prestigious Cabernet Sauvignon, no less. In the 18th century, Bordeaux's viticultural landscape was extremely varied, and there are records of growers using over 29 white grapes in the Libournais. Yet after the onset of phylloxera in the late 1800s, the number of varieties planted was greatly reduced in Bordeaux, as the grapevine disease required vines to be re-grafted onto American rootstock. When the vineyards were replanted in the 20th century, it was inevitable that some varieties would be discarded in favor of more-fashionable – and qualitative – grapes. Colombard was one such victim of this dramatic realignment.
That said, although Colombard has no great reputation among the classified estates of Bordeaux, it has not completely disappeared from view. Growers in Côtes de Bourg continue to fashion aromatic and light white wines from the grape, as do certain properties in the appellation Blaye-Côtes de Bordeaux. One of the most endearing aspects of French viticulture is that families are not solely influenced by their profit and loss accounts. From a financial standpoint, it would make complete sense to rip out all the Colombard and replace it with Sauvignon Blanc – perhaps the world's most famous white variety. But tradition still counts for a lot in many French wine regions.
Moreover, Colombard is not particularly difficult to grow. Genetic analysis has determined that it is the offspring of Chenin Blanc and Gouais Blanc, resulting from a mutation that occurred at some point in the unspecified past. However, it buds relatively early in the season, which requires growers to be vigilant against spring frost attacks in March and April. Nevertheless, Colombard is quite a robust grape, with an inbuilt resistance against fungal diseases such as powdery mildew and grey rot. It is also able to maintain high levels of acidity, even in warm climates. This is why growers in California regularly use Colombard in their commercial white blends.
But despite these advantages, Colombard is renowned for its tendency to deliver an overly-generous yield. If the grower wishes to create a high-quality wine, then judicious pruning and green harvesting are essential throughout the season. Overcropped vines deliver insipid and dilute plonk, enough to put you off Colombard for life. And that would be a great shame.
Winemaking
There are four stages required to make grape-based brandies: fermentation, distillation, maturation, and blending. Colombard used for this purpose will be treated very unceremoniously – the grape is quickly transformed into an acidic base wine without adding sulfur. It is then transferred to the copper pot stills, where a process of evaporation results in the legendary eau-de-vie.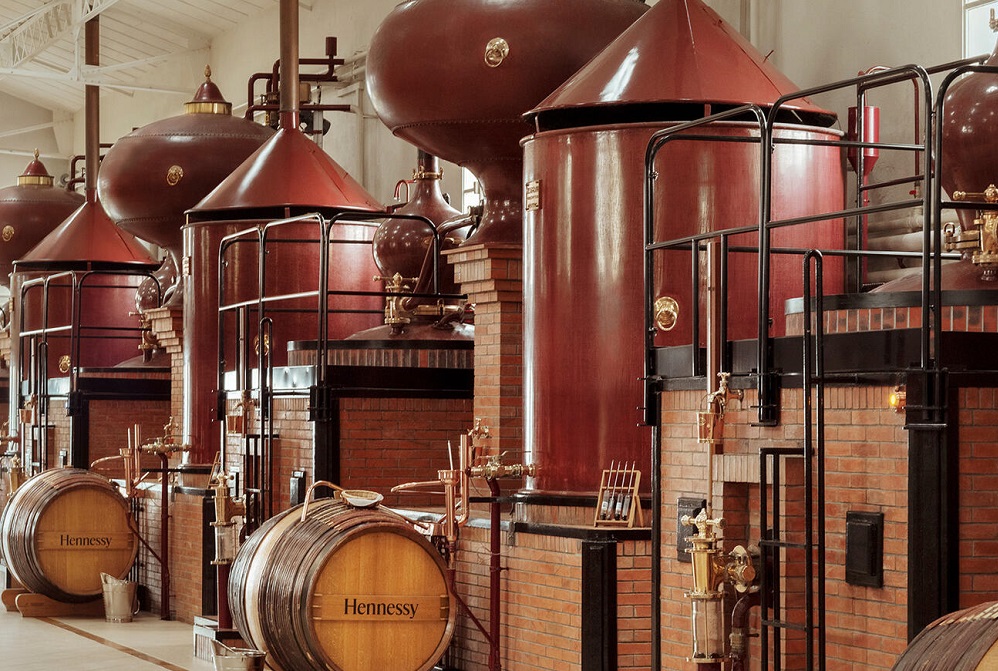 Hennessy's Cognac Distillery
However, the production of table wine is a little more involved. In Gascony and Bordeaux, Colombard is often blended with other grape varieties to produce a fresh and aromatic style. This necessitates protective winemaking: the addition of sulfur dioxide – a powerful preservative – safeguards against oxidation. This will typically be added during the pressing stage, although it can be distributed when grapes are crushed (if that occurs) or as the juice is placed in the vat for settling. Today, whole bunches are often pressed almost immediately after entering the winery; better quality must is obtained when pressing is gentle. If it is done too aggressively, the pips and stems break, releasing astringent flavors into the juice. The must is then drained into settling vats before fermentation.
In Gascony, this was traditionally carried out in old oak foudres (large vats) at moderately warm temperatures. But most producers in the region now favor stainless steel tanks – this enables easier regulation of yeast activity and protects the aromatic compounds. The standard paradigm is prolonged fermentation at cool temperatures to protect primary fruit aromas, converting all the sugar into alcohol. Malolactic fermentation usually follows: this secondary fermentation converts malic to lactic acid. However, if the grower is dealing with a particularly hot vintage, they may wish to prevent it.
In most cases, the wine will be quickly filtered and stabilized before bottling. Although many varieties can benefit from oak maturation, Colombard is a notable exception. Producers typically emphasize the grape's natural fruitiness rather than subjugate it with oak-derived tannins and structure. Occasionally, the wine will be aged on the fine lees (dead yeast cells) for several months to add texture and complexity. But this is not standard practice by any means.
Colombard's smart revival
After a long period in the doldrums, Colombard has been allowed to redeem itself. Indeed, the timing could not be more opportune: saline whites are a hot ticket in the bars and restaurants of Europe and the US. If enough sommeliers get behind the wines of Blaye, Bourg, and Côtes de Gascogne, there is no reason why Colombard cannot strike gold. Mainly as the wines have never been so good.
Bordeaux
In the vineyards northwest of Libourne lie the historic regions of Blaye – now known as Blaye-Côtes de Bordeaux – and Bourg. They are of ancient origin, once occupied by the Romans who planted vines on the slopes on the right bank of the Gironde. Until (relatively) recently, Blaye and Bourg were treated with disdain, producing lackluster wines used by the negociants to market generic Bordeaux. However, growers in the 21st century realized that more money could be made from premium styles. As a result, producers in Blaye and the smaller region of Bourg are now making some excellent wines from Colombard, often blended with Semillon. The grape thrives in the clay-limestone terroir of these two zones, producing very aromatic and fresh white wines. An influx of younger growers, unable to afford land in more exalted appellations, has also contributed to the improvements in quality.
There are real gems to be discovered in these two underrated appellations today, not least the surprising whites of Chateau L'Hospital. Purchased by Bruno Duhamel in 1997, the estate is farmed according to strict organic principles. Never one to follow convention, Duhamel prefers to mature his Colombard/Semillon blend in a percentage of new oak, depending on the vintage. We must admit that, despite our misgivings, the oak does not detract from the fruit at all. Nevertheless, it is an undeniably rich and unctuous wine, with notes of guava and pineapple on the finish. But suffice it to say, Duhamel does not represent the critical mass; marketing fresh, unoaked and affordable styles is the chief goal for most producers in Blaye and Bourg.
Gascony
If you head west from the city of Toulouse, you'll arrive slap bang in the middle of Gascony. It is arguably the most beautiful part of southwest France, particularly if you love verdant scenery, rich gastronomy, and a glacial pace of life. Most commonly associated with Armagnac, the region's prosperity also now hinges on the IGP (Indication Géographique Protégée) Côtes de Gascogne. Offering considerable flexibility in terms of permitted grape varieties and geographical limits, this designation has become Gascony's most reliable source of high-quality Colombard.
The story of Gascony's revival shares obvious parallels with Blaye and Bourg. In the 20th century, local table wines were decidedly below par. A lack of investment allied to rustic winemaking created stale and oxidized bottles, lacking freshness. Then the younger generation moved in, determined to rescue the area's reputation with the aid of modern equipment and a renewed emphasis on terroir. Their investment and hard work have yielded considerable rewards: Côtes de Gascogne IGP is now synonymous with incredible value – over 60% of the annual volume is exported – and premium quality. The key production zone flanks the city of Auch, which cuts across three administrative departments: Gers, Landes, and Lot-et-Garonne. Today, growers cultivate about 12,000 hectares of vineyards, many of which are planted to Colombard.
The terroir is extremely varied – westerly vineyards are heavily influenced by their proximity to the ocean, with relatively mild summers and sandy soils. Conversely, the eastern section of the zone has a continental climate, with warm summers and calcareous soils. As a result, many of the best whites are made here: aromatic, fresh, and impeccably balanced. However, those who seek oak-aged and voluptuous wines may be disappointed; Gascony sets its stall on delivering summer thirst quenchers.
Yet from the perspective of buyers and sommeliers, premium Colombard is manna from heaven. In a post-pandemic context, the pressure to deliver quality at a fair price has never been higher. As a result, many of the world's greatest regions, from Burgundy to California's Russian River Valley, have seen considerable price inflation. In Côtes de Gascogne, however, price stability and consistency are valuable commodities. These may not be the most profound or exciting wines available today, but Colombard is reliably delicious.
Top producers of Colombard wines (blends and single-varietal):
Domaine Duffour
Montgravet