Jancis Robinson MW describes Pinot Blanc as "useful rather than exciting." This is hardly a controversial view: the grape has never been treated with any particular reverence in the vineyards of western Europe. In Alsace and Trentino Alto-Adige, it was historically cropped at high yields and used to produce a very innocuous, if somewhat bland white wine – hence Robinson's withering summation.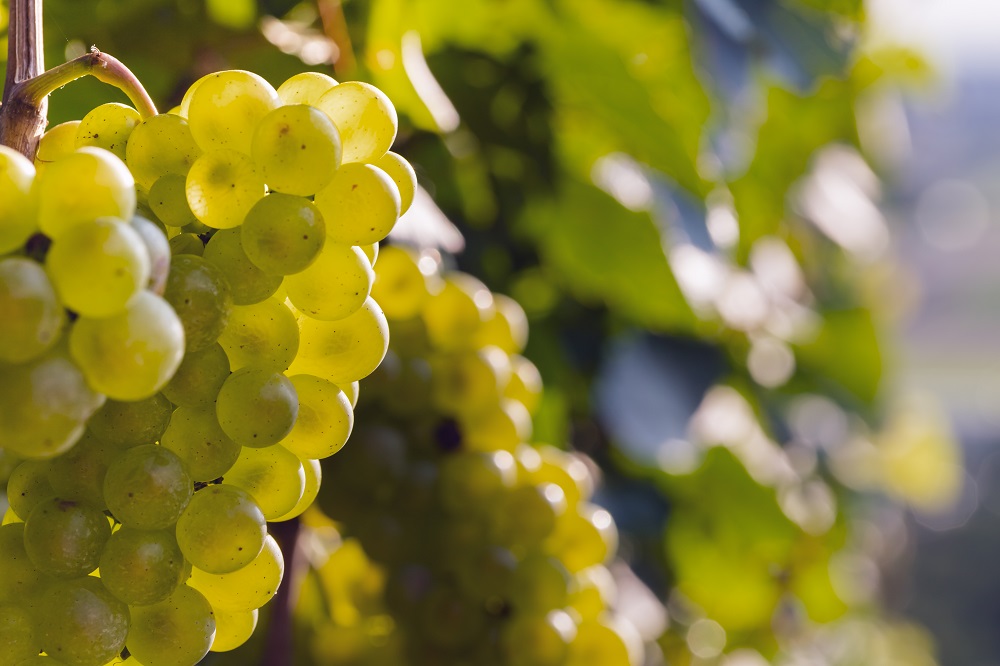 More recently, however, Alsatian winemakers have started to take Pinot Blanc a little more seriously. This free-thinking group is harvesting at lower yields, embracing biodynamic viticulture, and aging their wines in barrique to craft something distinctly refined and upmarket. Pinot Blanc has also been a vital part of Alsace's burgeoning sparkling wine industry: Cremant d'Alsace is a leading contender for France's best value fizz. Old habits die hard, of course; certain growers still regard the variety as a 'poor man's Chardonnay.' But in fact, nothing could be further from the truth.
Read more about French White Wine
History and viticulture
This close relative of Pinot Noir is a most versatile grape, able to produce excellent still and sparkling wine (dry and sweet) in various terroirs and climates. Yet Pinot Blanc began its life in Burgundy, a region that has almost completely abandoned the grape for Chardonnay. Only a few parcels remain in the Cote d'Or, cultivated by a tiny band of acolytes who discretely sell Pinot Blanc outside of the standard AOC framework. Its downfall can largely be attributed to the Dukes of Burgundy, a powerful group of families who took control of the region in the 11th century. They took it upon themselves to micro-manage Burgundy's emerging wine industry; long-standing varieties such as Gamay and Pinot Blanc were not considered 'worthy' by this aristocratic establishment. As a result, a great deal of Pinot Blanc was ripped out over the centuries – only a few hectares survive today.
It's a similar story in Champagne. Pinot Blanc – known locally as Pinot Blanc Vrai – was once a vital part of the region's still wine industry. However, as Champagne became synonymous with bubbly in the 1800s, growers decided to replace it with Chardonnay. It became a cépage oubliés (forgotten variety), maintained by a tiny number of houses and growers. In the 20th century, the appellation rules prohibited new plantings of Pinot Blanc, in addition to the even rarer Petit Meslier, Arbane, and Pinot Gris. However, the rules allow growers to maintain parcels planted before the regulations came into force. Thus, about 82 hectares of Pinot Blanc find their way into select bottles of Champagne. But please don't tell anyone, as the Champenoise would prefer to keep that to themselves. The vast majority is found in the Aube sub-region – old bush vines that may be gone within the decade. Champagne Drappier uses a small amount in their delicious Blanc de Blancs. Sadly, they are not allowed to plant anymore.
Nevertheless, Pinot Blanc has been adopted by winegrowers across Europe: it has flourished in Alsace, northern Italy, Austria, Slovenia, and Germany. Moreover, although phylloxera devastated vineyards across France in the late 1800s, Pinot Blanc was not neglected during the large-scale replanting program of the early 20th century. This turned out to be most fortuitous; a lucrative sparkling wine industry emerged in Alsace in the 1900s. At the turn of the century, entrepreneur Dopff au Moulin founded a sparkling wine house that would compete with the great labels of Champagne, albeit the price and grape varieties would be quite different. This pioneering move grew into a region-wide business model that now produces over 30 million bottles annually.
None of this could have been achieved without Pinot Blanc. Indeed, this early-ripening grape has been the most popular element in Cremant d'Alsace for over a century. Growers are fond of the variety for several reasons:
It is fairly vigorous and robust.
The yield is generally consistent from year to year.
It produces very fruity wine with good acidity.
However, over-cropped Pinot Blanc will deliver a perfectly drinkable yet uninspiring white wine – however, premium examples can only be made from carefully managed vine canopies pruned throughout the season. In addition, Pinot Blanc ripens very tightly packed bunches, increasing the risk of fungal diseases during wet weather. But as winegrowers like to observe: "Pinot Blanc is nowhere near as challenging to grow as its red cousin."
Winemaking
If Pinot Blanc is treated with respect in the winery (as it deserves), it can play the role of Chardonnay's first cousin. So ignore the naysayers who insist that Pinot Blanc can only make vin ordinaire; low yields, careful fermentation, and oak maturation can produce splendid results in bottle. The secret, as ever, is to go easy on the new barrique and avoid too much skin contact. Domaine Ponsot in Burgundy has long demonstrated that the local Pinot Gouges (a type of Pinot Blanc) can rival the finest Chardonnay Grand Crus in the Cote d'Or. Ponsot crafts a Pinot Blanc of enormous power and elegance using the same vinification techniques.
How do they achieve this? It all starts with hand-harvested grapes that arrive at the cuverie in perfect condition. Although sulfur is often added in the early stages to protect the berries from spoilage and oxidation, this domaine prefers not to rely on any 'artificial' elements in the winemaking. Instead, nitrogen gas is used to create a protective envelope during racking and bottling, sufficient enough to prevent oxidation. Yet, in other ways, Ponsot is very traditional: grapes are pressed in an old vertical basket press that dates back to the 1940s. The fermentation is carried out in used wood, typically about five years old. Indigenous yeasts are used to start the process, while the fermentation is carried out at moderately cool temperatures. After that, the wines will be matured in wood for up to 30 months before bottling – filtration is seldom carried out. Rather than focus on primary fruit flavors and instant gratification, Ponsot has always coveted tertiary characteristics that develop as the wine matures.
This stands in marked contrast to the Alsatian approach – particularly when making young wines for export. In most cases, whole bunches are quickly pressed, and cold settled before fermentation to preserve their fruitiness. The grape will almost certainly be vinified in stainless steel at low temperatures and is often blended with Auxerrois. However, aging on the fine lees may take a few months to enhance the wine's texture and mouthfeel. Ultimately though, this is a philosophy that the Alsatians reserve for varieties relegated from the 'grand cépage' category. That is unless, of course, we're talking about Cremant d'Alsace.
Pinot Blanc spreads its wings
Pinot Blanc has never received the universal adulation thrown at Chardonnay or Pinot Noir. Yet the variety is an extremely important part of several appellations. It wears many faces and performs many roles, despite the occasional snort of derision from winegrowers. In Burgundy, it is maintained almost as a quaint hobby by a select few domaines in the Cote d'Or; Henri Gouges and Ponsot have demonstrated that it is no poor relation to Chardonnay. Likewise, a tiny number of growers in Champagne refuse to grub up their remaining parcels. They're acutely – and sadly – aware that once these vines die, there will be no more. So our only advice is to try and sample these unusual and delicious Champagnes while you can. Champagne Tarlant makes a beautiful cuvée called 'BAM,' a potent blend of Pinot Blanc, Arbane, and the almost extinct Petit Meslier.
However, it's a very different story in Alsace. With just over 2850 hectares under vine, Petit Blanc accounts for approximately 20% of the total vineyard area in the region. The local cliché is a fresh and fruity style to be drunk young: stone fruit on the nose and apple on the palate. The wine will be made fairly quickly and not see a hint of new oak. Delivering both good value and a reliably satisfying drink, hum-drum Alsatian Pinot Blanc offends – and excites – no one.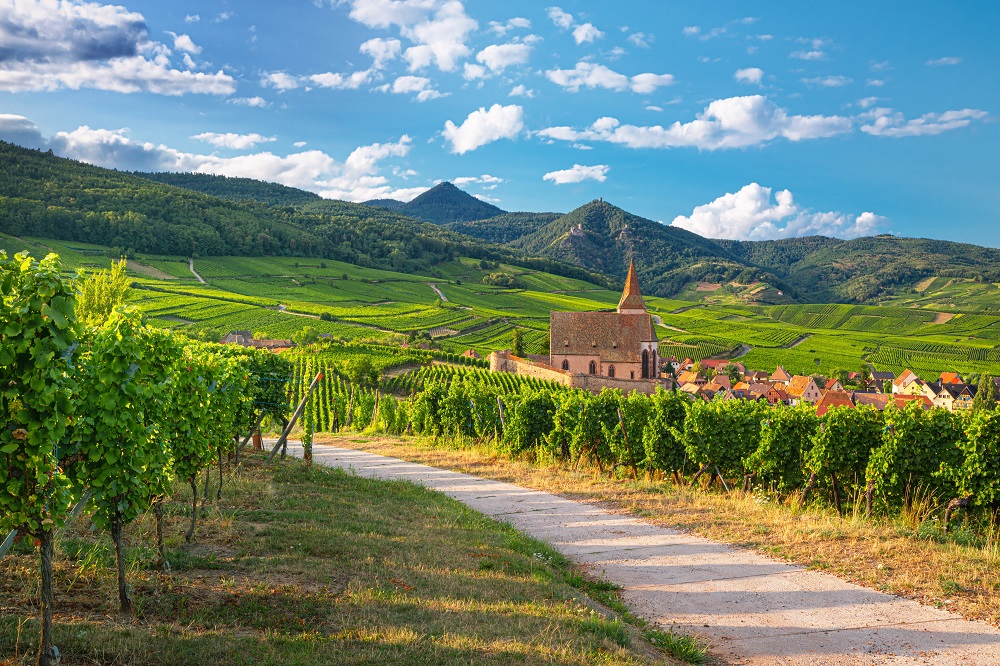 Hunawihr wine village in the Alsace
But this grape is capable of so much more. A new wave of winemakers have realized this – their low-volume Pinot Blanc cuvées, gently matured in barrique, emerge as complex and structured white wines. One might almost describe them as 'Chardonnay's understudy,' although there is a slight hint of condescension in such a statement. Nevertheless, these beautiful wines excel on their own merits: oaked Alsatian Pinot Blanc has an inimitable smoky quality, with notes of hazelnuts, vanilla, and apricot. They are exquisite when paired with poultry, flammekueche, or the famous Munster cheese.
Pinot Blanc's greatest contribution to the world of wine involves bubbles. Prevalent in the Italian regions of Franciacorta and Trentino Alto-Adige, the grape has long provided the backbone and structure to Cremant d'Alsace. The first Alsatian fizz preceded the creation of Dopff Au Moulin; a grower called Dirler released a small volume of vin mousseux in 1880. However, Dirler stopped production in the early 20th century. So it was left to Dopff and his followers to establish Alsace's reputation as a leading source of high-quality sparkling wine.
Judging by the latest sales figures, they've succeeded! Both the quality and volume of Cremant d'Alsace have soared in recent years, helped in part by a series of excellent vintages. The richness and acidity of Pinot Blanc mix well with several of Alsace's signature varieties, not least Pinot Gris. But, of course, there is only a passing resemblance to Champagne; Cremant d'Alsace is often fatter and riper than its westerly neighbor, balanced out by lovely acidity. However, this can only be good as the world is full of Champagne lookalikes. There are better ways to jump on the nearest bandwagon than the Alsatian one.
Nevertheless, growers are chasing prestige in the 21st century. The establishment of a premium sub-category of Cremant d'Alsace, called Emotion, has done wonders for its image. Producers who wish to join this illustrious club must harvest at lower yields, age their cuvées on the lees for longer, and only use premium varieties (minimum 75% Pinot Blanc). This top-tier fizz is easily recognized due to the taller, slimmer bottle shape and the term 'Emotion' splashed across the label. After tasting several excellent brands, we can vouch for the supreme quality – Emotion wines can rival Champagne in everything but price. That probably makes Cremant d'Alsace the bargain of the year. Snap it up!
Top producers of Pinot Blanc wines (still and sparkling):