It is generally agreed that the best sparkling wines come from cool climates. All over the world, producers seek out the chilliest spots that offer a facsimile of the climate – and soil – in Champagne. Without wanting to insult anyone's individuality, it could be said that a critical mass of fizz is made in the image of Champagne, if not precisely its likeness. From Carneros to Franciacorta in northern Italy, you don't have to look hard to discover French lookalikes: Pinot Noir and Chardonnay blends have become the global standard for premium bubbly.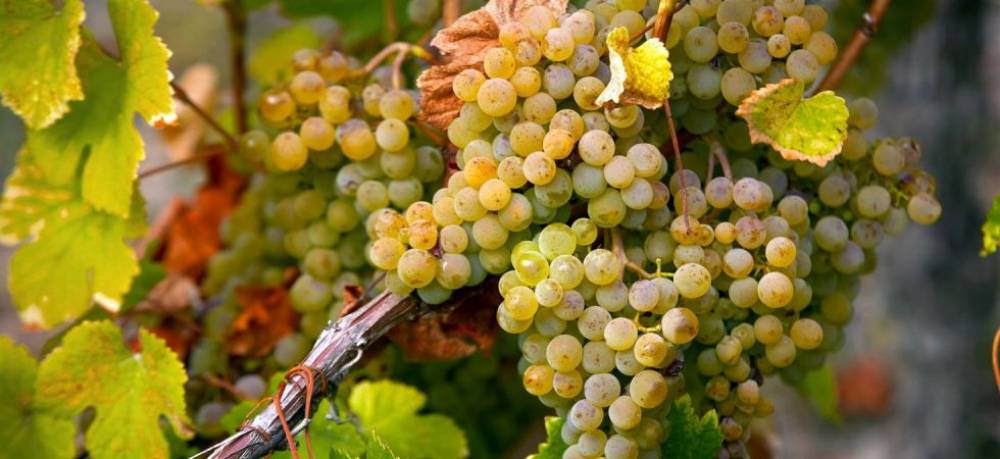 Yet there are exceptions to this rule. The ripe and pungent sparkling wines of Limoux in the Languedoc-Roussillon bear little resemblance to the yeasty autolysis of Bollinger. Embracing traditions that were (supposedly) laid down in the 16th century; winegrowers produce exceptional fizz from the beautiful Mauzac grape. If your priorities are bling and glamour, you should probably look elsewhere – drinking Mauzac does not make a statement. But if you want to explore the glorious diversity of French sparkling wine, Mauzac will be only too happy to oblige.
Read more about French White Wine
History and viticulture
Indigenous to the hills of southwest France, Mauzac is believed to take its name from a village in the Midi-Pyrénées. It has been used to make still wines since the Roman conquest of Gaul in 50 BC, concentrated in the regions of Languedoc-Roussillon and Gaillac. However, its real claim to fame involves a long-running debate about the origins of France's inaugural sparkling wine.
The tale is both charming and open to interpretation. According to legend, a group of Benedictine monks in the Abbey of St-Hilaire (east of Limoux) pioneered the 'méthode ancestrale,' which involves bottling wines that have not finished their primary fermentation. Thus, the fermentation is completed inside the bottle, adding effervescence to the wine. Records dating back to 1544 reference a higher price and different bottle shape (sparkling wine requires a stronger glass); producers regard this as strong evidence of the birth of 'méthode ancestrale' in the Languedoc-Roussillon. However, several respected critics have debunked this claim, observing that there is no incontrovertible proof that the 'méthode ancestrale' was pioneered in the 1500s.
Nevertheless, some evidence is that winemakers in Gaillac and Limoux have been utilizing this ancient technique for centuries. A geographer to the French monarch Louis XIV made written observations about the wines of southwest France in the late 17th century – both Gaillac and Limoux wines were described as sparkling. And yet, a detailed description of the 'méthode ancestrale' has never surfaced in ancient records. It is a mystery that will probably never be solved.
But there is no doubt that wine regions across France have been making traditional method fizz since the 19th century. According to historians, the Champagne benchmark was emulated (albeit the varieties were often different) in Alsace, Bordeaux, Burgundy, Limoux, Loire, Jura, and the Rhone long before the term 'Crémant' was adopted as a catch-all designation.
Today, Mauzac plays a key role in three distinct appellations in the subregion of Limoux, in addition to three designations in Gaillac. Sadly, the area under vine declined after the advent of phylloxera in the late 1800s, a trend that continued throughout the second half of the 20th century. Yet, although certain winegrowers in the Languedoc-Roussillon have traded their Mauzac for Chardonnay and Chenin Blanc, others refused to abandon their birthright. It's a wise decision: Mauzac is ideally suited to the warm climate of Mediterranean France. Moreover, it is endowed with certain attractive qualities that become invaluable when temperatures start to rise across the hills of Limoux.
Sparkling winemakers never equivocate: superior base wines are packed with acidity, providing structure, freshness, and poise. Therefore, winegrowers in Limoux need a variety that will achieve good levels of phenolic ripeness without sacrificing acidity. Mauzac is that grape. It buds and ripens late in the season, making it suitable for the warm climate of the Languedoc-Roussillon. However, its acidity will drop in late summer if the berries are overripe – growers tend to harvest early in the season to prevent acid drop-off. The vines can be fairly vigorous, requiring attentive pruning throughout the year. Clay-limestone soils are ideal – they perfectly balance drainage and moisture retention. Mauzac will yield a reasonably plentiful crop of healthy berries in most years.
Of course, no variety is without its challenges. Mauzac is sensitive to attacks from grapevine pests, including mites and grape moths. Grey rot can also be an issue in inclement years; powdery and downy mildew are seldom an issue unless the vintage is particularly wet. Mauzac provides excellent raw materials for the production of high-quality fizz.
Winemaking
Mauzac plays the role of both king and courtier in the sparkling wine appellations of southern France. In the pretty town of Gaillac in the Midi-Pyrénées, it is largely responsible (Mauzac's red mutation is also permitted) for the production of Gaillac Mousseux Méthode Ancestrale. This unusual wine is an esoteric gem in every sense of the word.
After the harvest, grapes will be crushed, pressed, and typically fermented in old oak vats called foudres. However, unlike the traditional method, the wines are bottled before the fermentation stops, without adding liqueur de tirage (sugar/wine solution) or liqueur d'expedition. As the fermentation continues in bottle, the carbon dioxide byproduct is dissolved into the wine. According to the appellation rules, Gaillac Mousseux Méthode Ancestrale must have minimum alcohol of 7% and a maximum of 14% – this is rarely the case. After nine months aging on the lees (dead yeast cells), it can be disgorged. Completely unlike Champagne, the style offers wonderful refreshment in the summer months, with bags of fruit and acidity.
However, Mauzac is also used to make traditional method wines under the auspices of the Crémant de Limoux and Blanquette de Limoux designations. Its role in Crémant de Limoux is relatively minor: many cuvées are heavily weighted towards Chardonnay and Chenin Blanc. From one perspective, winegrowers closely emulate the model used in Champagne: wines are fermented in stainless steel before being bottled with the addition of yeast and sugar. The resulting secondary fermentation dissolves CO2 into the wine. Yet the wines of Limoux, delicious as they are, are normally aged on their lees for under 15 months before disgorgement. In contrast, top cuvées of Champagne may be aged for over a decade before they are sold.
Flip the coin to Blanquette de Limoux, and Mauzac becomes a major player again. The vast majority of wines contain at least 90% Mauzac, made in the same way as Crémant. Banquette Méthode Ancestrale, meanwhile, is a completely different ball game. There is no secondary fermentation in bottle, only a continuation of the first. Moreover, these wines are often made in a very sweet style, with up to 85 grams of residual sugar per liter. As a result, they can stand up to any dessert!
The lighter side of French fizz
Champagne remains the global benchmark for prestigious sparkling wine. At the top end, collectors will pay serious sums for the crème de la crème of prestige cuvées: Vintage Krug, Dom Perignon, Cristal, Dom Ruinart and Bollinger RD. But, these complex and powerful Champagnes have no peers for a milestone celebration.
But as the Champenoise will readily admit, bubbly is not just for special occasions anymore. Times have changed: over the past decade, sparkling wine has grown into a massive – and everyday – category in its own right. As a result, consumers are increasingly seeking weekend labels that are both high-quality and affordable. Or in other words: Blanquette de Limoux.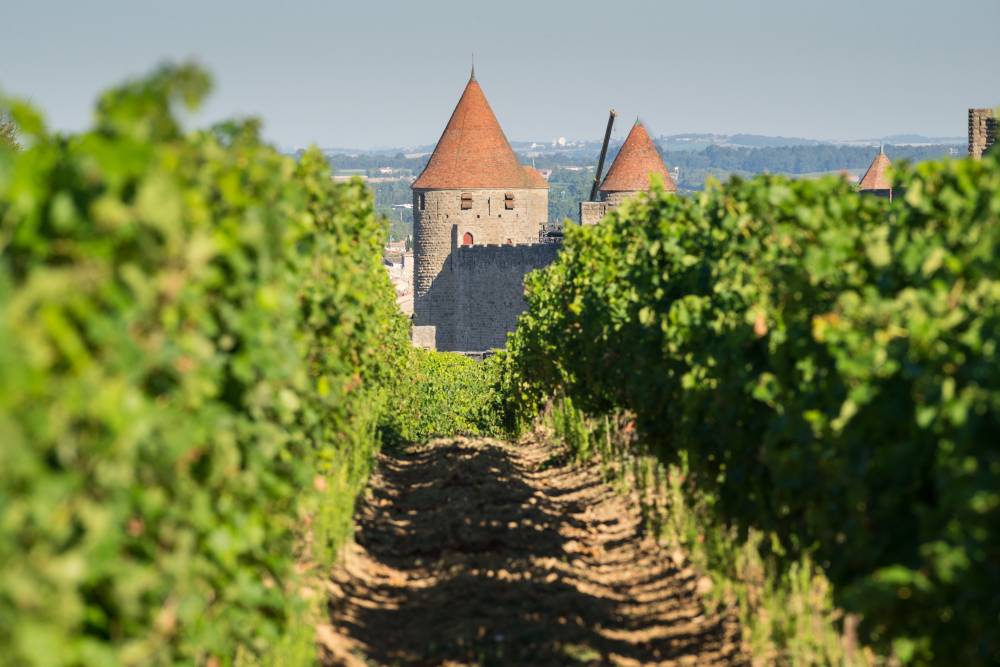 Vineyards near Carcassonne in the South of France
Historically, the sparkling wines of the Languedoc-Roussillon were largely confined to local palates, produced in a rustic and uninspiring way. Yet a burgeoning demand for alternatives in the 21st century has forced winegrowers to up their game – Mauzac sparkling wines are now among the best value in Europe. After years of consumer indifference, Blanquette and Crémant are conquering London and New York restaurants at an impressive rate.
So what are the reasons for their success? Both styles come with an attractive price tag and a name that rolls off the tongue. They are incredibly trendy, offering a light, quaffable appeal and vibrant acidity that perfectly suits today's wine drinkers. Moreover, they are made in one of the Languedoc-Roussillon's coolest spots – a leading contender for the finest terroir in southern France.
Indeed, the moderating influences of the Atlantic and altitude are keenly felt in the hillside vineyards south of Carcassonne. Diurnal temperature variation is a key part of the quality equation: a significant difference between day and night-time temperature helps to maintain acidity in the grapes and encourages a slower pace of ripening. With a spot of winemaker magic, Limoux's mesoclimate will yield pungently aromatic Mauzac, bursting with guava, freshly cut grass, and lychee flavors. However, if you seek a softer, more 'Champagne-like' wine, avert your gaze to Crémant de Limoux. With a large percentage of Chardonnay and/or Chenin Blanc in the blend, these wines offer familiar citrus, white flowers, and apple notes. The silky-soft texture and delicate finish make it ideal for drinking on a warm summer's evening.
At this point, the Champenoise will point out that their region offers a diverse range of styles, and not all Champagne costs over $500! However, the price of sparkling wine is not a cut-and-dry issue; pursuing cheaper brands will not necessarily deliver better value. Cheap Champagne, under $40 for the sake of argument, usually offers the worst value of all sparkling wines. You'll do far better looking outside Champagne to France's less exalted designations at this level. Celebrities intent on making a public announcement do not need alternatives or 'better value' wines – it's Dom Perignon or nothing. But for the rest of us, Mauzac offers a world of pleasure without financial pain.
Top producers of Mauzac wines: