Croatina Grape Variety
If you're worried about the globalization and standardization of wine – head to Italy! This glorious nation has the widest variety of indigenous grape varieties, terroirs, and wine styles in Europe. This country does not stake its primary reputation on Bordeaux imitations and a surfeit of wines made from French varietals. Yes, such 'creatures' do exist. But the best of Italian red wine has originality, flavor profile, and pzazz that has no equal in the world.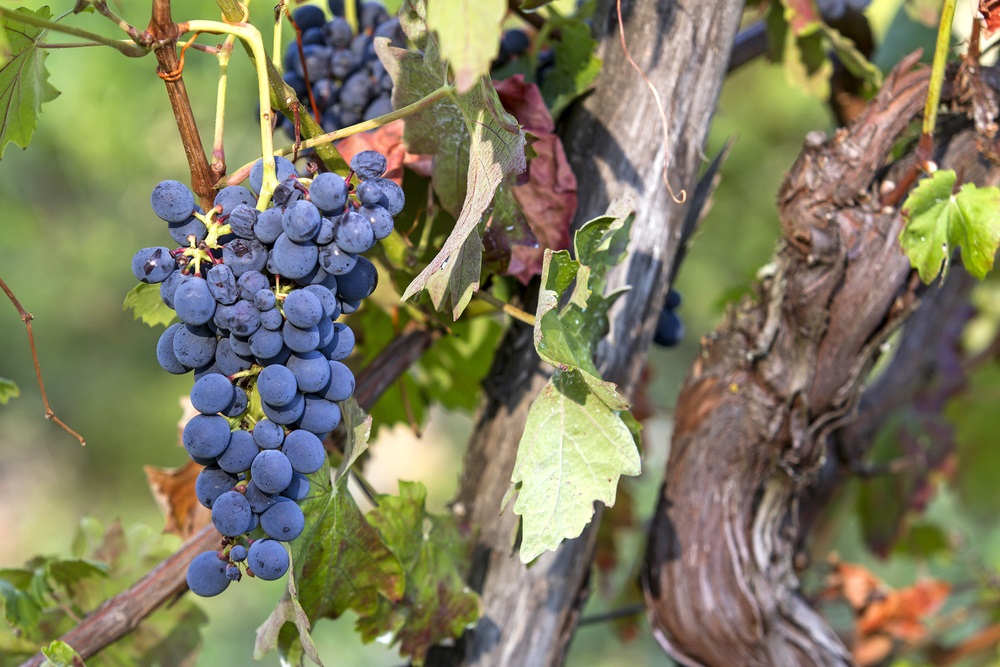 You can explore Emilia Romagna Wine Region with Cellar Tours on a private Luxury Food and Wine Vacation, dine in the best local restaurants, and enjoy VIP tastings in the top wineries.
Italy also excels at the esoteric and obscure. Several grape varieties cultivated in the nation today are scarcely exported or recognized outside of their region. In all honesty, the grower would probably be financially better off grubbing up their local vines and replacing them with Merlot or Sauvignon Blanc. Yet this is not the Italian way. A stubborn attitude and deep respect for the past have kept grape varieties that would have been lost decades ago if the accountants were exclusively in charge.
Introducing Croatina
The Croatina red grape variety is a brilliant example of this cultural fondness for viticultural curiosities. In every sense of the word, Croatina is 'undiscovered.' Its anonymity is partly because Croatina is often referred to by its synonym 'Bonarda.' In addition, some may confuse the grape with an indigenous variety found in Piedmont: Bonarda Piemontese. As it happens, they are not even distant cousins twice removed. Bonarda Piemontese is a totally distinct variety from Croatina, as is Bonarda Novarese. It is believed to have originated from Croatia in the coastal region of Primorska Hrvatska, which is where Primitivo was born; a very reasonable hypothesis, as the nomenclature, obviously points towards geographical origins in the former Yugoslavia. Wine experts believe that it traveled to northern Italy via Slovenia, finding its way into the Ravenna region of Emilia-Romagna. Today there are less than 3,700 hectares of Croatina under vine.
Mixed feelings
Croatina is a grape variety with as many detractors as fans. Although some growers call it "the Syrah of Italy," this is arguably a misnomer; Syrah does not require the same level of attention and care as Croatina demands. For one thing, it is both a late-ripening and high-yielding variety, requiring judicious pruning throughout the season to control its growth. In addition, wines produced from younger, high-yielding Croatina vines can be pretty unpleasant; dilute, tart, and astringent.
In ideal conditions, Croatina will enjoy a warm and event-free ripening period, harvested in the autumn sunshine. Unfortunately, it is indigenous to several regions that typically suffer from inclement September/October weather, forcing the winegrower to make difficult choices towards the end of the season. Is it better to aim for maximum phenolic ripeness and finer tannins or avoid the risk of rot and dilution by harvesting before the October rains set in? Moreover, Croatina is highly susceptible to downy mildew.
For this reason, most appellation rules relegate Croatina to the role of a blending partner, often combined with several other red grapes to soften its tannins and acidity. Like the Bordelais, growers of this mercurial grape variety blend partially as an insurance policy, as they cannot be sure that Croatina will ripen to satisfactory levels every year.
Single-varietal Croatina
However, there are wine producers committed to crafting excellent single-varietal expressions of Croatina. The Lombardy region of northern Italy has long been an outpost of delicious Croatina wines, known locally as Bonarda. So if you see 'DOC Oltrepò Pavese Bonarda' on the label, then you're assured of authenticity and quality.
The appellation was created in 2010 as a separate entity from the generic DOC Oltrepò Pavese designation. Oltrepò Pavese is the jewel of the Lombardy region – very much an up-and-coming center of premium wine. Northern Italy means Piedmont and Nebbiolo to most wine lovers, yet there is also a wealth of treasures to be discovered in the less glamourous Lombardy region. Where the hills of Piedmont merge with the verdant plains of Lombardy, you'll find the vineyards of Oltrepò Pavese. It is situated in the province of Pavia, beyond the River Po. Some of Italy's best Pinot Noir and Chardonnay wines are produced here, often made into excellent sparkling wine. But for our purposes, we'll focus on the indigenous and lesser-known.
According to the appellation framework, dry, sweet, and sparkling red wines can be made from the Croatina grape. The rules stipulate that it must constitute at least 85 percent of the final wine – three other red grapes are permitted: Barbera, Vespolina, and Uva Rara. At their best, both the single-varietal versions and blends are structured, aromatically expressive, and perfectly balanced wines.
The magic starts with the first sniff. Croatina is quite a spicy and 'warm' red wine, with pronounced aromas of raspberry, blackberry, and almond. The mouthfeel and structure are reminiscent of Piedmont's Dolcetto, with soft floral characteristics and a light(ish) palate. Yet there is a paradox at the heart of Croatina; it manages to be smooth and tannic simultaneously, with a noticeable astringency on the finish. The best wines tend to keep this astringent 'edge' in the background – poor examples are defined by it. Croatina is either a wine where the fruit is 'hidden' by the tannin, or the tannin is subjugated by the fruit. Thankfully, most wines made in the DOC conform to the latter paradigm unless the vintage has been exceptionally cool and wet.
Gutturnio DOC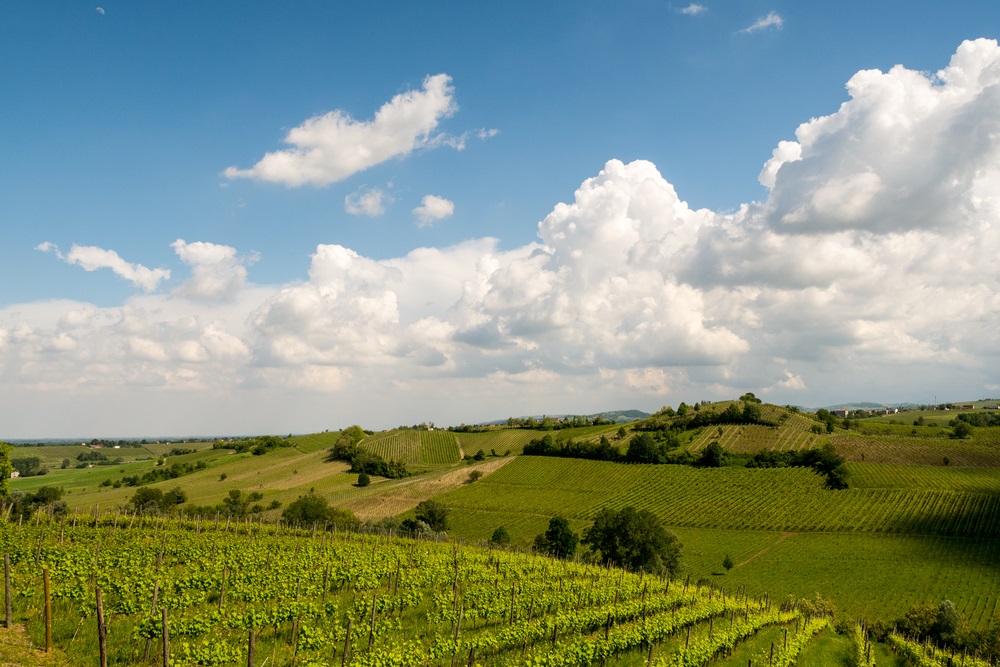 This little-recognized appellation is another source of excellent Croatina wines. However, in this case, they play a subordinate role to the Barbera grape. Nevertheless, Croatina is a vital part of the local blends, adding acidity, freshness, and tannic heft to a sometimes anonymous varietal.
Gutturnio is located in the western expanses of the Emilia-Romagna region. The geographically delimited area encompasses the commune of Ziano Piacentino and the hilly areas of 16 nearby villages. Wines produced in the zone were once classified under the catch-all designation Colli Piacentini DOC, created in 1967. However, the authorities eventually recognized the superior wines of the Gutturnio sub-zone, creating a new DOC in 2010. Today, it competes with Lombardy for the title of Croatina's biggest champion. Both red and sparkling wines can be made under the DOC rules, although the vast majority of the blends are still reds.
The blending and wine production rules are pretty strict; Barbera must take the lead, accounting for at least 55-70 percent of the blend. Yet many growers favor Croatina, using the maximum permitted 45% in their cuvées. After that, the grower has several options – do they wish to release a 'straight' version or market a Gutturnio Superiore/Riserva wine? A Superiore wine must contain at least 12.5 percent alcohol; Riservas are aged at least 24 months before release, including six months in oak. In addition, they must have a minimum of 13% abv if they are to qualify for Riserva status.
Due to the defining amount of Barbera, the wines of Gutturnio are pretty different from those made in Oltrepò Pavese. A good example will be light and elegant, with violets, damson, vanilla, and black cherry notes. Croatina, if used judiciously, will add some tannic weight and welcome structure to the product, although even the top wines lack the presence and structure of Oltrepò Pavese's finest labels.
As a side note, a small volume of Croatina is grown in the Colli Tortonesi DOC, founded in 1937 and situated in Piedmont. Typically blended, the wines are fresh, fruit-driven, and best consumed young.
Food pairings and Croatina's future
Croatina blends – and single-varietal wines – work incredibly well with the cuisine of northern Italy. In particular, the exquisite dishes that typify Emilia-Romagna's superlative gastronomy find their equal in Croatina; simple ingredients, perfectly cooked and prepared, are a natural foil to the gentle astringency and grip that defines the grape. Some local culinary highlights include tortellini (square pasta) with sage and butter, tagliatelle al ragu, slow-cooked pork shoulder, and Petronian-style veal cutlets. This wonderful dish involves coating the veal in breadcrumbs before deep-frying and topping the meat with parma ham and Parmigiano Reggiano, finishing off with a pan-saute in broth. Such perfection could only be improved with a local wine pairing.
Of course, the visiting gastronome will have many options to choose from – including perhaps a few concessions to international styles. But there is something profoundly satisfying and authentic about championing varieties like Croatina, wine styles that have no role to play anywhere else in Europe or the world. It is undeniable that Croatina's future is far from secure, mainly because it is easier to make money elsewhere. Nevertheless, lovers of the esoteric continue to make their voices heard in Italy, despite the onward march of globalization. Let us hope that their light is never extinguished.
Top producers of Croatina wines: