How should we define the role of white varieties like Treixadura? From one perspective, the grape occupies a very ignoble space in the winemaking culture of Galicia; Treixadura was traditionally used as a relatively small part of a constituent blend, rarely championed as a standalone varietal. The reason for this long-standing relegation is not entirely clear, but the grape has not historically been given the same respect as Godello or Albariño.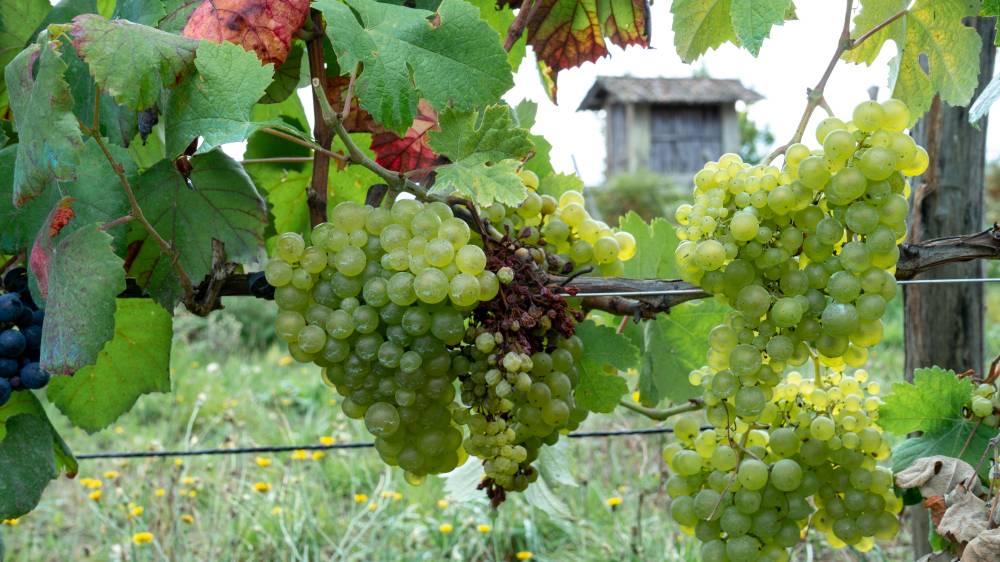 That was until relatively recently, when a new generation of growers experimented with mono-varietal bottlings. Enthusiastically received by wine buyers and the sommelier community, Treixadura is no longer confined to 'five percent here' and 'ten percent there.' It is now responsible for some of Galicia's finest whites: perfumed, luscious, and inimitably fresh. The dismantling of prejudice and former apathy is, of course, a long-term endeavor of attrition. But Treixadura is well on the way to becoming a new Spanish favorite.
Read more about Spanish White Wine
History and viticulture
For centuries, pilgrims have walked the Camino de Santiago in reverence to St James the Apostle, regarded by theologians as one of Christ's closest disciples. The last stop on the journey is Santiago de Compostela – Galicia's capital, a destination of unrivaled architectural splendor. The surrounding countryside is lush and verdant, interspersed with rivers, mountains and flanked by the Atlantic coast. So it is highly appropriate that this culturally- rich and beautiful region is now responsible for producing some of Europe's greatest white wines.
Indeed, growing wine has been part of Galicia's social and economic life for many years. Spanish viticulturists believe that Treixadura is indigenous to northern Spain, derived from a mutation that occurred at some point in the distant past, probably in the Ribeiro region. From there, it is said to have traveled across the Portuguese border into the vineyards of Minho; known locally as Trajadura, the grape is an important part of Portugal's Vinho Verde wines. Of course, growers in the Minho would argue that Trajadura's journey began on Portuguese soil. There is simply no way of knowing for sure.
Nonetheless, we are certain that Treixadura was a key part of the viticultural landscape until the late 1800s. The heartland of production was the Ribeiro zone, a region situated about 45 miles inland from the Atlantic, close to the Portuguese border. Ribeiro was renowned for its sweet wines, produced from the juice of sun-dried grapes. Exported under the local moniker Ribadavia, barrels of intensely sweet Treixadura wines became very popular with the English upper classes in the 17th and 18th centuries.
Sadly, phylloxera greatly damaged the region's agricultural prosperity, leading to a long-term decline in Treixadura cultivation. Accidentally introduced from the US via grape nurseries, the phylloxera louse laid waste to vineyards across Europe, poisoning vine roots with its deadly saliva. The only solution was to graft regional vine varieties onto resistant American rootstock. But not all grape varieties took to re-grafting; many parcels of Treixadura were not replaced for that reason. Moreover, a series of terrible vintages (Treixadura is highly susceptible to fungal diseases) in the early 20th century left growers on the brink of financial ruin. As a result, they started to look for more robust and economically-viable alternatives.
They found their salvation in Palomino. The grape is prone to delivering inflated yields – neither is it particularly difficult to grow. By the mid-1900s, much of the indigenous Treixadura had been grubbed up in favor of Palomino, used to make very lackluster table wines. Competently made by the region's numerous cooperatives, the wines were nonetheless utterly uninspiring.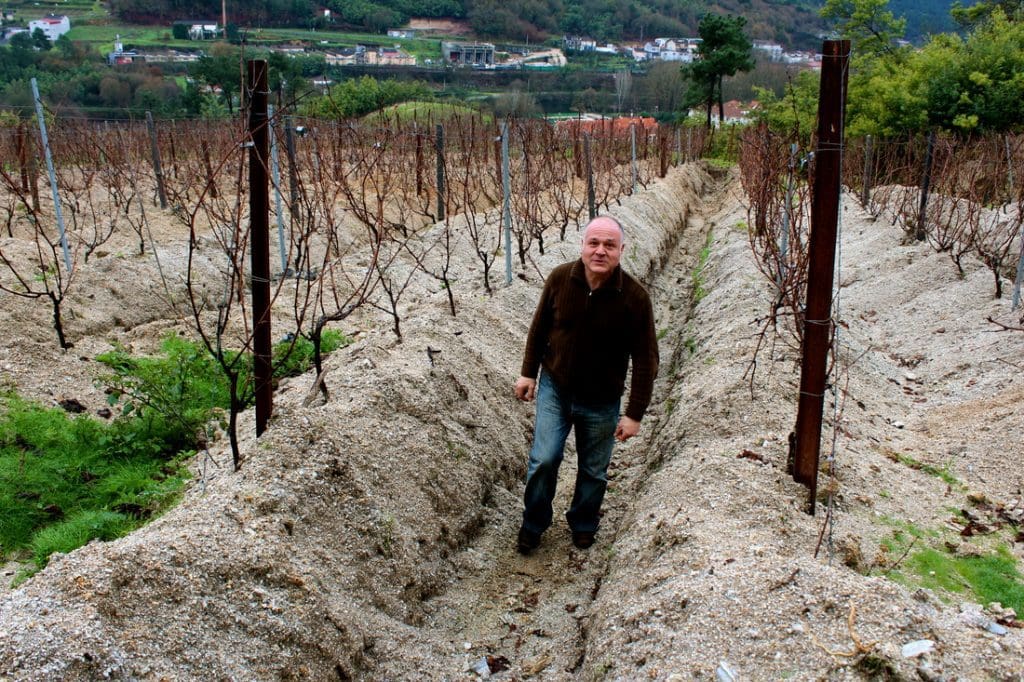 Luis Rodriguez  pioneer in the rescuing of nearly extinct varieties
Yet, in the late 20th century, a number of producers decided to turn things around. One of the key pioneers was Luis Rodriguez, responsible for opening a new bodega (winery) in 1988 with the admirable goal of rescuing almost extinct varieties like Treixadura, Brancellao, and Caino. Utilizing modern viticultural techniques and protective winemaking, Rodriguez proved that Treixadura could make exceptional wines on its own terms. Observing his success, investment soon poured into the Ribeiro region.
There are now approximately 600 hectares under vine in northern Spain – the acreage has been steadily increasing in recent years, albeit off a small base. However, certain growers are wary of adopting Treixadura, which is far from easy to cultivate. It is a late-ripening variety that requires a very precise set of conditions if the vine is to produce high-quality fruit. Loose, well-drained warm soils suit it best – high elevation sites are not suitable, as Treixadura needs plenty of sunlight and moderately high temperatures to reach full physiological ripeness. And yet, the variety is prone to drought stress if denied an adequate supply of moisture. Treixadura is also susceptible to peronospora, bunch rot, and oidium in wet vintages. Coulure and millerandage can also be an issue in difficult years, affecting the final yield and increasing the work needed in the winery.
As a result, harvest time is a very nerve-racking period in Ribeiro. Timing is key: grapes often reach phenolic ripeness at the cusp of the rainy season, running the risk of rot and split berries. In addition, the grape's acidity tends to fall very quickly after attaining sugar full maturity. Growers are, therefore, occasionally tempted to pick before the optimum window, to reduce their risks. Unfortunately, achieving greatness with Treixadura necessitates patience and a certain degree of luck. Kudos to winegrowers who manage to get the balance right!
Winemaking
Although there are now several bodegas in Galicia making delicious single-varietal Treixadura, the grape is predominately marketed as part of a blend. While growing this mercurial variety can be challenging, winemakers are still grateful to Treixadura for enhancing the body and mouthfeel of their Ribeiro wines. A typical marriage involves Albariño, Godello, Treixadura, and possibly Viura. What emerges in bottle is an enticing combination of citrus fruit, ripe acidity, and impressive length.
However, the way Treixadura is handled in the winery can vary dramatically. The essential dividing line is as follows: is it better to focus on primary fruit flavor, or should oenologists attempt to craft a more structured and wood-influenced white wine? Both approaches are equally valid – it depends on what the winemaker desires. That said, many bodegas are keen to protect the inherent fruitiness of the grape by using sulfur dioxide and carefully monitored fermentations. All the best wines are based on hand-harvested berries, which are then often destemmed before undergoing whole bunch pressing to release crystal clear must free of phenolics. Yet, in certain cases, whole bunches are subject to a cold soak for several hours – this involves maintaining a very low temperature in the holding vessel. These grapes are then crushed and allowed a very brief skin contact period before fermentation can begin.
As elsewhere, there is seldom a consensus in Galicia about the most appropriate choice of vessel. Many growers prefer the technical precision of controlled fermentation in stainless steel, undertaken at low temperatures to protect the aromatic compounds from 'burning out.' But winemakers like Luis Rodriguez prefer to use oak vats for their top cuvées. Utilizing 2200 and 2300 liter oak foudres offers the benefits of low-temperature fermentation without any flavor pick-up. Moreover, a degree of exposure to oxygen can help to prevent reduction. In the case of Rodriguez's leading brand, A Teixa, the wines are aged on their fine lees for 12 months to enhance structure and mouthfeel. They are then lightly fined and filtered before the bottling stage.
Malolactic fermentation is commonly employed in cooler climates to transform harsh malic acid into softer lactic acid. However, many producers usually omit malolactic in Ribeiro, as ripe Treixadura does not boast a naturally high acidity. Treixadura wines that have undergone malolactic fermentation can be a little too supple and 'easy,' despite the wet maritime climate of Galicia. Neither is new French oak readily employed in this part of the world. Of course, there are always exceptions: Adega do Moucho's Treixadura is aged in new barrique. Winemaker José Manuel Martínez believes that, if used judiciously, maturation in wood can offer real benefits. Not least creaminess, richness, and added depth. And who are we to argue?
Ribeiro's bold endeavor
You have to admire the audacity and vision of Ribeiro's close-knit wine-growing community. They have taken a formerly unknown varietal and rescued it from the depths of obscurity. Major investment allied to contemporary winemaking has put Ribeiro – and Treixadura – back on Spain's premium wine map. If the region's stakeholders are not careful, their signature white variety may eventually give Albariño a run for its money.
Conversely, we should not pretend that all the hard work is over. Difficult to pronounce and relatively unknown outside of Spain, Treixadura is not an especially easy sell. And while local consumers are very receptive to the style, it lacks the cachet of Spain's leading white exports. In one sense, its journey to greatness is only just beginning.
The story of Ribeiro's revival is, nevertheless, an inspiring one. Located in southern Galicia, its vineyards are just up the Minho river from Rias Baixas, protected from the worst excesses of the Atlantic by the Sierra del Suido. Grapes have been cultivated in this part of Spain since Roman times, a tradition inherited by Cistercian monks in the Middle Ages. The local conditions, although warmer and drier than Rias Baixas, are still conducive to producing crisp, aromatic whites packed full of freshness and poise. Producers keenly exploited this until the vineyards were abandoned in the 20th century.
For a time, it seemed that Ribeiro was destined to be forgotten in the annals of history. Then something wonderful happened. Descendants of once proud winemaking families started to return to the region, encouraged by the burgeoning market for aromatic Spanish whites—men like Francisco Perez. He decided to follow in the footsteps of his great-great-grandfather Rafael Santoro. Arriving in Ribeiro in 1993, Perez began replanting land once used to produce his family's magnificent sweet wines. Switching the focus to dry styles, Perez formed a partnership with an up-and-coming winemaker, José Manuel Martínez. Together, they revitalized and modernized Ribeiro's viticulture for the 21st century, releasing an inaugural vintage in 2000 to widespread acclaim. Their unprecedented success attracted much attention: many have since emulated Perez and Martínez's example.
Thus: a once forgotten corner of Galicia now offers a range of excellent wines made in a small but perfectly formed region. They may not be the most profound whites in the world, but they are among the most delicious and satisfying to drink. Ribeiro's trademark (single-varietal and blended Treixadura wines) is intense fruit on the nose, with aromas of stone fruit, citrus, and apple. This gives way to a full-bodied and generous palate, which combines flavors of ripe fruit and vanilla to spectacular effect if oak has been employed. Held in check by fresh acidity, there is very little to dislike about these contemporary labels from Galicia. If given enough opportunity to shine on the global stage, Treixadura can help Spain conquer the world of high-quality white wines and do it in style!
Top producers of Treixadura wines:
Adega do Moucho
Luis A Rodriguez