Guide to Amarone Wine
Amarone della Valpolicella is one of Italy's true classics. In English, Amarone [pronunciation – aa·muh·row·nei] roughly translates as 'the Great Bitter' – this is an unfortunate and misleading piece of nomenclature. There is nothing remotely 'bitter' about Amarone. Yet it is undoubtedly worthy of being described as 'great.' Amarone is an iconic wine style that has gone from strength to strength over the past 20 years. It deserves a lengthy biography.
You can explore Amarone della Valpolicella Wine Region with Cellar Tours on a private Luxury Food and Wine Vacation, dine in the best local restaurants, and enjoy VIP tastings in the top wineries.

The Region of Amarone Wine
The heartland of this much-loved and powerful Italian red wine could scarcely be more beautiful. The hills of Verona, stretching from the white wine appellation of Soave westwards to Lake Garda, are among the most idyllic and captivating in north-eastern Italy. You can enjoy these wonderful wines and beautiful scenery on a private Amarone Wine Tour, organized with Cellar tours. The fertile volcanic soils have been cultivated for many centuries; the ancient Greeks made viticulture a staple of daily life in northern Italy, a practice that continues unabated today. It sometimes appears that every property in the region boasts a small vineyard – some of the oldest still cling to steep terraces and wooden pergolas, which are a nightmare to manage. Yet, for the winegrowers who refuse to abandon these sacred traditions, their hard work always brings ample rewards.
Such attitudes are commonplace in Valpolicella, the DOC wine zone, giving birth to the Amarone style. It is a very heterogeneous and expansive wine region located west of the Soave Classico appellation. There are over 19,000 acres under vine, with significant differences in soil, aspect, and elevation. But to give a succinct impression, the region enjoys a continental climate, with warm – but not generally hot – summers and cold winters. In January and February, you'll often see vineyards covered in thick snow. Some of the most prized sites are found in the Venetian Alps' lower foothills in an area called Monti Lessini. The most structured and racy wines are made here, with enough acidity to last a lifetime. However, the vineyards located further south tend to produce riper, softer wines. The soil variance is fascinating – everything from gravel/alluvial terroir to volcanic soils rich in minerals. The sub-zone of Valpantena is also making waves as an emerging source of high-quality Valpolicella wines. The best examples are lovely food wines; aromas of cherry and red fruit typically leap from the glass, with lively acidity and ample freshness custom-built for the dinner table. Amarone takes these wonderful qualities and amplifies them tenfold.
There has traditionally been a little confusion about the relationship between Valpolicella and Amarone: the wider Valpolicella region is home to several styles of wine, one of which is called Amarone della Valpolicella or Amarone for short. It is believed that the term Amarone was first used by the producer Adelino Lucchese in the 1930s. After hiding in relative obscurity for decades, the style was awarded its own DOC appellation in 1990, upgraded to DOCG status in 2009.
By Accident or Design?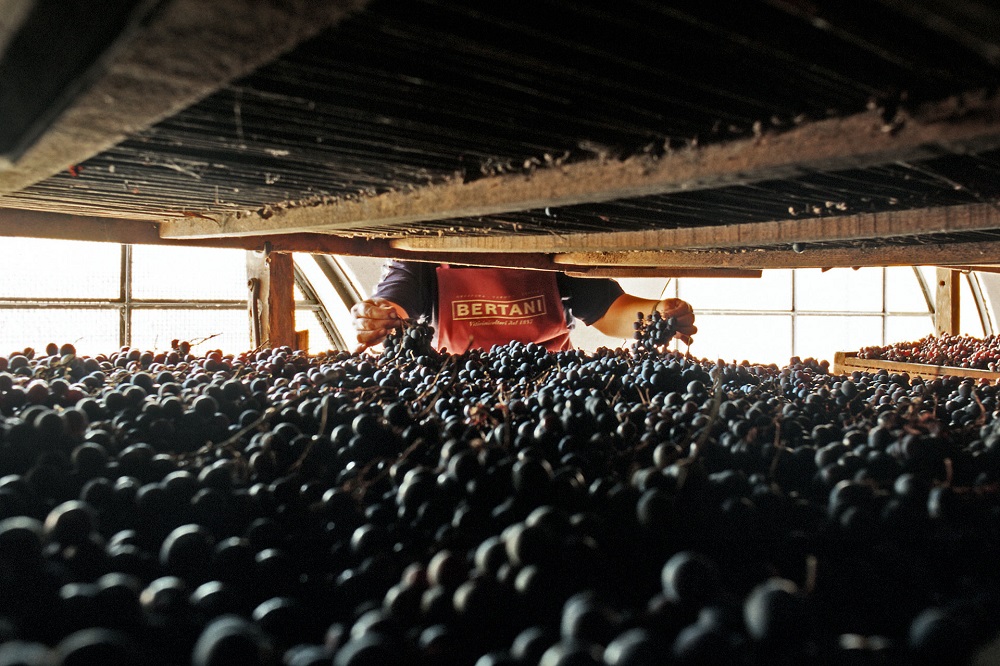 And yet, Amarone started life as an accident. In a sense, what we today understand as the Amarone style has been produced for centuries. Historically, growers selected a portion of their best grapes during the top vintages to craft a sweet and unctuous sub-category of Valpolicella. After drying the grapes in the sun for an extended period (Appassimento method), they were left with berries packed full of sugar, a percentage of which remained in the wine after fermentation. Awarded the title 'Recioto,' this sweet incarnation of Valpolicella is still popular today. However, the winemaker would occasionally ferment all the available sugar and turn it into alcohol. This was left to pure chance, never by design. But the discovery of new yeast strains in the 1950s allowed certain wine estates to popularize the category and deliberately make a dry and alcoholic version of Recioto when they desired. Towards the latter half of the 20th century, enterprising families like Bertani started to export the style, having found a willing audience in Europe and the US. For who could resist such potency, power, and strength? Modern examples of Amarone are direct descendants of the Greek wines shipped by the Venetian merchants in the Middle Ages. They appeal to enthusiasts of Italian wines, who seek an unrivaled concentration of flavor, merged with a healthy dose of tangy acidity.
What Grapes is Amarone made from?
So how do you make an excellent Amarone wine? It inevitably starts with exceptional raw materials: Corvina, Rondinella, and Corvinone are the standard trio of excellence behind this delectable wine style. Indeed, the Corvina grape has always been the backbone of the finest Valpolicella wines. Nonetheless, this late-ripening variety needs plenty of care and attention throughout the growing season. Without a rigorous pruning schedule, Corvina is minded to produce massive yields of indifferent plonk. But if cropped at suitably low levels, Corvina can be magnificent. It brings fire and spice to the Amarone blends, with its pungent aromas of sour cherry. In contrast, Corvinone is prized for adding much-needed structure and alcohol. The finishing touches are provided by Rondinella, another grape variety that can ripen to voluminous indifference in the wrong hands.
Of course, much has to happen before the grapes can enter the cellar door and leap into the fermenter. The desiccation process responsible for increasing sugar levels at the expense of water is carefully monitored. Strict hygiene is needed when drying the grapes; therefore, many producers tend to use temperature-controlled warehouses. Both humidity and temperature are closely observed by computer, with all the precision of a NASA space probe. However, a growing firmament of traditionalists prefer to emulate their grandparents by drying grapes on hillside lofts situated high above the autumn fog. The sight of Amarone grapes being dried out under the Veronese fall sunlight is magical.
Are there different styles of Amarone?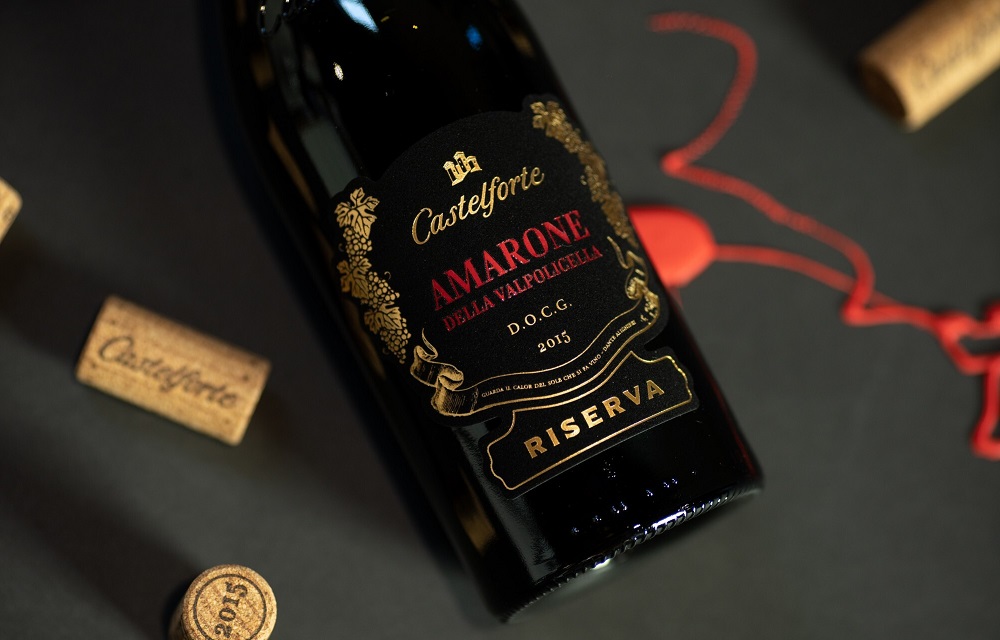 According to the DOCG rules, the grapes cannot be fermented before the first December after the harvest. They must be dried out to a minimum of 14% potential alcohol. After fermentation, Amarone is aged for a minimum of two years in Slavonian or French barrique. Certain growers market a higher tier 'Riserva' version – this must stay in barrel for at least four years. Top estates will then mature their wines in bottles before release.
What emerges from the bottle is perhaps the most potent red wine on earth. Amarone is majestic, structured, and powerful, but it is rarely subtle. It should balance racy acidity with a core of mouth-coating black and red fruit. After aeration, a gorgeous mosaic of flavors will emerge like chocolate, mocha, raisin, dried fig, and cinnamon. With further bottle aging, Amarone sings from a hymn sheet coated in plums, dried earth, truffle, and spice.
But this venerable wine style has known a period of indifference and stagnation. In the 20th century, the original Valpolicella zone was expanded considerably. Mass-produced and high yield wines became more and more commonplace, trading quality for an easier buck. Yet, in the early 21st century, the reputation of Amarone and indeed Valpolicella was saved. Painfully aware that global competition was ever-increasing, leading brands switched the focus from making commercially -viable wines to embracing terroir-driven and distinctive styles. They sought out difficult-to-farm but higher-quality hillside sub-zones and drastically reduced yields. Organic and biodynamic viticulture is becoming more widespread, with new faces starting to make a lasting impression. Monte dei Ragni, Eleva and Monte Santoccio represent the new wave of Valpolicella growers. They're disinterested in everything but supreme quality.
Reflect, too, that Amarone has no equivalents or copycats anywhere in Europe. Wealthy collectors, more than ever, are seeking points of difference to complement their portfolios. Brilliant Cabernet Sauvignon-based wines are being made all over the globe. Amarone della Valpolicella, in contrast, has no peers. It has individuality in spades; you don't even have to go far off the beaten track. There is now a critical mass of reliable brands, with relatively few inferior wines. And remember that compared to A-list Bordeaux and Burgundy, Amarone hasn't jumped into stratospheric pricing. With several excellent vintages under its belt, Valpolicella is set to conquer the world.
What does Amarone wine pair well with?
We should also mention that Amarone and the noble culinary delicacies of northern Italy were made for each other. However, to be blunt, it can stand up to just about anything. Amarone adores every type of red meat – both roasted and braised in wine. Richly flavored roasts are ideal: roast lamb, wild boar, saddle of hare, and suckling pig will always offer a brilliant partner to Amarone. Can we pick a favorite? Absolutely: slow-cook a mature shin of beef in Amarone for at least 5 hours on low heat. Serve with another bottle of Amarone at the table. Expect a stunned and adoring silence from your guests. Hard cheeses also work spectacularly well – particularly cheddar, parmesan, and pecorino.
Top Amarone producers:
Related Blog Posts: