Nerello Mascalese Grape Varietal
The wine trade is unanimous: Nerello Mascalese is the most exciting grape variety cultivated in Sicily today. One might even believe that it was created in a lab, custom-built to receive high scores from critics. All the cards are in order – Nerello Mascalese is often planted on spectacular volcanic terroir and has an uncanny ability to reflect its origins with razor-sharp precision. The overall standard of winemaking and quality is also extremely high; Mascalese's exquisite perfume and ethereal flavors point towards a Sicilian equivalent of Grand Cru Musigny. It is approachable from a young age and will improve in bottle for many years, gaining added elegance and complexity.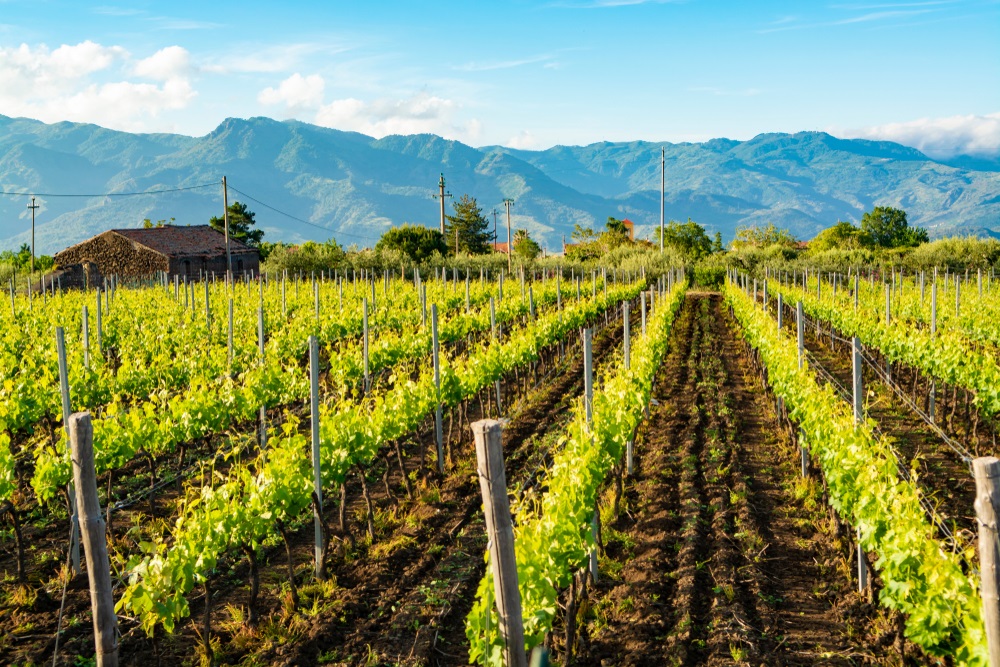 You can explore Sicily's Wine Regions with Cellar Tours on a private Luxury Food and Wine Vacation, dine in the best local restaurants, and enjoy VIP tastings in the top wineries.
Yet until (relatively) recently, Nerello Mascalese was shrouded in obscurity and indifference. Indeed, it became a tragic victim of the decline of Sicilian viticulture in the mid-20th century, as the industry became fixated on exporting massive volumes of bulk wine. Supported by EU subsidies, Sicily's co-operatives were utterly aloof to any concept of wine quality. As a result, the island's small parcels of old Nerello Mascalese bush vines were largely ignored, preserved by a tiny firmament of quality-conscious growers, almost as a quaint hobby. But the wines were seldom exported or even sent to the Italian mainland.
Then the pioneers arrived, visionaries like Giuseppe Benanti, who revived his ailing family business in the 1980s by championing Mount Etna's terroir – and indigenous grape varieties. The first vintage (1990) of Rovittello, a blend of Nerello Mascalese and Nerello Cappuccio, was released in 1993 to great critical acclaim. Suddenly, the international community was fascinated by the viticultural potential of this formerly derided Mediterranean island. Benanti's success attracted other headline investors, most notably US wine importer Marc de Grazia, Barbaresco's Angelo Gaja, and Tuscany's Andrea Franchetti, owner of Passopisciaro. The warm and dry Mediterranean climate ensures that viticulture is prolific across the island; rainfall is very scarce between June and September in most vintages. On a private Wine Tour of Sicily organized with Cellar Tours, you will taste the Top Nerello Mascalese-based wines produced today, right at the source.
Roman or Greek?
Nerello Mascalese is undoubtedly one of the key reasons investors continue to flock to Sicily, particularly the volcanic terroir of Mt. Etna. All are fascinated by the grape – both its history and contemporary potential. It is commonly acknowledged that the variety is named after the Mascali district in Catania, situated on the island's northeastern coast. The Greeks may have introduced it to Campania in southern Italy during their conquest of the nation in the 8th century BC. This is certainly plausible, as the Greeks were responsible for promulgating viticulture across Mediterranean Europe during this period. The Romans were probably most directly responsible for planting the grape on Sicilian soil.
DNA sequencing undertaken in 2008 by Italian scientists suggested that Nerello Mascalese's percentage includes the Calabrian grape Mantanico Bianco and Tuscany's Sangiovese. It has a close genetic relationship to the latter, making sense as both varieties produce medium-bodied red wine with racy acidity.
However, Nerello Mascalese is arguably easier to grow than its Tuscan counterpart. It is a late-ripening variety, able to cope reasonably well with hydric stress and intense periods of summer heat. It generally gives moderate to good yields unless planted on very fertile soils. Its medium-sized berries do not create deep-colored wines but are packed full of phenolic compounds and flavoring substances. Compared to say, Pinot Noir, the variety is not a nightmare to cultivate successfully.
That said, most Nerello Mascalese planted in Mount Etna consists of delicate old bush vines; these require considerable manual labor since mechanical pruning is unsuitable for bush vines. It is also susceptible to several grapevine maladies, including fanleaf and mottle viruses. The grower must constantly tend to their vines, ensuring that the leaf-to-berry ratio is favorable and enough air can circulate through the canopy. A crowded bush vine canopy leads to dilution, astringent tannin, and soapy wine.
To blend, or not to blend?
That is the next question. Many winemakers craft exceptional mono-varietal wines, while others prefer to blend Nerello Mascalese with its semi-namesake Nerello Cappuccio. Both styles have their merits and acolytes. Nerello Cappuccio lacks the tannic heft and power of Mascalese, albeit its soft and richly colored wine can enhance the final product. Its ability to soften the occasionally astringent tannin of young Nerello Macalese is the primary reason why certain winegrowers are loathed to exclude it from their wines. Equally, a firmament regards any 'adulteration' of Mascalese as sacrilegious. Ultimately, it is very much a case of personal preference; the untamed power and pungency of mono-varietal Nerello Mascalese tend to win over sommeliers and critics, although well-made blended versions are not to be sniffed at. Blended and single-varietal cuvées can handle a certain amount of oak treatment, although 100% French barrique tends to overwhelm the terroir character.
The search for world-class Nerello Mascalese inevitably leads us to the spectacular vineyards of Mt. Etna. Where else in Italy can visitors walk across an active volcano, reaching a height of over 3000 meters? Etna erupted 20 times in 2013, while a recent small 'eruption' of smoke and ash occurred in September 2021. But despite the omnipresent threat of lava flows, Sicily's growers are fiercely attached to the volcano's terroir. Vines are mainly planted on Etna's northern, southern, and eastern slopes, overwhelmingly dominated by indigenous varieties like Mascalese, Cappuccio, Carricante, and Catarratto. Some of the most cherished parcels include centenarian bush vines that predate the phylloxera epidemic of the late 19th century. They yield tiny berries of the most concentrated fruit imaginable.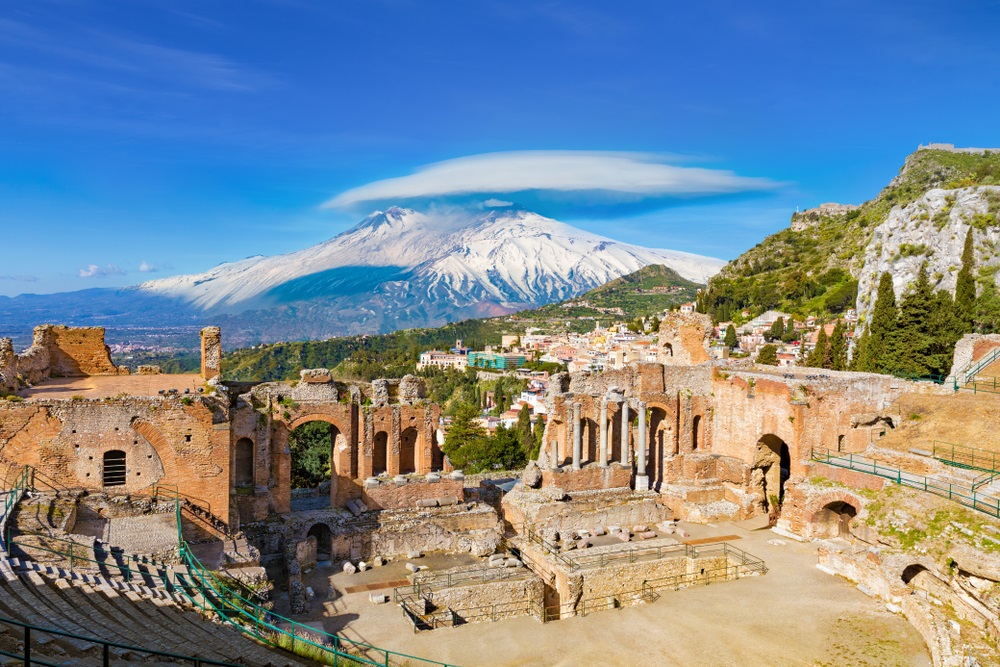 Greek theatre in Taormina, with Etna in the background
Etna Rosso DOC
In terms of appellations, Etna offers much flexibility. Many producers use the Etna Rosso DOC (Denominazione di Origine Controllata) designation, created in the late 1960s. Under the appellation rules, Nerello Mascalese must constitute a minimum of 80% of the blend, with Cappucio providing the supporting act. However, some winegrowers embrace the liberalism of the Terre Siciliane IGT (Indicazione Geografica Tipica) designation; it allows Sicilian growers to produce 100 percent Mascalese wine if they so wish. In addition, a small amount of Nerello Mascalese rosé is made under the IGT framework.
Let us refer to the experts to ascertain why Etna's terroir is so exceptional. "Etna offers a unique combination of Mediterranean latitude and lavic soil on an active volcano. Moreover, the volcanic sand varies greatly in its mineral composition depending on the site in question, which translates into an endless diversity of wine styles," explained Guiseppe Benanti during an interview in 2016.
Growers also make much of their secret weapon: altitude. The lowest sites are planted at 400 meters above sea level – the highest reach over 1000. These high-altitude sites are in high demand due to their ability to moderate the summer heat and allow a slower, more even pace of ripening without sacrificing acidity. Undoubtedly, the best Nerello Mascalese wines owe their brilliance to these terroirs.
Bush vine Nerello Mascalese produces the most beautiful wine. The first quality it pronounces on tasting is red fruit, combined with cinnamon, mint, and garrigue notes. The palate should be intense and delicate, with a Nebbiolo-like freshness and verve, supporting grippy (but ripe) tannins – this seems to come naturally to the grape. Examples blended with Nerello Cappuccio tend to offer more apparent red fruit aromas, with thyme and wild strawberry on the palate. With age, you should encounter complex graphite, earth, tobacco, and damson notes. The top cuvées merge the perfume of Barbaresco with the exquisite complexity of mature red Burgundy.
However, Etna does not boast a monopoly on superlative Nerello Mascalese. The DOC appellation of Faro, situated on the far northeastern tip of the island, is increasingly producing structured and age-worthy wines. Faro (meaning 'lighthouse' in Italian) was revitalized by the architect-cum-winemaker Salvatore Geraci, who invested heavily in the zone. His vineyards, perched on steep terraces overlooking the city of Messina, are a potent symbol of Sicily's exciting rejuvenation.
Nevertheless, single-varietal wines are not permitted under the DOC rules laid down in 1976. According to the regulations underpinning the Faro Rosso style, Nerello Mascalese cannot constitute more than 60 percent of the final blend, accompanied by a maximum of 30% Nerello Cappuccio and 5-10 percent Nocera, a local red grape. In addition, Nero d'Avola and/or Sangiovese are permitted in the wines. Unlike Etna, much of the Mascalese planted (there are little more than 5 hectares in total) is made up of vines balanced on trellis wires rather than untrained bush vines. Yet, the appellation's varied soils, mountain topography, and quality-focused winegrowers ensure that Faro doesn't fade into obscurity. The best wines are excellent reds of concentration and refinement. It's just a shame that so little is made. Interestingly, a small amount of Nerello Mascalese is grown in the Calabrian appellations of Lamezia, Sant'Anna di Isola Capo Rizzuto, and Savuto. These are blended into robust and alcoholic local reds and are seldom exported as premium wines.
Food Pairings
So if you come across a bottle of Sicilian Nerello Mascalese, cherish it. Both single-varietal IGT wines and blended styles can turn a humdrum meal into a glorious banquet. The grape's ripe tannins, mineral core, and earthy nuance belong at the dinner table, enhancing a wide variety of meat and pasta dishes and local cheeses. Our favorite pairing is Etna Rosso with Braciole – thinly sliced sirloin steak filled with ham, cheese, onion, and breadcrumbs. The steak is then coiled (it looks like a Swiss roll!) and braised in tomato sauce. The fresh acidity of the Mascalese cuts through the dish with aplomb, creating a gastronomic sensation. But we've known sommeliers experiment with all manner of partnerships – even dark chocolate.
This is what enjoying Nerello Mascalese is all about. Sicily's esoteric wine styles are a magnificent antidote to bland homogenization in a global wine scene increasingly dominated by French grape varieties. Of course, many excellent wines are being made there, often based on Cabernet Sauvignon, Merlot, Syrah, and Chardonnay. The only problem is that they often taste remarkably similar. Too much safety always leads to apathy – experimentation keeps wine fresh and exciting. Exploring the nuances of Nerello Mascalese is a learning curve, to be sure, but it's an experience full of delicious surprises.
Top Nerello Mascalese wines: