Pinot Gris has been unfairly typecast as quaffable weekend drinking: bland, inoffensive, and unfailingly polite. Its reputation was made as the second-cheapest option on the wine list – hardly a ringing endorsement. Unfortunately, some blame must be laid at the door of our Italian friends. Pinot Grigio (as it's known in Italy) is one of Europe's most powerful wine 'brands,' with sizable volumes made across Friuli-Venezia Giulia, Trentino-Alto Adige, and Veneto. For many consumers, neutral and crisp white wine is all the variety is capable of.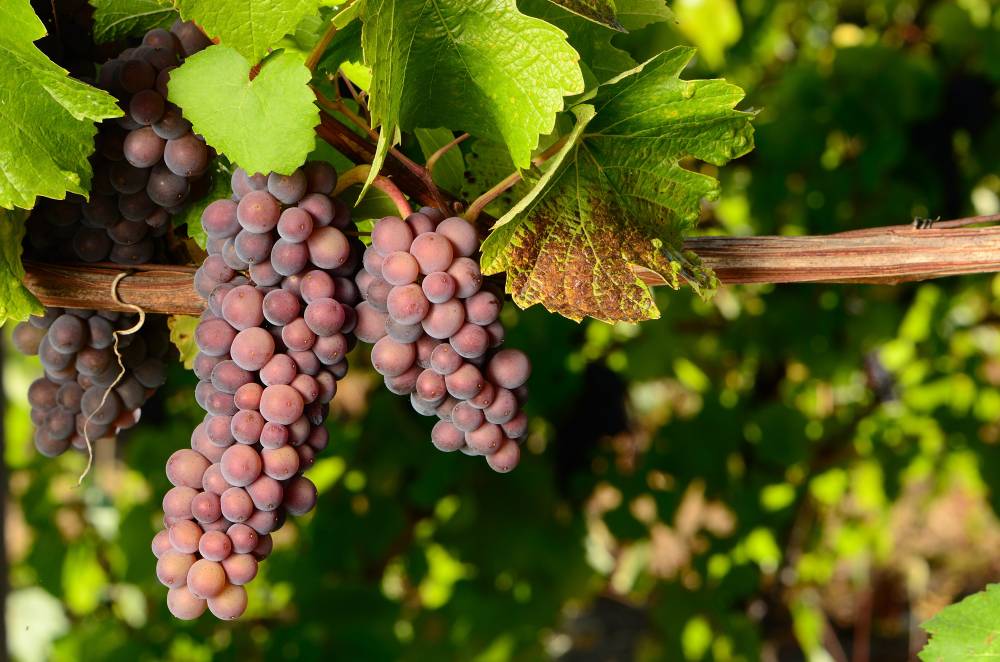 "C'est n'importe quoi," as they say in Paris. On the contrary, Pinot Gris is responsible for some of Alsace's finest whites: racy, complex, and beautifully aromatic. It varies in style more than any other white grape, running the whole gamut from full-bodied wines to thin, hard and chalky dross. Yet the greatest Pinot Gris is stupendous, able to turn heads and charm even the most cynical wine critics. Let's discover it together.
Read more about French White Wine
History and viticulture
Pinot Gris rejoices in a number of actively used synonyms: Ruländer in Germany, Pinot Grigio in Italy, Pinot Beurot in Burgundy, Fromenteau in Champagne, and Szürkebarát in Hungary. But they all refer to the same grape variety, believe it or not! This ancient mutation of Pinot Noir is unusual – Pinot Gris produces berries with a brownish pink color, suggesting that it should be used to make red wine. However, Pinot Gris is still considered a white grape, despite the unusually high levels of coloring pigments in its skin. Viticulturists believe that it is indigenous to the Burgundy region of France and that Pinot Gris has been cultivated since the time of the Romans. After the conquest of Gaul (France) in 52 BC, viticulture became prominent throughout central-eastern France. Moreover, the grape is mentioned in the early writings of Roman historians. Therefore, it seems very likely that Pinot Gris has been around for a very long time.
It is certainly a keen traveler; Pinot Gris has embedded itself into the viticultural traditions of Germany, Hungary, Italy, and Alsace in north-eastern France. By the 14th century, the grape was cherished by the religious establishment of Burgundy, Italy, and Switzerland. Indeed, the Cistercian monks of the Cote d'Or planted a great deal of Pinot Gris during the Middle Ages. They regarded this pink-skinned grape as one of France's most noble varieties. History's most famous acolyte was allegedly Holy Roman Emperor Charles IV, who is said to have ordered cuttings to be exported to Hungary. The legend tells of the first Pinot Gris being planted on the hills surrounding Lake Balaton in 1375.
During this time, Pinot Gris became an important part of the viticultural landscape in Champagne and Burgundy. It even managed to satisfy the notoriously sniffy Dukes of Burgundy, who assumed control of the region in the 11th century. Leaning heavily on the future direction of winegrowing in the Cote d'Or, the Dukes regarded certain grapes as detrimental to Burgundy's reputation. As a result, varieties that fell out of favor include Aligote, Gamay, and Pinot Blanc. Yet Pinot Gris remained popular in Champagne and Burgundy until the 19th century, as it had a proven track record of delivering high-quality wine.
But everything changed after the advent of phylloxera. This devastating vine disease started to emerge as a serious threat in the 1860s, spreading from the southern Rhône into Burgundy, Bordeaux, Loire Valley, and Alsace. The only viable solution was to regraft European vines onto the resistant American rootstock; several once prolific varieties were sidelined in the early 20th century, mainly because of poor yield and/or quality. Although Pinot Gris was widely respected throughout France, the grape's unreliable yield (ranging from generous to miserly) sealed its fate in Burgundy and Champagne –much acreage was not replanted in the post-phylloxera environment. However, while Champagne has outlawed new plantings of Pinot Gris, it is tolerated by the appellation authorities in Burgundy. Known locally as Pinot Beurot, there is the odd parcel here and there in the Cote d'Or, occasionally planted alongside Pinot Noir. Henri Gouges is one major proponent of the style, in addition to the rare (in Burgundy) Pinot Blanc. In Alsace, however, Pinot Gris has been firmly entrenched for centuries and was not sidelined during the replanting agenda of the early 1900s.
Overall, the grape is not particularly difficult to grow. The early-ripening Pinot Gris thrives in cool climates, but it requires a warm site – preferably on a south-facing incline – and water-retentive soils. The best terroirs in Alsace will yield berries rich in sugar, acid, and aroma compounds, producing excellent dry and sweet wine. In the hands of a skilled winemaker, the sky's the limit with Pinot Gris.
Winemaking
The gallons of mass market Pinot Grigio that flood our retail stores suggest that a 'get it over quickly' approach is the right one. Pinot Grigio can be released less than 12 months after the harvest if the desired outcome is to market a straightforward and fruity style. Yet it's a different ball game if a premium – and structured – white wine is sought. Pinot Gris is responsible for wines of real character and class in regions as diverse as Alsace, Pfalz, Marlborough, and Clare Valley. As a rule, it is a grape that does not need new oak – and usually does not receive it – but can benefit from it, given a chance. The reality is that if you see a wine labeled Pinot Gris, you have to be prepared for any possibility; it may be sweet, bone dry, unoaked, or richly textured and voluptuous. The key differentials are yield, fermentation vessel, use of oak, and period of lees aging – if used at all.
Nevertheless, many excellent wines are made in Alsace without seeing even a slither of barrique. High quality is achieved via protective winemaking; grape juice is 'shielded' from oxidation with sulfur dioxide, typically added in the press. Whole bunch pressing is increasingly practiced, as it releases very clear and pure must, rich in aromatic compounds. After the grapes have been pressed – or crushed and pressed – the juice is often cold-settled in a vat. This performs two functions: solid matter sinks to the bottom, and the juice is further protected from oxidation. It will then be pumped into the fermentation vessel, most commonly a stainless steel tank. Winery visitors like to inquire about this worldwide fetish for stainless steel – why is it so incredibly popular? The answer is that it offers several advantages, including the benefits of sterility and precise temperature control. Indeed, low-temperature fermentation provides an (almost) cast-iron guarantee that you'll make a fresh and aromatic style of white, depending on the variety. This interpretation of Pinot Gris, widely exported from the region, is bone dry and refreshing, with a mineral undertow to the apricot and citrus fruit, and can be enjoyed with relish from the get-go.
Of course, not everyone in Alsace conforms to this paradigm. Winemaker André Ostertag advocates maturing Pinot Gris in older wood, using it to oxygenate the wine and enhance complexity and mouthfeel gently. This approach produces a fatter and spicier expression of the grape, with less upfront stone fruit. However, such wines will age into honeyed opulence after 5-7 years in bottle.
The ultimate foodie grape
This could be verging on sacrilegious, but Pinot Gris is arguably Alsace's finest white grape, encompassing a wide range of styles; the variety is seldom marketed at eye-watering prices. It produces exceptional sparkling wine like Cremant d'Alsace, particularly when blended with Pinot Blanc. Moreover, it is a wonderful match to the region's rich food – Alsatian onion tart is not one for diet fanatics – in all its guises. And there's more: sashimi, oysters, roast chicken, turbot, pork belly, Sichuan beef, tartiflette – they all shine when paired alongside Pinot Gris. Meanwhile, the beautiful autumns of Alsace allow winemakers to select super-ripe grapes to make sweet Vendange Tardive wines or botrytized Sélection de Grains Nobles Pinot Gris. The last category is a rare treat, as so little is exported today. The best examples deserve their rightful place in the pantheon of Europe's greatest dessert wines.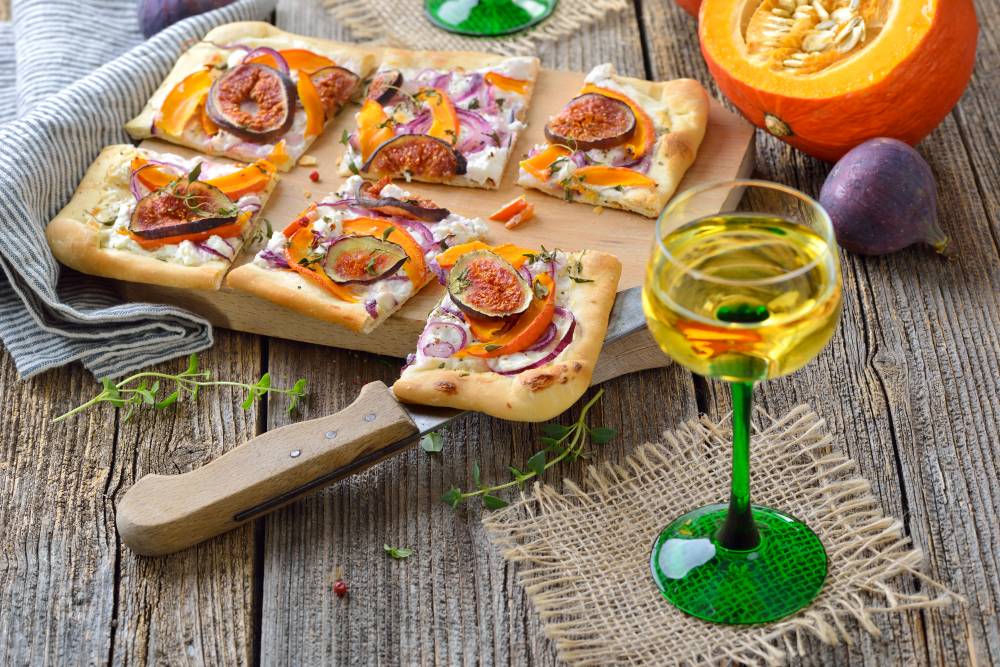 Pinot Gris paired with delicious Alsatian onion tart
The mainstay of Alsatian Pinot Gris remains a benchmark dry and medium-bodied style, consumed with passion in the excellent restaurants of Strasbourg and Colmar. Here, we find a multitude of possibilities when the food arrives on the table – or even before. The conventional aperitif was historically either sparkling wine or fortified, both excellent options; Cremant d'Alsace will do nicely. But a glass of dry Pinot Gris before eating, bursting with fresh acidity, can stimulate the appetite with gusto. Maintain this unoaked theme when the starters arrive: charcuterie, fish terrine, langoustines, and stuffed crab shine brightly in Pinot Gris' light. We'd say that serving Pinot Gris with fresh crab is part of god's plan.
However, you may desire something more round and structured with your entrée. The finest Pinot Gris is unquestionably made in Alsace's Grand Cru vineyards, first recognized in 1983. The exceptional terroir (sandstone, granite, and schist are among the most favored soils), restricted yields, and increased level of phenolic ripeness deliver wines of unparalleled depth and elegance. Each climats (named vineyard site) has its specialty: Brand is renowned for its nervy Riesling, while Goldert and Hatschbourg yield densely-textured and structured Pinot Gris. With these special bottles of Pinot Gris, the wine arguably guides the choice of food rather than vice versa. So let's pretend we're in last meal territory – free-range chicken stuffed with herbs and truffles under the skin would do justice to this noble grape, as would sweetbread or dover sole. Extravagant? Undoubtedly yes, but we all deserve a lavish dinner from time to time.
Top producers of Pinot Gris wines: