France, for all its wonderful qualities, does have some problems. For example, aficionados sometimes complain that Gallic wine labels are difficult to decipher – why not just mention the grape variety on the label, for pity's sake? Moreover, its regions are hedged by a rigid bureaucracy that seldom recognizes the need for flexibility or a touch of la modernité! This is why certain growers, particularly in the South of France, have abandoned their appellations in favor of the more liberal IGP framework.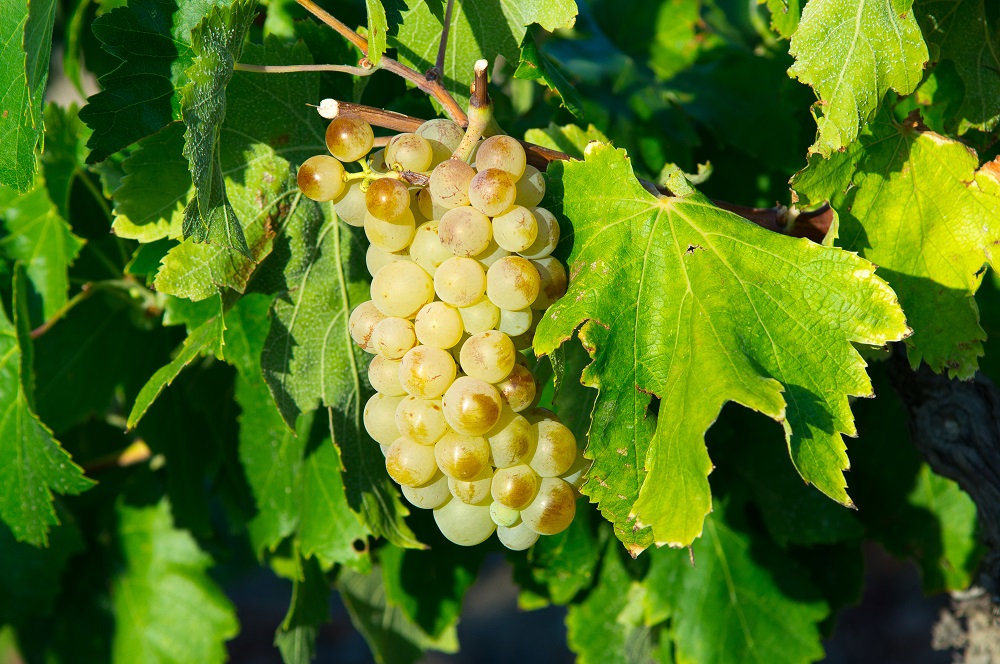 However, there is an upside to France's archaic wine laws. That same bureaucracy has kept marvelous grapes like Grenache Blanc alive for years when had fashion had its way, they would have been ripped out to make way for Sauvignon Blanc (yawn) and Chardonnay. After years of apathy, Grenache Blanc is now in the ascendant, appreciated by growers in Roussillon and the southern Rhône for its robust nature and underrated organoleptic qualities. Despite what you may have heard, Grenache Blanc is no poor relation. On the contrary: it's an essential part of the Mediterranean's wine industry today.
Read more about French White Wine
History and viticulture
Viticulturists are almost certain that Grenache Blanc originated in the untamed vineyards of Aragon. A mutation of Grenache Noir, white Grenache is believed to have traveled from Aragon (north-eastern Spain) to southern France via the Pyrenees. Of course, certain winegrowers in the Languedoc-Roussillon would prefer to imagine that Grenache came into being on their side of the border. Still, there is no evidence to support that claim. From Roussillon, the grape spread into the vineyards of the Rhône valley; Grenache Blanc is still an important component in several major appellations in the South of France, including Châteauneuf-du-Pape Blanc. Over the centuries, the variety became regarded as the backbone of all great Rhône whites, albeit single-varietal expressions remain rare. Grenache Blanc's role was to provide body and structure rather than steal the show.
However, in the second half of the 19th century, vineyards in the South of France started to wither and die for no apparent reason. By 1868, the catalyst for this mysterious turn of events was identified as the phylloxera louse, inadvertently imported from the US. The first documented cases of phylloxera were recorded in the southern Rhône Valley in 1860. Only one solution presented itself: European vines had to be regrafted onto American rootstock, which offered an inbuilt resistance to the disease. Due to this monumental replanting program, several varieties almost disappeared from Mediterranean vineyards in the early 1900s. Especially, it must be said, if they were difficult to grow. Yet Grenache Blanc has endured, partly due to its robust nature.
Today, there are approximately 4900 hectares under vine in France, concentrated in regions south of Montelimar. Grenache Blanc is used as a key blending component in dry whites and plays a decisive role in producing sweet fortified wines such as Rivesaltes. Moreover, the rebirth of the Languedoc-Roussillon in the late 20th century as a premium wine zone has done wonders for its reputation; influential sommeliers are increasingly drawn to the region's site-specific wines and original tastes. Grenache Blanc can contribute much to this unfolding story with its unique flavor profile and esoteric credentials.
But is Grenache Blanc easy to grow? From one perspective, yes: Grenache Blanc, like Grenache Noir, is no pushover in the vineyard. Able to withstand long periods of drought, white Grenache is both productive and vigorous – occasionally too much so! In southern France's hot, arid landscape, these attributes can make all the difference between success and failure, particularly in light of global warming. In addition, the berries will ripen fairly late in the season if the vines are planted on a warm site with good exposure to the sun.
Unfortunately, while producing acceptable wine from Grenache Blanc is relatively easy, achieving brilliance with the grape often alludes winegrowers. This is for several reasons: white Grenache is very sensitive to terroir and will not yield age-worthy wine unless the site and pruning regime are up to scratch. Indeed, its growth must be controlled throughout the season, while the soils must ideally be warm and well-drained – gravelly terroir suits it best. It is also susceptible to grey mold, mildew, and bacterial diseases at harvest time if rainfall occurs.
As with so many varieties, yield is the key to unlocking this grape's potential. If the terroir is first-rate, Grenache Blanc will achieve good levels of phenolic ripeness – berries packed full of sugar and aromatic compounds. Yet acidity will also plummet as the harvest date approaches unless the yield is severely restricted. Producing high-quality white Grenache is fundamentally incompatible with corporate winemaking and the commercial pressure to deliver a substantive crop. You really cannot have your cake and eat it.
Winemaking
Producers in the South of France use Grenache Blanc in different ways. Occasionally, it crops up as a mono-varietal style: these distinctive white wines, with their aromas of Seville oranges, apple, and stone fruit, are well-worth seeking out. But in the majority of cases, the grape is used as part of a blend, adding spice and vigor to the cuvées of the Languedoc-Roussillon and the southern Rhône; white Grenache has a real affinity with Marsanne/Roussanne blends, cutting across the 'fat' of these varieties to deliver a harmonious finish. It is also used to make dessert wine styles via fortification.
Therefore, winemaking can vary significantly from region to region and label to label. However, a common theme is running through these divergent approaches: the need to protect Grenache Blanc at all stages of the vinification – the grape is notoriously prone to oxidation! For that reason, sulfur dioxide is typically added to the berries before fermentation, usually when pressing.
The subject of fermentation remains very divisive, however. For every proponent of stainless steel – temperatures can be strictly controlled, leading to fresh and fruity wines – there is a staunch advocate of using foudres and concrete. The grape can also respond well to vinification in oak barrels if the juice is sufficiently protected at all stages from prolonged exposure to air.
Interestingly, many estates in the South of France now favor a third way. Instead of prioritizing one vessel, they use a range of techniques before the blend is composed: one renowned producer vinifies their wines in a mixture of steel tanks, foudres, and amphorae. Domaine du Grand Tinel, meanwhile, prefers to use a certain percentage of new barrique (in addition to stainless steel) to add richness and texture to their wines. "We don't undertake malolactic fermentation to maintain freshness and acidity," explains Béatrice Audu Jeune of Domaine du Grand Tinel. "We also practice lees stirring during the first weeks after the end of fermentation, and we blend before bottling." Judging by the quality of Domaine du Grand Tinel's Châteauneuf-du-Pape Blanc, it's a philosophy that pays handsome dividends!
Grenache Blanc's future in the South of France
As winegrowers grapple with the challenges of another sweltering vintage in 2022, the role of Grenache Blanc is clear. Only robust and drought-resistant varieties will be able to prosper in this new normal, where harvests are often completed by early August in the South of France.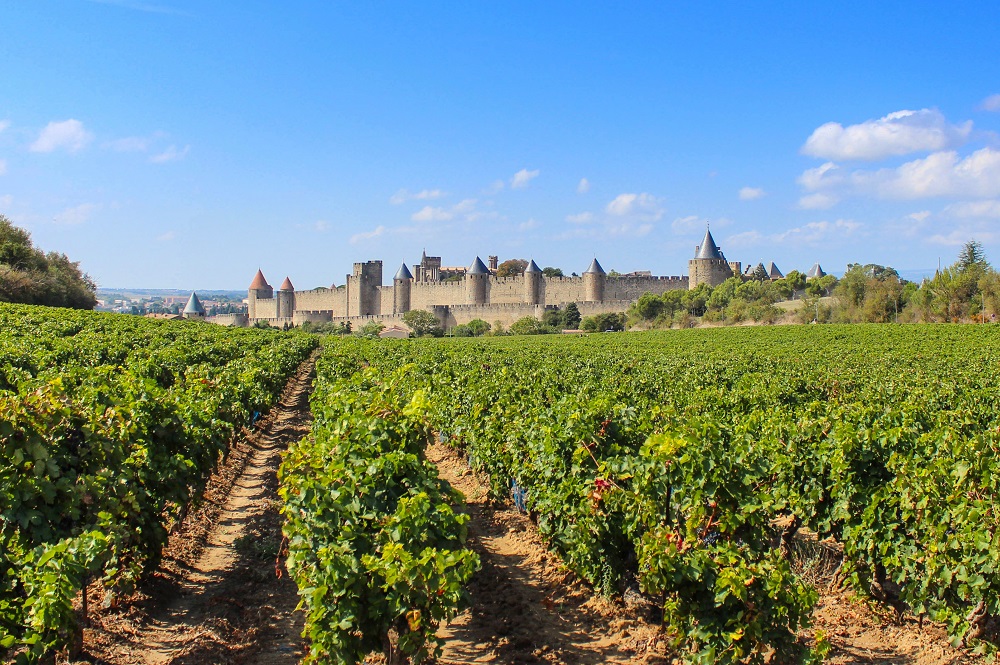 The beautiful vineyards of Languedoc-Roussillon
Yet the grape is already an important part of the viticultural landscape in both the southern Rhône and Languedoc-Roussillon – climate change will likely further strengthen its position. The 'funnel' end of the Rhône Valley, where it expands into the western Mediterranean, has a place in every critic's affections. It is one of the most rewarding parts of southern France, rich in historical intrigue, fine gastronomy, and, of course, superlative wine. Every village and appellation in southern Rhône has a unique story. Nowhere is this more true than in the Provencal countryside surrounding Châteauneuf-du-Pape.
The appellation has long been a flag-bearer for potent, structured, and remarkably concentrated red wines. As a result, Châteauneuf-du-Pape's smaller volume of whites did not historically receive the attention they deserved. However, this is slowly changing as sommeliers – and consumers – demand new flavors and experiences. Châteauneuf-du-Pape Blanc can be every bit as magical as top white Burgundy. Many of the leading cuvées, such as Domaine du Grand Tinel Blanc, use quite a high percentage of Grenache Blanc in their wines. This may well increase as vintages become hotter and drier.
Producers in the appellation tend to own parcels of vines in several different soil types, which makes generalizations about Châteauneuf-du-Pape Blanc difficult. But we can say that the best examples of the genre are perfumed and sumptuous, developing exotic scents of fennel and honeysuckle as they age into great finesse. A recent tasting of several wines was an invaluable experience: aromas of peach, melon and tropical fruits were often detected on the nose, in addition to garrigue. Top labels were both fresh and vibrant, with a mineral backbone supporting the ripeness and opulence on the mid-palate. There is just one problem: very little wine is exported.
The legendary Vins Doux Naturels of Roussillon has the opposite problem – supply far outstrips demand for sweet wines today. Yet we have seen green shoots of interest as a new generation, curious about the world, is starting to appreciate these wines. Moreover, the wines of Rivesaltes and Banyuls are a culturally significant part of the landscape. Therefore, they deserve a proper examination.
Roussillon needs little introduction. It is one of France's most spectacular and mysterious wine zones: vines are cultivated on an east-facing amphitheater, traversed by three distinct rivers. Endless sunshine is its USP; soils vary from hard limestone to schist, gneiss, and loam. The vineyards are some of the driest and hottest in France, now achieving full phenolic ripeness in late July. They were historically used to make large quantities of Vins Doux Naturels (VDNs) that were once enjoyed as an aperitif (yes, honestly). Mirroring the winemaking practices of Oporto, part-fermented grape juice is 'adulterated' with spirit to produce a rich fortified style of wine. Rivesaltes is the most important, an exotic blend of Grenache Noir, Blanc, and Gris.
However, Banyuls would be regarded by many as France's finest VDN. The production area is close to the Spanish border – Roussillon's inhabitants often consider themselves Catalans – in an area of outstanding natural beauty. On steep windswept terraces, vines produce meager yields out of the mineral-rich schist terroir – a sight to behold. In a nod to age-old traditions, wines are sometimes matured in giant glass bottles – bonbonnes – in the fierce heat of the Roussillon sun. The result resembles a hybrid concoction of oloroso sherry and port: ethereal wines, heady with the aromas of rancio, offer flavors of fruit cake, caramel, hazelnuts, and chocolate. Elsewhere in Roussillon, Grenache Blanc is used to make mineral-scented, dry whites of considerable finesse. But the unique wines of Banyuls and Rivesaltes have stolen our hearts, not least because they represent a precious link to the past.
Top producers of Grenache Blanc wines: