Profile of Badia a Coltibuono
It's not hard to see why the storied Badia a Coltibuono Winery – with its 11th-century Romanesque monastery, exclusive on-site restaurant, and immaculately lush botanical garden – is a highlight of any Chianti wine tour. But this proud family winery is famed for more than its history and romantic atmosphere. Badia a Coltibuono make premium wines with estate-grown, organically produced grapes. Their wines are considered to be some of the most iconic Chianti Classico wines.
The Badia a Coltibuono estate (which translates to "Abbey of the Good Harvest," an apt nomenclature if there ever was one) was founded by Vallombrosan monks in the 11th century and immediately became a center for wine production. Over the centuries, the monks amassed hundreds of hectares of land, but when the monastery was secularized in 1810, the government seized all the monks' holdings and auctioned them off.
Since 1846, the Stucchi Prinetti family has been the masters of the estate, balancing history and innovation to create one of Chianti Classico's best-loved wineries. "Through tradition, we have acquired know-how and culture which allow us to remain a leader in Chianti while following a respectful continuity," the family says. Now the sixth generation has taken over the reins. Emanuela (the first woman ever elected president of the Marchio Storico del Chianti Classico) manages the winery with the help of her three brothers: Roberto, who is head winemaker; Paolo, who oversees the well-regarded Coltibuono restaurant; and Guido, who runs hospitality and all three brothers are delighted to receive guests on a Tuscany Wine Tour organized by Cellar Tours.
Wines produced
Badia a Coltibuono Chianti Classico

Sangiovese 90% - Canaiolo 10%, Alc. 14%

Badia a Coltibuono Chianti Cl. Riserva

Sangiovese 90% - Canaiolo 10%, Alc. 13.5%

Cultus Boni Chianti Classico

Sangiovese 80% - Ciliegiolo 10% - Colorino 5% - Merlot 5%, Alc. 15%

Badia a Coltibuono Sangioveto

Sangiovese 100%, Alc. 13.5%- This is the estate's "Super Tuscan"

Vin Santo Badia a Coltibuono

Trebbiano 50% - Malvasia 50%, Alc. 14%

Selezione RS Chianti Classico

Sangiovese 100%, Alc. 13%

Trappoline i.g.t.

Chardonnay 60% Sauvignon Blanc 40%, Alc. 12.5%

Cancelli i.g.t.

Sangiovese 70% - Syrah 30%, Alc. 13.5%

Cetamura Chianti

Sangiovese 90% - Canaiolo 10% , Alc. 12.5%

Cetamura Rosato

Sangiovese – Canaiolo, Alc. 12.5%

Cetamura Bianco

Trebbiano 50% - Malvasia 20% - Sauvignon Blanc 30%, Alc. 12.5%
Winery details
loc. Badia a Coltibuono
53013 Gaiole in Chianti (SI)
Italy
Tel +39 0577 746110
Fax +39 0577 746165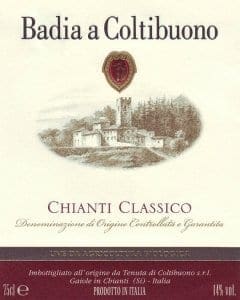 Appellation

(D.O.C.G) Chianti Classico

Founded

Although the abbey at the heart of the estate dates to the 11th century, the Stucchi Prinetti family began running it in 1846.

Area under vine

50 hectares

Oak barrel origin

The maturation of the wines in wood is carried out mostly in casks to ensure that oak does not dominate. When small barrels are used, as in the Sangioveto, care is taken to balance new and older oak, so as not to cover the fruit, whose characteristics must be respected.
Winemaker

Roberto Stucchi Prinetti

Owner

Stucchi Prinetti family

Grape varietals

Sangiovese, Canaiolo, Trebbiano, Malvasia, Chardonnay, Sauvignon Blanc