Châteauneuf-du-Pape Wine Region Guide
Châteauneuf-du-Pape: Where Complexity Meets Elegance—A Journey Beyond the Cliché in Every Sip
EXPLORE ALL OUR RHôNE VALLEY WINE REGION GUIDE
Introduction
Châteauneuf-du-Pape is perhaps the most complex of the great southern Rhône wine regions. The enduring cliché is the fruit bomb caricature: brash, alcoholic, and overplayed. Even today, certain oenophiles regard the appellation as a monolith. But the reality could not be more different; Châteauneuf-du-Pape comes in various guises, from medium-bodied (and elegant) reds to exotic, powerfully structured wines. As with the northern Rhône, there is a considerable diversity of styles – including white wines – due to winemaking, viticultural philosophy, and variations in terroir. If you seek intellectual depth from your favorite tipple, look no further than Châteauneuf-du-Pape.
Winemaking and regional classifications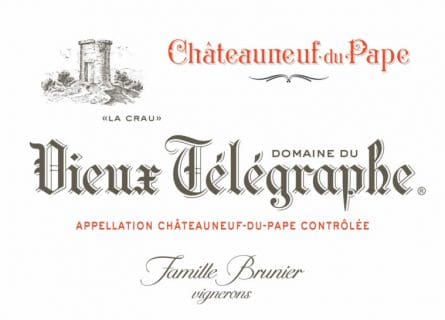 There is no standardized winemaking formula in Châteauneuf-du-Pape. The appellation regulations permit 18 grape varieties (red and white) in the final cuvée. However, most producers prioritize three red grapes: Grenache, Syrah, and Mourvedre. Then, smaller amounts of Cinsault, Counoise (an esoteric localism), and Vaccarese may be added to the blend. However, preferences vary wildly, depending on the desired style and vintage factors. In addition, there is fierce disagreement over the role that new French barrique should play, while carbonic maceration is becoming more popular for fruit-driven wines intended for drinking young. Others favor using whole bunches and stems to add tannic heft and structure in the vat. On the other hand, too much can lead to astringency and bitter tannins on the finish.
So how can we sum up red Châteauneuf-du-Pape? It is fair to say that the critical mass of premium wines offer upfront fruit and richness on the mid-palate, yet they are approachable from a relatively young age. Unlike Cabernet Sauvignon, Grenache (which usually plays the dominant role) does not boast a massively tannic structure, even in its youth. Instead, these are wines driven by red fruit, spice, and balanced levels of relatively high alcohol. However, skilled winemakers always ensure their creations refresh and challenge the palate.
The seminal Châteauneuf-du-Pape red is undoubtedly Domaine du Vieux Télégraphe La Crau. Anyone fortunate enough to try a glass will confirm that the finesse, potency, and complexity have no equal; imbued with aromas of garrigue, smokey dark fruit, and spice, the palate is always balanced and racy, with flavors of raw meat, forest floor, and raspberry. But the freshness and gorgeous ripe acidity elevate Vieux Télégraphe above its peers.
Geography and terroir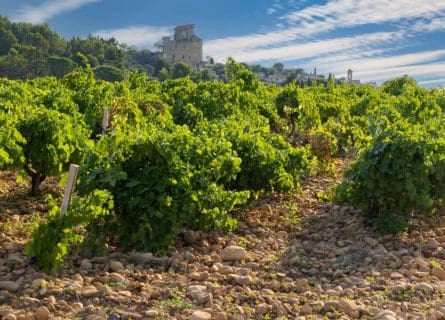 The red and white wines of Châteauneuf-du-Pape are centered around a pretty village situated between Orange and Avignon in the southern Rhône Valley. The geographical area under vine is far wider and more expansive than the northern section, with the city of Montelimar marking a boundary that separates the two sub-regions. Nevertheless, it is probably one of the most beautiful places in south-eastern France – a timeless landscape of garrigue-covered hills that the Romans once inhabited.
Châteauneuf-du-Pape is renowned for having the highest minimum alcohol level in France: 12.5 degrees. In the textbook Mediterranean climate of the southern Rhône, however, even 13.5% alcohol would be considered anomalously low. With increasingly torrid summers and very mild winters, maintaining acidity and freshness is the overriding priority in Châteauneuf-du-Pape. If the grower is not careful, unctuous sweet berries will be the fruits of their hard work, with a potential alcohol of 16 degrees. Nevertheless, the terroir is very heterogeneous, with abundant higher altitudes and cooler sites. These are judiciously exploited by the best winegrowers, who seek to combine strength with freshness and poise—the hallmark, indeed, of great wine.
Nevertheless, Châteauneuf-du-Pape does have a terroir that is emblematic of the region. The topography is littered with galets – heat-absorbing stones that reflect warmth into the vine canopy. Their impact is arguably diminished in hot years, yet galets are especially useful in cooler vintages. Such conditions still occur in the southern Rhône despite the onward march of global warming. Elsewhere, the soils can vary from sand and alluvial matter to clay-rich terroir. In warmer seasons, clay's ability to retain moisture gives winegrowers a decisive advantage.
Key Grape Varietals

Explore the unique character of Terret noir, a dark-skinned grape from France's Rhône valley. Plan your trip!

Find out more

Explore the unique character of Terret noir, a dark-skinned grape from France's Rhône valley. Plan your trip!

Find out more

Explore the unique character of Terret noir, a dark-skinned grape from France's Rhône valley. Plan your trip!

Find out more
Grenache Gris

Grenache Gris is a rare, pinkish-grey variant of the red Grenache grape from southern France. Often blended into other wines, it's drought-resistant and thrives in warm climates. Wines from this grape are uncommon and offer apricot and stonefruit aromas with a full palate, resembling Viognier but without its herbal notes.

Explore the unique character of Terret noir, a dark-skinned grape from France's Rhône valley. Plan your trip!

Find out more

Explore the unique character of Terret noir, a dark-skinned grape from France's Rhône valley. Plan your trip!

Find out more

Explore the unique character of Terret noir, a dark-skinned grape from France's Rhône valley. Plan your trip!

Find out more

Explore the unique character of Terret noir, a dark-skinned grape from France's Rhône valley. Plan your trip!

Find out more

Explore the unique character of Terret noir, a dark-skinned grape from France's Rhône valley. Plan your trip!

Find out more

Explore the unique character of Terret noir, a dark-skinned grape from France's Rhône valley. Plan your trip!

Find out more

Explore the unique character of Terret noir, a dark-skinned grape from France's Rhône valley. Plan your trip!

Find out more

Explore the unique character of Terret noir, a dark-skinned grape from France's Rhône valley. Plan your trip!

Find out more
Terret Noir

Terret noir is a dark-skinned grape variety from France's Rhône valley and a mutation of the ancient Terret vine. It's allowed in Châteauneuf-du-Pape blends and, like its relatives, Terret gris and Terret blanc, buds late and grows vigorously. The grape yields light-colored, tart, perfumed wines
The lowdown
Châteauneuf-du-Pape is in a quandary. Outflanked by the popularity of Côte Rôtie and Hermitage, the appellation's greatest strength has become, paradoxically, its biggest weakness. Châteauneuf-du-Pape is a region of incredible diversity – it boasts an enviable palate of grapes, terroirs, and mesoclimates. At its best, the style is a tour de force of voluptuous concentration: a poster child for the sorely underrated Grenache Noir. Indeed, these potent reds are beguilingly rich on the mid-palate, with a finish that stretches beyond the realms of imagination. Yet the considerable production of the zone, the plethora of obscure – and unpronounceable – grape varieties, and the years of 'dumbing-down' have all helped to obscure its superlative quality. To be frank, Châteauneuf-du-Pape needs to work on its global image.
Fortunately, the region still has a few aces up its sleeve. In the current zeitgeist, promoting and discussing terroir has become the surest way to encourage premiumization – wine lovers want authentic (and unique) wines that demonstrate a sense of place. Traditionally, producers in Châteauneuf-du-Pape owned plots across several terroirs in the appellation, blending different wines to enhance complexity. However, the value of celebrating and marketing single vineyards has touched the southern Rhône; single-site bottlings, often expensive, are becoming more widespread. They offer consumers entry into this complex region while helping to close the gap between Châteauneuf-du-Pape and its competitors. In this regard, a codified ranking of terroir would help matters.
Unlike Burgundy, however, Châteauneuf-du-Pape has never embarked upon a formalized classification of its soils. Yet the appellation does boast at least one unofficial 'Grand Cru vineyard: La Crau. It is situated between the villages of Châteauneuf-du-Pape and Bédarrides, at the extreme southeast of the appellation boundaries. Here, on a plateau full of the signature galets, magic happens. No one knows why La Crau always produces the most structured and complex wines. However, the ancient alluvial deposits, silica, and robust red clay undeniably play an important part. But there is a certain mystery to La Crau, and that's how local growers like it. Nevertheless, it wouldn't hurt to make more of this valuable asset.
We should also mention the growing importance of Châteauneuf-du-Pape Blanc. Historically, this oxidative and rustic local style was as appealing as typhus; however, thanks to dramatic improvements in viticulture and winemaking, it now represents excellent value for money. Cool fermentations in stainless steel (and the judicious use of oak) produce full-bodied and complex wines of great interest. Many white varieties can be used in the blend, although growers often favor Grenache Blanc, Clairette Blanc, and Roussanne, contributing body, aroma, and structure, respectively. With bottle age, they develop considerable finesse and attractive scents of lemongrass, honeysuckle, and wet wool. This is definitely a niche to explore further, with ample scope to dramatically increase production in the zone.
Meanwhile, climate change is pushing vines – and their growers – to their endurance and ingenuity limits. But the region's devoted and charismatic winemaking community perseveres. Their passion for these glorious wines and the welcoming attitude shown to newcomers are among the most delightful things about visiting the southern Rhône. With growing tourism and a pioneering younger generation taking the reins, Châteauneuf-du-Pape has an unprecedented opportunity to remedy the mistakes of the past. Let's hope they grab it.
Facts & Figures
Key wine styles
Rich, full-bodied red wines; aromatic and full-bodied whites
Average annual production
13 million bottles per annum
Approximate number of wineries
Châteauneuf-du-Pape gastronomy
Most visitors to the southern Rhône inevitably find themselves in the handsome city of Avignon. Count yourself lucky: Avignon is surrounded by the Provencal cliches of lavender fields, vineyards, olive groves, and market gardens. These all provide a surfeit of fresh produce that the city's talented chefs wisely exploit. Feast on asparagus ravioli, Camargue lamb, and magret de canard while savoring the heady scent of locally grown Grenache. Welcome to Provence.
A Gastronomic Guide to Provencal Cuisine: Read more
Wineries Recommended by Cellar Tours

Experience extraordinary Châteauneuf-du-Pape wines at Château de Vaudieu. Discover remarkable terroir, skillful winemaking, and the exquisite Admiral G cuvée. Read more
Taste the exceptional Châteauneuf-du-Pape wines of Château La Nerthe: a historic property blending tradition and modernity for exquisite reds and whites. Read more
History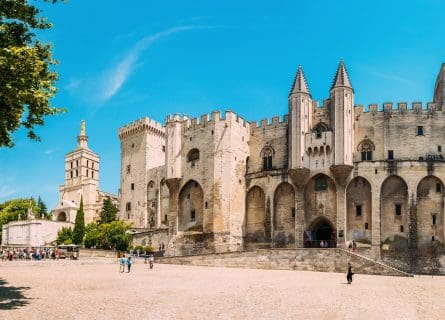 Châteauneuf-du-Pape boasts a rich and colorful history; the southern Rhône has hosted an eclectic mix of cultures over the centuries, including the Celts, Ligurians, and the Greeks. Arriving from the eastern Mediterranean in 600 BC, Greek mariners founded the city of Marseille, or Massilia, as it was known in ancient times. During Julius Caesar's conquest of Gaul in the mid-1st century BC, however, Massilia incurred the wrath of the Roman legions by siding with Pompey the Great; as a punishment, Caesar directed trade to rival ports in the Mediterranean. Nevertheless, the Latin conquerors were very taken with the bucolic landscape of southern France, calling it 'Provincia Romana.' Châteauneuf-du-Pape's first proper wine industry was developed during this period, while the Western Empire flourished on the back of trade and colonization.
However, Rome's authority started to weaken in the 5th century due to a mixture of arrogance and overreach. After the disintegration of the Western Roman Empire in 476 AD, the Visigoths, Vandals, and Ostrogoths all attempted to plant their flag on French soil. Yet a rising power was about to alter the course of European politics forever: King Clovis I united the schismatic Frankish tribes in the Dark Ages, laying the foundations for the Holy Roman Empire after his conversion to Christianity. He also spearheaded a number of very successful campaigns against the Alemanni and Visigothic remnants in Gaul while gaining new territories across Europe. It was a glorious era for the Merovingian and Carolingian dynasties.
During the early 1300s, the Catholic Church – under a series of French-born popes – moved its headquarters from feud-riven Rome to Avignon, thus beginning the most resplendent period in the history of the southern Rhône. Châteauneuf-du-Pape – formerly just Châteauneuf – grew rich from the salt trade. Seven successive popes invested unprecedented sums of money in building and decorating a papal palace near Avignon.
Meanwhile, viticulture thrived in the warm Mediterranean climate of Châteauneuf-du-Pape and its environs, producing spicy red wines often used to adulterate the more pallid concoctions of northern France. Major improvements in local winegrowing were driven by Pope John XXII – an aficionado of what was known as 'Vin de Pape.' He was also responsible for building the ornate castle that has since become a totem of the region. However, political turmoil returned in 1376 after Pope Gregory XI left Avignon, leading to the so-called 'Great Schism' of the early 15th century. Various popes fought among themselves until the papacy relocated to Rome. Yet even after the feud was settled, Avignon remained under papal rule. Papal legates controlled the city and surrounding area until 1791 when Avignon was annexed to a unified French state.
In the 20th century, Châteauneuf-du-Pape had the distinction of being one of the first French vineyards to create a formalized appellation structure. Baron Le Roy, the owner of one Château Fortia, decided to unify the region in the 1920s to market its wines better. His undertakings set out the geographical boundaries, production rules (the appellation only allows a yield of 35 hectolitres per hectare), and grape varieties – very much a precursor to the modern appellation "d'origine contrôlée" system.
Nearby Charming Towns and Cities
Further Reading: Discover More Related Blog Content
More information
If you would like us to customize an exclusive luxury tour, contact us and let us know your travel plans. We offer luxury food and wine tours for private groups of a mininium two guests. In addition, all of our private, chauffeured tours are available year-round upon request.
Cellar Tours
Welcome to Cellar Tours, the premier Luxury Travel Specialist since 2003. Our goal is to provide you with the ultimate food and wine vacation experience, with exclusive Mercedes chauffeured tours that showcase the best of local cuisine and wines.
Our team specializes in crafting bespoke, custom-designed vacations, events, and incentives tailored to your unique tastes and preferences. Travel is not just about seeing new places - it's about creating unforgettable memories and indulging in the finer things in life.
As members of Slow Food, OTAVA (Travel Agency Association in Spain), and the IACP (International Association of Culinary Professionals), we promote sustainable tourism and support local communities. We work closely with top-rated hotels, restaurants, and wineries to provide you with the highest level of service and attention to detail.
Whether you're planning a romantic getaway, a family vacation, or a corporate retreat, let Cellar Tours be your guide. With our passion for food and wine, extensive knowledge of local culture, and dedication to exceptional customer service, we're confident we can exceed your expectations.
Contact us today to start planning your dream vacation – we can't wait to hear from you!