Garnacha Blanca is one of Spain's great revival stories. It's a familiar tale: a once prolific variety fell out of fashion in the 20th century due to economic and cultural factors. Phylloxera certainly did the grape no favors; many Garnacha Blanca vines were not re-grafted in the early 1900s after Spain's vineyards were devastated by the louse that arrived from the US. Difficult to grow and prone to oxidation, Garnacha Blanca struggled to sell itself to cash-strapped growers. The rise of Albariño and Verdejo only exacerbated the decline; producers found two white styles that are relatively easy to grow, make, and sell abroad. For a time, it seemed like Garnacha Blanca would die out altogether. After all, why waste time and energy on an unknown variety like white Grenache?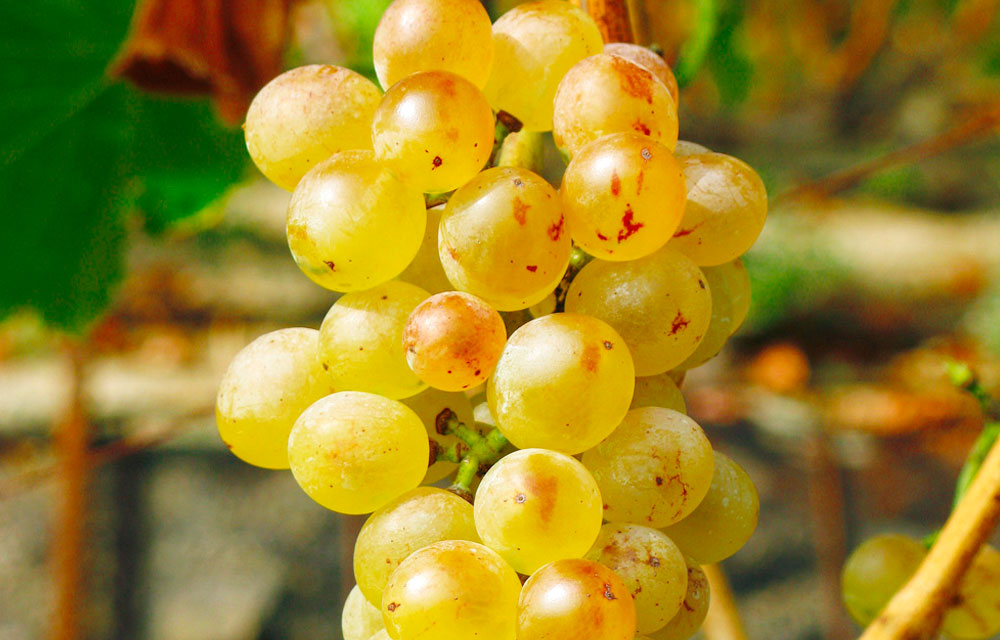 However, the country's trailblazing winemakers decided to revitalize Garnacha Blanca's reputation in the early 21st century. Indeed, some of Spain's most talented producers have given the grape a major shot in the arm, including Carlos Lopez de Lacalle, Telmo Rodriguez, and Abel Mendoza. And where they lead, other winegrowers tend to follow. In Navarra, the acreage has risen considerably since 2005 (just 2.5 hectares back then), while growers in regions as diverse as Rioja, Aragon, Terra Alta (Catalunya), and Priorat are reassessing their attitudes to the grape. As it stands today, white Grenache is in the ascendant. The question is: will producers keep the momentum going?
Read more about Spanish White Wine
History and viticulture
It will be no surprise to learn that Garnacha Blanca is a close relative of red Grenache. The former is a light-skinned mutation of Garnacha Tinta, although we cannot be sure when the mutation occurred. Nevertheless, most viticulturists believe that the white grape is indigenous to northern Spain, eventually spreading to the Languedoc-Roussillon and southern Rhône Valley, which remains a key part of white blends in the region. In the mid-19th century, Garnacha Blanca was widely planted across the Iberian Peninsula, appreciated for its ability to tolerate long periods of drought in areas like Castilla y Leon and Valdepeñas.
But a combination of phylloxera and changing viticultural priorities would see huge swathes of Garnacha Blanca disappear from vineyards in the 1900s. The grape was traditionally used to make large volumes of sweet and "rancio" wines in Spain, two styles that have fallen spectacularly out of fashion. In Terra Alta, white Grenache was a key component in deeply colored 'orange' whites, made by leaving the must in contact with the skins for several days. Unfortunately, modern consumers tend to prefer fresh and aromatic styles. However, there is a niche demand for skin contact cuvées in the trendy wine bars of Barcelona, London, and New York.
The resurgence began in the early 2000s when pioneers like Telmo Rodríguez decided that Spain was becoming overly associated with just one grape variety (Tempranillo) and that a more diversified portfolio would ensure sustainable growth in export markets. Rodríguez planted some new Garnacha Blanca vines at his Remelluri property in Labastida, followed by Benjamin Romeo of Contador fame. In 2011, a landmark project was commissioned by an association of research centers in Rioja, Navarra, Aragon, and Catalunya. Their findings have been invaluable and illuminating; new clones have been identified, in addition to sharing best practices with growers who wish to welcome Garnacha Blanca into their vineyards. Today, there are approximately 2900 hectares of the variety planted in Spain, with modest increases yearly.
Yet the decision to plant Garnacha Blanca should not be undertaken lightly. Although we're not (quite) in Pinot Noir territory, white Grenache is reasonably difficult to cultivate successfully. The grape must be planted on warm terroir and in a fairly dry climate to achieve satisfactory levels of phenolic ripeness. Plenty of sunlight is the secret to ripening Grenache; however, this is paradoxically responsible for its downfall.
Garnacha Blanca likes to play games: if the grape is grown on warm soils in a dry climate, it can yield alcoholic and flabby whites. Conversely, cooler conditions and wet weather can lead to harsh acidity, a vegetal characteristic common among underripe whites. Vineyard management is crucial here – Garnacha Blanca's naturally high vigor must be curtailed with regular pruning and bunch thinning. To preserve acidity in hotter sites, the berries must not be overly exposed to sunlight, while the harvest should commence before sugar levels peak. The end goal is (or should be) to pick ripe berries that balance ripeness, acidity, and fruit flavor. This requires a great deal of skill and experience working with challenging varieties. Thankfully, there is no paucity of talented winemakers in the Iberian Peninsula.
Winemaking
At its best, white Grenache can bring texture, alcohol, and potency to white blends made across the Spanish landscape. It is a versatile grape, able to yield fruit-driven bottles for early consumption and structured, deeply concentrated white wines. Moreover, single-varietal labels are starting to make a name for themselves, particularly in Rioja and Aragon. They can resemble a high-quality Marsanne/Roussanne blend from the  Rhône Valley, with an exotic, smoky nose and voluptuous body. Unfortunately, it is easy to make bad wine from Garnacha Blanca, even if the terroir and vintage are up to scratch.
Why is this? For a start, white Grenache will oxidize very quickly if the juice/wine is not sufficiently protected at all stages of the winemaking. It can also be difficult to stop the alcohol levels from becoming undesirably high, particularly if super-efficient cultured yeasts have been used.
As a result, winegrowers usually favor a cautious approach when handling Garnacha Blanca, employing protective measures and reductive winemaking. Sulfur dioxide is typically added to the berries before they are fermented, protecting them from any risk of oxidation and spoilage. Adding whole bunches (rather than crushed fruit) to the fermentation vessel is very much in vogue now – winemakers believe it produces fine white wines with no bitter flavors. Finally, prolonged skin contact is usually avoided, as it can quickly lead to a deluge of rank oily mediocrity in the tank.
Most Spanish winemakers prefer to undertake the fermentation in stainless steel, carefully controlling the temperature at all times. In simple terms, lower temperatures equal fruitier and more aromatic white wines; warm fermentations can 'burn out' the esters and other compounds that give the wine its perfume and flavor. However, certain growers prefer to use oak vats or concrete, arguing that some gentle oxidation is beneficial to the wine's future development. In cooler climates, producers typically allow their white wines to undergo malolactic fermentation, converting the harsh malic to softer lactic acid. However, growers in Spain often refrain from using malolactic in white wine production, as they want to preserve acidity at all costs. Garnacha Blanca is no exception, although it will depend on the vintage conditions and particular characteristics of the site.
Garnacha Blanca has proven to be receptive to maturation in barrel, providing that the oak is not new and that the aging period is not excessive. Ideas and attitudes to maturation can vary wildly in Spain; aging in amphorae, tinajas (small clay jars), and concrete eggs are all used by the trendsetters, each convinced that their approach is the right one. The net result is a wide variety of styles, with enough points of difference to keep the critics – and oenophiles – excited.
Resuscitation and resurgence
The movement to rescue Garnacha Blanca from oblivion is not limited to one Spanish region or appellation. On the contrary, it involves a diverse cross-section of growers and producers anchored to their respective terroirs, climates, and winemaking philosophies. But one thing does unite them: an unwavering belief that white Grenache can produce structured, complex, and very fine white wine.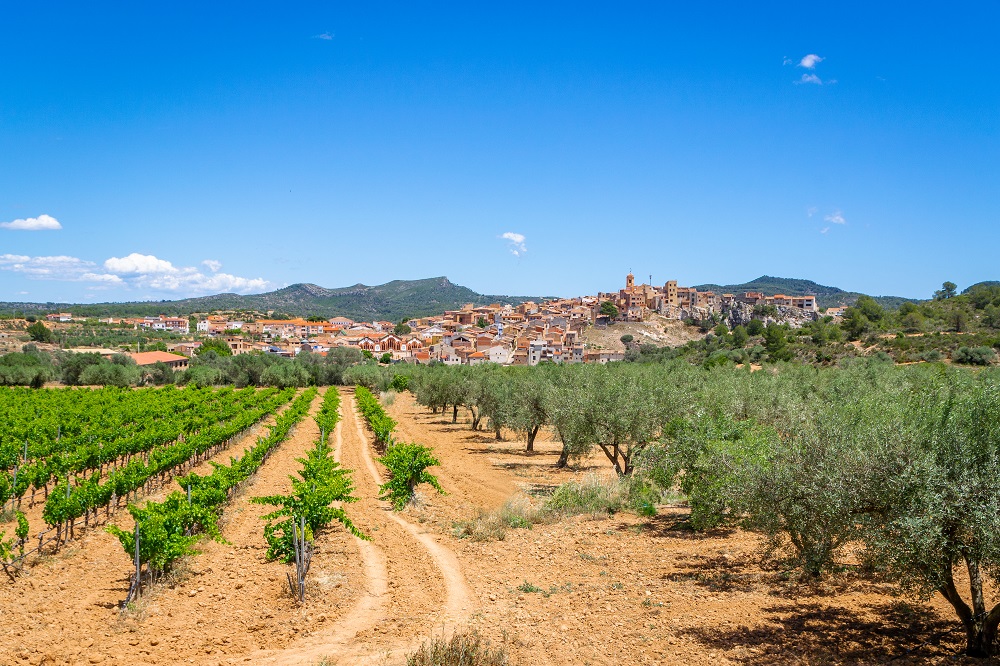 Terra Alta Vineyards, Catalonia
Indeed, premium-quality Garnacha Blanca is cropping up all over the place. One of the lesser-known bastions of the grape is Terra Alta, a very beautiful part of north-eastern Spain. This is a land of high-altitude vineyards and long dry summers – Garnacha Blanca is the dominant variety, now accounting for a third of the world's plantings. The local style is ripe and powerful, balanced by a textbook acid line. Sadly, relatively little of this local nectar is exported, although winemakers like Bodegas Edetaria and Abadal are trying to change that. There are also about 80 hectares of Garnacha Blanca in the majestic vineyards of Priorat; ambitious growers are now attempting to expand the color palette and establish an international reputation for their white wines, in addition to red.
Rioja's leading bodegas are on a similar mission; the region's output has diversified of late, with a greater volume of white, rosé, and sparkling wines reaching export markets like the US and UK. Many of the top white Riojas involve Grenache Blanc to some extent, including Remirez de Ganuza's Gran Reserva Blanco (the 2013 is outstanding), Remulluri Blanco, and Valenciso Blanco. However, when planted on clay-limestone soils in the hot Rioja Oriental sub-zone, the grape can produce some of the finest expressions made in Europe today.
So what can you expect? Imagine the weight and texture of white Burgundy, allied to the exotic flavors of the southern Mediterranean, and you're halfway there. Top examples are usually full-bodied and open, with a viscous texture and soft mouthfeel. The nose will often yield aromas of apple, apricot, white flowers, and a hint of thyme. The flavors should be rich and generous, with notes of stone fruit and honey on the mid-palate. If the winemaker has done their job well, all this opulence will be held together with a distinct minerality and freshness that lingers on the tongue.
Yet the true glory of this grape is its willingness to yield excellent wine in a range of terroirs and environments. While many top whites (blended and mono-varietal) are being made in Rioja, innovative winemakers in Navarra, Aragon, and even Albacete form an important part of this revival project. If Spain wishes to thrive in a fiercely competitive market for premium wine, it needs original flavors and tastes to complement the classical styles like red Rioja. Differentiation is the key to achieving lasting success on the international stage. Thankfully, the resurgence of grapes like Garnacha Blanca is helping Spain win the consumer PR war.
Top producers of Garnacha Blanca wines: