Languedoc-Roussillon is a region brimming with diversity in the southwestern corner of France. Situated along the sun-soaked Mediterranean, the Languedoc plain extends inland from the coast beginning north of Corbières. France's Massif Central reaches into Languedoc's department of Lozère and borders the departments of Gard, Hérualt, and Aude. Whereas the plain of Roussillon lies southwest of Corbières, stretching to the Pyrenees and Spanish border. The region includes Aude and the Pyrénées-Orientale department. From mountains to the sea and fertile plains in between, geography largely influences a broad range of culinary traditions in each of these five departments. Consequently, Languedoc-Roussillon cuisine delivers a patchwork of flavors ripe for exploration.
Read more in our Guide to French Cuisine
You can explore this region of France with Cellar Tours on a private Luxury Food Vacation, dine in the best local restaurants, and enjoy VIP tastings at top wineries.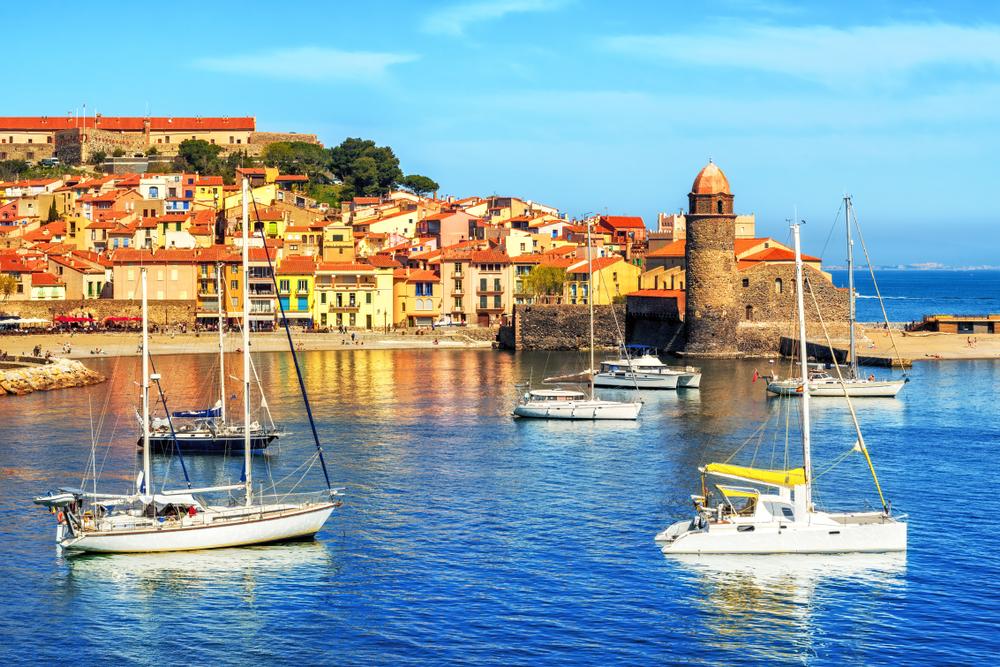 Beginning in the southwest of Languedoc-Roussillon, the spices and flavors of its Catalan neighbors largely influence recipes of the Pyrénées-Orientale. With both pristine beaches and snowcapped mountains, expect a range of dishes from fresh seafood to heartwarming mountain specialties. Next, Aude and Herault are blanketed in vines, which thrive in the Mediterranean climate of these two departments. In contrast, Gard becomes more akin to Provence, bordered by the Rhône River to the east with a landscape dominated by lavender fields and olive groves. Here, French cuisine embraces wild herbs of garrigue scrub, including oregano, thyme, rosemary, and marjoram. Above Gard lies Lozére, a mountainous region favoring cheese and other agricultural products.
It is also one of Europe's best-kept secrets for wine lovers, and with Cellar Tours, you can explore this lesser-known French region and taste its delicious cuisine and wine on a private Food & Wine Tour of the Languedoc-Roussillon
The Languedoc-Roussillon Cuisine
Such a wide-ranging landscape lends itself to an abundant regional cuisine. The Languedoc-Roussillon diet can generally be considered a Mediterranean one. Vegetables and fruits are kitchen staples as they grow well in the bountiful plains of Languedoc-Roussillon. Fish and seafood are mainstays in Languedoc-Roussillon cuisine, though red meat and poultry are consumed, too. Bread, cereals, and grains are essential, as is a daily glass of red wine with meals. Also, the region is burgeoning with a wide choice of local wines to taste. Olive oil is also crucial in Languedoc-Roussillon and is produced locally from swaths of regional olive groves. Plus, these olives are transformed into a variety of irresistible tapenades to slather on fresh-baked bread.
As far as produce goes, expect to encounter a range of fruits and vegetables at local markets. Peaches, cherries, apricots, and melons are to die for in the Languedoc-Roussillon. Wild mushrooms, chestnuts, and asparagus are grown in the Cévennes mountains also can't be missed when in season.
For seafood along the coast, look to fresh Bouzigues oysters cultivated exclusively in the Thau Basin. Since 1925, these oysters have been produced with a unique technique of bonding oysters to ropes to make up for the lack of tide here. Alternatively, coastal zones of the Languedoc-Roussillon are also known for fresh seabass, Bluefin tuna, red snapper, and Collioure anchovies.
Heading inland into mountain zones, livestock, cured meats, and wild boar are more frequently enjoyed. As are cheeses like Roquefort, Bleu des Causses, and Tomme de Lozère.
L'Apéritif in Languedoc-Roussillon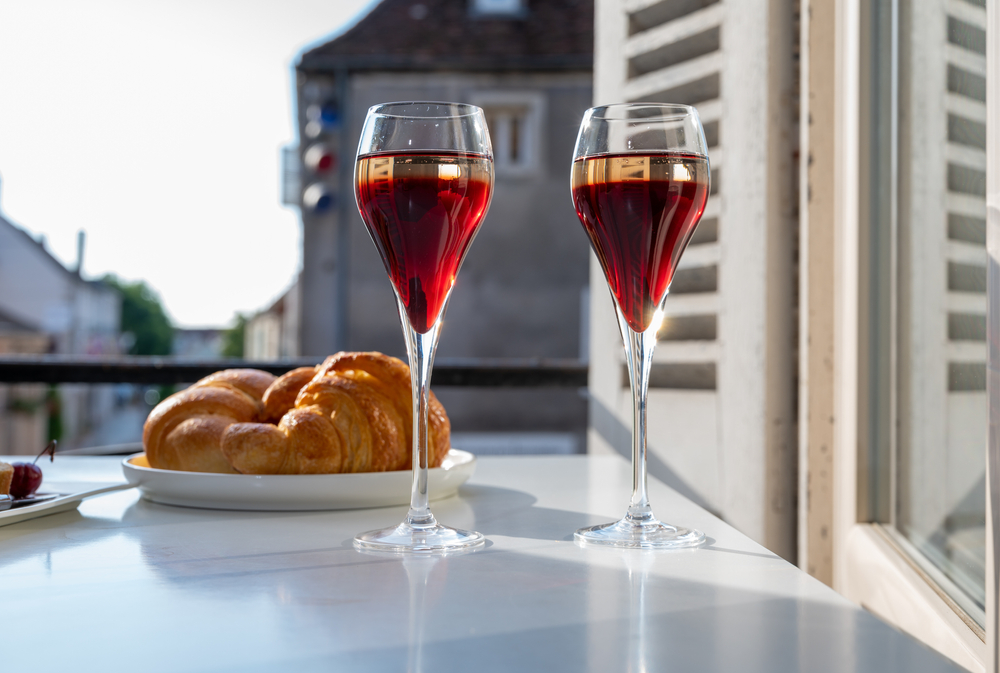 Kir, Crème de Cassis and white wine
When the cocktail hour rolls around, or apéro as it's known in France, beverage options abound. Several white, red, rosé and sparkling wines are produced in the region. Red wines are most frequently made from Grenache and Syrah, with Carignan, Cinsault, and Mourvédre playing a supporting role. Muscat and Grenache Blanc are the most prominent local varieties for white wines. There is also significant Chardonnay, Sauvignon Blanc, and Viognier production. Perhaps the local Picpoul de Pinet is the best choice to whet the appetite with its refreshing acidity, green fruit, and citrus flavors.
Beyond wine, Kir is also savored as an aperitif in Languedoc-Roussillon. Made from Crème de Cassis and white wine, this wine cocktail is also trendy in Burgundy, where it originated. Alternatively, Pastis, star anise-infused liqueur, is enjoyed diluted with water.
Then, there are Banyuls or Maury fortified aperitif (or dessert) wines made in the foothills of the Pyrenees. Banyuls wines are mainly made with Grenache, Grenache Blanc, Grenache Gris, and Carignan. In comparison, Maury is only made in its namesake village from predominantly Grenache. Also, keep an eye out for Crémant de Limoux for refreshing bubbly, a sparkling wine made in the traditional method from Chardonnay, Chenin Blanc, Pinot Noir, or Mauzac. Finally, Blanquette de Limoux is made in the Aude from at least 90% Mauzac with Chardonnay and Chenin Blanc.
Local olives or crusty bread topped with tapenade provide something salty to nibble on with your beverage of choice. Or savor bread with anchoïade, a delicious spread made from anchovies, garlic, vinegar, olive oil, and pepper.
Popular First Courses

Tielle Sétoise, a mouthwatering seafood pie
Brandade de Nîmes
Brandade de Nîmes is a quintessential entrée in Languedoc-Roussillon cuisine. Cod was once the most fished seafood between the 16th and 17th centuries. With such massive amounts of cod, the fish was salted for preservation and sent inland to populous industrial centers such as Nîmes. Brandade is a smooth mixture of salted cod that's first desalted by soaking it in water. Then, the cod is poached in a mix of water and milk. Once cooked, the fish is broken down with a fork and olive oil until paste-like consistency forms. Brandade de Nîmes can be served hot with puff pastry or cool over blinis. Enjoy Brandade de Nîmes with a glass of Crémant de Limoux, whose white floral notes and juicy citrus flavors will pop alongside salted cod.
Tielle Sétoise
Tielle sétoise originated in the commune of Séte on the Mediterranean Sea in the Hérault department of Languedoc-Roussillon. This savory pie with a buttery crust is filled with a mouthwatering mixture of octopus cooked in white wine. Tomato paste, black olives, onions, garlic, parsley, and thyme also flavor the filling. It's thought that 'tielle sétoise' was brought to Séte by Italian immigrants from Naples in the 14th century. The dish is also known as 'tielle de pouffre' because, in Séte, octopus is called 'lou pouffre.' Pair tielle sétoise with a local rosé made from a blend of Grenache and Cinsault, offering the complexity and acidity to match the flavors of this dish.
Petit Pâté de Pézenas
Petit pâté de pézenas are sweet and savory mutton-filled pies wrapped in a shortcrust pastry. They're easily recognizable, as they're made in the shape of a cotton reel. Lord Clive, a British gentleman who moved to Montpellier to improve his health, brought the recipe with him in 1766. Petit pâté de pézenas quickly grew in popularity, and a brotherhood has been working to highlight the specialty since 1991. A local Syrah or rosé from predominantly Syrah would compliment the delicious savory, meaty flavors of these lamb meat pies.
Le Plat Principal

Bourride, a fish stew popular in the coastal regions
Aligot
Aligot is a hearty, cheese-based dish from the rich, no-fuss mountain cuisine of Lozère. The dish is typical throughout the Aubrac area, which spans beyond Lozère into nearby Aveyron and Cantal. To prepare first aligot, cream and butter are heated together. Then, boiled potatoes and garlic are passed through a vegetable mill into the same pot to form a thick purée. Next, over low heat, strips of Tomme, a local cow's milk cheese, are added to the mixture and stirred until the cheese has completely melted. The aligot is then stirred and repeatedly stretched until it reaches a highly elastic texture and is served hot. Though not a local wine, Alsatian Riesling is a mouthwatering match for aligot, as the dish's creamy flavors beautifully contrast the acidity and aromatics of Riesling.
Cassoulet
A French recipe famous the world over, cassoulet originated in the Aude department. Whether its exact origins were in Castelnaudary, Carcassonne, or Toulouse is a subject of much debate. The slowly cooked stew is prepared with white beans, Toulouse sausage, duck or goose legs, onions, carrots, celery, garlic, and tomato. All the ingredients simmer for hours with broth, pork ribs, and ham hock added for flavor. For an authentic taste of cassoulet, visit Castelnaudary in August for the annual Cassoulet Festival. This Languedoc-Roussillon dish pairs best with medium-bodied full-flavored red wines from Corbières, Bandol, or Cahors. These wines balance the heartiness of the stew with red fruit flavors to highlight the savory dish.
Stuffed Squid, Mussels, or Cuttlefish à la Sétoise
With such a plethora of seafood along the coast, there are several ways to prepare fresh squid, mussels, and cuttlefish. Yet, one of the most appetizing preparations is à la Sétoise. The seafood is stuffed with a mixture of sausage, milk-soaked bread, egg, parsley, and garlic, then simmered in a tomato sauce flavored with aromatics. Of course, there's no better match for seafood à la Sétoise than a Pays d'Oc Rosé bursting with bright acidity, red berry fruit flavors, and aromas of local garrigue.
Bourride
Bourride is a beloved fish stew in Languedoc-Roussillon cuisine. Made with white fish like mullet, sea bass, monkfish, or mackerel are the star of this French dish. Today, the stew may also incorporate mussels or scallops. Bourride is flavored with onions, leeks, celery, and carrots. The seafood stew is enriched with aioli, a creamy sauce of olive oil, egg yolks, and garlic. Reach for a local Viognier or one from Condrieu whose round palate will match the dish's creaminess. Viognier's floral aromas and stone fruit flavors will shine alongside the delicate seafood in bourride.
Other Dishes to Try
Languedoc-Roussillon Cheeses

Roquefort blue cheese
Pélardon
A variety of Pélardon goat cheeses are made in Languedoc-Roussillon. Pélardon des Cévennes is a tomme-style cheese from the Cévennes mountain area. First, the cheese is made with raw goat's milk and is only available from March to October, creating a soft and creamy, bloomy white rind. Next, the cheese spends one week of ripening and has a 45% fat content, featuring sweet and nutty flavors. Other small, soft, disk-shaped Pélardon goat cheeses are made throughout the departments of Aude, Gard, Hérault, and Lozère. Most white wines from the Languedoc pair well with Pélardon's creamy texture and fresh tangy flavors. Especially those dominated by Chardonnay or Sauvignon Blanc.
Roquefort
Roquefort is one of the most revered blue cheeses worldwide. Mainly made in the heart of the Occitanie, the delimited production area for Roquefort also reaches into Languedoc. Roquefort is made exclusively with raw, whole sheep's milk solely from the Lacaune breed of sheep. The cheese ripens in the village of Roquefort-Sur-Soulzon within the natural rocky cellars of the Combalou slope. While Roquefort pairs well with bolder reds from Bordeaux, sweet wines of Sauternes and Monbazillac make for a tantalizing match. The piquant, sharp flavors of the cheese are exquisitely contrasted against the sweet, stone fruit flavors of these wines.
Other Cheeses to Explore:
Must-Try Desserts 

Créme Catalane
Crème Catalane
Assimilated from the culinary customs of nearby Catalan, crème catalene resembles French crème brûlée though it's prepared differently. The cream for this succulent dessert is made from milk infused with lemon zest and cinnamon. The milk infusion is slowly whisked into a mixture of eggs, sugar, and a bit of corn starch. This mixture is stirred over low heat until a cream forms, then left to cool. Before serving, Crème Catalane is topped with sugar that's caramelized with a blow torch.
Rousquilles du Vallespir
Also hailed initially from Catalonia. However, they're extremely popular in Roussillon now. They're round, flat-shaped cookies flavored with lemon zest or anise. Rousquilles have a melt-in-your-mouth texture and are typically doused in a glaze of egg whites and sugar.
Croquant de Mende
Finally, croquant de Mende are made in the foothills of Mount Mimat in Lozère. These elongated biscuits with almonds and hazelnuts are frequently enjoyed with tea or coffee at the end of a meal.
---
About Nicole Dickerson
WSET certified international wine writer with a passion for rare varieties and cellar hand experience in both hemispheres. Join me in the vineyards and cellars of the wine world at palmandvine.com.