The Galicians refer to this little-known grape as Loureira. The Portuguese, meanwhile, stick with Loureiro. But regardless of cultural traditions, Loureiro translates as "laurel" in both languages. It refers to the unmistakably pungent aroma that invokes the smell of freshly picked bay leaves taken from the laurel tree that morning. Yet Loureiro is perhaps one of the most unrecognized and obscure grape varieties in the Iberian Peninsula today. So if you seek global cachet, you should look elsewhere.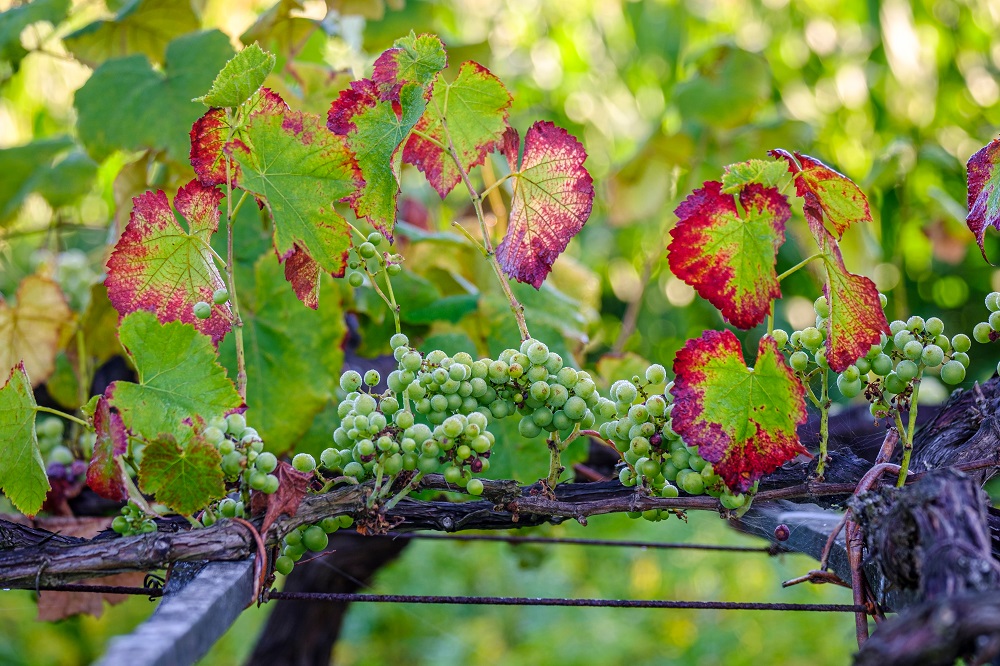 There are two principal reasons for this anonymity. First, Loureiro was historically regarded as a blending partner rather than capable of producing high-quality wine on its own terms. As a result, the grape could never build up a reputation that could rival that of Albariño or Godello. Secondly, Loureiro has been part of a wine culture that promoted regional designations rather than grape varieties. However, this is slowly changing as producers in Galicia start to market single-varietal labels that advertise what's inside the bottle.
Moreover, using Loureiro to enliven Albariño-dominant blends is no longer considered outré. For sure, traditions can die hard in time-honored regions like Rias Baixas. But new blood brings new ideas: change is afoot in the spectacular vineyards of northern Spain. Loureiro is poised to strike back.
Read more about Spanish White Wine
History and viticulture
Even the Galicians have to concede that Loureiro is probably indigenous to the Portuguese landscape. While unable to determine the grape's exact parentage, genetic analysis has nonetheless thrown up evidence that Loureiro is an ancient variety. It is almost certainly the result of a mutation that occurred many centuries ago in the Vale do Lima, a sub-zone of the Minho region in northern Portugal. There are historical references to the grape from the writer Lacerda Lobo (one of the Iberian Peninsula's first wine experts), who described Loureiro in the 1700s as being "indigenous to Vila Nova de Cerveira" in Minho. Another Portuguese writer, Vila Maior, also discussed the variety's role in local viticulture in the 19th century. It is presumed to have traveled across the border into Galicia at an unspecified point in the past. Nevertheless, the area under vine in the Minho zone has long dwarfed northern Spain.
However, scattered parcels have been used in Galician wine growing for at least a century, although Spain's (dry) white wine industry did not become a global force until the turn of the Millennium. The 1800s witnessed a period of unprecedented growth throughout the vineyards of Spain, fuelled by the industrial revolution, improved infrastructure (the railway transformed Spain's access to European markets), and rising economic prosperity. The key exports were both sweet and fortified styles; such was the demand for wines from north-western Spain that farmers decided to switch allegiances, removing their crops and planting vines instead. Galicia was booming.
Unfortunately, a series of 'earthquakes' did untold damage to the region's winegrowing tradition in the late 19th century. The arrival of phylloxera started a long-term decline in Galician viticulture – the pest, imported from the US, destroyed vineyards across Spain during this period. Moreover, although a re-grafting program was initiated in response to the phylloxera epidemic, local acreage shrank considerably in the early 1900s. This was followed by a severe economic depression, which led to depopulation and a great swathe of vineyards being abandoned.
Galicia continued to produce a relatively small volume of wine, albeit the quality was hardly inspiring; a great deal of Palomino, the signature grape of Jerez de la Frontera, was brought into northern Spain in the mid-part of the 20th century. And while the grape can produce exceptional sherries, it yielded dilute and lackluster dry whites (and some fortified) in the inclement climate of Galicia. Thankfully, after the province's key winegrowing area, Rias Baixas was awarded appellation status in 1988, growers ripped out much of the underperforming Palomino. Instead, it was replaced with greater quantities of Albariño and smaller amounts of Treixadura and Loureiro.
This is largely the state of affairs we find ourselves in today. Despite sustained investment into Galicia's now thriving wine industry, less than 60 hectares are planted in northern Spain. Producers are painfully aware that, unlike Albariño, Loureiro has no international clout. For the moment, the desire to market mono-varietal expressions is a niche one.
What's more, Loureiro is not an easy variety to grow. It is prone to delivering generous yields, necessitating much work throughout the growing season. This includes rigorous pruning, leaf pulling, and green harvesting. Indeed, although the grape's naturally high acidity is perhaps its most prized commodity, weak vintages, and prolific yields can result in aggressively high levels of malic acid. Any winegrower who decides to cultivate Loureiro has their work cut out.
Neither do the challenges end there. The vines require deep soils of medium fertility with a good moisture supply. In the inclement climate of Rias Baixas, that is seldom an issue. However, summers can often bring high temperatures; Loureiro is susceptible to drought stress in hotter years. Flip the coin to a wet autumn, and oidium, excloriosis, and botrytis can all rear their ugly heads. Incidences of coulure and millerandage are also by no means uncommon. 'Un montón de paciencia,' as the Gallegos say, can make all the difference when growing Loureiro.
Winemaking
In ideal circumstances, the winemaker will harvest a healthy crop of Loureiro grapes relatively late in the season, allowing sugar and flavor ripeness to balance out the occasionally astringent malic acid. But even if all goes to plan, this variety seldom produces wines with high levels of alcohol and body. Loureiro's gift to oenophiles is bountiful freshness and mouthwatering acidity – the perfect summer tipple. When blended with Albariño and other varieties, it contributes raciness and perfume to the white wines of Galicia, with attractive aromas of citrus, orange and white flowers.
In broad strokes, the grape is handled similarly in Galicia as in Portugal. When producing Vinho Verde, growers in the Minho region often bottle their wines with a small amount of carbon dioxide, used to add effervescence – a delightfully fizzy 'hit' on the mid-palate. This is less commonly employed in Rias Baixas, although both areas favor protective winemaking and preserving the variety's primary fruit flavor. Attempting to craft a structured, oak-aged white out of Loureiro is arguably a bastardization of the grape's natural profile. But, of course, that does not mean that certain producers have not tried!
Typically, quality-focused wineries will transfer hand-harvested grapes to a settling tank, where they will be pressed almost immediately. The juice is then often subject to a cold soak, whereby the must is chilled to preserve freshness; sulfur dioxide is usually added at this point to safeguard against spoilage and oxidation. Many producers are inclined to undertake the fermentation in stainless steel tanks (large oak vats and concrete are also used), with temperatures kept purposively low to maintain fruit quality and intense aromatics. After that, if malolactic conversion is desired, the wines can be bottled relatively soon after malolactic fermentation has finished.
This ultra-protective approach is simple: Loureiro is prone to oxidation and rapid development unless reductive winemaking is employed. That said, lees stirring is very much in vogue in Spanish winemaking; leaving wine in contact with lees (dead yeast cells) adds richness and weight and improves mouthfeel. The maturation period on the fine lees can vary from three months to one year. However, Loureiro is only very rarely aged in new wood. The critical mass argues that barrique can easily overwhelm this delicate grape variety. In addition, Loureiro generally requires a lightness of touch. A 'sledgehammer' approach seldom pays dividends.
Rias Baixas in the raw
Rias Baixas has been at the forefront of Spain's viticultural revolution. A nation once overwhelmingly associated with the color red has become a powerhouse of saline and structured white wines. Fresh, lively, and aromatic, these bottles shine at the dinner table – did anyone call for mariscos? Today, most labels place Albariño at the heart of things, whether they're blends or single-varietal expressions. But that does not mean Loureiro is a superfluous part of the Galician landscape. On the contrary, as plantings steadily increase, more growers are learning to appreciate the haunting delicacy of this underrated variety.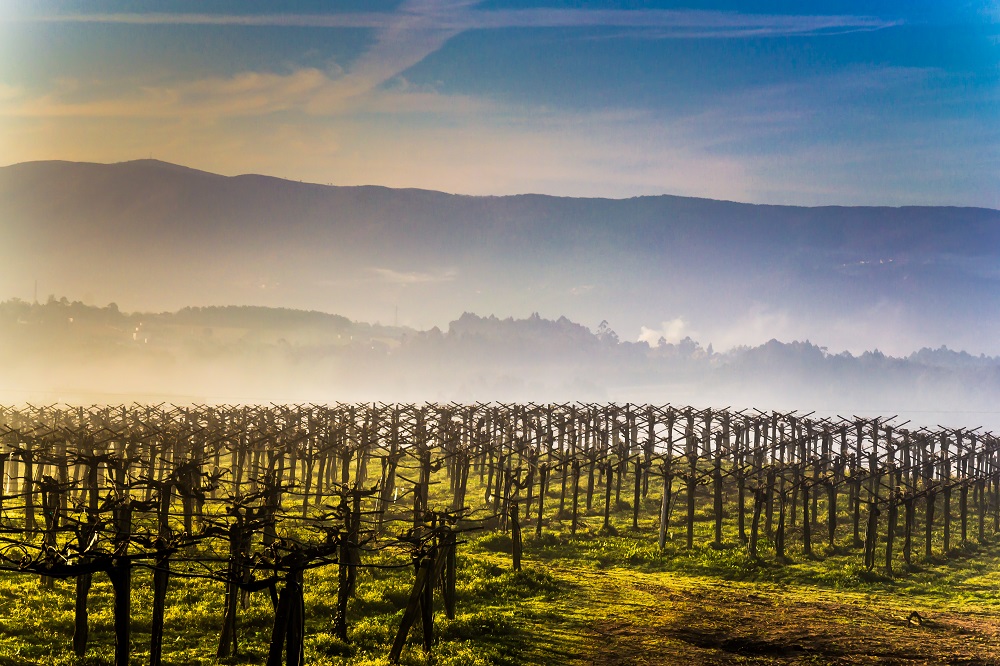 Early morning mist clearing over the vineyards
Its heartland in Galicia remains the O Rosal sub-region of Rias Baixas. Situated in north-western Spain, Rias Baixas is a beautiful and arresting wine region. It is based around a series of shallow fjords, called rias, penetrating the western coastline. This hilly terrain is covered in pine forests, eucalyptus trees, and vines, the latter often trained on pergolas. Divided into several sub-zones, O Rosal's vineyards flank the northern bank of the Minho river, cultivated on steep terraces that provide an advantageous south-facing aspect. Crucially, O Rosal's meso-climate, aided by the sun-reflecting granite and slate terroir, is warmer than other parts of the region. This enables Loureiro to reach good levels of phenolic ripeness, as the vines require plenty of sunlight and warmth to fuel their metabolism.
In our opinion, O Rosal is producing some of the finest white wines made in Galicia today. While mono-varietal Albariño can be exceptional, there is much to be said for the perfume and acidity that Loureiro brings to the final product. The top cuvées are skilfully made, harnessing the most attractive characteristics of both grapes. As any sommelier will testify, it's hard to resist the pungent aromas of stone fruit, intermixed with touches of green apple and bay leaf, courtesy of the Loureiro. A broad and generous palate sings with ripe citrus and melon, allied to a certain smokiness that can only be attributed to the brilliance of Galicia's unknown grape. The question is: are we likely to see more wineries following the example of the minority?
There is reason to hope so. With the notable exceptions of Martin Codax, Condes de Albarei, and the local cooperative (all excellent producers), Rias Baixas is about small-scale viticulture. Some of the best bodegas make only a few hundred cases of wine annually; most growers have less than 10 hectares of vines. Moreover, Galicia is not a region dominated by corporate ownership and extreme financial oversight. As a result, trends can develop in the region that are not simply the concomitant of a desire to generate extra revenue. More producers will flock to its banner if enough winemakers demonstrate the value of championing what Loureiro can offer. Granted, this variety can make life difficult in the vineyard. But then again, who said the best things in life are easy?
Top producers of Loureiro wines (blends and single-varietal):