Best Restaurants in Naples & the Amalfi Coast
Naples and the Amalfi Coast have drawn people searching for culinary excellence for centuries; few places can compete with their classical origins and the freshness and vibrancy of local ingredients. Moreover, despite their marked differences – Naples is chaotic and sprawling while the Amalfi Coast is simply enchanting and idyllic – both of these distinct personalities within the Campanian region share a love of only using the finest, seasonal ingredients to create a veritable Valhalla for your taste buds. Make no mistake; you come to Naples and Amalfi to eat and drink as much as you do to relax and explore its incredible architectural heritage.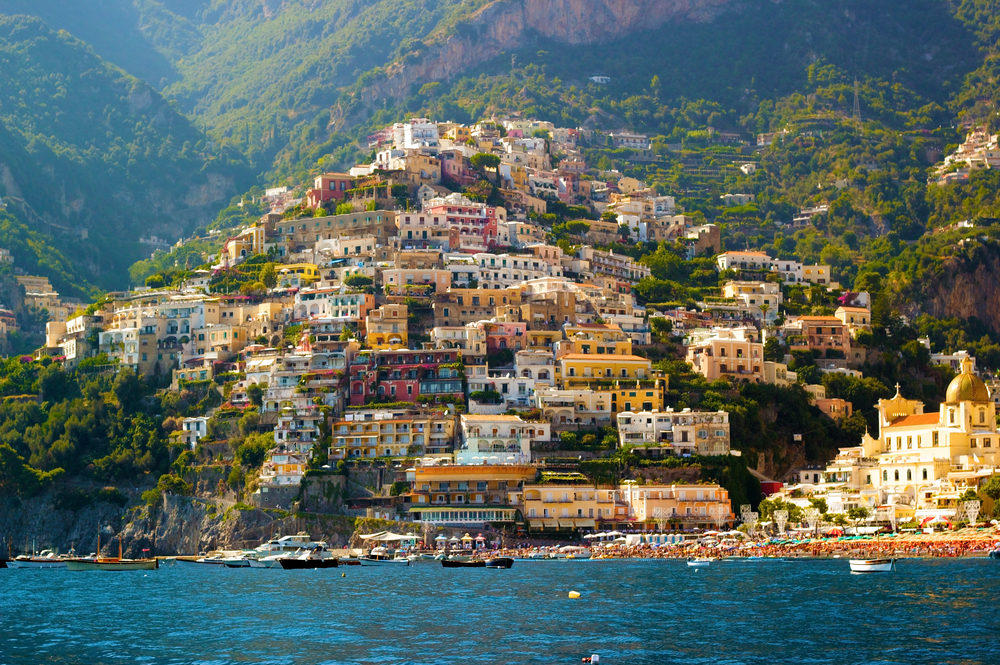 However, please don't be fooled into believing that this part of Italy only means pizza (which are, incidentally, amazing!) and Limoncello. Naples, in particular, supports a very diverse and vibrant food scene, with several Neapolitan Michelin-starred chefs winning awards globally for the inventiveness of their cuisine. For a start, Campanian produce is grown on rich volcanic soils, ripening some of Italy's most stunning fruits and vegetables, including the San Marzano tomatoes, basil, garlic, citrus fruits, and aubergine. It is home to dishes of global renown, like the classic tomato sauce, macaroni, and pizza. And then there is buffalo mozzarella, a vital ingredient in the Insalata Caprese, a light salad of mozzarella, basil, and tomato, ever so simple and all the more delicious for it! And, of course, an abundance of freshly caught fish and shellfish can be found in most kitchens, including red snapper, turbot, dover sole, brill, sea-bream, and john dory.
So there are many culinary highlights in store for you during your Campanian odyssey, including Italy's best pizza, spaghetti alle vongole (with clams), pasta cacio e pepe (pasta with caciocavallo cheese), Coniglio all' ischiatana (roasted rabbit with garlic, chili, tomato, and white wine) and our favorite dessert, pastiera napolenta, which is an unbelievably citrus-scented ricotta tart. Not to mention a host of fantastic local wines, like the stellar white Greco di tufo and the potent red Aglianico. The only potential fly in this seductive ointment is that, like all touristy areas, some lackluster venues do exist; therefore, we've done all the hard work for you and selected our top choices for dining out in Naples and the Amalfi Coast below:
Naples
Gino Sorbillo

Address: Via dei Tribunali, 32, Naples, Campania, 80138
Website: www.sorbillo.it
No self-respecting guide to restaurants in Naples can omit pizza, a source of immense comfort and pleasure to foodies worldwide. This is the singularly most wonderful thing about pizza; everybody loves it, from students to food snobs. It reaches its pinnacle in Naples and particularly in Sorbillo, a family run collection of pizzerias that have been wowing tourists and locals for many years. Expect to join a long queue in high season and at weekends and order what the locals do: either a pizza Napoletana marinara (San Marzano tomatoes from Vesuvius' slopes, garlic, oregano, and olive oil) or the pizza Napoletana Margherita DOC – a bit more expensive because of the use of fresh buffalo mozzarella. The pizzas, simply put, are both enormous and utterly delicious. Not to mention dirt cheap.
---
Amici Meie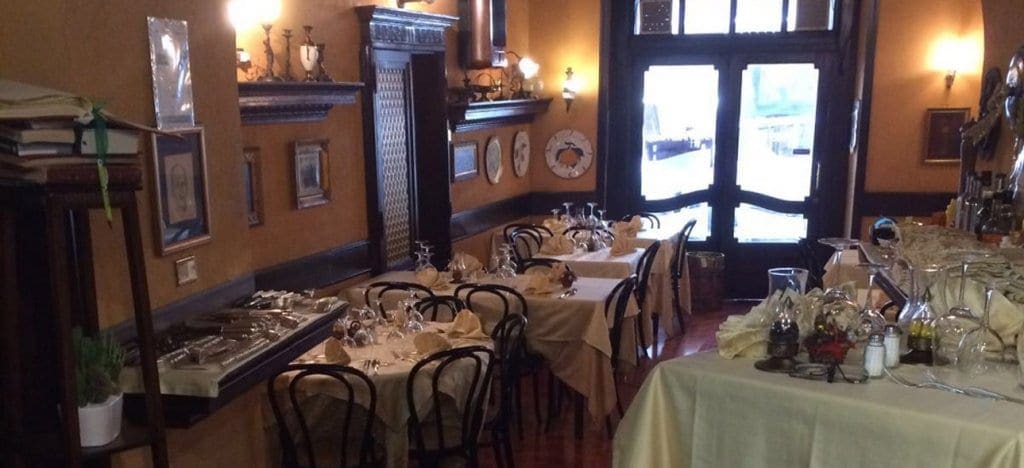 Address: Via Monte di Dio 77/78, Naples
Website: www.ristoranteamicimiei.com
Intimate, old-fashioned, and delightful, this family-run restaurant has been attracting discerning gourmets since the 1970s, who today arrive in ever-greater numbers to sample some of the best pasta and meat dishes in Naples. Offering a welcome break from the ubiquitous pizza and grilled fish options, Amici Meie is full of warm Italian charm, not least from the hospitable owners and friendly staff. It was started by the now-deceased Amedeo Baldini in 1977 and is today run by his children, Dora, Renato, and Lucia. They pride themselves on serving robust, hearty Neapolitan fare, with lots of grilled meat dishes in addition to the incredible pasta offering – we love the signature pasta with an aubergine and gorgonzola sauce. But the homely atmosphere belies a profound and passionate approach to traditional cuisine and locally made products, to which the wine list will attest. It is one of Naples's largest, most diverse, and keenly priced lists, with fantastic local vintages of Greco di Tufo in addition to options from further afield. A must-visit destination for any foodie on a culinary journey through Naples.
---
Il Comandante Hotel Romeo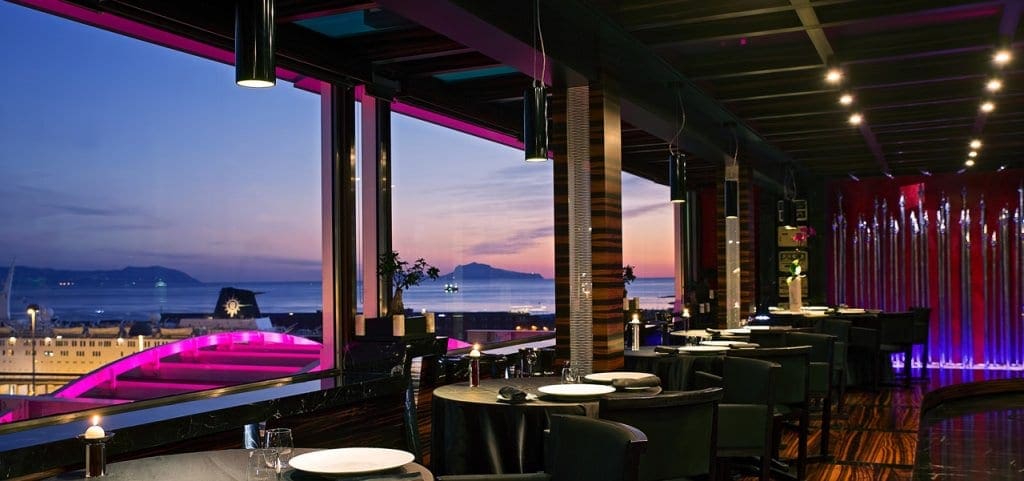 Address: Via Cristoforo Colombo, 45, 80133 Naples
Website: www.romeohotel.it
The feather in the cap of the prestigious Hotel Romeo, Il Comandante, is everything a high-end formal restaurant should be with the added flair of cutting-edge design and style. The interior in this chic restaurant is unhesitatingly sleek and elegant, from the dark wood tables and designer lighting to the tall uncovered windows that offer wonderful views across the Bay. An additional touch is that all diners at the window facing tables enjoy unhindered views of the harbor, tables being side by side rather than opposite each other. But what of the food at this glamorous space? Head Chef Salvatore Bianco is a Michelin-starred maestro of the unexpected; don't come here if you crave standard Neapolitan trattoria fare. Instead, he'll dazzle you with contemporary Italian cuisine with pan-Asian accents. Bottoni pasta with burnt wheat and salt cod tomato sauce and black cod with star anise sauce show Bianco's affinity for fusion cuisine, as do marinated pork cheek in red wine and fennel cream. The vintages on offer nicely complement this gastronomic feast, and Il Comandante can rightly claim to have the largest and most exciting list in Naples, everything from top Bordeaux to Aglianico and premium Prosecco.
---
Palazzo Petrucci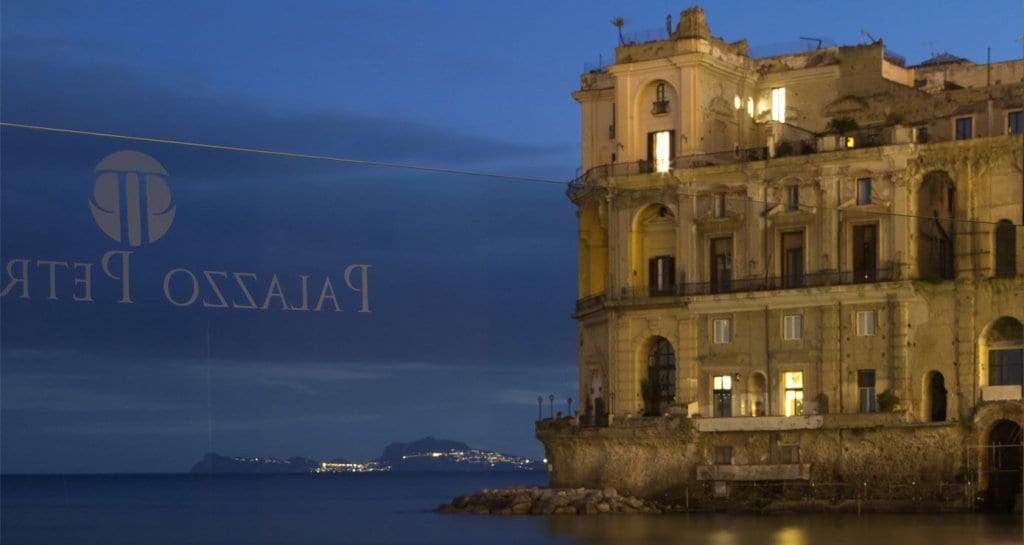 Address: Piazza San Domenico Maggiore 4, 80134, Naples
Website: www.palazzopetrucciristorante.it
Lino Scarallo, one of the most talented chefs in Naples, was awarded a Michelin star for his now-legendary restaurant soon after it opened in 2007. He continues to turn out a menu of original dishes inspired by, but not confined to, his native country. The setting, too, has been orchestrated to enhance the enjoyment of the cuisine. Every detail of the restaurant's discreet, the modern decor has been chosen carefully, particularly the open-plan kitchen, which gives gastronomes a window into Lino's culinary genius. His signature dishes are imaginative and successful: Millennialism of Mozzarella cheese with raw prawns and zucchini flowers, bream baked roulade, and a timbale of potatoes with provola cheese, sausage, and broccoli sauce all sing, as does the discreet and professional service. The tasting menu is sure to evoke plenty of oohs and ahhs, as will the extensive wine list of rare and profound Italian wines. Magnifico!
Positano
La Sponda, Hotel Le Sirenuse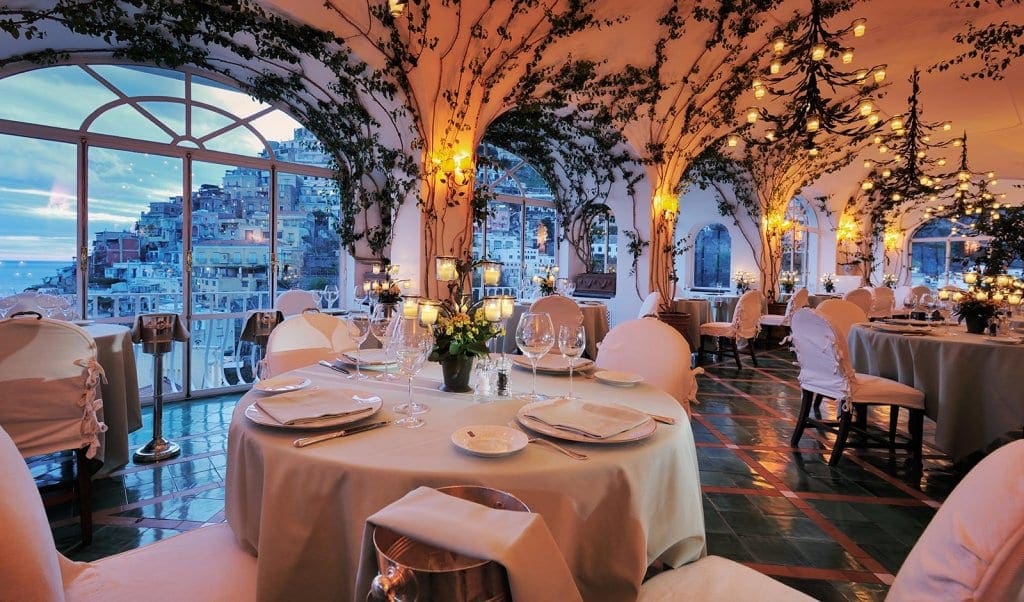 Address: Via Cristoforo Colombo, 30, 84017 Positano
Website: sirenuse.it
One of the region's most desirable dining locations, La Sponda, does a remarkable job of ensuring that you never want to leave. For a start, it's located in Positano's most glamorous hotel, where choice tables face outwards over the glistening blue emerald seas of the Amalfi coast. Grape arbors hang over the gorgeous dining room, presided over by head chef Matteo Temperini. He is one of Italy's greats; his cooking reflects a love of classical local and Italian dishes rather than a passion for over-conceptualized, experimental cuisine. Utilizing local produce as much as possible, the cooking is all heart and soul – divine, yet intensely satisfying and homely. Dishes like "spaghetti alle vongole," risotto with squid ink, and ravioli stuffed with ricotta and sage all nourish the soul, as do the irresistible desserts – try his Panacotta. Being serenaded by charming waiters during your meal greatly aids the digestion, as does the large selection of after-dinner grappa. John Steinbeck was right; Positano does indeed "bite deep."
Praiano
Il Pirata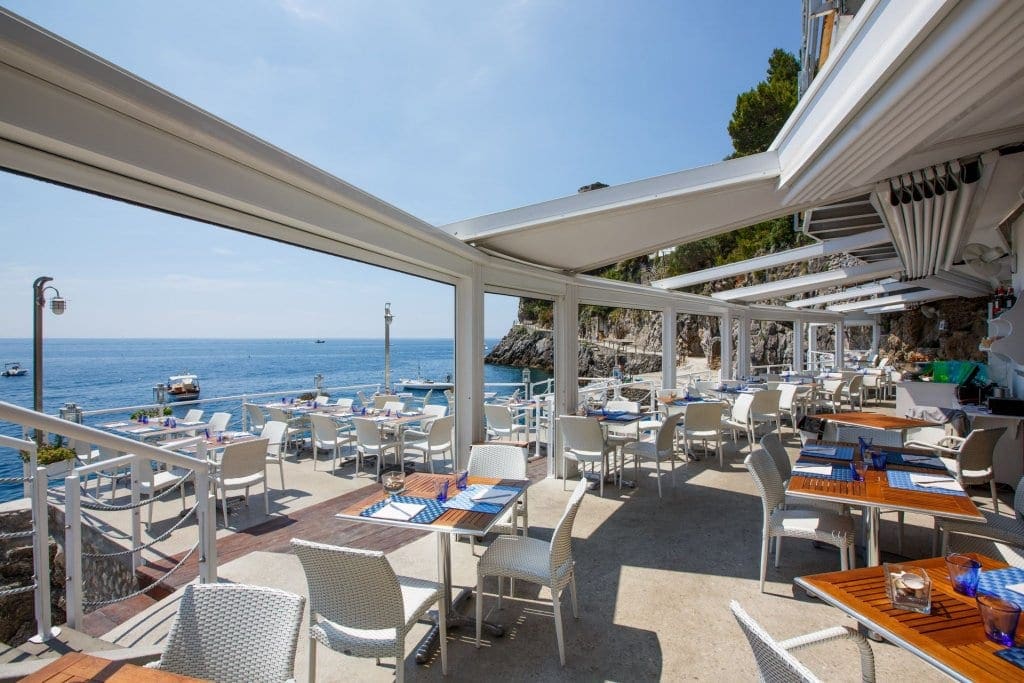 Address: Via Terramare, Praiano, 84010 Salerno
Website: www.ristoranteilpirata.net
If Il Pirata were up for sale, then it would pull in a fortune for the setting alone; at the bottom of Praiano's steep and majestic cliffs, an alfresco dining terrace juts out merely a few meters away from the seductive Mediterranean. It is this impossibly picturesque setting that keeps Il Pirata popular with a varied clientele, who arrive en masse in families and groups on weekends and in steady flow most weeks through the summer. Ensuring that all diners enjoy sea views is, however, only one of the restaurant's charms; the food is pretty excellent as well. Freshly caught shellfish is one major highlight, the oysters, clams, scallop, and mussels are available on tap. The menu, though, is varied and includes standbys like prawn risotto, fried squid, grilled hake, and "spaghetti alle vongole." But it is the wine list that surprises everyone the most, for to find such a wide variety of legendary Italian wines in such a small village is nothing short of remarkable, even in such a high-class address. Oh, and there is an inviting lounge bar for that vital post-dinner cocktail.
Ravello
Belvedere restaurant, Hotel Caruso

Address: Piazza San Giovanni del Toro 2, 85010 Ravello, Salerno
Website: www.belmond.com
A magnificent and sumptuous restaurant, where guests are treated like royalty and the views are to die for; Belvedere is a must-visit destination. In the summer, you dine on an alfresco terrace high above the pretty village of Ravello that seems to spill onto the sea miles below. Such sensational views are only matched by head chef Mimmo di Raffaele's mouthwatering cooking, a temple to Italian gastronomy without any nods to fusion or international cuisine. You could start with one of Raffaele's more tantalizing gastronomic fantasies, such as Lobster medallions with watermelon, or Paccheri pasta with a veal ragout and lemon pesto. Follow with salt-crusted sea bass, loin of rabbit, or perhaps the rack of suckling pig with apple, Swiss chard, and celery. As for desserts, well, we don't want to spoil the surprise but prepare to be astounded. The wine list and service are similarly high class – this is an opportunity to experience some of the finer points in local cuisine in a simply unparalleled location.
Amalfi
Trattoria da Gemma
Address: Via Fra Gerardo Sasso, 11, 84011, Amalfi
Website: www.trattoriadagemma.com
The thrill is finding it. The building itself is not immediately obvious, nestled next to Amalfi's Duomo on a narrow alleyway almost painfully discreet. Once inside, though, you'll discover a den of superlative regional cooking, utilizing family recipes that have scarcely been altered over the centuries. But this is probably all to the good for da Gemma, a home-style restaurant that has earned its place in the hearts of many locals and visitors who venture here for the honest, delicious cooking personally prepared by head chef Salvatore Milano. This man has worked with some of the region's top chefs. He will prepare you a veritable feast, starting perhaps with smoked mozzarella grilled in lemon leaves, or citrus-marinated tuna carpaccio, followed by home-made goat's cheese ravioli and fillet of local cod, served with spinach and tomatoes. Desserts range from chocolate aubergine flan served with buffalo mozzarella ice-cream to classic tiramisu. But whatever you go for, you can be sure it will be fresh and hearty – a genuine celebration of life's good things. Oh, and the wine choices are superb as well.
Related Blog Posts