Built on a curve of the Garonne River, Bordeaux has been a major port since pre-Roman times and for centuries a focus and crossroads of European trade. Today, it is the world's largest fine wine region, and, for its red wines, certainly the most familiar outside France. The export of wine has always been the basis of the city's wealth and prosperity, and today the vineyards in the Bordeaux region produce over 44 million cases of wine each year. Also since 2007, Bordeaux is listed as a "World Heritage Site" by UNESCO.
History
Bordeaux's history begins in around 300 BC, when the Celtic tribe, the Bituriges Vivisci founded what was then known as Burdigala. Interestingly the name Bourde is still the name of a river south of the city. The settlement prospered until Julius Caesar came knocking in 60 BC. His conquest of Gaul (France) brought Bordeaux into the limelight for the Roman Empire, as it later became the capital of Roman Aquitaine. We also have the Romans to thank for the fabulous wines that Bordeaux produces today, as its wine history seems to have begun sometime after 43 AD when the Romans established vineyards to cultivate wine for their soldiers.
Like so many cities under Roman control, Bordeaux was visited by invaders on more than one occasion. In 276 it was sacked by the Vandals. They attacked again 409, the Visigoths paid a visit in 414 and the Franks paid their respects in 498, signifying the beginning of dark times for the city. Bordeaux survived, however, and emerged in a stronger position than before in the late 6th century. It became the seat of the county and a mini-kingdom within the Merovingian kingdom of the Franks.
The good times sadly did not last and the city fell into obscurity as the Frankish Kingdom collapsed in southern Gaul in the late 7th century. Bordeaux was again visited by invaders, this time it was the troops of Abd er Rahman in 732 who ravaged the once prosperous city. Rahman was subsequently killed during the Battle of Tours later that year. Bordeaux then came under the control of the Carolingians, who appointed a series of Counts of Bordeaux who served to defend the mouth of the Garonne River from the Vikings hordes. They did a pretty decent job. Eventually, the city was inherited by the Dukes of Gascony in the late 10th century and a golden era would dawn.
From the 12th to the 15th century, Bordeaux regained importance and enjoyed some well earned good times following the marriage of Duchess Eleanor of Aquitaine with the French-speaking Count Henri Plantagenet who became, within months of their wedding, King Henry II of England. The city prospered, mainly due to the wine trade, and the cathedral of St. André was built.
Bordeaux remained an independent state under Prince Edward, known as the Black Prince in the 14th century but in the end, after the Battle of Castillon in 1453 it was annexed by France which extended its territory. The 100 years war with the English effectively put an end to the wine trade with a major consumer and the city lost a good deal of its wealth. The Château Trompette (Trumpet Castle) and the Fort du Hâ, built by Charles VII of France, were the symbols of the new domination, reminding the citizen who was boss!
16th Century revival
The city regained its importance in the 16th century when it became the center of the distribution of sugar and slaves from the West Indies along with the wines that the Dutch, English, and Germans had developed such a taste for. It was officially annexed to the Kingdom of France in 1653 when the army of Louis XIV entered the city and claimed it as their own. Bordeaux enjoyed a relatively quiet time until the 18th century when a new golden age was entered into and the city once again prospered.
The foundations for this great era were laid in the late 17th century when Dutch traders began to drain the marshland around the Médoc and encouraged the planting of vineyards. The Dutch would also open new distribution channels to the Bourgeois which helped usher in the second era of prosperity. However, the War of the Spanish Succession broke out in the early 18th century which made navigation along the French coastline and the English Channel very risky. You have to admire the resolve of the Bordeaux Château and Merchants, who managed to ship their wines to markets such as London despite the wartime politics of the period.
Many famous buildings and monuments, including those on the quays, were built in this period. Victor Hugo, the famous French writer found the town so beautiful he once said: "Take Versailles, add Antwerp, and you have Bordeaux". Baron Haussmann, a long-time prefect of Bordeaux, used Bordeaux's 18th-century big-scale rebuilding as a model when he was asked by Emperor Napoleon III to transform Paris into a "modern" capital that would make France proud. It was a great time to call yourself a Bordeaux citizen.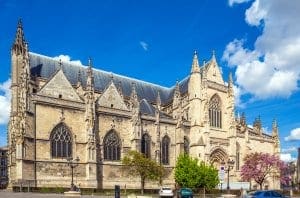 Modern times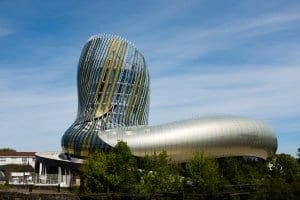 he city enjoyed a relatively stable and prosperous existence until the outbreak of the First World War in 1914. Bordeaux escaped reasonably unscathed from the conflict, the French government even relocated from Paris to Bordeaux very briefly during the beginning of the War. The same thing happened during World War II when it became apparent that Paris would soon fall into German hands. The Nazis enjoyed the Bordeaux wines very much indeed, Commander-in-Chief Hermann Göring even took control of the Château Mouton Rothschild which served as a military headquarters and continued to produce wine throughout the war.
Bordeaux also served as a base for Italian Royal Navy submarines, and as a major base for German U-boats as headquarters of the 12th fleet. The massive, concrete U-boat pens have proved impractical to demolish and are now partly used as a cultural center for exhibitions. A great example of this city using its darker times to its advantage.
The city has continued on an upward trajectory since the 1940s and has always welcomed visitors worldwide in search of its wonderful wine, rich history, and beautiful countryside. Whether you prefer to leisurely explore its great stately Château at your leisure, explore the UNESCO World Heritage center, or are drawn to more active pursuits such as horse riding or sailing, the region is home to a range of interest and wines which suit all tastes and pockets. No matter where you start or finish, you are sure to be fascinated and delighted along the way. Now let's crack open some good Bordeaux!
Two things that the French take very seriously indeed are food and wine, and the citizens of Bordeaux are no exception. The Bordelais are very serious about Gastronomy. They love their food almost as much as their wine and have developed some superb dishes to accompany them. For the dry whites from the Graves region, there are oysters from the beds in the bay of Arcachon, tiny shrimps, and grilled sea bass or other locally-caught fish. For those daring enough, you can also try the local delicacy- eel. The tender-fleshed Pauillac lamb that used to be reared on the salt marshes at the edges of the estuary is very much on the menu, perfectly matched by Bordeaux red wines. In Bordeaux, you' will find a traditional emphasis on fresh, local produce and rich sauces, butter and cream feature heavily!
Bordeaux is full of good restaurants around the old town, L'Orleans brasserie is our favorite serving divine entrecote a la Bordelaise – a large piece of beef served with a red wine sauce. The entire region has about 116,160 hectares of vineyards, 57 appellations, 10,000 wine-producing châteaux and an annual production of approximately 850 million bottles. So there is sure to be something to please everyone! Delicious, complex and elegant reds and whites are the mainstays with some exquisite dessert wines from Sauternes designed for Foie Gras. Truly, a gastronomic paradise.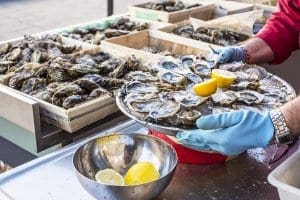 Our favorite restaurants in Bordeaux and wine country
Cellar Tours Selection of Top Bordeaux Vineyards & Wineries
Overview of the Bordeaux Wine Region
Bordeaux is quite simply the most famous wine region in the world. It is astoundingly packed full of thousands of wine estates of all shapes and sizes and is home to some of the most sought after wines on planet earth- from the likes of Yquem in Sauternes to Petrus in Pomerol, Angélus in Saint-Emilion and Château Margaux in Margaux. The name "Bordeaux" evokes images of the fairy tale Châteaux of the left bank (or "rive gauche"), the picture-perfect medieval hamlet of St Emilion, and of course of the handsome city of Bordeaux itself which is considered to be a mini version of Paris.
Bordeaux's Top Wine Appellations
Bordeaux's Best Wine Tours

Médoc Wine Tour
Luxury chauffeured wine tour of the Médoc that includes visits to classified wine estates in Margaux and St Julien, Michelin starred lunch in Thierry Marx's

Monbazillac Wine Tour
Private chauffeured wine tour of the best vineyards of Monbazillac and Saussignac, a gourmet lunch with panoramic views over the vineyards.

Sauternes Wine Tour
Unforgettable wine tasting day excursion to Sauternes that includes a private driver and elegant Mercedes; visits to high end first growth estates.
Towns and Places Nearby Bordeaux
Saint Emilion
There can be few historic villages in France that attract the same affection and inspire such passion and romanticism as St-Emilion (Saint Émilion). Arguably the most famous viticultural center in France outside the city of Bordeaux itself. This small village is a powerful advertisement for the pleasures of making wine. It is hardly surprising then that tens of thousands of visitors from all over the globe are drawn to St-Emilion – a UNESCO World Heritage site thanks to its unspoiled character and its medieval monuments. Boutiques, restaurants, wine shops, and hotels continue to fill its medieval streets, enticing the thirsty visitors with their wares.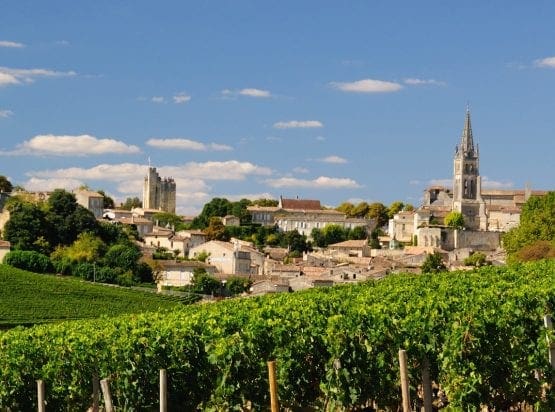 Bordeaux and its wines continue to enchant and beguile the palates of visitors from across the globe. Indeed, there is something truly singular and special about this part of France, the motor of the fine wine trade. But what is it exactly, this almost indescribable magic that is uniquely inherent to the region? Perhaps it is Bordeaux's remarkable history – from earliest times, Bordeaux and its wines were internationalized. For this, we have the Romans to thank. Perhaps it is because Bordeaux contains the most majestic and grandiose chateaux on earth. Or perhaps it is because there are scarcely few better experiences than savoring claret on a warm summer's evening – a memorising combination of force and finesse, balance and power. Most probably, it's all of the above.
Bordeaux is a very sizeable wine region – it is situated close to the Atlantic coast, in the southwest of France. The city itself is built on a bend in the river Garonne, and is divided into two parts.
Today, there are over 1000-sq-kilometres of vineyards that spread out from the city of Bordeaux, including the region of Graves and Sauternes south of the city, St-Emilion and Pomerol on the Right Bank of the Dordogne river, and the massive swathe of vineyards in Entre-Deux-Mers, between the Dordogne and Garonne rivers. The combined acreage for all 64 Bordeaux appellations encompasses more than 120,000 hectares, or 296,596 acres. In addition, there are over 6100 chateaux in the business of making wine, everything from Chateau Lafite to smaller, family-owned properties making excellent wines under the radar.
However, the most important region in Bordeaux remains the Medoc, the geographical name for the entire peninsula that stretches northwards from the city of Bordeaux to the remote port of Le Verdon. A coastal strip, very flat, runs up the eastern side of the peninsula – this is where the vast majority of Medoc's vineyards are situated. There are no great mountain ranges or geographical landmarks flanking the Medoc, instead the vines' proximity to the Gironde is the key mediating factor.
Weather
But like any other great wine region, Bordeaux is defined by its soils and climate. Overall, the wider region benefits from a temperate, Mediterranean climate that is nevertheless heavily influenced by that sub-region's particular proximity to the Atlantic. The Medoc, for example, both suffers and benefits from a maritime climate. It is usually benign enough to ensure that the grapes ripen properly, but sufficiently hazardous to ensure that from time to time vintages can be hellish compounds of frost, hail and downpours. The average temperature throughout the year is 55 degrees Fahrenheit. The summer months, July, August and September are much higher, with an average temperature of 68 degrees Fahrenheit. Rainfall can be plentiful in the spring and autumn, but also very localized – varying widely from appellation to appellation in a single year.
Average High/Low temperatures for Bordeaux in Celisus/Fahrenheit
Cellar Tours' recommends that our clients visit in early summer. June is an ideal month, typically warm and dry without the sometimes stifling heat of July/August. September is another excellent choice. The benefits of harvest time, a vibrant cultural scene and often lovely weather combined.
Hotels in Bordeaux recommended by Cellar Tours
Shopping

Foodies will love this gourmet knife shop dating back to 1917, in the charming Grands Hommes quarter. For professional and home chefs looking to up their cutlery game and l'Art de la table, you will find a terrific range here including top brands like Forge de Laguiole, Arbalète, Opinel, Nontron, Sauze-de-touly, and Cap de Co.
Useful Information
Lifestyle in Bordeaux

Opening times for shops – The classic French shopping week comprises six days, Monday to Saturday, with shops generally open from 9 a.m. to Midday, and 2 p.m. to 7 p.m. In towns and villages, it is still the rule that shops close at lunchtime. In tourist areas, shops have longer hours.

Sundays and Mondays – are the days that many museums, shops, and restaurants close

Smoking– is prohibited in French hotel rooms, restaurants and bars, although there are smoking sections on some outside terraces

French squares are the center of city and neighborhood life and you will always find people congregating in the "place", where you can usually get a coffee, ice cream or glass of wine.

Meal Times

Breakfast in France (Petit Déjeuner) consists of coffee, tea or chocolate with croissants and bread with butter or jam.

Lunch (Déjeuner) is served from noon until 2 pm. Don't wait any longer or the restaurant kitchens close up after that time until dinnertime. Traditionally the French ate their main meal of the day at lunchtime; however, this has changed with modern times. Lunch can consist of a five-course meal or a simple salad or sandwich. Other options include the "plat du jour" (dish of the day) in a tavern, or a croques-monsieur, a toasted ham, and cheese sandwich. Street stalls sell crêpes, gauffres and all type of sandwiches in baguette bread.

Dinner (Diner) is served from 7:30 pm onwards. It could be a little earlier in smaller towns. The French themselves usually eat at around 8 pm and this meal is usually a leisurely event, time to spend with the family or with friends. At some restaurants, you can expect full 5 or even 7-course meals.

Credit Cards

Bring a copy of all your credit card (Visa, Amex, etc) contact details (Tel/ Fax/ Email) in case of credit card theft, blockage, etc. Notify your credit card companies that you will be travelling to France, so they do not block your card once you start making charges.

Voltage

The voltage and plugs are different in France (electric current in France is 220 volts and the plug is two circular pins), so if you want to bring electronic equipment you will need to bring both a plug adaptor and a voltage adaptor.

Driving

Speed is limited to 50 Km/h in towns, and 90 Km/h out of town and 130 Km/h on motorways. Seatbelts are mandatory for all passengers front and back. In large cities it is recommended that you park your car and use public transport, rental bikes or taxi/uber.

Getting around

Bordeaux has a modern tram system, with 3 lines and a fourth under construction. You can purchase tickets from the automatic kiosks at any tram stop with a credit card or cash, also you can buy online here.  Bicycle rental is another excellent option for getting around Bordeaux. V3 has 175 docking stations and over 1800 self-service bicycles. Many are positioned near bus and tram stops. To become a member you will need a credit card. Taxi's tend to be expensive in Bordeaux but Uber is a good less expensive alternative
Facts and figures
Area

49.36 km2

Population

252,040 (City), 783,000 (Metropoltian)

Province

Aquitane

Mayor

Nicolas Florian

Main Industries

Aeronautics, space & defense, Wine, Agri-Food,Forestry,Health, Optics, Construction,Information Technology

Education

University of Bordeaux (48,000 students), Segalen (21,500 students), Montaigne (15,400 Students) , Montesquieu (14,000 students)

Rivers

Garonne
Dordogne
Jalle de Blanquefort

Nearby beaches

Carcans, Dune du Pilat, Hourtin, Le Porge, Lacanau, Plage d'Arcachon

Wine Facts

64 Appellations d'origine contrôlée (AOCs)
112000 hectares
6100 wineries (2017)
Average Production 680-800 million bottles

Most Expensive Wines

1947 Cheval-Blanc (Imperial bottle) | $304,375
Chateau Lafite's 1869 | $230,000
Chateau Margaux 1787 | $225,000
Chateau Lafite 1787 | $156,450

Best Vintages

Left Bank: 2016, 2015, 2014, 2012, 2010, 2009, 2008, 2006, 2005, 2004, 2003, 2002, 2001, 2000, 1999, 1998, 1996, 1995, 1994, 1990, 1989, 1988, 1986, 1985, 1983, 1982.

Right Bank: 2016, 2015, 2014, 2012, 2010, 2009, 2008, 2006, 2005, 2004, 2001, 2000, 1999,1998, 1995, 1994,1990, 1989, 1988, 1985, 1982

5 Noble Grapes of Bordeaux

Cabernet Sauvignon, Merlot, Cabernet Franc, Malbec, Petit Verdot.
If you would like us to customize an exclusive, luxury tour for you, get in touch with us and let us know your travel plans. We offer luxury food and wine tours for private groups of minimum 2 guests. All of our private, chauffeured tours are available year round upon request.
Contact us for your personalized quote!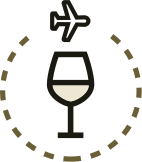 Cellar Tours
Cellar Tours is a Luxury Travel Specialist, operating since 2003 and offering exclusive Mercedes chauffeured Gourmet Vacations in Chile, France, Italy, Ireland, Portugal, South Africa, and Spain. We specialize in luxurious custom designed vacations, events and incentives related to food and wine. We are proud members of Slow Food, UNAV (Travel Agency Association in Spain), and the IACP (International Association of Culinary Professionals).