Xarel-lo has been synonymous with sparkling wine for centuries. Cultivated in the hills of Penedès (south of Barcelona), it contributes vital structure and acidity to Cava and other sparkling wine styles like Corpinnat and Penedès Classic. As far as the winemaking community is concerned, most, if not all, of Spain's greatest and most authentic sparkling labels contain Xarel-lo. According to the Cava gospel, it is the most important of the style's three white varieties – a flagship of premium quality in the region. Indeed, for men like Xavier Gramona and Ton Mata, the old vine Xarel-lo is Spain's greatest viticultural treasure. They would not even consider making a top-end cuvée without it.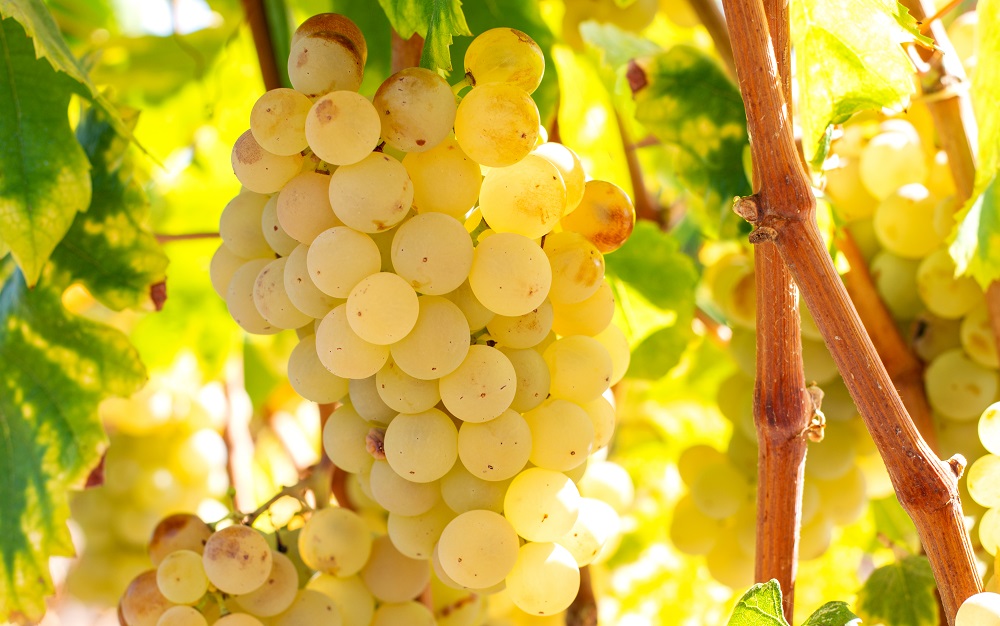 However, in recent years, Xarel-lo has been broadening its horizons. A growing number of producers are crafting exceptional still wines from the grape, expanding their portfolios and generating a welcome dose of additional revenue into the bargain. For sure, still white wines made from Xarel-lo (currently) lack the renown of Verdejo and the global cachet of Albariño. But that hasn't stopped Spain's ambitious winegrowers from spreading the gospel: Xarel-lo is another exciting Spanish variety that deserves its place in the sun.
Read more about Spanish White Wine
History and viticulture
The light-skinned Xarel-lo grape is one of Spain's true originals. Viticulturists are fairly certain that it is indigenous to Catalunya, a region once controlled by the Franks and still very proud of its separate cultural identity. It is in this corner of north-eastern Spain that Cava was born; scientist Luis Justo I Villanueva taught growers in the region how to make traditional method sparkling wine in the 19th century.
In 1872, his former students entered their wines in a competition in Barcelona, winning several gold medals. One of the students, Agustí Vilaret, established a sparkling wine house called Mont-Ferrant. It is still operating today, using organic grapes from local growers to make excellent fizz. Interestingly, Cava's first pioneers started their endeavors by using classic Champagne varieties (Pinot Noir, Chardonnay, and Pinot Meunier), perhaps eager to emulate the success of France's iconic sparkling wine region.
Yet when Josep Raventos, founder of Codorniu, made his first commercial bottle of Catalan bubbly in the late 1800s, he chose to blend three local varieties: Macabeo, Parellada, and Xarel-lo. Over time, new growers to the business decided to adopt this paradigm, eventually cementing this trio's status as the standard recipe for making Cava. After that, however, there was an 'invasion' of international grapes like Pinot Noir and Chardonnay in the 20th century, keenly adopted by Codorniu and other producers. But for certain growers like Pepe Raventos, using these French imports is a travesty.
For the traditionalists, the primacy of Xarel-lo cannot – or should not – be challenged. Nevertheless, still and sparkling winemakers are passionately committed to the grape, despite being relatively difficult to grow. There are approximately 8,000 hectares planted in Spain, with the majority found in Catalunya. In addition, a small percentage is cultivated in neighboring Aragon and Navarra. Its major advantage is tolerance to various soil and climate types, ranging from calcareous terroir to alluvial loam and sandy soils. If the vintage proceeds without incident, Xarel-lo will yield a moderate crop of medium-sized berries rich in resveratrol (a natural preservative), aromatic compounds, and acidity. It is this potential that helps struggling growers keep the faith.
Sadly, reaching that point can be an uphill struggle. Xarel-lo is prone to developing fungal maladies, including powdery and downy mildew. The grape is also highly sensitive to rain at flowering, with frequent incidences of coulure (lack of fruit set) and millerandage in wetter seasons. This can be a major problem at harvest time, with berry maturity vacillating wildly between individual bunches and even within the same cluster. All reputable winegrowers will closely monitor the vine's development throughout the summer; inspecting the bunches before they are fermented is indispensable in weaker vintages, when millerandage is a distinct probability.
Winemaking
For over 100 years, oenologists across Spain (Cava is a multi-regional designation, although the majority is made in Penedès) have used Xarel-lo to add a touch of class to their sparkling wines. This is not to belittle Parellada and Macabeo's contribution; however, most producers regard Xarel-lo as the superior choice for premium brands. It is routinely said that Macabeo (Viura) provides fruit, Parellada offers aroma, and Xarel-lo brings structure and an acidic backbone.
Most Cava and Corpinnat labels designed for long-aging contain a high percentage of Xarel-lo – often more than 70%. As a result, it has the strongest character of Cava's traditional varieties and responds well to secondary fermentation in bottle, producing sparkling wines with finesse and deep complexity. As a result, it is unlikely ever to be usurped, despite the encroachment of Pinot Noir in certain vineyards.
But Xarel-lo's brilliance is not limited to traditional method fizz. Growers are increasingly exploiting this fact, crafting still wines that can rival Albariño's pungency and Godello's voluptuous weight. Nevertheless, it must be handled with care in the winery, as Xarel-lo juice is prone to oxidation before fermentation. Although many producers in Penedès are keen on 'minimum intervention' winemaking, adding sulfur to the crushed grapes or must goes a long way in preventing spoilage.
In addition, quality-conscious brands tend only to use hand-harvested grapes, rigorously sorted before the fermentation process begins. As elsewhere, opinions vary regarding whether it is preferable to add whole bunches in the press (stemmed or de-stemmed) or whether crushing and limited skin contact benefit the finished article. Finally, a certain amount of phenolics can add structure and complexity to full-bodied white wines – an excess destroys the fruit.
The method of fermentation can vary significantly. Although the critical mass favors temperature-controlled fermentation in stainless steel, many wineries are exploring alternatives. Large oak vats, concrete, and even fermentation in 225-liter barrels are being used in Spain today – Xavier Gramona believes that concrete eggs can yield exceptional wines, utilizing the format for his 'Ovum' range. He lists three advantages:
The heat from the fermentation causes convection (movement) currents, which in turn encourages lees contact facilitated by the egg's continuous surface area.
Concrete is well insulated and offers a stable temperature.
Concrete eggs allow micro-oxygenation to occur without any flavor pick-up.
Lees-stirring is a common feature in still white winemaking, particularly if the grower wants to market a premium label. Xarel-lo responds exceptionally well to this process called Bâtonnage, in addition to barrel maturation. The grape's naturally high levels of resveratrol offer substantial protection against oxidation once the must has been converted into alcohol. Xarel-lo can absorb a surprising amount of new oak, adding structure and potency to an already textured wine style. Of course, one golden rule applies to every variety: too much barrique can obliterate terroir character and a "sense of place." It must always be used with sensitivity and discretion.
The still wine revolution
The heartland of premium Cava has always been Sant Sadurni d'Anoia. It is an achingly beautiful region, flanked by the dramatic peaks of Monserrat and characterized by undulating scenery bathed in Mediterranean sunshine. With a multitude of soils, microclimates, and grape varieties, the potential to make high-quality sparkling wine is almost limitless. This remains their sole concern for some producers, cultivating grapes in a timeless landscape.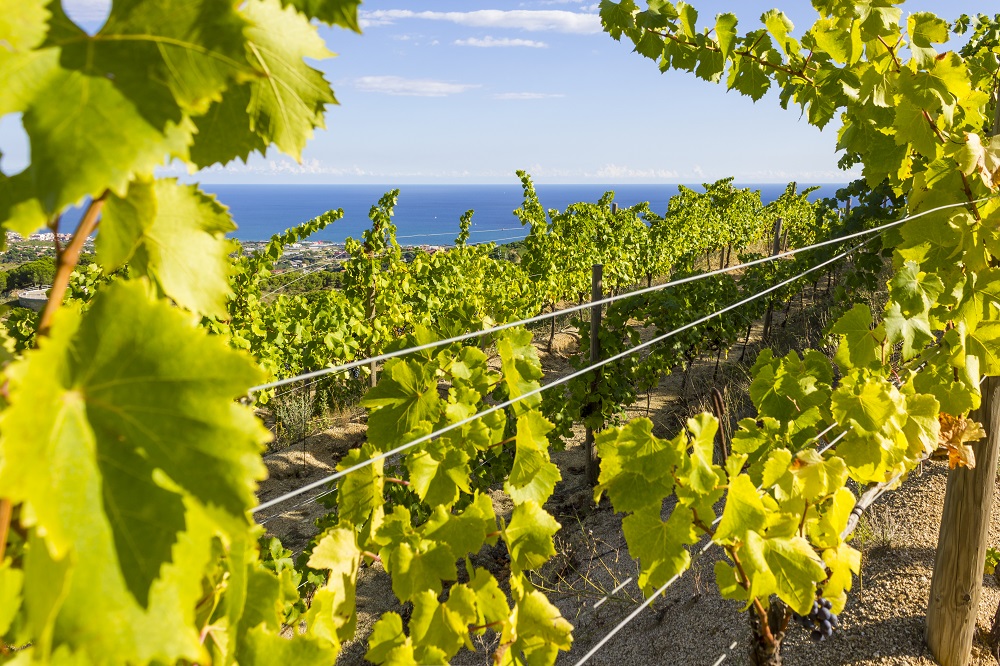 Vineyards of Alella, overlooking the Meditteranean sea
Yet the winds of change have been causing dramatic upheaval in this part of Catalunya. In addition to over 12 major wineries leaving the Cava DO (appellation council), increasing competition from categories like Prosecco has necessitated a marketing rethink. As a result, a growing number of producers are concurrently making still wines, often from the Xarel-lo grape. Penedès and Sant Sadurni d'Anoia are alive with the sounds of innovation, as influential figureheads like Albet I Noya push for greater regional demarcation and terroir stratification.
So it's a glorious time to be drinking chilled Xarel-lo during your Barcelona vacation. Unlike the Cava tradition, many still whites are not blended, giving the variety an unparalleled opportunity to prove its mettle. And while we prefer not to play favorites with Spain's expanding firmament of exceptional growers, there is something very special about Gramona's range of single-vineyard Xarel-lo wines.
We were drawn to their beautiful golden color and open bouquet at a tasting this year. One swirl of the glass revealed all; peach, apricot, and cinnamon, with a lovely hint of garrigue causing your nostril hairs to tingle. The palate was extremely opulent, defined by its richness and minerality, with notes of fennel, butter, vanilla, and lime on the finish. However, the alcohol was just 12.5% – a remarkable achievement in the warm climate of Sant Sadurni d'Anoia. A testament to the quality of the terroir and Xavier's skill in the winery.
These are brilliant wines, but they do not exist in a vacuum. In the vineyards of Costers del Segre, located further inland, there is a treasure trove of old bush vines and passionate winegrowers. The DO comprises seven sub-zones, with significant variances in soil, micro-climate, and elevation. Breezes from the Mediterranean reduce the risk of frost, while altitude helps to moderate the sometimes barmy summer heat. Blends are more common here than in Sant Sadurni d'Anoia, as exemplified by the Vol d'Ánima de Raimat Blanco, a potent concoction of Albariño, Chardonnay, and Xarel-lo. Versatility is one of the grape's hallmarks, as this aromatic and balanced wine ably demonstrates.
But perhaps ironically, some of the greatest concentrations of Xarel-lo vines are found in a very discrete part of Catalunya. On the coast immediately north of Barcelona, Alella's community of family-owned estates continue to cherish their old Xarel-lo vines, known locally as Pansa Blanca. The variety thrives in the region's granite soils, producing perfumed and complex whites. There is enough tropical fruit, acid, and structure to silence even the fussiest wine critic. Tragically, the vineyards are under constant threat from real-estate developers and the external pressure to cultivate international varieties that command greater recognition. A few have relented, grubbing up their Xarel-lo and replacing it with Chardonnay and Sauvignon Blanc.
Fortunately, tradition and heritage matter greatly to many of Alella's proud growers. They admit that their Xarel-lo wines can sell for modest sums and that global styles probably offer greater financial rewards. Yet profit comes second to maintaining their birthright; precious old bush vines that yield unbelievably concentrated and aromatic fruit. Any grape that can attract such passion, and dedication, is undoubtedly deserving of a second look.
Top producers of Xarel-lo still wines: