Over the past 15 years, Spain has been re-evaluating its viticultural priorities. At the turn of the Millennium, the Iberian Peninsula was overwhelmingly associated with one red grape variety: Tempranillo. Easy to love and capable of producing structured and silky wine, Tempranillo is still responsible for a large percentage of Spain's premium wine exports. Moreover, as the mainstay of wine production in Rioja and Ribera del Duero, Tempranillo became a ubiquitous feature of any gastronomic experience – both at home and abroad – involving Spanish red wine. Global consumers, understandably, are still in love with its soft tannins and red fruit profile. Yet despite the grape's numerous and apparent charms, Spain was in danger of being pigeonholed as a 'one-trick pony' in the early 00s. Argentina and New Zealand understand the phenomenon all too well; being exclusively associated with a signature grape variety can have downsides. If nothing else, it can encourage buyer myopia and blind wine lovers to a country's other strengths.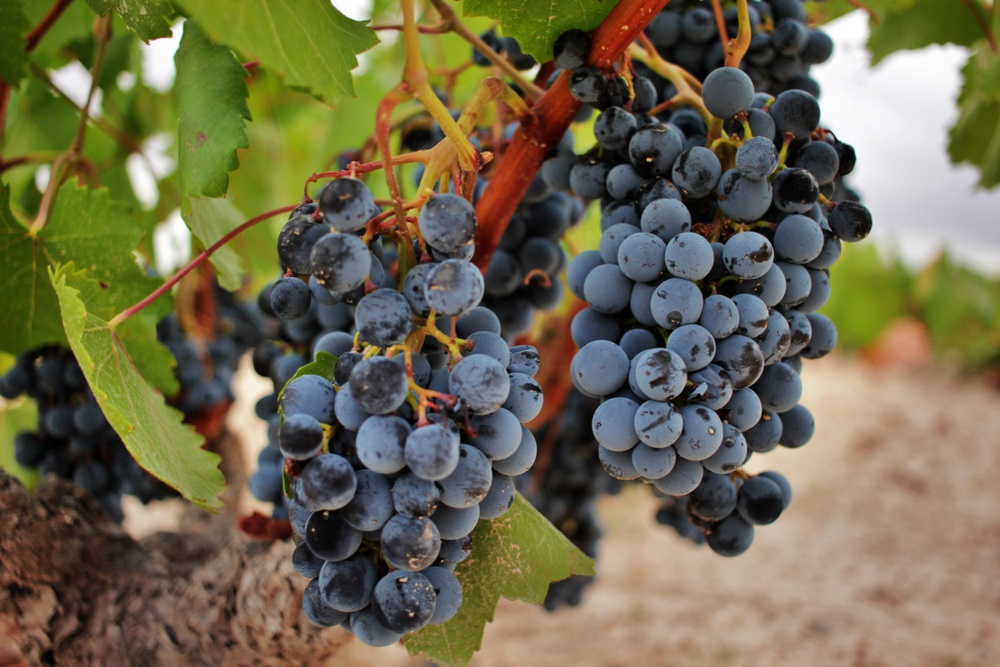 However, real investment from Spain's younger winegrowers and critical recognition of the importance of championing diversity has instigated a dramatic change in Spain's wine culture. Formerly obscure and neglected grapes like Garnacha and Mencia are now receiving the care and attention they deserve. A growing firmament of winemakers understand that today's wine enthusiast craves a point of difference – not similarity. The Monastrell grape (known as Mourvedre in France) has been at the forefront of this cultural shift.
Dark skinned and seductively scented, Monastrell has been grown in the western Mediterranean for centuries. It is believed that the Phoenicians introduced Monastrell to eastern Spain, possibly Valencia, in around 500 BC. Centuries later, the Romans probably transplanted the red grape variety from Spanish vineyards into the South of France after their conquest of Gaul and Hispania. Prior to the arrival and subsequent promulgation of Tempranillo, Monastrell was the second most planted variety in Spain, with Garnacha holding the top slot. Over the centuries, it spread throughout the southern Rhone Valley, and Provence appreciated its robust nature and tolerance to extreme heat. As a result, it became the most important red grape in Bandol, Provence's superstar appellation, renowned for its deeply colored and powerful wines. Today it is also found in California and Australia, where it adds flesh, alcohol, and spice to Garnacha (Grenache) and Syrah blends.
It looked as if Monastrell would remain a vital part of the Spanish landscape for a time. Unfortunately, the arrival of the phylloxera louse in the late 19th century destroyed the variety's foothold in the Mediterranean. After devastating a large swathe of Spanish vineyards, growers found an effective solution by grafting European vines onto phylloxera-resistant American rootstock. However, this was to Monastrell's detriment, as they soon discovered that the variety did not respond well to being grafted onto American grapevine species. Similarly, Garnacha was largely abandoned as it proved too difficult and time-consuming to grow the variety when grafted onto different root systems. In contrast, Tempranillo adapted to this new reality with ease. This is the principal reason why Spanish vineyards planted with Tempranillo increased exponentially in the 20th century.
Nevertheless, Monastrell has enjoyed something of a resurgence over the past decade. It is currently the fourth most common red grape variety in Spain, although the acreage has declined significantly since the 1900s. Of course, this matters not to acolytes of the grape, who champion quality above quantity. 20 years' ago, single-varietal Monastrell wines were as uncommon as Tempranillo/Nebbiolo blends. There is a long history of blending the grape in the western Mediterranean rather than letting Monastrell shine as a standalone varietal. Yet trailblazing winemakers in Spain are now debunking conventional wisdom – they insist that Monastrell does not need a supporting act. A number of excellent single-varietal – and single-vineyard – cuvées have emerged in recent times, produced in a diverse range of terroirs across Spain's viticultural map. They are among some of the most exciting and complex wines being made in the country today.
It is often said that young winemakers adore a challenge, a chance to cut their teeth with a mercurial and temperamental variety. Monastrell provides such an opportunity, and then some! But, unfortunately, it is extremely difficult to grow, manage and nurture. Although Monastrell can thrive in hot climates that would devastate heat-sensitive varieties like Pinot Noir, it suffers from a tendency to bud and ripens very late. This makes it susceptible to spring frosts, which are increasingly occurring in Europe as late as mid-April. Monastrell is also minded to produce a sprawling vine canopy and prolific yields, so constant pruning and monitoring is essential throughout the growing season. Moreover, it is prone to fungal grapevine diseases – particularly downy and powdery mildew.
Ultimately, the timing of the harvest is the crucial factor that determines whether you'll end up with clumsily alcoholic Monastrell or a world-class red wine. The grape's thick skins give very hefty tannins that require a high level of phenolic ripeness to remove the possibility of harsh or astringent flavors. However, harvesting late in the season may lead to alcohol levels in excess of 16% in the fermenter and a lack of acidity. If the grape becomes overripe, its pH will soar, creating flabby wines that lack freshness. So the dilemma is acute; achieving that delicate balance between ripe tannins, generous mouthfeel, and fresh acidity. Only the best and most talented Spanish winemakers can pull it off.
If they succeed, then you'll have the pleasure of enjoying a powerful – but not overblown – structured and complex red wine. A typical example will showcase pungent aromas of blackberry, raspberry, and black cherry. Usually full-bodied, Monastrell rarely lacks tannin and extract. With bottle, age comes flavors of forest floor, truffle, game, and Chinese five-spice. Monastrell's inherently powerful structure ensures that there is never any rush to drink wines from good vintages.
Of course, the terroir (local growing conditions) will influence the style of Monastrell that ends up in your glass. Monastrell will adapt to a variety of terroirs in terms of soil, albeit it tends to thrive in shallow clay soils, which retain vital water during the hot growing season. The best sites in Spain tend to be south-facing vineyards at slightly higher altitudes, ensuring enough sunshine and heat to ripen the grape's formidable tannins. Meanwhile, the elevation helps to maintain freshness and acidity in the grapes. But above all, Monastrell requires a hot and dry climate.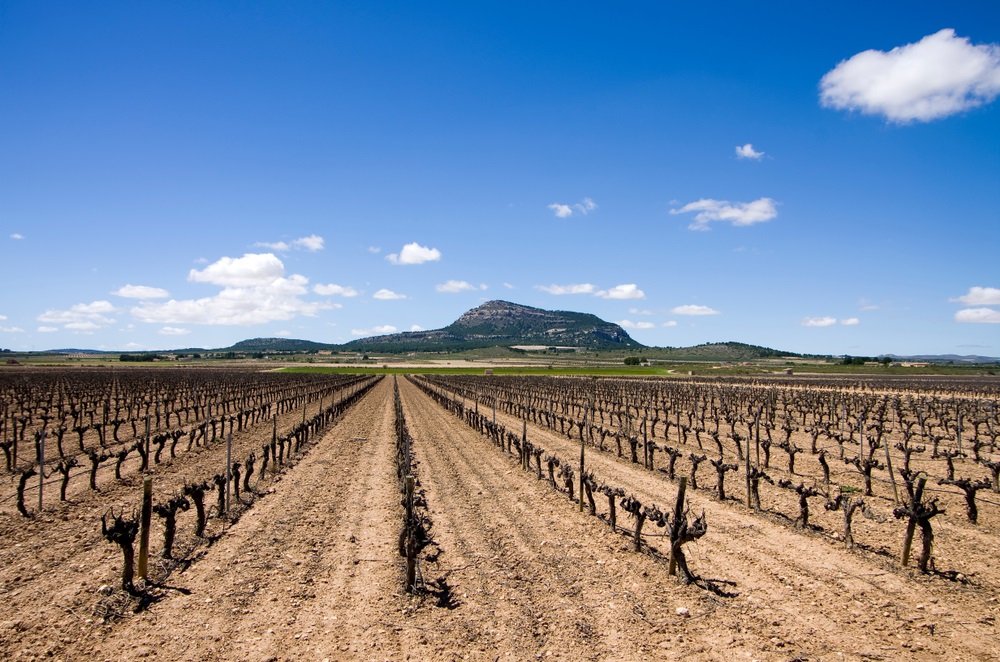 Jumilla vineyards
Such conditions are routinely found on Spain's central Mediterranean coast. There was a time when Jumilla was regarded as a source of coarse bulk wine and little else. But recent investment and a renewed interest in revitalizing Spain's forgotten grapes has been put to good use in the arid landscape (summer temperatures often exceed 40 degrees Celsius) of Jumilla. The region is found in the province of Murcia, between Yecla to the north and the appellation of Bullas to the south. Awarded DO status in 1966, Jumilla has attracted both local and foreign investment; Bordeaux giant Bernard Magrez has purchased vineyards in Jumilla, in addition to his existing projects in Toro and Priorat. He was attracted to the unique terroir and old Monastrell bush vines, ripening tiny yields of immensely concentrated berries. Single-varietal Monastrell from Jumilla is among Spain's best – mineral notes are married to earth, mocha, chocolate, and damson jam flavors. Casa Castilo and the Ordonez family have successfully demonstrated that Jumilla Monastrell can combine intense concentration with perfumed elegance.
Spectacular things are also happening in the Alicante region – much more than simply a tourist enclave of northern Europeans. South of the city of Valencia are a sea of vines dedicated to both red and white, sweet and dry wine styles. The climate is slightly cooler than Jumilla, moderated by the Mediterranean sea breezes. Nonetheless, the dry summer growing season is ideally suited to ripening Monastrell to glorious concentration. Enrique Mendoza led the way in encouraging others to invest in the zone. His proselytizing struck a chord with the Artadi family of Rioja, who established El Seque in 1999. It remains one of Spain's greatest expressions of old vine Monastrell, produced from 100% estate-grown fruit; the wine offers a piercing bouquet of black fruit, balsamic notes, and garrigue. In every sense of the word, it is unique.
Mirroring the California gold rush of the 19th century, Spain's Mediterranean coastline is becoming crowded with pioneers and prospectors. They're searching for the next undiscovered terroir – the next block of Monastrell bush vines. In the DO of Manchuela, investors are making exemplary wines on a high plateau with limestone deposits, ideal for retaining water in drought-ravaged vintages. Finca Sandoval has shown others how it is done. Delicious and fragrant wines are also emerging from the high-altitude zone of Almansa in the province of Castilla la Mancha.
Indeed, the days of Rioja's red wine hegemony are long gone. As it stands today, the esoteric and lesser-known are thriving. The country's leading producers – both big and small – have committed themselves to marketing a land of diversity. Whether their enthusiasm can transform a (relatively) niche variety like Monastrell into a household name remains to be seen. Still, the fine wine world will undoubtedly keenly observe the country's evolution in years to come. Contemporary Spain is the land of choice. Monastrell's revival is just the beginning.
Top Monastrell wines from Spain:
Casa Castillo -Monastrell
Bodegas El Nido 'Clio', El Seque Monastrell
Related Blog Posts: