The last fifteen years have seen both connoisseurs and sommeliers go absolutely nuts over the superlative white wines now being produced in Galicia and Bierzo. Once written off as the land of Rioja, Cava, Sherry and little else, Spain continues to forge a mighty reputation for the quality of its whites from North-West Spain, particularly Albarino from Rias Baixas and gorgeous Godello from Valdeorras and Ribeira Sacra in Galicia.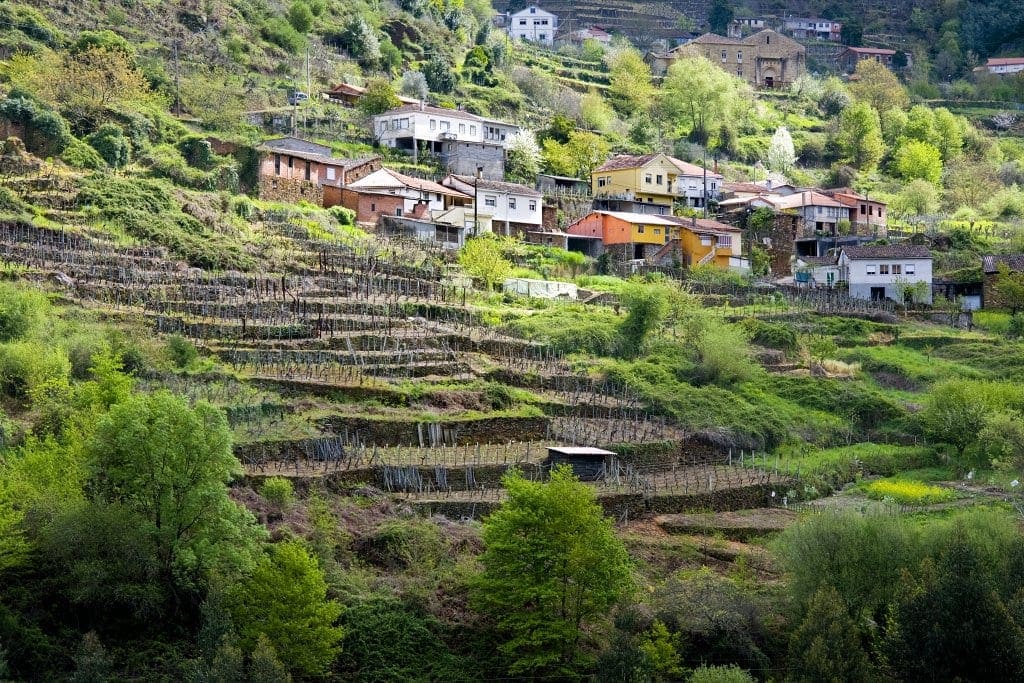 Yet, in all the excitement surrounding these wonderful new additions to Spain's wine portfolio, it's easy to forget that north-west Spain also now produces one of the country's most exciting and original red wines – Mencía. Once a real obscurity lost among the sea of more famous wine styles, Mencía is rapidly making a name for itself with wine lovers across the world, eager to reach out beyond Spain's numerous and ubiquitous Tempranillo-based reds.
Today, there are over 9,000 hectares of Mencía planted in North-West Spain, concentrated in the Galician regions of Ribeira Sacra, Valdeorras, Monterrei and Bierzo in Castilla y Leon. This small, but very up and coming DO (appellation) is now the most highly regarded source of Mencía in Spain today. However, traditionally Mencía was dismissed as an indifferent local table wine and was hardly ever seen outside of Spain. Indeed, 40 years ago, a typical bottle of Mencía tasted very different from the high-quality examples being produced across Bierzo. Planted on fertile, unsuitable soils following the Phylloxera epidemic that devastated Europe's vineyards, yesterdays Mencía was the antithesis of what we expect today – astringent, pale and utterly forgettable.
Alvaro Palacios Revival
Its salvation came in the form of pioneers like Alvaro Palacios and other winemakers, who started to show a real interest in reviving Mencía's fortunes in the 1990s. They sought out formerly neglected old vines planted on Bierzo's hillsides, exploited its valuable schist soils and dramatically improved local viticultural techniques and winery practices. Replanting Mencía on more suitable terroir in Bierzo and Galicia, winemakers like Palacios soon proved that the grape was more than capable of producing concentrated, profound and elegant wines.
Nonetheless, Mencía continues to present growers with constant challenges, as the variety is somewhat unforgiving in the wrong hands. Left unchecked, it is very susceptible to attacks of botrytis and mildew and loses its essential acidity if harvested too late, with alcohol levels rising to undesirable levels. Moreover, with a predisposition toward low yields, growers must accept that large volume, certainly, if the quality sought, is not possible with this delicate and complex grape variety.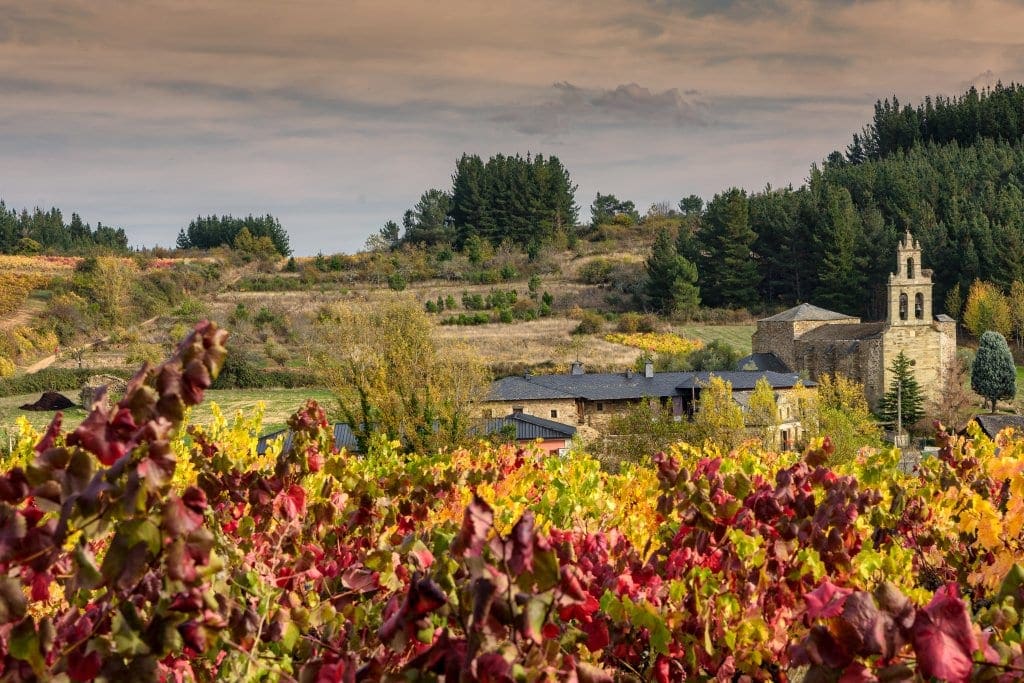 Although Mencía is found today in both Galician regions and Castilla y Leon, its spiritual home remains the remarkable DO of Bierzo. Situated in the far west corner of Castilla y Leon, Bierzo consists of both numerous small valleys, with higher altitude sites perfect for Mencía and the wide, flat plains inland which are less suitable for this often temperamental variety. Soils are rich in quartz and slate and Bierzo enjoys a unique microclimate ideal for ripening Mencía. Rainfall is similar to Galicia, however, the average growing season temperature and sunshine hours are higher, meaning that fruit in Bierzo if often harvested earlier than in Galicia.
Mencía's origins are shrouded in mystery, which probably only adds to the allure of this cult grape variety. Its thick-skinned, blue grapes are easily identifiable among the vineyards of north-west Spain and were once believed to be a genetic cousin of Cabernet Franc. This theory was subsequently quashed by modern scientific analysis, and viticulturists have proven that Mencía is genetically identical to the Portuguese grape Jaen. But, winemakers are still uncertain as to its birthplace – the Spanish insist Bierzo, while their Portuguese neighbors argue that it's more likely to be Dao, in central Portugal.
Stylistically, Mencía offers a refreshing antidote to the heavy, sometimes over-extracted wines of central Spain. A good example will juxtapose freshness and good acidity with a concentrated palate of red fruits, mint, licorice, and mulberry. Strongly scented, Mencía is akin in character to perhaps a Beaujolais Cru or a Cabernet Franc grown in the Loire. Of course, styles vary depending on the producer in question and Mencía is as versatile as any grape variety, ranging from fresh and juicy to bigger, more powerful and oaked influenced wines. However, most winemakers are very judicious in their use of oak, particularly new, as too much can very easily overwhelm the beautiful fruit character of a good Mencía.
Food best paired with: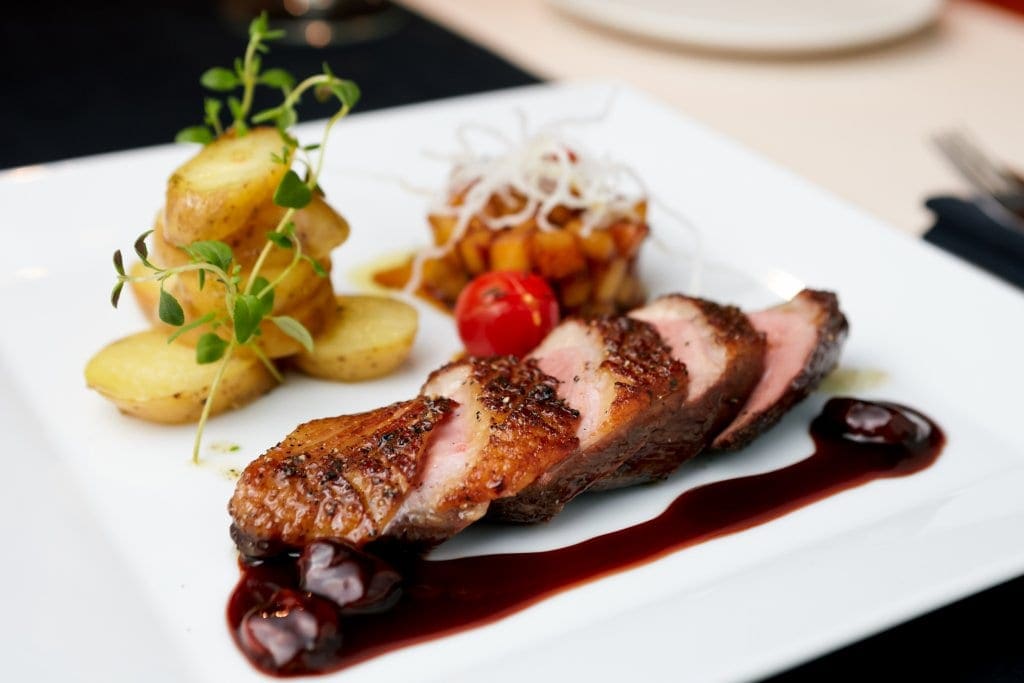 Food wise, Mencía just loves to be paired with a wide variety of dishes and is no one trick pony when it comes to food matching. It's ideal with Iberico pork, the acidity cutting through the fattiness of the pork with aplomb. Its red fruit and cherry fruit profile also make it a good candidate to match with roast duck, particularly if the duck is served with a rich fruit sauce. It also takes kindly to fowl, and will work with a wide variety of tapas dishes; sommeliers are now so well aware of the wonderful versatility of this grape, that Mencía is becoming a popular fixture on restaurants in London, New York, and of course across Spain.
However, despite the rising popularity and fame of Mencía, prices, for the most part, have remained very reasonable. It is today one of northern Spain's best value wines, the exception being La Faraona from Alvaro Palacios, which retails at over 300 euros. It is, nonetheless, an excellent wine; produced from a single vineyard planted on an exceptional terroir, there is an unusual tectonic fault in the middle of the vineyard, so the soils are quite unique even by the standards of Bierzo. Expect a strikingly concentrated palate and endless complexity, underpinned by textbook acidity.
But for the majority of wine lovers out there, Mencía remains a unique and beautiful fine wine available at a (usually) very reasonable price. That alone, makes it a strong contender for the title of "Spain's most exciting wine."
5 Mencía wines to try:
Descendientes de J. Palacios Pétalos
Guimaro Finca Meixeman
Bodegas Estefania Tilenus Pieros
Dominio de Tares Cepas Viejas
Bodegas y Vinedos Luna Beberide Paixar Mencia
More Information
Discover Mencía  grape and much more on a Luxury Food & Wine Tour of Northern Spain