Northern France boasts many beautiful attractions, not least the stunning scenery of Normandy, impressive megaliths of Carnac, and the 18th-century grandeur of Nancy's historic center. But nothing can compare with Strasbourg, an architectural masterpiece located halfway between Paris and Prague. Indeed, this cosmopolitan and vibrant city is often known as "the crossroads of Europe." Internationally renowned for housing the futuristic Palais de l'Europe – the seat of the European Parliament – Strasbourg warrants a detailed investigation.
History
The human occupation of what we today know as Strasbourg goes back many thousands of years. The Celtic Gauls moved into the region around 1300 BC, establishing trading links with the Greeks by about 600 BC. A thriving Celtic township subsequently appeared by the end of the third century BC, known as "Argentorate." The Roman invasion of France put an end to their ambitions, and by 52 BC, centuries of conflict between the Gauls and the Romans was over. For the next couple of years, the Gauls hounded the Romans with guerrilla warfare and stood up to them in several match-drawn pitched battles. But gradually, Gallic resistance collapsed, and Roman rule in Gaul reigned supreme.
Meanwhile, the Romans, under Nero Claudius Drusus, founded a military outpost on Strasbourg's current location called Argentoratum. As an important strategic outpost in Gaul, the settlement soon grew and was used to station Roman regions throughout the centuries. It would also play a pivotal role in the conflict between the Romans and Alemanni. On 2 January 366, the Alemanni tribe from northern Europe crossed the frozen Rhine to invade the Roman Empire. In the 5th century, the Alemanni conquered and then settled in what today is the Alsace region and a large part of Switzerland. Strasbourg remained part of the Alemanni's territory until the Huns, and later the Franks established control over the region. From the 5th to the 9th centuries, Strasbourg prospered as a major commercial center, eventually coming under the Holy Roman Empire's jurisdiction in 923.
In the 14th century, Strasbourg declared itself a free Republic, a momentous and unprecedented move for the Alsace region. From 1332 until 1681, Strasbourg was effectively ruled by a guild of citizens – including merchants and artisans – whose tenure accorded the city a certain democratic character. Sadly, in 1348 the deadly Bubonic plague struck Strasbourg, killing thousands and inciting its rulers to enter a dark period of anti-semitism. On 14 February 1349, they initiated one of the worst pogroms in pre-modern history: over a thousand Jews were publicly executed. The remainder of the Jewish population was expelled from the city. Indeed, antisemitism is an unfortunate and shameful aspect of Strasbourg's past; until the end of the 18th century, Jews were forbidden to remain in the center after 10 pm.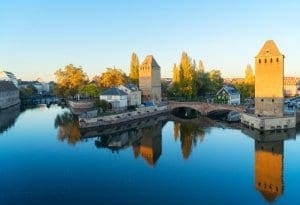 Middle Ages
In contrast, the 15th century saw much technological and social advancement emanate from the growing and prosperous city of Strasbourg. The German blacksmith Johannes Gutenberg worked in Strasbourg from about 1434 to 1444, perfecting the world's first printing press and the movable metal type, which made it so revolutionary. A university was founded in 1566 – subsequently, the first modern newspaper was published in Strasbourg in 1605, when Johann Carolus received permission from the City of Strasbourg to print and distribute a weekly journal written in German by reporters from several central European cities.
Nevertheless, the religious and political conflict would ultimately define the 16th and 17th centuries in Strasbourg, and indeed France. The Reformation swept through Europe in the 1530s, leading to the Wars of Religion between the Huguenots (French Protestants), the Catholic League, and the Catholic Monarchy. Strasbourg embraced the religious teachings of Martin Luther, and several leaders of the Reformation took up residence here.
Until the late 17th century, the self-proclaimed "Free City of Strasbourg" remained precisely that, although French influence in Alsace increased during the Thirty Years' War (1618-48) when Alsatian cities, caught between opposing Catholic and Protestant factions, turned to France. However, Strasbourg remained neutral and retained its status as an Imperial Free City. But, the Roi Soleil (Sun King) Louis XIV annexed Strasbourg in 1681 to extend his kingdom's borders. An era had come to an end.
By the time of the French Revolution of the 18th century, Alsatians felt more connected to France than to Germany. Yet during the revolution, in which the radical Jacobins declared France's first Republic in 1792, Strasbourg lost its status as a free city. However, the subsequent rise to power of Napoleon Bonaparte was a boon for the citizens of Strasbourg as Napoleon visited the city several times in the early 19th century. In 1810, Napoleon's second wife, Marie Louise, spent her first night on French soil in the city. His reign was cut short in 1814 – Napoleon was exiled to Elba, and his subsequent defeat at the battle of Waterloo led to his permanent banishment.
However, Napoleon's legacy would continue to play a role of decided importance in French affairs in the second half of the 19th century.
Napoleon's nephew led a coup d'etat in 1851 and proclaimed himself Emperor Napoleon III of the Second Empire. France enjoyed significant economic growth at this time, although, like his uncle, Napoleon III embroiled France in various catastrophic conflicts, including the Crimean War and the humiliating Franco-Prussian War (1870-71). This was a supremely embarrassing episode in French history, ending with the Treaty of Frankfurt, by which an embittered France was forced to cede Alsace to the Kaiser.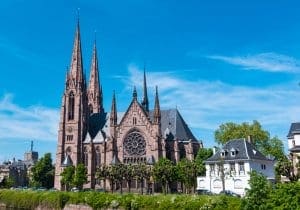 Modern Times
Yet, it should be emphasized that Strasbourg flourished as a member of the newly established German Empire. As part of Imperial Germany, Strasbourg was rebuilt and developed on a grand and representative scale, with many elegant buildings constructed during this era. The city flourished as a significant center of learning and commerce, enjoying an unparalleled period of prosperity.
Strasbourg and indeed Alsace played a decisive role in the events of the 20th century. Following Germany's defeat in WWI, the region was returned to France after many decades of German rule. However, the city was annexed by Nazi Germany in 1940. After WWII, Alsace was once again returned to France, and the whole country focused on rebuilding its shattered landscape. Intra-Alsation tensions ran high, however, as those who had fled came back and confronted neighbors whom they suspected of having collaborated with the Germans: 140,000 Alsatians, as annexed citizens of the Third Reich, has been conscripted into Hitler's armies. These conscripts were known as the 'Malgre-Nous' (literally 'despite ourselves') because the vast majority had gone off to war against their will; over half never returned from the Russian front and post-war Soviet prison camps. But, in the aftermath became a symbol of hope – Alsace was chosen as the seat of the Council of Europe in 1949 and, later, the European Parliament.
Today Strasbourg is very much a proud emblem of pan-European coexistence and collaboration. Prosperous and cosmopolitan, languages from all over the world can be heard in this metropolis, the intellectual and cultural capital of Alsace. Situated only a few kilometers west of the Rhine, the city is aptly named, for it is one of the vital transport arteries that have linked northern Europe with the Mediterranean since Celtic times. And if that wasn't enough, Strasbourg is packed full of enticing restaurants, incredible (traditional Alsation eateries), and pubs which fill the wonderful old city – a beautiful area to explore on foot. Bustling public squares, delightful cafes, and upmarket shopping streets – Strasbourg is a paradise for any epicurean on vacation.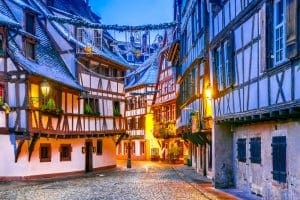 Gastronomy & Wine
Charming and beautiful Alsace, long a meeting place of Europe's Latin and Germanic cultures, is no shrinking violet in the gastronomic stakes. Rich and hearty is the best way to define local cuisine; Alsatians are renowned for their love of game – particularly duck and geese – and visitors may well believe they've stumbled into Germany rather than France. A classic dish of this meaty, Teutonic cuisine is choucroute alsacienne (also called choucroute garnie), sauerkraut flavored with juniper berries and served with hot sausage, bacon, pork, and ham knuckle. Of course, charcuterie is produced in every region in France, although gastronomes would readily agree that Alsatian sausages, cured meats, and terrines are utterly exquisite.
Local foie gras is also highly sought after – Alsatian foie gras owes its reputation to the foie gras pâté created in 1778 by Jean Pierre Clause, the cook of Marshal Contades, the military governor of Strasbourg at that time. Typically served cold, a local delicacy is sliced foie gras, fried in its fat, served with potatoes. Flammekueche is another delicious local specialty – a rectangular pizza, topped with crème fraîche, thinly sliced raw onions, lardons, or small bacon stripes. Alsace can also lay claim to inventing the Bretzel (pretzel), which was reportedly invented by a baker from Ingwiller. On the sweeter side is tarte alsacienne, a delicious custard tart made with local fruits like mirabelles (sweet yellow plums) or quetsches (a variety of purple plums).
And then there's Munster, surely one of France's finest cheeses. It is made on both sides of the Vosges Mountains – the name Munster derives from the French word for a monastery, Monastère. Munster is a cows' milk cheese; at its best, this delectable cheese offers pungent rind-washed aromas and a delicious creamy flavor profile. Since 1978, Munster has its own AOC (Appellation d'Origine Controlée), with production limited to seven departments. Bargkass, the "Gruyère des Vosges" is another excellent cheese, as is Brouère.
But what could complement all this exquisite gastronomy, you may ask? Fortunately, to say that Alsace is self-sufficient in the wine stakes is a massive understatement; Alsatian whites are among the finest in Europe, with Grand Cru Riesling continuing to steal a march in Michelin restaurants across the world. Piercingly aromatic and unique in style, Alsace Pinot Gris, Blanc, and Silvaner are equally memorable and often quite affordable. These are wines to please even the most hardened critics – exquisitely perfumed and structured wines are the order of the day here. Pinot Noir also makes an appearance, while Cremant d' Alsace is the obligatory start to any Alsatian banquet. Formidable!