Corsica is the fourth largest island in the Mediterranean Sea and a prime vacation getaway for French mainlanders. The island is a French territory, though it lies just 90km off the coast of Northern Italy and almost twice the distance from France. Corsica's nearest neighbor is Sardinia, a short 11km away across the Strait of Bonifacio. Just as in Sardinia, Corsica boasts a tumultuous history as several cultures previously claimed the island, including the Romans, Byzantines, and Italy. Consequently, each culture left its indelible mark on Corsican cuisine, agro-pastoral culture, and mysterious megalithic archaeological sites.
Read more in our Guide to French Cuisine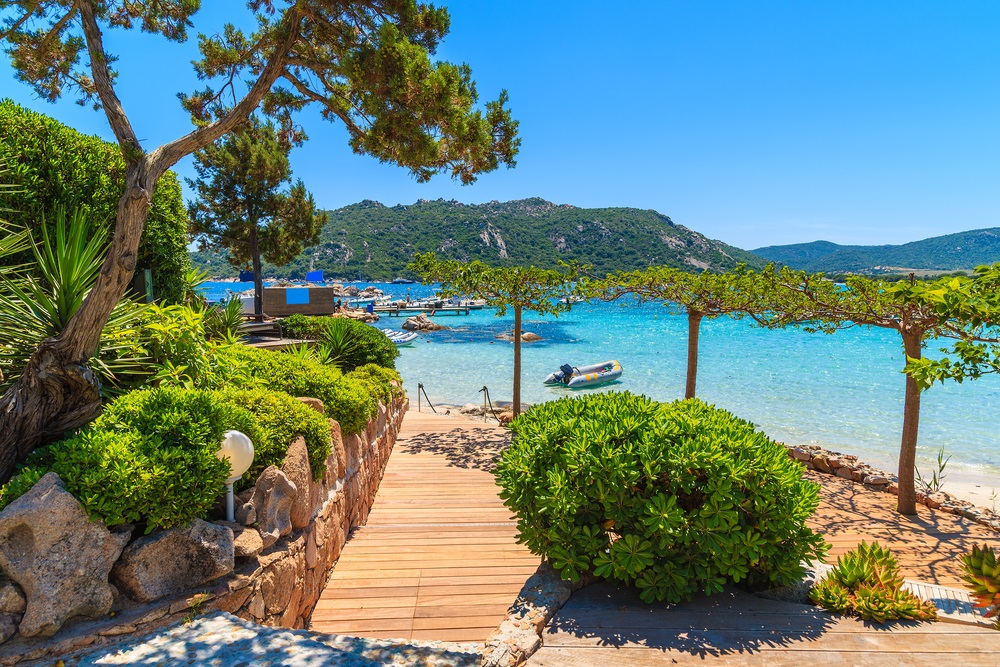 Corsican Cuisine
Naturally, Corsican cuisine incorporates a bounty of seafood from the surrounding Mediterranean Sea. Grilled fish is especially popular in summer, and visitors can expect an assortment of swordfish, tuna, shrimp, and shellfish. However, Corsican cuisine features meat-based dishes more prominently thanks to the agro-pastoral traditions of the island.
Corsica's mountainous interior is home to green pastures ideal for grazing sheep. Nustrale pork, the island's prized breed responsible for its trademark charcuterie. The pigs are raised on chestnuts, acorns, and any other forest goodies they forage. It is a diet that lends itself to flavorful cured meats like figatellu, coppa, lonzu, and prisuttu.
Chestnuts are also a prominent ingredient in Corsican cuisine. They grow abundantly thanks to the Genoese, who planted chestnut trees throughout the island's interior in place of cereal crops from 1284 to the mid-18th century. Today, most chestnuts are transformed into an AOC-protected chestnut flour called Farine de Châtaigne Corse. This nutty, delicately sweet flour is the main ingredient for several Corsican classics like pulenta, fritelli castagni (chestnut fritters), and various cakes and biscuits.
Known as Mele di Corse, honey is another specialty of the Mediterranean island. With access to varied landscapes from chestnut-laden forests to citrus groves near the sea and the wild maquis covering the island, Corsican bees produce honey with an authentic taste of Corsica.
Aperitif in Corsica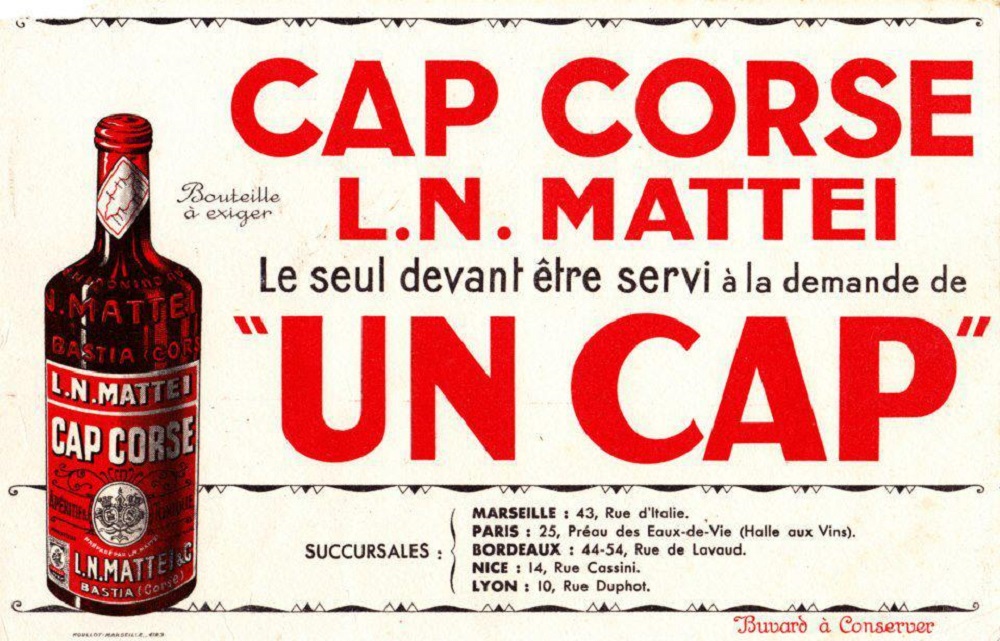 Order a Cap Corse for a true Corsican aperitif. It's a wine-based French Quinquina macerated with cinchona tree bark, spices, and walnuts. The result is an aperitif with incredible depth best enjoyed on the rocks with an orange twist and sea views.
For beer drinkers, Corsica has a few tricks up its sleeve. Pietra is a must-try beer made from malt and chestnut flour resulting in a subtly sweet, nutty amber beer. In comparison, white beer drinkers should opt for a Columba infused with the flavors of wild maquis herbs.
Corsica has endless options for wine lovers, too. The island has produced wines since the Phoenicians first planted grapes there 2,500 years ago. Most reds are blends dominated by Corsica's Nielluccio or Sciacarello grapes with Grenache, Carignan, Cinsault, and Barbarossa. Vermentino accounts for most white Corsican wines, with some Ugni Blanc or other indigenous white varieties, added occasionally. Surprisingly, around half of the island's wine production is rosé. Although a crisp, refreshing rosé is the ultimate seaside sipper.
Entrées in Corsican Cuisine
Charcuterie
A Corsican meal often begins with a selection of local cured meats made from Porcu Nustrale with chestnut and hazelnut flavors.
Figatellu is Corsica's signature sausage made from pork, and pork liver is typically enjoyed grilled over hot embers.
Lonzu is made from brined pork tenderloin left to cure for five months.
Coppa is cured pork neck meat, also aged over five months.
Prissutu is a salted and dried ham that must age a minimum of 12 months, though some age up to 3 years.
Wild boar also thrive in the island's inner forests and end up in a tasty terrine called la terrine de sanglier. Pair any of the above with a glass of Corsican Sciaccarellu full of red fruit, floral, and stoney earth flavors.
Sanghi di Maiale Incu l'Uva Secca
Like French boudin, sanghi di maiale incu l'uva secca is a pork blood sausage flavored with raisins and spices. Also called sanguinaccio, this rustic dish is ideally savored with a glass of local Carignan with earthy, meaty notes to match the taste of this unique sausage.
Strozzapreti
Strozzapreti, or priest chokers, are savory dumplings also popular in Tuscany and Umbria. They're made from spinach, mint, ricotta, the local Brocciu cheese, and spices, then cooked in tomato sauce. Strozzapreti reserved such a powerful name because they're large enough to choke a priest when gobbled down too quickly. A Corsican Cinsault is a great wine pairing for strozzapreti, as it offers acidity to match the tomato sauce, plus red fruit and spice notes to complement the spinach and cheese.
Main Courses in Corsica
Azziminu
Soups are popular in Corsica, and azziminu is easily the signature soup of the island. Like a French bouillabaisse, azziminu includes scorpion fish, red mullet, sea bream, and other rockfish. The fish simmers in a fennel, saffron, and bay leaf flavored broth. Olive oil and sometimes a glass of pastis embellish the soup along with mussels or crabs. When serving azziminu, the broth is usually served with crusty croutons while the fish is served on a separate plate. Enjoy azziminu with a glass of local rosè with fresh fruit flavors and subtle notes of the island's wild maquis herbs.
Civet de Sanglier
Civet de sanglier is a hearty, thick stew made from wild boar, fennel, chestnuts, red wine, carrots, garlic, and onions. Though it's a filling dish, this recipe is just as frequently enjoyed in the summer as it is in winter—pair civet di sanglier with a bold Corsican Syrah with dark black fruit flavors and earthy undertones.
Veaux aux Olives
Veaux aux olives is a slowly simmered veal stew that sees tender meat cooked with tomatoes, olives, and red wine. The secrets to a successful veaux aux olives are plump local green olives and patience, as the dish must be simmered over low heat. Polenta, potatoes, or olives often accompany the dish. Pair veaux aux olives with a red blend from Corsica's Patrimonio region, which offers red fruit, herbal, and earth-driven flavors to complement each ingredient in veaux aux olives.
Pulenda
Corsican cuisine delivers a tasty spin on polenta known as pulenda on the island. Rather than cornmeal, Corsican pulenda is made from chestnut flour, water, and salt rather than cornmeal. It's either baked in the oven, then sliced and served with Brocciu, fried eggs, or cured meats. Alternatively, polendu is served simmering in a cauldron-like pot during the winter months.
Corsican Cheeses

Brocciu
Sheep and goat cheese are the most prominent on the island, and Brocciu is the quintessential Corsican cheese. Since 1988, Brocciu has been made with goat or sheep's milk and whey with AOC status. It has a similar texture as ricotta with a 40-50% fat content and is used in numerous recipes in Corsican cuisine. Brocciu can be eaten fresh or matured and pairs best with a vibrant Corsican Vermentino.
Other Cheese to Try in Corsica
Niulincu – a soft, tangy cheese from central Corsica
Niolo – a washed-rind, nutty cheese made from sheep's milk
Fleur de Maquis – also called brin d'amour, this sheep's milk cheese is covered in Corsica's wild maquis herbs like juniper, rosemary, and fennel.
Corsican Desserts

Fiadone
Fiadone is Corsica's take on cheesecake. Made with Brocciu cheese, sugar, eggs, lemon juice, and zest, it's a staple dessert in Corsican cuisine enjoyed throughout the year.
Canistrelli
Canistrelli are Corsican shortbread cookies eaten for dessert or to accompany coffee or tea any time of day. They're flavored with various ingredients, from anise seeds to lemon, almonds, chocolate chips, or raisins.
---
About Nicole Dickerson
WSET certified international wine writer with a passion for rare varieties and cellar hand experience in both hemispheres. Join me in the vineyards and cellars of the wine world at palmandvine.com.