Globally famous for its iconic tower, there is far more to this cultural capital than the endlessly photographed Leaning Tower of Pisa. The city was once a maritime power to rival Genoa and Venice, a legacy that has endowed Pisa with a rich mosaic of attractions, both cultural and hedonistic. Education has fuelled the economy since the 1400s – students from across Italy compete for places in Pisa's elite university. Meanwhile, visitors marvel at the vibrant cafe and gastronomic scene, balancing an enviable portfolio of Gothic churches, Renaissance piazzas, and Romanesque buildings with the sheer pleasure of sipping wine in one of Pisa's many picturesque squares. It may lack the renown of Florence, but Pisa is a regional capital to do Tuscany proud.
History
Pisa's history is a dramatic opera that opens with the wine-loving Etruscans around the 9th century BC. They formed the most powerful nation in pre-Roman Italy, building a great civilization across much of central Italy. Unfortunately, their neighbors increasingly cast an envious eye over the prosperity of Etruria – the Romans completed their conquest of Etruria in 265 BC. The Etruscans didn't take kindly to Roman authority – they secretly allied with the Carthaginian ruler Hannibal to bring about the Romans' defeat, which was ultimately unsuccessful.
But after the Roman conquest of central Italy, they took a more hands-off approach with the proud Etruscans, granting them citizenship in 88BC to manage their affairs in the newly created province of Tuscia (Tuscany). Pisa subsequently became an important naval base – historians aren't sure exactly when the settlement was founded – and commercial port under Rome, remaining an important port for centuries. It served as an essential base for Roman naval expeditions against rival powers in Italy and the Mediterranean.
Following the collapse of the Western Roman Empire in the 5th century, Tuscany experienced many centuries of turbulent upheaval. First came German emperor Theodoric, who was supplanted by the Byzantine emperor Justinian. The Lombards from northern Italy also controlled Pisa, but Charlemagne defeated them in 744. Politically, it became part of the duchy of Lucca in north-west Italy, although Vikings captured the settlement in the 9th century. Nevertheless, Pisa was granted the status of county center of Tuscia in 930.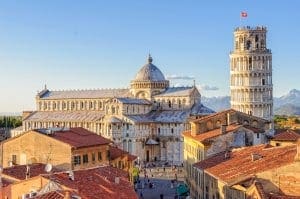 Middle Ages
Pisa's golden age began late in the 10th century after recovering from the previous centuries' political machinations. Pisa became an independent maritime republic and a formidable rival to the cities of Genoa and Venice. A century on, the Pisan fleet was sailing for beyond the Mediterranean, helping to repel the Saracen invaders and trading with the Orient. At the peak of Pisa's power (the 12th and 13th centuries), the rapidly expanding city controlled Corsica, Sardinia, and the Tuscan coast.
During this period, Pisa enjoyed a flourishing of new buildings, endowed with a distinctive Pisan-Romanesque architectural style that emphasized the use of colored marbles and subtle references to Andalucian architecture. Many of the most excellent examples were by the legendary father-and-son sculptural team of Nicola and Giovanni Pisano.
Unfortunately, Pisa's fortunes started to decline towards the end of the 13th century. Genoa's fleet inflicted a devastating defeat on Pisa at the battle of Meloria in 1284. The 14th century would be marked by economic collapse, plague, war, and tyranny throughout Tuscany. In the bubonic-plague outbreak of 1348, approximately two-thirds of the population was lost in cities across Tuscany. The plague wiped out the entire hospital and monastery populations. Dark times indeed.
However, in 1406 Pisa fell to Florence after much fighting between the rival powers. This was ultimate to the city's benefit, as the Medicis – a powerful family of the Renaissance – encouraged great artistic, literary, and scientific endeavors and re-established Pisa's university, where the city's most famous son, Galileo Galilei, taught in the late 16th century. His story is a fascinating one. Galileo's meticulous observations of the physical universe attracted the Church's attention, which by the 16th century had a problematic relationship with the stars. Galileo's findings that the earth revolved around the sun, and not the other way round, ruffled many religious feathers, including Paul III. Under the threat of torture, Galileo stated in writing that he might have overstated the case for the Copernican view of the universe. He was allowed to carry out his prison sentence under house arrest. But despite his troubled final years, Galileo's groundbreaking work had massive repercussions for the scientific community and, indeed, western civilization.
The 17th and 18th centuries saw more political turmoil for the citizens of Pisa. Austrian Holy Roman Empress Maria Theresa set up her husband, Francis, as the grand duke of Tuscany. Subsequently, after the rise of Napoleon Bonaparte in France, he took over large swaths of Tuscany in 1799, during his violent campaigns across Europe. However, following Napoleon's fall from grace in 1814, the Habsburg king Ferdinando III took over the title of the grand duke of Tuscany.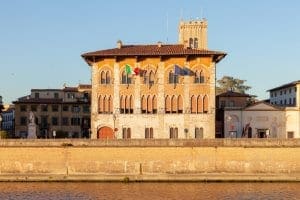 Modern Times
The 19th and 20th centuries were no less tumultuous. In 1861 Italy was united under one flag, although the early split between radicals and conservatives would define Tuscany's future political landscape. Italy got more war than it bargained for in 1914 when WWI broke out. A young, prominent socialist firebrand named Benito Mussolini led Italy's call to intervene in support of the Allies, leading to his expulsion from the socialist party. As a result, he formed the National Fascist Party, which took control of Italy before WWII. In 1922 the Fascists marched on Rome and staged a coup d'etat, installing Mussolini as prime minister.
The horrors of the Second World War brought much suffering to the citizens of Tuscany. In Pisa, only the Leaning Tower and Cathedral were spared from the Allied bombing campaigns. A still-unknown number of Italians were sent to death camps in Germany. A stone in front of Florence's synagogue memorializes the 128 jews from the city that died in these camps. Jews shared similar fates in Pisa, Siena, and other Tuscan towns.
Nevertheless, Pisa recovered from WWII's horrors, emerging as the proud regional capital of northern Tuscany. Romanticized the world over, Tuscany has impassioned more writers, artists, and indeed tourists than any other European region. Yet what is it that makes the birthplace of Gucci, Cavatelli, and the Vespa scooter so inspiring, so dolce (sweet)? In Pisa, you will find answers, but perhaps not where you expect. Of course, the Leaning Tower is a must-visit attraction, but Pisa's real charm lies in its adherence to the fabled Dolce Vita. There is no better time of day or week than late Sunday afternoon to witness this in action – the entire city hums with families and couples taking a "passeggiata" (early-evening stroll). Take a gelato, sip wine, relax in one of the many beautiful piazzas, mooch, contemplate, and admire the sunset. This is Pisa's La Dolce Vita – relishing the close of the day at an exceedingly relaxed pace.
Gastronomy & Wine
Life is sweet for this privileged pocket of Italy, one of the countries wealthiest enclaves that benefits from an abundance of fresh produce, world-class gastronomy, and sacred vineyards. Whether sinking your teeth into a bistecca alla Fiorentina (chargrilled T-bone steak), savoring Livorno fish strew, or devouring white truffles unearthed around San Miniato near Pisa, traveling in Tuscany is all about fine food and drink. A younger firmament of chefs, often having traveled abroad, continue to shake up the region's food scene with innovative versions of traditional Tuscan dishes.
Nevertheless, for the vast majority of Pisans, good food means remaining faithful to the region's humble roots, using only fresh produce and eschewing fussy execution. Indeed, prime beef cuts were the domaine of the wealthy, and offal was the staple fare for most Tuscans. Tripe was simmered for hours with onions, carrots, and herbs to make lampredetto or with tomatoes and herbs to make trippa alla Fiorentina – two classics widely available in Pisa today. In the autumn, cinghiale (wild boar) will make a regular appearance on menus, often turned into salsicce di cinghiale (wild-boar sausages) or simmered with tomatoes, pepper, and herbs to create a rich and satisfying casserole. Tuscans are enthusiastic consumers of all manner of pork dishes – finocchiona (fennel-spiced sausage), prosciutto, and mortadella (a smooth-textured pork sausage speckled with cuves of white fat) are local highlights.
However, that is not to suggest that Pisans aren't equally passionate about their fresh vegetables and surfeit of local non-meat produce. Pulses make a regular appearance on menus – minestra di fagioli (bean soup) and minestra di pane (bread and bean soup) are delicious and hearty, the epitome of local Tuscan cooking with fuss and faff omitted. Tuscany's lush landscape grows all manner of vegetables and herbs to perfection, including tomatoes, wild fennel, black celery, red onions, artichokes, and zucchini flowers, black cabbage, and chard. The list is almost endless, and so are the countless local recipes that make full use of this plentiful bounty. Other Pisan specialties include fresh pecorino (sheep's milk cheese), zuppe di cavolo (cabbage soup), pan ficato (fig cake), and castagnaccio (chestnut-flour cake enriched by nuts).
Meanwhile, oenophiles have long recognized Tuscany as a leading source of fine wine, with numerous appellations and sub-regions catering to every desire. Bolgheri, situated south of Pisa, is the source of two of Tuscany's most famous wines – Ornellaia and Sassicaia. Bordeaux varieties are grown here in a remarkable terroir; the vineyard's proximity to the Tyrrhenian sea has a massive impact on the microclimate, moderating temperatures significantly during the summer months, especially in the evenings. It creates a hybrid maritime-Mediterranean climate, aided by the altitude of the vines, spread out on rocky hillsides. Brunello di Montalcino will also make an appearance on Pisa's best wine lists, the product of Sangiovese grapes grown south of Siena, aged for two years in oak. Intense and complex, with an ethereal fragrance, it's the ideal for game, wild boar, and roasts. Luckily, all great staples of the Tuscan kitchen!