Lagrein Grape Varietal
Sommeliers often remark that certain wine styles and regions sell themselves. After all, most collectors are (self-certified) experts when it comes to the Cru Classé estates of Bordeaux and the Grand Crus of Burgundy. However, for some lucky brands, a marketing pitch is surplus to requirements – Le Montrachet and Latour will fly off the shelves at almost any price.
Lagrein is not so fortunate. This ancient red varietal is scarcely known outside of northern Italy, let alone Europe or the US. Yet, it is responsible for one of the most versatile and food-friendly wine styles being made in Italy today. Concentrated, brooding, and tannic, Lagrein is definitely not a second-division grape variety.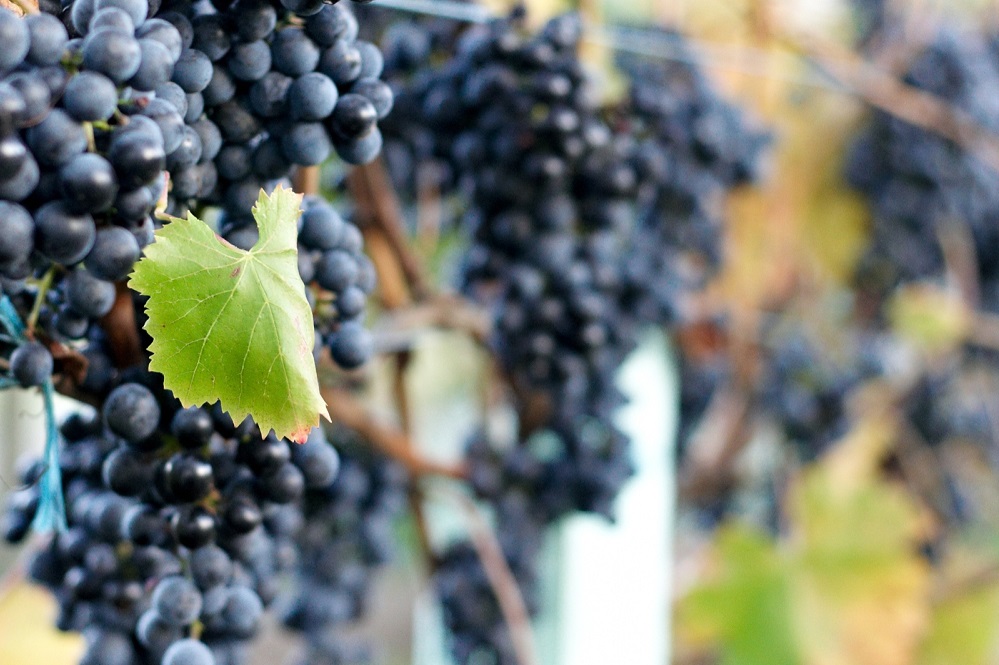 For centuries, Lagrein has made its home in the Trentino-Alto Adige wine region. Situated in northeastern Italy, the 'Südtirol' as it is known in German, is perhaps Europe's most multicultural province. Visitors to the region are often disorientated, not least because German is spoken as frequently as Italian. There are pretty squares galore in the beautiful city of Bolzano, stuffed full of gelaterias and pizzerias. Yet directly opposite, you'll see signs advertising 'Bier und Wiener Schnitzel,' while the architecture has distinctly Germanic undertones. This is how they do things in Trentino-Alto Adige; the Südtirol was formerly part of Austria.
Many winemakers presume that Lagrein owes its nomenclature to the town of Val Lagarina in Trentino. This is very likely, as Lagrein was first mentioned in the 1600s by a religious order of the Muri Abbey, near the city of Bolzano. However, there is an alternative theory, which is that Lagrein is a Greek import. In the 8th century BC, the Greeks began their conquest of Italy, retaining power until the rise of the Romans. Therefore, it is believed that Lagrein is a close relative of the wines that were produced in the ancient town of Lagaria in southern Italy. Legend tells that Lagaria was a settlement founded by Epeius, head of a colony of Phocians and the man responsible for the fabled Trojan Horse. Myth or fact? We'll never know.
However, thanks to extensive DNA profiling, we know that Lagrein is a descendant of the Teroldego grape variety, adding weight to the argument that it has always been part of the wine culture in the Italian Alps. Syrah, Pinot Noir, and Dureza are also close genetic relatives.
Indeed, in every possible sense, Lagrein is an esoteric and 'undiscovered' Italian red grape variety. Flanked by the magnificent snow-capped peaks of the Italian Dolomites, the grape is cultivated in Trentino and its suffix, planted on both sides of the Adige valley in a spectacular corridor connecting Austria with Italy. Over 65 percent of the landmass rises above an altitude of 1000 meters, so there is no paucity of 'mountain terroir' in this part of the world. The region's soils are similarly very diverse: calcareous terroir, gravel, granite, and mineral-rich alluvium are all commonly found.
You can explore Trentino-Alto Adige Wine Region with Cellar Tours on a private Luxury Food and Wine Vacation, dine in the best local restaurants, and enjoy VIP tastings in the top wineries.
Trentino and Alto-Adige DOC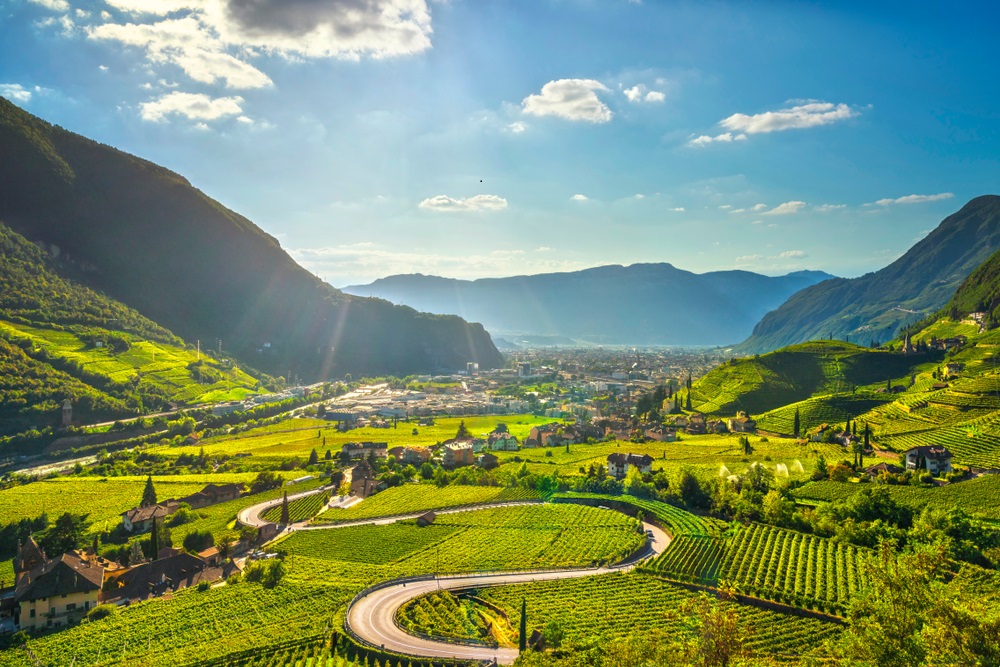 Today, Lagrein finds its way into many blends produced under the Trentino and Alto-Adige DOC appellation frameworks. It is also increasingly being bottled as a standalone varietal wine, particularly in the sub-zones near the city of Bolzano. But don't be fooled by the grape's apparent versatility – cultivating Lagrein is no walk in the park.
Historically, growers struggled to ripen the variety's notoriously firm tannins without sacrificing acidity and freshness. As a result, underripe Lagrein is imbued with the most astringent tannin imaginable, subjugating the fruit and ensuring that the wine is only approachable after a decade or more. Although the vines are not particularly susceptible to diseases, Lagrein tends to produce wildly fluctuating yields, ranging from (overly) abundant in certain vintages to minuscule in others. However, better clonal and site selection has helped to mitigate these challenges.
After a long period of trial and error, Lagrein is genuinely finding its roots in Trentino Alto-Adige. Winegrowers now understand that high altitude is not necessarily Lagrein's friend. Bolzano, for example, can bake in the summer, leading producers to plant grapes on the higher slopes which encircle the town – they can rise to over 700m above sea level. Although the cooler nights help preserve acidity, the tannins can struggle to properly ripen, especially in cooler years. Therefore an altitude of between 300-500 meters is best for avoiding frost and optimizing freshness and ripeness. With careful site- selection, a grower can have their cake and eat it.
Climate change has also played its part. Over the past five years, Trentino-Alto Adige has enjoyed a string of very warm vintages, creating concentrated and voluptuous wines with soft acidity (some would argue too soft!). However, the upside was that it became comparatively rare to encounter a Lagrein with fierce or astringent tannins. Nevertheless, Andreas Kofler, president of Cantina Kurtatsch in Alto Adige, told journalists in September 2021 that the winery was rethinking its planting strategy due to global warming. "We have replaced our Müller Thurgau (which needs the coolest climate) vineyards planted at below 800 meters with Pinot Grigio or Pinot Bianco. In addition, we also replanted our Sauvignon and Pinot Blanc vineyards at altitudes of 450m above sea level – they were formerly planted at 350m," explained Kofler.
In addition, vinification techniques are constantly being refined. Traditionally, winemakers would subject the grape to a prolonged maceration, extracting the maximum color, flavor, and tannin possible. Such wines can age into velvety brilliance, although a contemporary audience will probably not wait ten years to enjoy a wine. So approaches had to change; cooler fermentations and shorter maceration times soften Lagrein's inherent austerity and encourage earlier drinking.
But even modern-style Lagrein can be an assault on your senses. There is an extraordinary power to this grape, with its richly-textured body and exotic fruit profile. In its youth, Lagrein is renowned for its black cherry and plum bouquet; bottle age reveals tertiary flavors of Chinese five-spice, damson, coffee, and dark chocolate. The best examples have a grip, depth, and persistence that is rare even among the top wines of northern Italy. That said, there are discernible stylistic variances, depending on where the grape is grown.
Alto Adige Dunkel DOC
The grape's heartland remains the sub-regions surrounding the city of Bolzano. The Alto Adige Dunkel DOC allows both single-varietal wines and blends (85% minimum Lagrein), which consequently vary enormously in style and quality. The wine must be aged for two years after the harvest to qualify for the Riserva category. It is also responsible for a deeply-fruity rosé under the auspices of the Lagrein-Kretzer DOC. However, without a shadow of a doubt, the best Lagrein wines being made today come from Weingut Nusserhof in Bolzano. Structured, complex, and incredibly refined, these are the Holy Grail of Alto Adige reds.
Lagrein also triumphs in the Trentino Sorni sub-zone, located north of Trento and encompassing the towns of Lavis, Giovo, and San Michele all'Adige. The most privileged vineyards, planted on alluvial soils, enjoy a south-facing position, enabling them to benefit from the cooler morning sun. Blends and single-varietal wines are permitted under local rules; a Trentino Sorni Rosso may incorporate varying percentages of Lagrein, Schiava, and/or Teroldego. The resulting wines are often rich and powerful, with ripe acidity and accessible tannins.
The sub-zone of Terlano is another terroir in the ascendant. Situated north of Bolzano, the soils are composed of hard granite, in contrast to the calcareous terroir that defines the region. Lagrein planted on the lower slopes produces some of the finest examples of the genre in Alto Adige – perfumed, elegant, and powerfully structured.
Yet, it isn't easy to define the grape's signature trademark precisely due to the numerous distinct terroirs on which Lagrein is cultivated. Every climat (vineyard site) in Trentino-Alto Adige has a unique set of characteristics pertaining to the vineyard's elevation, aspect, and soil type. Certain growers favor the cooler micro-climates inherent to the eastern shores of the "Valle dei Lagi"; others prefer the high slopes of Bolzano, trading concentration and ripeness for acidity. In such diverse and parcellated terroir, it is hardly surprising that growers can fashion a rich mosaic of Lagrein wine styles, from medium-bodied and airy to voluptuousness itself. Your only guarantee is authenticity – a food-friendly Alpine wine style for all occasions. There are no pale imitations or lackluster copycats in this part of the world. Lagrein grown in the shadow of the Dolomites is the genuine article.
Food Pairings
Unfortunately, you'll probably need to visit the region first hand if you wish to taste them. Of course, there is an upside, not least the opportunity to sample the area's diverse and sophisticated local gastronomy in the multitude of Trentino-Alto Adige's excellent restaurants. Unsurprisingly, local cuisine merges the best German and Italian culinary tradition elements in a glorious fusion culture that has no equal anywhere else in Europe. A typical menu might showcase schnitzels and steaks alongside rabbit ragu and jugged venison paired with dumplings (canederli). Goat and rabbit are specialties of the region, as is speck (cured ham) and polenta. Spätzle – a fresh egg pasta with medieval German origins – is to die for. Lagrein, whether blended or single-varietal, will gladly complement all of the above.
Top producers of Lagrein wines:
Abbazia di Novacella
Nusserhof