Frappato Grape Varietal
Sicily represents the last frontier of Italian viticulture. When pioneers like Piero Antinori and the Marquis Mario della Rocchetta were busy reinventing Tuscany's image and creating global icons, Sicily was mired in mediocrity and apathy. Encouraged by generous subsidies, the island's winegrowers focused their energies on ripening vast quantities of grapes for distillation and bulk wine. As a result, the term 'Sicilian fine wine' was something of a contradiction in terms; by the 1970s, central Italy was blazing ahead, while Sicily remained a fine wine desert.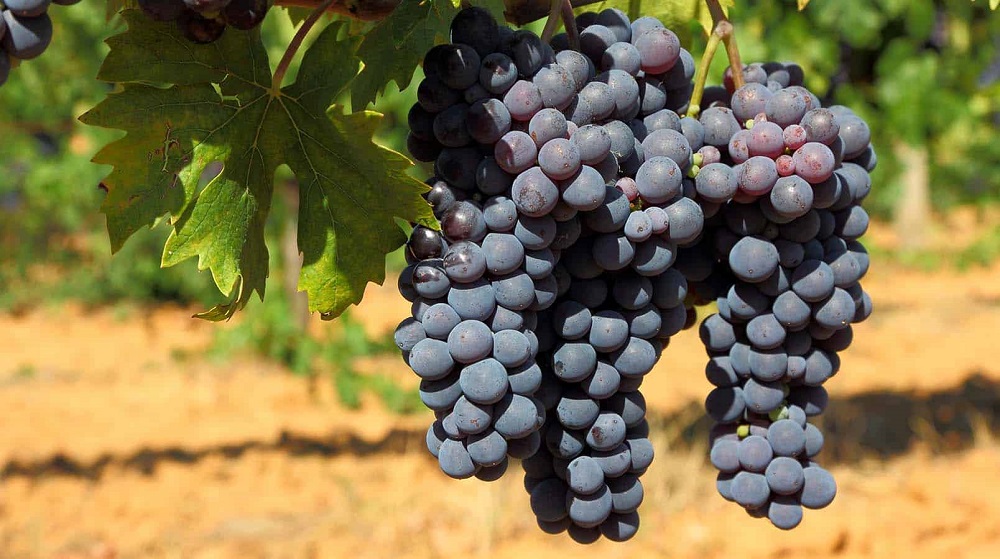 You can explore Sicily's Wine Regions with Cellar Tours on a private Luxury Food and Wine Vacation, dine in the best local restaurants, and enjoy VIP tastings in the top wineries.
Yet the Tuscan old guard would scarcely recognize this Mediterranean marvel today. The twin savors of innovation and investment have transformed the island's wine industry. At the same time, international money continues to pour into the slopes of Mt.Etna, considered by many critics to be Italy's most important emerging wine region.
However, while this spectacular volcano, and its mountain terroir, are an undeniable source of excellent wines (both red and white), Etna does not hold a monopoly on viticultural excitement. In the Val di Noto region, great things are happening with the Frappato grape variety.
Frappato is yet another indigenous Italian varietal that deserves to be much better known. There are scarcely 760 hectares of vineyards planted worldwide; Sicily accounts for over 85% of global acreage. Even today, Frappato is not a significant fixture in most wine lists, only finding its way into one DOCG appellation on the island. But it is worth seeking out, nonetheless.
Frappato's origins remain a mystery. Scientists have proven that the grape is a close genetic relative of Sangiovese; however, beyond that, we know very little about Frappato's history. But Sicilian winegrowers can tell us a great deal about handling and nurturing this problematic beast.
The thin-skinned, delicate Frappato is the antithesis of Cabernet Sauvignon. That variety will grow in various climates and terroirs, yielding generous bunches of ripe fruit unless its vigor is curtailed. Frappato, in contrast, is fussy and very 'specific,' requiring dry and warm conditions that come so easily to growers in Sicily. Its first preference is to be planted on sandy/calcareous soils with good drainage. Heavier clay soils are acceptable, but the variety will not thrive in this terroir, as the soils are too cold. But at the very least, Frappato is not prone to the fungal diseases which plague growers in wetter climes.
No, the central issue with Frappato is yield. Even if the climate and soils are to its liking, the grape will never produce massive bunches laden with ripe berries; undoubtedly one of the key reasons why there is not more Frappato in the world; economics must sometimes trump sentiment. Even its acolytes admit that they could make more money elsewhere. But their loyalty to Frappato remains partly an antidote to the increasingly homogenized and globalized wine industry.
If the winegrower picks healthy bunches and handles Frappato with care in the winery, then a very delicate and perfume red wine will emerge. The best analogy would be 'Sicily's answer to Beaujolais.' It has the ethereal charm (and light color) of Gamay, merged with the grip of Sangiovese, and a flavor profile that has no equal. Typically high in acidity, Frappato is a most refreshing and distinctive drink. Unfortunately, it rarely benefits from being 'seasoned' in new French oak, although some producers have gone down this route, adding structure and mouthfeel to the wine.
In its youth, Frappato offers irresistible aromas of wild strawberries and cherries, overlaid with notes of violets and lavender. With age, these pungent 'flowery' characteristics will mellow and evolve into white pepper, cinnamon, cloves, and tobacco flavors. Frappato can usually be enjoyed upon release, yet the more structured examples can effortlessly age for 5-10 years. Today, the vast majority of Frappato is blended with other grape varieties – most commonly Nero d'Avola.
Nevertheless, it has been encouraging to see more and more wineries releasing single-varietal interpretations of the grape. Arianna Occhipinti, Donnafugata, and Planeta make excellent versions – fresh, fragrant wines with ripe acidity and beautiful tannins. Traditionally aged in old wood barrels before release, Occhipinti pioneered maturation in ceramic amphora; this contributes a distinctly saline quality to the wines, adding an extra dimension to an already delicious grape variety.
Of course, blended versions can be just as satisfying to drink, particularly when the power and concentration of Nero d'Avola is counterbalanced against Frappato's poise and elegance. Yet, it is undeniable that the grape's signature perfume and finesse are inevitably subjugated when other varieties enter the mix.
Cerasuolo di Vittoria DOCG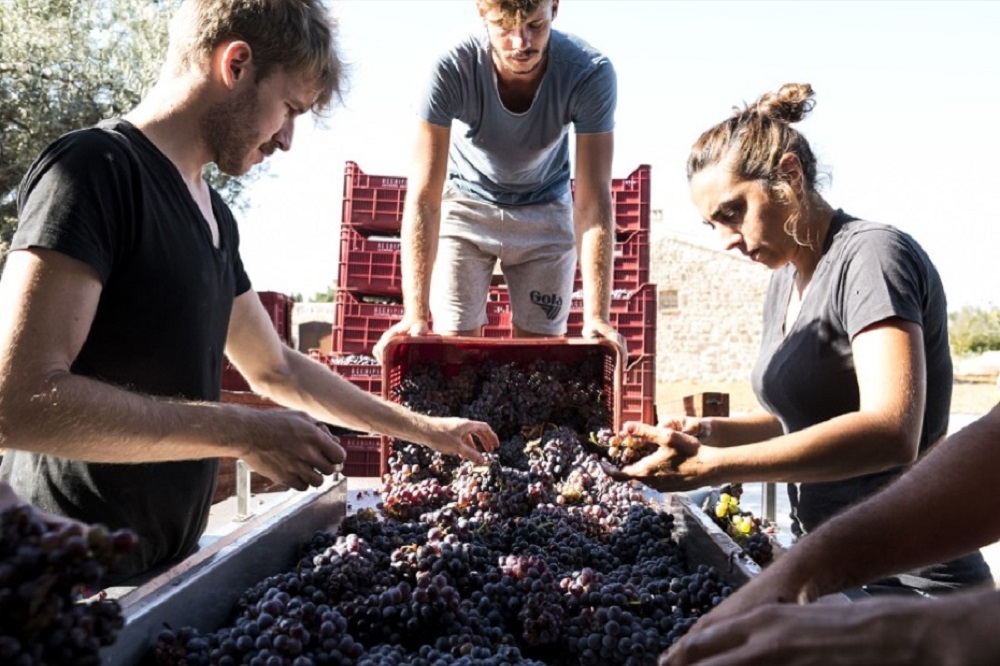 Harvesting at the Occhipinti Winery
So, where can we sample these delicious and hard-to-find red wines? If you head southwest of Catania, you'll arrive at Frappato's heartland: Cerasuolo di Vittoria. With a wine-growing lineage that dates back to the 3rd century BC, it is the only territory, thus far, to be awarded DOCG status in Sicily. Promoted from the humble ranks of DOC in 2005, the appellation encompasses a wide area, stretching from the spectacular hilltop city of Ragusa to Riesi in the west. Over 70 square kilometers of land is under vine, planted on calcareous soils with greater sand and/or clay concentrations in certain sub-zones. The limestone terroir, combined with Sicily's reliably dry and hot summer weather, ensures that Frappato thrives here.
According to the DOCG rules, winemakers are free to craft 50/50 blends of Nero d'Avola and Frappato, although the regulations allow the former to dominate (up to 70%). There is an additional 'Classico' designation awarded to wines that are matured for a minimum of 18 months before release. The best examples are powerfully structured and refined, with enough tannin and 'stuffing' to age for 15-20 years.
Vittoria DOC & Terre Siciliane ITG
Single-varietal Frappato is also produced under the Vittoria DOC framework or the newer IGT Terre Siciliane designation. Indeed, several producers prefer the flexibility of the IGT (Indicazione Geografica Tipica) rules, where blends or single-varietal wines are allowed, with few stringent rules on percentages, etc.
In the current global context, Frappato represents everything wonderful about Italian red wine. Although international varieties continue to make inroads in regions as diverse as Tuscany, Puglia, and Piedmont, Sicily's proud growers have (largely) defended their traditions and indigenous grape varieties. As a result, Italy has more original flavors and wine styles than any other in Europe. And Sicily, once maligned and derided, has become a destination that merges the best elements of innovation with time-honored practices. It may be controversial to say so, but no New World region can match the excitement or novelty emanating out of Europe's oldest winemaking country.
Of course, you could play it safe and plump for a Chilean Merlot or Aussie Shiraz. They're both great, safe choices. But too much safety cloys in the end, leading to tedium. So why not take a chance on the unexpected and allow Frappato's charms to work their magic? This grape variety is a true original, and they don't come along all that often.
Frappato Food Pairings
Incidentally, both styles of Frappato will shine at the dinner table. As you would expect, gastronomy is of the utmost importance to Sicilians; local cuisine is robust and hearty, with an understandable emphasis on seafood, seasonality, and fresh ingredients. Fresh Arancini, a local specialty, is to die for; risotto rice mixed with cheese (or other ingredients) and then deep-fried. Several local interpretations of this wonderful snack include some cooks filling their Arancini with chicken livers, while others prefer saffron or ragu, peas, and mozzarella. Polpette di Cavallo is another favorite – horsemeat meatballs prepared with eggs, Parmesan, parsley, lemon, and breadcrumbs. They are delicious when deep-fried, either as a mid-day treat or restaurant entree. Frappato's vibrant acidity and intense aromatics cut across such intensely flavored dishes easily, creating a balanced food & wine marriage.
Top producers of Frappato wines: