With so much flavor combined with substance and simplicity, it's no surprise that Italian food is a perennial winner in world-favorite cuisines. And the nation's many and varied, delicious pasta dishes are largely the reason why.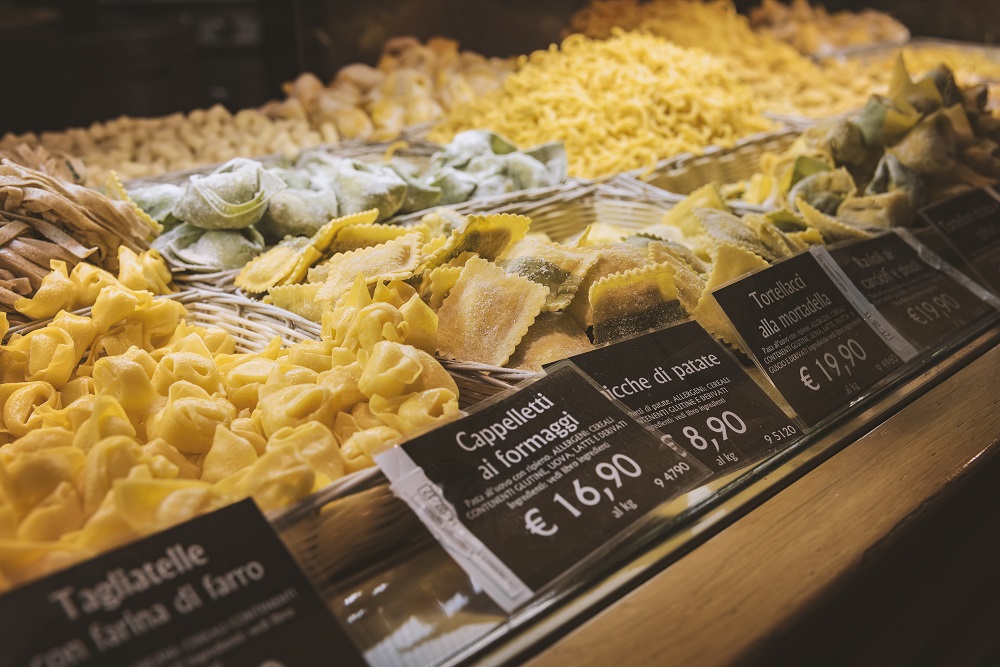 As ever when it comes to food, Emilia Romagna has more than its fair share of tasty pasta specialties, and 'fare la sfoglia', or making the traditional deep yellow egg pasta dough, is considered a true art. Many of the region's pasta shapes have curious stories or legends surrounding their origins, and all have a specific way of serving them in broth or with a particular sauce.
King of the table
Bologna is the region's undisputed pasta capital, and many of the 30-plus recipes registered at the city's Chamber of Commerce are for fresh egg pasta specialties. The first of these to be registered, and the so-called king of the table, is the tortellino, a must on local dining tables to celebrate any festive occasion such as Christmas, New Year, Easter, and birthdays. Even the phrase 'mangiamo tortellini' (let's eat tortellini) is synonymous with 'let's party,' and a dedicated tortellini festival is held each year on 4 October, the day the city's patron saint, San Petronio, is also celebrated.
The Bologna tortellini filling is made of equal proportions (300g) of pork loin, prosciutto, and mortadella with a larger amount of Parmigiano Reggiano (450g), three eggs and a pinch of nutmeg. They should be small enough that at least five, and up to eight, tortellini should fit easily on a soup spoon – the traditional way to enjoy this pasta is in capon broth.
While there are variations on the legend behind the origins of the dainty pasta shapes, it's generally agreed that tortellini are made to resemble a perfect navel, perhaps belonging to no less beauty than the goddess Venus, spied through the keyhole by an innkeeper. There's even a statue of the tortellino in Castelfranco Emilia, the accepted birthplace of the specialty. While the town now comes within the province of Modena, it once belonged to Bologna. The claim as the home of tortellini is one more example of the continued bickering between the two neighboring cities. In Modena, try tortellini at the historic food market Mercato Albinelli, where they suggest you enjoy it the traditional way, pouring a drop of your Lambrusco into the broth.
Pasta people
Another Bologna favorite, tagliatelle, was also inspired by female beauty: it was first made on the occasion of Lucrezia Borgia's first wedding, which took place in the city, as a tribute to her beautiful long, wavy, golden hair. Tagliatelle al ragù is a favorite on many menus. Along with the official recipe for ragù, Bologna's Chamber of Commerce has a strip of gold representing the perfect width for tagliatelle (8mm after cooking) kept in a wooden casket for safekeeping.
Most of the city's restaurants have their sfoglino (fresh pasta maker), which has become a highly respected profession in recent years. In addition, there are numerous pasta labs in central Bologna where you can buy pasta and watch it being produced. The most celebrated of these is Le Sfogline opposite the Mercato delle Erbe food market (pre-booking your batch of pasta to take home and cook is recommended). At the same time, there are daily queues at Sfoglia Rina, a pasta shop with tables where you can enjoy the classics and seasonal specialty pasta with intriguing flavor combinations. Finally, buying the ready-prepared filling at one of Bologna's magnificent delis, such as Simoni, is a good idea if you feel like making your own.
Each city in Italy has its own distinctive masked carnival character. Bologna, for instance, has a masked carnival character named Dottor Balanzoni, who happens to be a university professor. This character is so famous that it has given its name to a filled pasta specialty called balanzoni. These large green pasta parcels get their color from spinach used in the dough (similar to the city's typical lasagne). Balanzoni is typically filled with mortadella and ricotta and is usually served with a simple butter and sage topping. The city's traditional tortelloni, which has a ricotta and parsley filling, are generally served this way too.
Regional specials
Elsewhere in the region, the filled pasta specialties change shape and name but retain their importance on the dinner table for festive and family occasions. Taking its name from 'annulus,' the Latin word for ring, anolini is the disk or half-moon-shaped preferred pasta of Parma and Piacenza in the west of the region. While the recipe varies, they're usually served in broth, and the filling always includes beef. First made in the 12th century, they were enjoyed in later centuries by popes and by Marie Louise, Duchess of Parma and wife of Napoleon – the saying goes that the only bow the duchess would make was in reverence to the noble anolino. A good place to find them in Parma's Via Farini is the historic Sorelle Picchi.
Cappellacci is the name given to the specialty of Ferrara, with its aromatic filling of butternut squash (zucca violina in Italian due to its violin-like shape) aromatized with nutmeg and Parmigiano Reggiano and first made at the court of the d'Este rulers. Il Mandorlino is a classic place to enjoy them at lunchtime (closed evenings) in central Ferrara.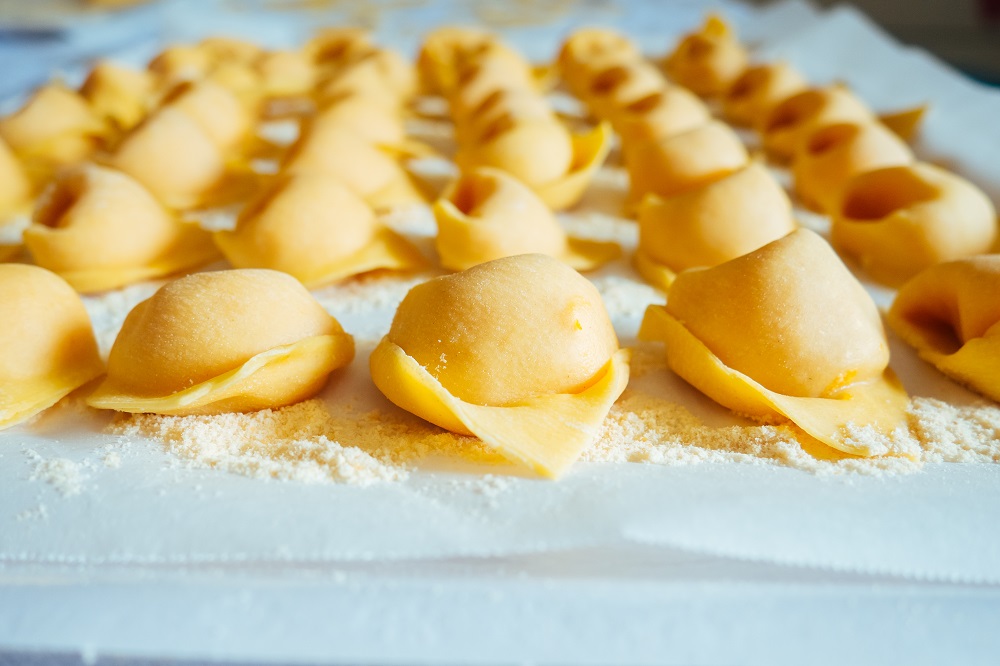 Cappelletti, a cap-shaped pasta
The potential for confusion surrounding the subtle differences between various types of filled pasta peaks when talking of cappelletti; the shape is rounder than that of tortellini to resemble a hat type (cappello means hat), and the filling varies from place to place, chef to chef. In Romgna, the eastern half of the region, the traditional filling for cappelletti tends to be cheese-based and meat-free. In contrast, the cappelletti of Reggio Emilia, between Modena and Parma in the western region, is filled with meat, generally beef with a small percentage of pork.
Traditionally meat-free, spoja lorda (literally 'dirty pasta'), made in the Ravenna area on the Adriatic coast, are small squares with wavy edges, like a postage stamp. The filling is less abundant than with other shapes, hence the name. Ravenna's Mercato Coperto is a good spot to find spoja lorda and other types of local pasta.
Just pasta
Emilia Romagna's pasta isn't all filled, however: short pasta squiggles known as gramigna are popular with a sausage sauce, while garganelli, the specialty of Imola, are squares of sfoglia rolled up to make short tubes with pointed ends. They're made with a special wooden 'pettine,' a kind of wooden rack and stick, and are traditionally served with a ham and shallot sauce.
Passatelli, another favorite in the pasta section of menus, especially in Bologna and the eastern areas of the region, are made with something other than the traditional deep yellow sfoglia pasta dough. Instead, a mixture of breadcrumbs, Parmigiano Reggiano, egg, and nutmeg is made into a ball and transformed into chunky worm-shaped lengths by pushing it through a potato ricer directly into a saucepan of steaming broth.
It's not all fresh pasta in Emilia Romagna, of course – historic dry pasta giant Barilla is based near Parma and offers occasional open days for visitors. Also near Parma, the Museo della Pasta, a pasta museum, is dedicated to the history of pasta of all kinds.
Thanks to the delicate yet structured character of most of the region's pasta dishes, a wide range of local wines pair perfectly. Rest assured, a harmonious match is guaranteed if you feel like a Lambrusco, Pignoletto, Albana, or even Sangiovese. And, as a staple of the Mediterranean diet, pasta is as popular nowadays as it has ever been. Menus throughout Italy dedicate an entire section to it, and most restaurants employ a  specialist pasta chef. It's increasingly easy to find pasta as street food, too – fried tortellini and tortelloni are a must-try, and many places even serve cartons of pasta in broth to eat as you stroll.
Tortellini with you – forever!
The downside of fresh pasta is that it's to be savored in the here and now or within a few days of being made at the most. While it can be frozen, the best way to enjoy traditional pasta from Emilia Romagna back home is to learn the skills and secrets of the sfoglino so you can make it yourself time and time again. Pasta-making courses for pros and enthusiasts abound throughout the region, including at the Vecchia Scuola Bolognese in Bologna.
As Federico Fellini, the film director from Rimini on the Romagna coast, said: "life is a combination of pasta and magic."