Both Spain and Italy boast a long history of curing ham for personal consumption – the best Jamon Iberico and Prosciutto are simply divine and the ideal foil for various wine styles. Indeed, even just a meager slice of Jamon de Bellota or Italy's celebrated Culatello di Zibello is the pinnacle of gastronomic heaven, as any aficionado of Spanish and Italian ham will gladly testify.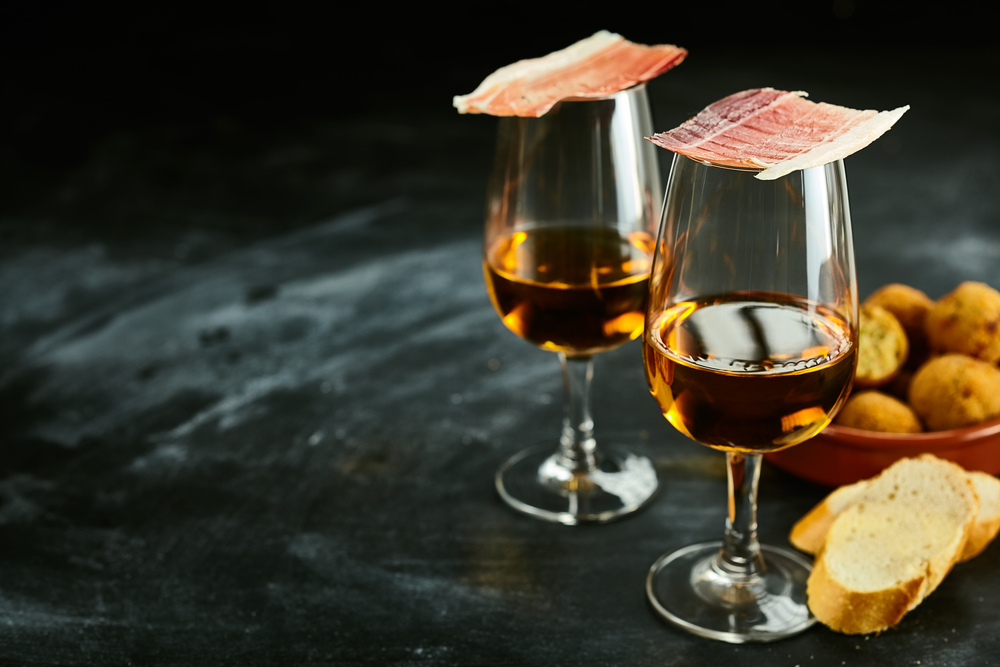 Yet purists would argue that nothing should interfere with your enjoyment of Jamon Iberico or Prosciutto – conventional wisdom suggests matching luxury ham with a piece of bread, and perhaps a glass of sherry, but little else. However, nothing could be further from the truth; both Spanish and Italian ham pairs extremely well with a variety of wine styles, from fortified to sparkling; you're bound to discover the perfect pairing in our guide below:
You can taste these delicious hams with Cellar Tours on a Private Spanish Wine Tour or Private Italian Wine Tour.
Spanish Hams
Jamon Iberico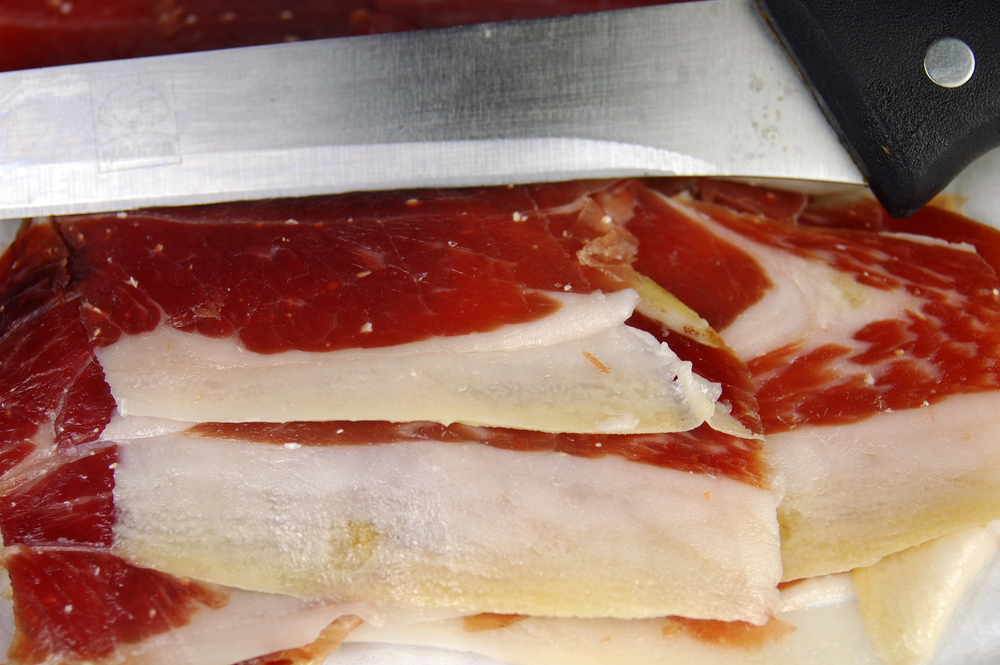 Jamon Iberico requires little introduction to Spanish food and drink aficionados – produced from a descendant of the European Wild Boar found in small numbers in Dehesas (oak forest reserves) in south-west Spain, Iberico is justly prized for its depth of flavor and texture. The quintessential wine pairing is sherry, as any self-respecting Spaniard will testify. And yes, it is a cliché, to be sure, but a cliché that works time and time again. Lighter styles such as fino and manzanilla work best: salty aromas and low acidity provide a perfect foil to the buttery softness of Jamon Iberico, an effortless gastronomic pairing. Our top choice would be Gonzalez Byass 'En Rama' fino sherry. However, eschew oloroso styles they tend to overwhelm the ham flavors.
Alternatively, try Cava, preferably a brut nature from a leading producer in a riper vintage. High acidity in sparkling wine can clash with top Spanish ham, making some Champagne particularly unsuitable; however, softer, riper cava is often a great match with Jamon Iberico. Gramona Imperial is one such exceptional example of a great partner for Jamon Iberico; the wines of Raventos I Blanc would be another.
---
Jamon Iberico de Bellota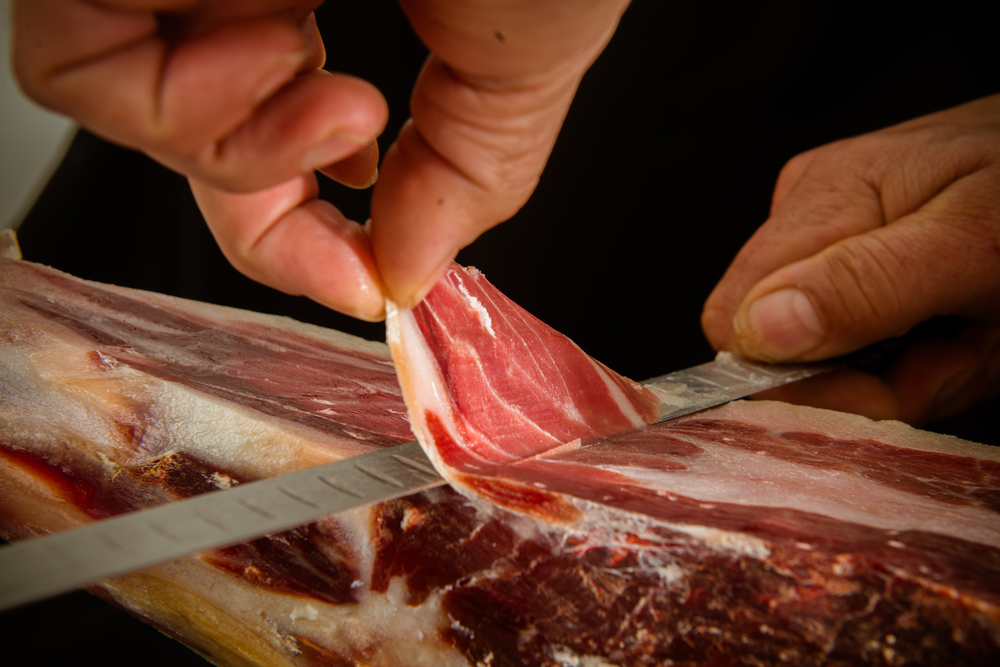 Comfortably (and justifiably) perched at the top of the Jamon hierarchy, Bellota ham deserves something quite special. Protected by strict appellation laws to ensure quality, de Bellota is made from Wild Boar meat, animals that roam free across Spain's protected Dehesas, gaining weight from an acorn diet. The curing and aging process has been followed for centuries and remains mostly unchanged today, albeit updated with the latest temperature control technology. The final product is simply stunning: a silky, slightly salty ham that deserves 5-star treatment. Of course, Sherry works very well, but we find that older, mature reds are the best accompaniment to a plate of moreish Jamon de Bellota. Young reds, certainly those with excessive acid, tannin, and oak, tend to overwhelm the flavor of Bellota ham and should generally be avoided. Yet older reds with polished, mature tannins and sensitive oak treatment are ideal. Our most memorable match was a bottle of 1994 Vina Tondonia, from the legendary family-owned bodega López de Heredia, in Rioja. The mature aroma and flavors of tobacco and cedar were an exquisite foil to the ham's complexity and refinement.
As an aside, we would strongly recommend avoiding rose and dessert wine styles with Jamon de Bellota altogether. Rose wine adds nothing to the experience, while the sugar obviously inherent in dessert wine often overshadows Iberico ham's flavors. It's not a marriage made in heaven, at the very least.
---
Jamon Serrano
Less glamorous than Iberico Ham, Jamon Serrano is nevertheless a welcome tapas bar standby, amiably enhanced by various wine styles. Produced from the European white pig's meat, the name Serrano refers explicitly to the cut of the ham rather than a breed used to produce the tasty Jamon. The best example – salt-cured ham, which is dried in mountain (Serrano) air – can be a delicious, cheaper alternative to the more expensive Jamon Iberico. Often paired with sherry, we find that young, fruity reds light in tannin – carbonic maceration is your friend here – work very well with Jamon Serrano. Although not a patriotic choice, Beaujolais Nouveau is a good partner, Joven Rioja, made without any oak influence. Campo Viejo Tempranillo, for example.
White wines can also step up to the challenge, although pick your bottle judiciously. High-acid whites such as Loire Sauvignon Blanc or German Riesling won't work, instead, think mature Chardonnay from Burgundy or perhaps a Viura-based white from Rioja. Finca Allende's superlative white Rioja gets our vote for the most hedonistic and sweetly satisfying of matches!
Italian Hams
Speck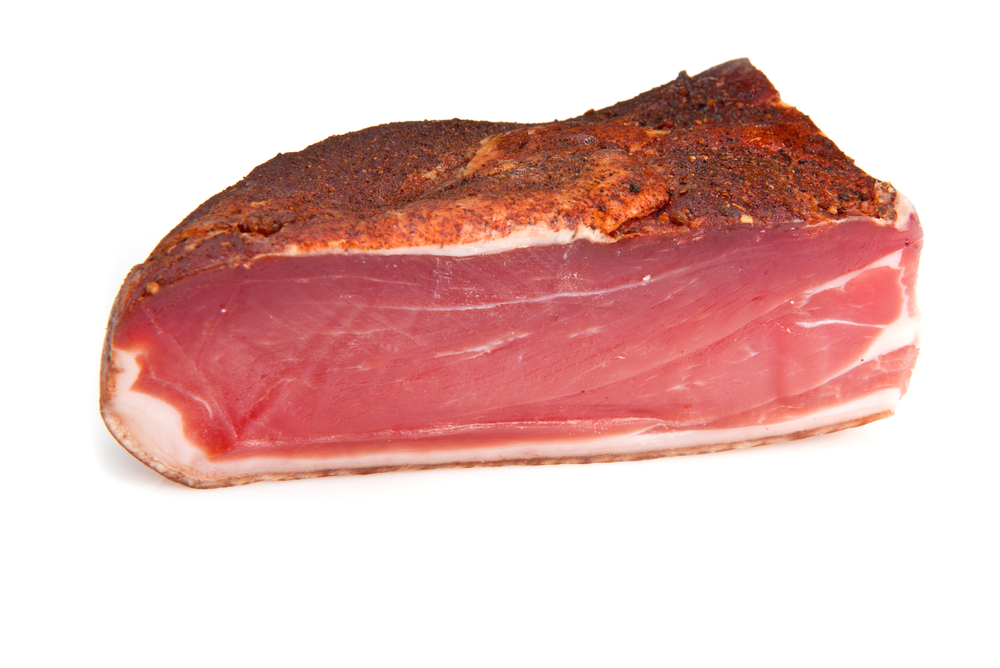 A plate of delicious Speck is bound to satisfy even the most hardened food critics a distinctly flavored, smoked, cured ham from the Alto Adige region of northern Italy. It is much lighter in flavor than the heavily smoked hams found north of the Alps but more robust than the delicate, Mediterranean-influenced prosciutto made in Parma. Typically boned out before the curing process, Speck's deeper taste deserves an equally robust pairing. Gewurztraminer is fond of smoked food – the best examples from Alto Adige provide a delicious foil to the smoky, rich flavor of Speck. Take our advice: seek out a bottle of Cantina Valle Isarco Aristos Gewurztraminer the next time Speck is on the menu. A great example of aromatic Gewurztraminer from Alto Adige, the wine is left on its fine yeast lees for seven months before being bottled to add texture, richness, and complexity. A superb match indeed. Or, take a punt with Franciacorta. Zero Dosage examples work best; our top choice would be Bellavista.
---
Prosciutto di Parma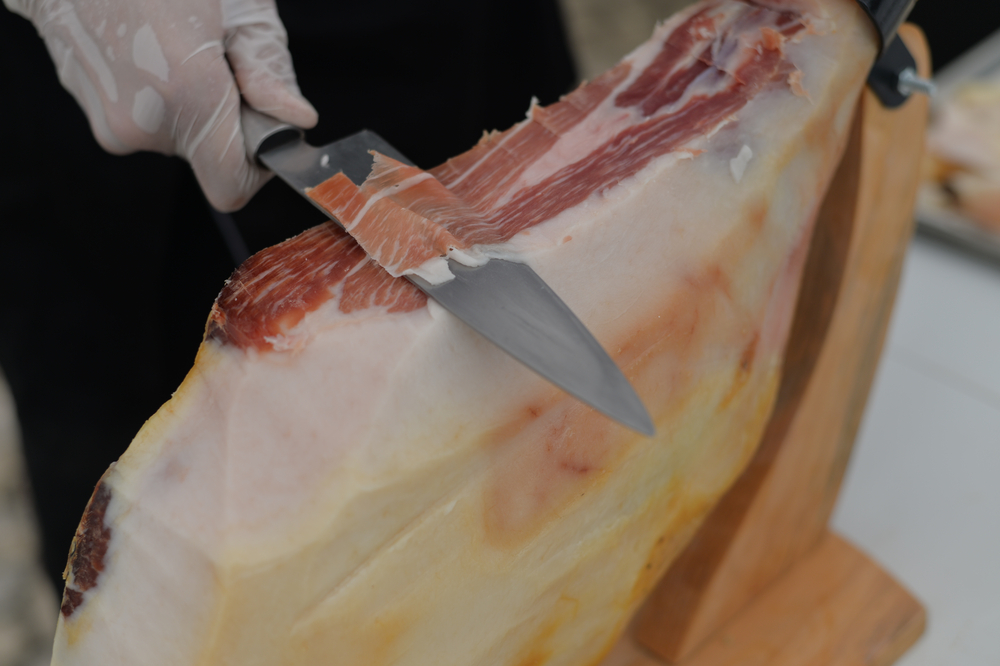 You must have heard of it! Made in the town of the same name in Emilia- Romagna, top examples of Parma ham rival Spanish Jamon de Bellota in both flavor and texture. Cured with salt and typically aged between one and two years, this Italian delicacy demands sliced paper-thin and is arguably best eaten on its own. Yet Parma ham works well with various wines, from white to sparkling. With its delicate texture, it begs for a wine of equal sensitivity that balances its saltiness and complements its sweetness. Prosecco is definitely on the cards; the effervescence helps clear the palate and matches the delicious fattiness of the thinly sliced pieces of Parma ham. Bisol's Crede is an excellent place to start, Parma ham or no Parma ham. Lambrusco is another safe bet, as is Pinot Gris.
However, avoid 'serious' tannic reds such as Aglianico from Campania and Brunello di Montalcino. Salt and tannin are not good bedfellows, as salt can make the tannins taste sour. Similarly, overly sweet wines such as Sauternes (sorry, France) should not be considered, as they cancel out the inherent sweetness in Parma Ham.
---
Culatello di Zibello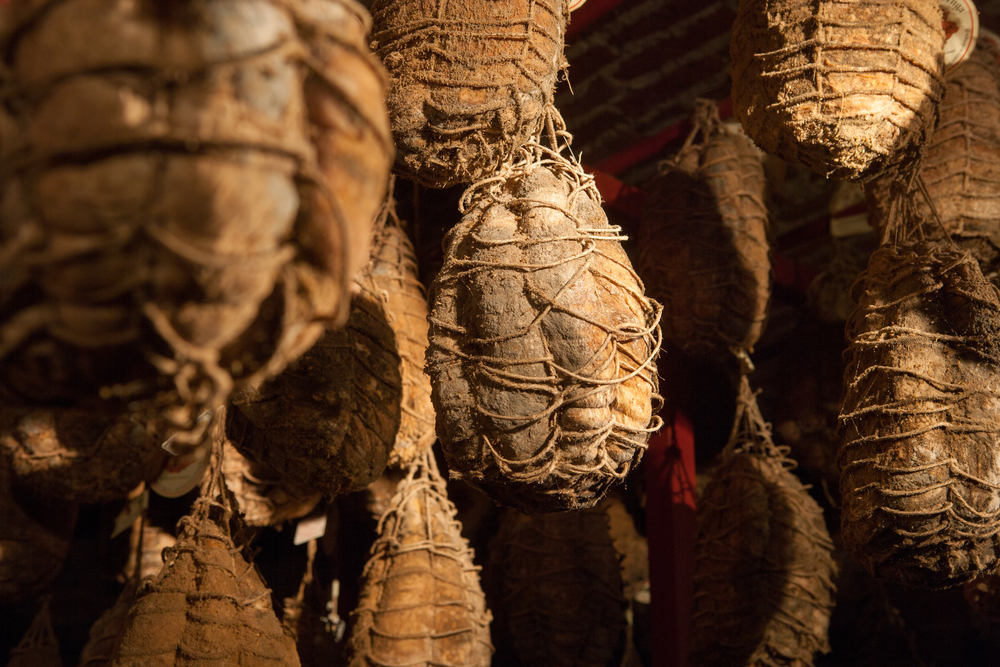 Italy's rarest ham is unsurprisingly accustomed to being paired with only the finest wines in leading Michelin restaurants if you can find any at all.
Just 30,000 hams are produced yearly, so even in Italy, Culatello is hard to find beyond the best shops and restaurants. Its homeland is the Bassa Parmense, a lowland farming area just northwest of Parma, where a handful of artisans make the only hams allowed to be labeled Culatello di Zibello DOP. Made from the choicest muscle of the pig's rump, the slowly cured and long-aged Culatello is a legend among chefs for its unique flavor and texture, and more than a match for any Spanish ham.
But what to pair with this rare Italian delicacy? After an exhaustive search, we have found what we believe to be an ideal match – Barbaresco. Lighter in tannin then, say Aglianico, mature vintages of Barbaresco are a suitably regal partnership for the sweet-musky flavor of Culatello. If it's a special occasion, splash on a bottle of Angelo Gaja Barbaresco, preferably from the 2011 vintage. Expensive? Definitely. Worth every cent? Absolutely.
Related Blog Posts