Profile of Casanova di Neri
Although a relative newcomer (it was founded in 1971), trendsetting Casanova di Neri Winery has become one of the most respected wineries of Montalcino, if not in Italy. This family-run cellar owes its success to a solid track record of powerful, luxuriant Brunellos and the exclusive crus, Tenuta Nuova and Cerretalto. The past decade has seen a vast change in the winery as it has acquired more vineyards and has installed cutting-edge technology that's pushing it to the forefront of Tuscan winemaking.
The wines of Casanova di Neri are renowned for their elegant, modern style and enjoy a steady flow of accolades from specialty magazines and contests the world over. In 2006, the Wine Spectator named their Brunello di Montalcino Tenuta Nuova 2001 the world's top wine, calling it "one of the best examples of the recent winemaking renaissance in Tuscany." Of the five wines made here, all except one (the Cabernet Pietradonice) are made with 100 percent Sangiovese Grosso. True products of the warm Mediterranean climate and sandy soils that characterize Montalcino, Casanova di Neri's wines are pungent, complex super high-quality wines that can age well for decades.
A small, family company run by Giacomo Neri, Casanova di Neri has only 48 hectares of planted vineyards. Yet those 48 high-density hectares are divided among four separate estates — "Pietradonice" in Castelnuovo dell'Abate, the "Cetine" in S. Angelo in Colle, the "Cerretalto" and the "Fiesole" near the new cellar — each with its own personality and nuances. Casanova di Neri's new cellar is the culmination of years of work. A three-story underground cellar, it is ideally suited to blending and aging the full-bodied wines born here. Giacomo will personally greet and escort you on a private tour of the winery as part of a Luxury Wine Tour of Montalcino organized by Cellar Tours.
Wines produced
Rosso di Montalcino

Sangiovese Grosso 100%, Alcohol Content 13.5%

Brunello di Montalcino

Sangiovese Grosso 100%, Alcohol Content 14.5%

Brunello di Montalcino Tenuta Nuova

Sangiovese Grosso 100%, Alcohol Content 14.5%

Brunello di Montalcino Cerretalto

Sangiovese Grosso 100%, Alcohol Content 14.5%

PietradOnice

Cabernet Sauvignon 90%, Sangiovese 10%, Alcohol Content 14.5%
Winery details
Podere Fiesole
53024 Montalcino
Italy
Tel +39 0577 834455
Fax +39 0577 846177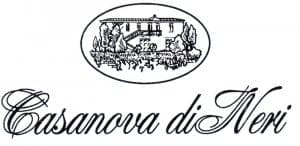 Appellation

(DOCG) Brunello di Montalcino

Founded

1971

Area under vine

48 Hectares

Age of vines

18 – 50 years old

Oak barrel origin

Slovenian and French
Winemaker

Carlo Ferrini

Owner

Giacomo Neri

Grape varietals

Sangiovese Grosso and Cabernet Sauvignon