Boasting an unparalleled collection of indigenous grape varieties and unique terroirs, Italy is never short of a surprise or two. Albana is a pertinent example: the grape is one of the last unsung heroes of Italian white wine. Long ignored by the global wine trade, Albana suffered because it is not found in the country's viticultural hotspots: Tuscany, Piedmont, Veneto, and Campania. Yet it produces one of Europe's loveliest white styles – both sweet and dry.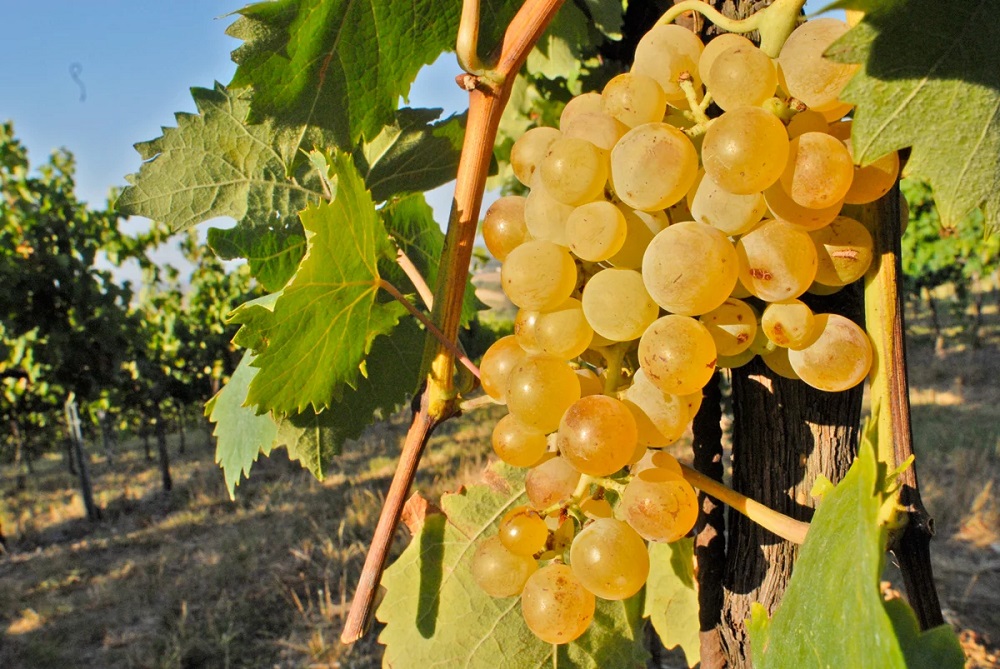 In the hills of northeastern Italy, Albana is used to make Romagna Albana – the zone was awarded DOCG status in 1986. One of the most iconic sights in the Emilia-Romagna region is elongated bunches laden with green-gold berries of ripe fruit. If you're already hooked on Sauvignon Blanc and Pinot Grigio, we can't guarantee that you'll fall in love with Albana. But as a funky alternative to mass-market tedium, there are few finer white grapes. So it's time to explore the road less traveled.
History and viticulture
Northeastern Italy is one of the nation's most prolific producers of white wines. It is believed that Albana, a grape known by a multitude of synonyms, began its life in the beautiful vineyards of Emilia-Romagna, on the border with Veneto and Lombardy to the north and Tuscany to the south. The subject of the grape's origins has been intensely debated; many argue that the Romans introduced the grape due to the etymology of the name Albana. It refers to the berries' distinct color: the Latin word for white, Albus, eventually morphed into Albana, or so it is believed. By the 1200s, Albana was described in the literature by the agricultural expert Petrus di Crescentiis, who noted that Albana was indigenous to the Emilia-Romagna region. By the Middle Ages, the grape was firmly entrenched into the viticultural traditions of this corner of Italy.
Yet unlike the white wines of the Loire Valley and Burgundy, Albana and the wines of Emilia-Romagna seldom left the Italian Peninsula until the 20th century. For a myriad of reasons, both cultural and political, Italian wines were generally reserved for local consumption – Italy did not exist as a unified state until the 19th century. Indeed, the Italians have never fully embraced the idea of central government and remain fiercely loyal to their particular region. This fact, combined with a lack of infrastructure, forestalled Italy's emergence as a major export player.
The 1800s also saw the arrival of phylloxera, a deadly louse that attacked vineyards across Europe. Accidentally imported from the US by botanists in the UK, phylloxera soon found its way to the wine regions of western Europe. It is estimated that the louse's poisonous bite killed almost two-thirds of Europe's vines. However, Italy was relatively unaffected by phylloxera compared to the devastation witnessed in France and Germany. The pest destroyed approximately 10% of Italian vineyards; the reality of a peninsula broken up into numerous independent states offered some protection due to the isolationism of many regions. As a result, Albana's role in the wines of Emilia-Romagna did not diminish in the early 1900s, despite the upheaval seen elsewhere.
By the 1970s, an economic boom of the post-World War II years had created a national wine market. Meanwhile, much-needed investment poured into the wineries of Italy, modernizing its cellars with stainless steel tanks, temperature-controlled fermentations, and the adoption of French barrique. Suddenly, Italian white wines were no longer rustic and oxidized caricatures, lacking verve and freshness. Instead, they were pungent and fruity white wines that could compete on the global market. Therefore, it is highly appropriate that Romagna Albana was the first white wine in Italy to be elevated to DOCG status when the country was transforming its viticultural image and planting more international varieties.
Nevertheless, local grapes remain the backbone of Italy's wine industry, except for the Bordeaux blends of Tuscany. In the case of Albana, this early-ripening grape is not particularly difficult to grow. A study published in 2008 indicated that the variety shares a close genetic relationship with Garganega, the white grape of Soave. Both varieties yield delicious wines with good acidity; however, Albana is vigorous and over-productive. So it requires a judicious pruning regime and plenty of attention throughout the growing season; only low-yielding vines will produce berries rich in aromatic compounds. It is also thick-skinned – a real boon when making botrytis wine styles. But its overall susceptibility to fungal diseases is negligible.
Winemaking
Romagna Albana is one of Italy's most diverse appellation frameworks. It allows winegrowers to produce aromatic dry whites, semi-sweet styles, passito dessert wines, and sparkling – all broadly under the same appellation banner. The one exception is sparkling Albana, marketed as a DOC wine. Nonetheless, the flexibility of the region is to be admired.
Dry Albana, meanwhile, comes in several guises. Wines intended for early consumption will be made relatively quickly: grapes are crushed, pressed, and cold-settled before fermentation in stainless steel at low temperatures. They are then filtered and bottled without seeing a hint of new oak. This 'recipe' almost completely guarantees a light and fruit-forward style of wine, albeit this expression of Albana is not built to last. However, it is possible to craft a more concentrated and structured wine from Albana if the desire exists. Combined with limited skin contact, maturation in barrel yields a white wine with a deeper color and pronounced flavors of apricot, citrus, and white flowers. In recent times, certain growers have been trying their hand at orange wine production, leaving the must in contact with the skins for several days prior to fermentation. The winemaker at Tre Monti takes it one step further – the Albana is fermented and aged in clay amphora, with a period of skin contact that often exceeds 90 days. The result is a wine packed full of phenolics and an exotic profile of quince, fennel, and marmalade.
The passito and botrytis-affected styles are no less remarkable. Passito wines are usually made either by desiccating the berries under direct sunlight or by air-drying grapes in lofts – Amarone is made this way. Yet the DOCG regulations allow producers to select one of several methods, including ripening the grapes on the vine. These intensely-sweet berries, packed full of sugar and acid, are then vinified in stainless steel or occasionally wooden casks. Winemakers will typically add sulfur to stop the fermentation before all the sugar is turned into alcohol. What emerges in bottle is a delight to drink: rich and yet very fresh dessert wines with aromas of stone fruit, cinnamon, white flowers, and honey. But we should not forget the small quantity of excellent sparkling wine made from the grape and produced using the traditional method – second fermentation in bottle – sparkling Albana shares little in common with Prosecco or Franciacorta. Instead, expect fascinating aromatics, with apricot, sour cherry, and vanilla on the nose. The capital of wine diversity does it again!
Emilia-Romagna's hidden talents
Though it lacks the fame of Tuscany and Piedmont, northeastern Italy is increasingly one of Europe's most exciting wine regions. Whether you're imbibing the delectable orange wines of Romagna Albana or the time-honored passito styles, there is a vinous pleasure to discover in this corner of Italy. Hot on their heels, the sparkling cuvées of the DOC appellation are getting better with every vintage.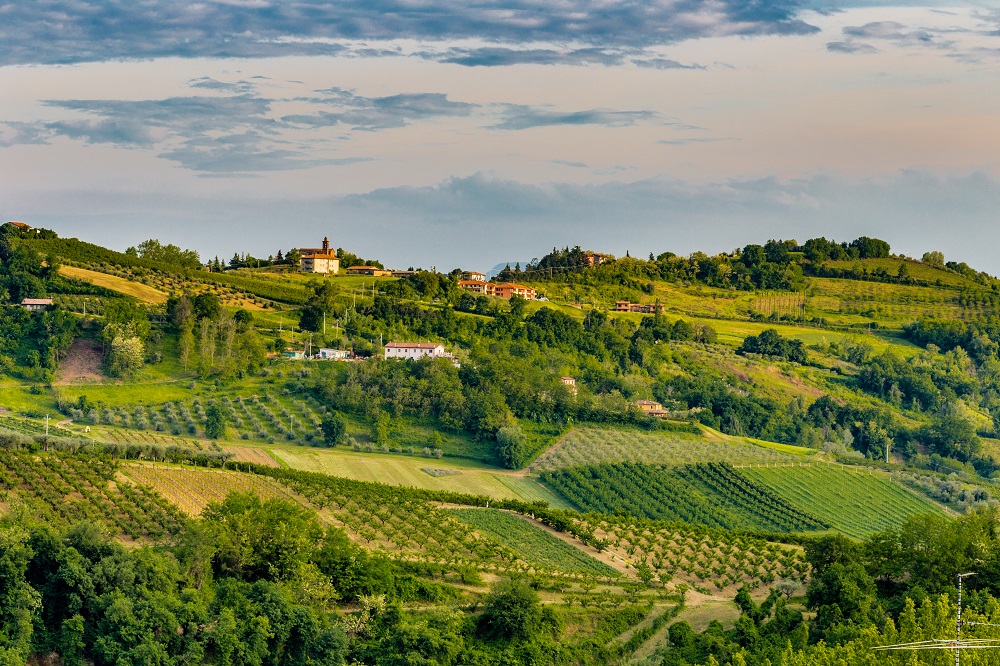 The pastoral countryside of Emilia Romagna
However, this surge of quality and excitement is a relatively new phenomenon. The reputation of Emilia-Romagna as a wine producer could have been better in the mid-20th century; rustic equipment and outdated viticultural methods were not a formula for premium wine production! But after decades of cooperative dominance, the small estates and family businesses of the region are making the running with site-specific, premium wines. Much of this creative energy continues to emanate from Romagna Albana – possibly Italy's most underrated DOCG.
The Romagna zone is both beautiful and very topographically varied. It encompasses the coastal subregions of Rimini and Riccione, stretching from the city of Bologna east to the Adriatic Sea. Vines are planted on a series of foothills at the base of the Apennines Mountains; soils range from metamorphic rock to calcareous marls. But most importantly, elevation varies significantly in the zone, affording growers all the benefits of diurnal temperature variation in a warm and dry Mediterranean climate.
Thus, there are relatively few poor vintages in the vineyards of Emilia-Romagna. Moreover, after decades of isolationism, these beautifully fresh and aromatic whites are starting to find an audience abroad. The timing is most opportune: the days of a French monopoly on the wine lists of London, New York, and San Francisco are over – esoteric styles are now on parade. We guess Albana will have a proper foothold in the hearts and minds of discerning oenophiles in ten years. Hipster sommeliers love introducing their customers to weird and wonderful grape varieties, while the mere mention of the words 'Pauillac' or 'Chambertin' is likely to induce extreme boredom. That passion will be a crucial factor in driving Italy's success as the wine producers of Romagna Albana attempt to conquer the world.
Top producers of Albana wines: