In Roman times, Italy's most prized vinous treasures were produced in the hills of Campania, flanking the beautiful city of Naples. Bathed in endless sunshine, indigenous grape varieties thrived in the region's Mediterranean climate, producing red – and white – wines of impressive concentration and depth. At this point, no one cared about Tuscany or Piedmont. Instead, the rulers of this ancient landscape had their hearts set on the south.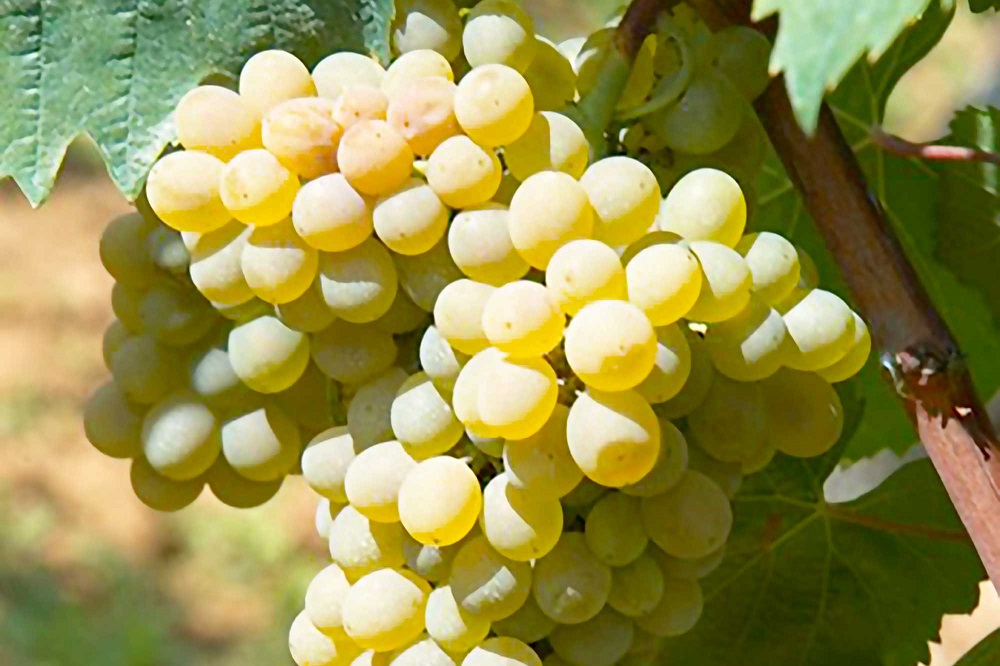 Yet, by the 20th century, wealthy collectors and oenophiles would scarcely give Campania a second glance. So what happened? The answer is a perfect storm of economic greed, neglect, and the marginalization of esoteric styles in favor of international imports – Merlot and Cabernet Sauvignon were heavily planted across central Italy in the 1900s. For a while, Italian viticulture was about to become terminally globalized. Thankfully, the 21st century has witnessed a return to the country's roots, with sommeliers and consumers falling in love with Italy's incredible range of original tastes and varieties. This dramatic shift has greatly benefited grapes like Coda di Volpe, endowing this Campanian curiosity with a new lease of life. Let's discover it.
History and viticulture
Campania has been conquered, settled, and exploited over centuries. In the 1st Millennium BC, ancient tribes, including the Osci and Etruscans, settled along the coast of southern Italy, eventually subjugated by the ancient Greeks who popularized wine growing in the 8th and 7th centuries BC. However, they were, in turn, displaced by the Romans, who regarded Campania as one of Italy's premier vineyards. Indeed, the Empire's most valued wines (including a massive swathe of western and eastern Europe) came from the province they called Campania Felix: the fertile land. It is widely assumed that Coda di Volpe is a descendant of the ancient varieties of Vitis vinifera introduced by the Greek merchants. They bequeathed a culture of winegrowing to the Campanians. The Romans enthusiastically continued this practice in a famous act of cultural appropriation. Historians believe that Coda di Volpe was used to make one of Rome's leading wines, called Falernian. This sweet golden nectar was sold for a very high price, adored by the upper classes and, indeed, the Caesars!
However, the Western Empire collapsed in the 5th century AD, paving the way for a succession of territorial wars as various kingdoms sought to plant their flag on Campanian soil. The Normans controlled the region for many decades, a civilization from northern Europe that eventually unified the various independent provinces as part of the Kingdom of Sicily. Yet political stability was a rare commodity during the dark ages; the territory fell under the control of the German aristocracy, which in turn lost the Kingdom of Sicily to Charles I of Anjou. Finally, in the late 13th century, the Mediterranean island broke free from the administrative rule of the Angevin dynasty after a series of violent rebellions forced the local government to flee. By the 1400s, Campania came under the protection of the Kingdom of Aragon, becoming part of the Spanish Empire in the 16th century. This only benefited the winegrowers of Campania, who enjoyed privileged access to a wide network of lucrative markets. By the time of the Italian reunification in the 19th century, Campanian wine was firmly established on the European map.
The region's single biggest trump card has long been its mineral-rich volcanic soils – one of the greatest terroirs in western Europe. They were created in AD 79, when Mount Vesuvius covered the town of Pompeii and its environs in molten lava and ash, killing over 15,000 of its citizens. One of the eruption's legendary victims was the Roman poet and writer Pliny, the Elder, who was killed by poisonous fumes while observing the chaos on a boat. Many centuries later, these igneous soils were responsible for keeping the phylloxera louse at bay; this deadly louse, accidentally imported from the US in the 1800s, cannot survive on volcanic terroir. This ensured that Campania was spared the worse ravages of phylloxera in the late 19th century, unlike their unfortunate neighbors in France and Spain.
Yet the early and mid-1900s were no golden age for the producers of Campania; investment poured into central and northern Italy, while the economically-depressed south was left to decline. International grapes, such as Merlot and Sauvignon Blanc, were all the rage during this period, eagerly adopted by growers in Tuscany, Umbria, and several regions in the north. As a result, Campania's esoteric and indigenous grapes suddenly appeared irrelevant. Thankfully, one pioneer helped to turn things around in the late 1970s – a winemaker of unrivaled vision and talent called Antonio Mastroberardino. He spearheaded a major revival in local Campanian varieties, helping to make Aglianico, Greco, Fiano, and Coda di Volpe fashionable again. This momentum continued into the 21st century, finding new strength as sommeliers and consumers started to reject the familiar and overexposed. In 2022, Campanian styles like Coda di Volpe are very much in vogue.
The name translates as "tail of the fox" in English, a reference to the vine's tendency to produce elongated bunches of grapes, said to resemble a fox's tail. Celebrated for its ability to maintain good acidity levels even in hot climates, Coda di Volpe ripens quite early in the season, typically harvested before October. It yields small berries with thick skins, an attribute that makes the 'foxes tail' ideally suited to the production of skin contact and orange wines. However, the vine can be extremely vigorous; constant pruning is required throughout the growing season to avoid excessive growth and dilution. But, on the plus side, the risk of fungal diseases and rot is minimal in the dry climate of southern Italy.
Winemaking
Until recently, Coda di Volpe was almost exclusively produced as a blended style, despite the grape's laudable qualities. The Campanians continue to mix Coda di Volpe with Fiano, Greco, or occasionally Falanghina, adding perfume and freshness to the cuvée. However, a small but growing movement wishes to challenge this orthodoxy. The results of their endeavors can be outstanding: mono-varietal expressions, produced from low-yielding vines, offer a rich mouthful of stone fruit and quince with a lovely salty finish. Over time, tertiary notes of wood smoke, vanilla, honey, and toast will emerge in bottle, supported by ripe acidity. These wines, although relatively few, are a glorious testament to the unique terroir of Campania. They represent a magical union of grape, soil, and landscape.
Nonetheless, different growers handle Coda di Volpe in very different ways. The boutique wineries Di Meo, Fattoria La Rivolta, and Perillo all favor protective winemaking, with fermentation conducted at low temperatures in stainless steel. This produces a pale-colored white wine, bursting with citrus fruit and saline acidity. It is delicious served as an aperitif or with seafood – fruits de mers would be ideal. However, some winemakers altogether eschew this approach. For example, La Cantina di Enza's signature white is made from organically-grown grapes and left to macerate on the skins for at least two weeks. Dark in color and rich in concentrated umami flavors, this powerful interpretation of Coda di Volpe is not for everyone. But as a left-field choice, sommeliers and wine geeks will love it.
A Campanian revolution
Historically, the inland parts of Campania, particularly the province of Avellino east of Naples, set the pace for southern Italy's truly distinctive wines. But in 2022, this is an outdated cliché. Thanks to a surfeit of investment and an influx of emerging talent, many of Campania's DOCG and DOC appellations are producing excellent wine. Today, Coda di Volpe's strongholds include Irpinia, Sannio, and Vesuvio (no prizes for guessing where these vineyards are). Each has something wonderful to offer – a unique interpretation of this underrated grape that deserves a closer look.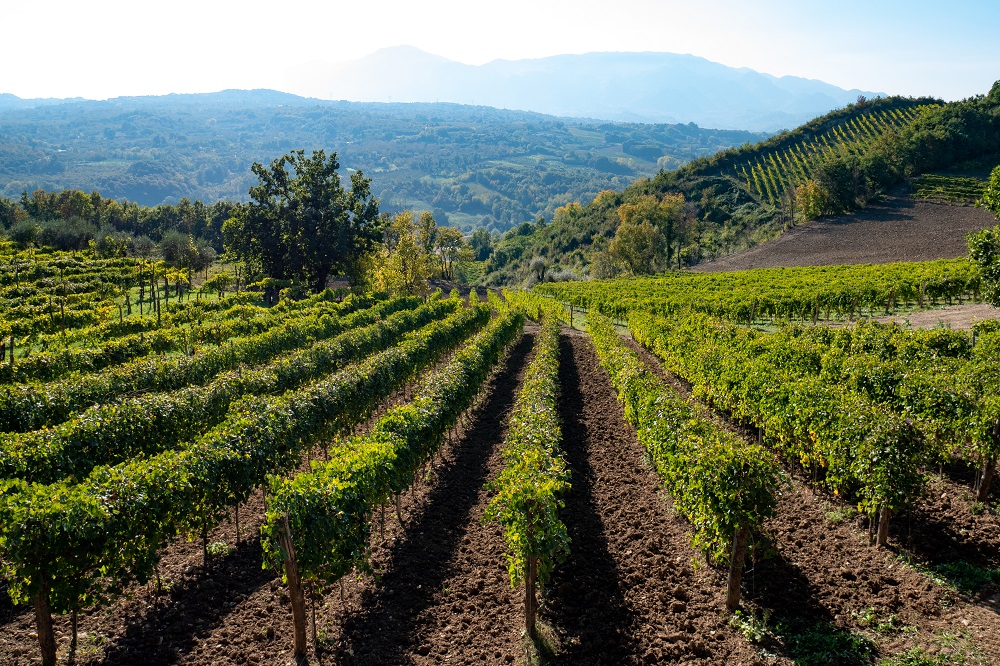 Vineyards near Avellino in Campania
Coda di Volpe is arguably one of Irpinia's greatest white grapes – it makes delicious single-varietal wines that blend exceptionally well with Greco, Fiano, and Falanghina. Situated to the northeast of Avellino, the zone was awarded DOC status in 2005. It benefits from a potent combination of volcanic terroir, high-elevation vineyard sites, and diurnal temperature variation (strong difference between day and night-time temperature), which helps maintain the wines' acidity. The vineyards of Sannio, meanwhile, are found to the north of Naples in acres of totally unspoiled countryside. Awarded DOC status in 1997, Sannio is renowned for its hilly terrain and abundance of cooler mesoclimates, allowing winegrowers to fashion Coda di Volpe wines with good acidity even at high levels of sugar ripeness. In addition, there is a designation for traditional method sparkling wines in the zone – the top labels often include a generous portion of Coda di Volpe. Ripe and exotically-scented, they provide a nice alternative to the gallons of anodyne Prosecco sold worldwide.
In addition, the aromatic whites of Vesuvio and Lacryma Christi (grown on the slopes of the volcano) are earning a strong reputation for more than just their name. Today, they represent the future of Campania's wine industry: esoteric styles that can draw attention away from the overexposed and ubiquitous. Moreover, with leading sommeliers and buyers now on board, there is no limit to what this great region can achieve. After a false start, Campania is in the ascendant.
Top producers of Coda di Volpe wines:
Il Poggio
Mastroberardino